Keto Recipes
Pink Himalayan Sea Salt Oven-Baked Keto Pork Rinds
I have a hard time wrapping my mind around the fact that I can eat pork rinds while on a 'diet.' That's exactly the case with a keto diet because pork rinds contain no carbohydrates, only protein and fat. This version of keto pork rinds stays true to the natural macronutrient split, using flavorings and spices that don't add any additional carbs.

Keto Pork Rinds – A Keto Dieter's Ideal Snack
This is probably the most guilt-free keto snack you can have while still staying on track with your diet. It's also a versatile low-carb ingredient that you can use to make everything from waffles to pizza crusts.
Pork rinds are made from the skin of a pig and are usually fried or roasted until crispy. The actual skin doesn't contain too much fat, which is why it comes out being a healthier option than your regular potato chip.
For this recipe, we'll be using only two ingredients: pork rinds and pink Himalayan pink salt. In store-bought recipes, you'll find a few other ingredients on the list, which is why I prefer making my own whenever possible. And why wouldn't you when it's so easy?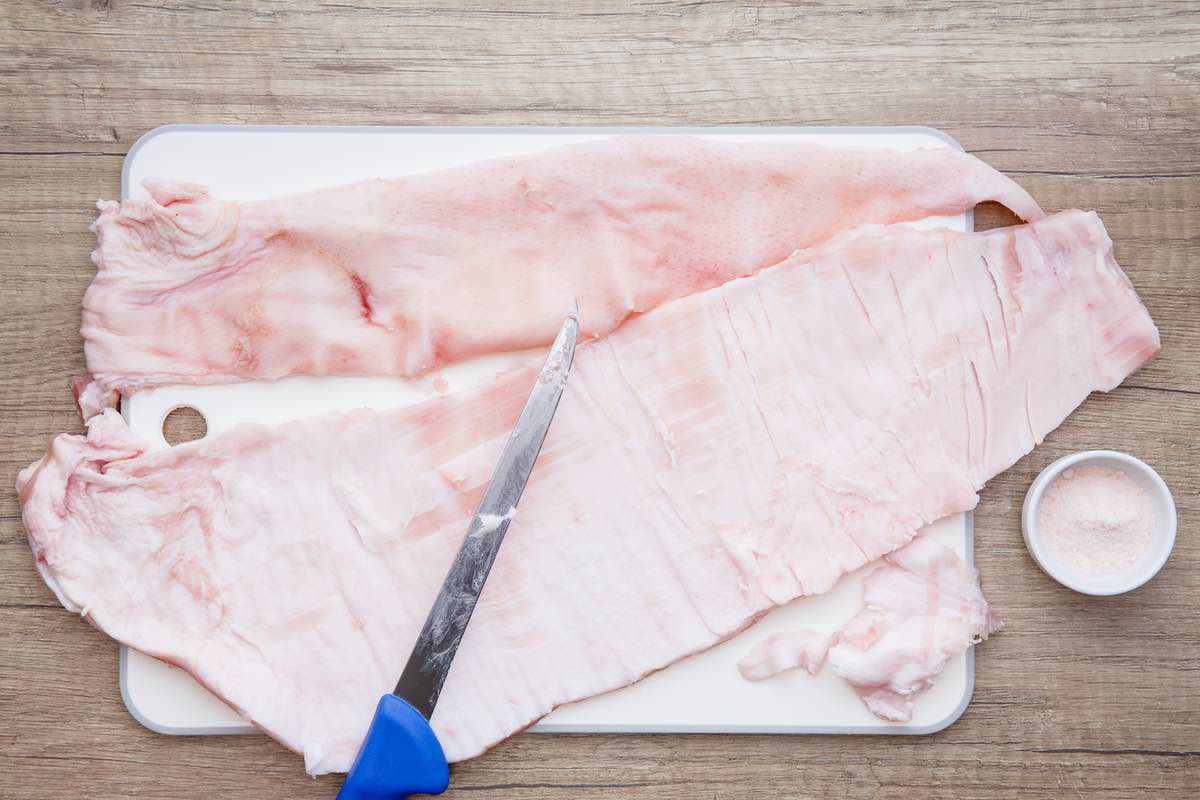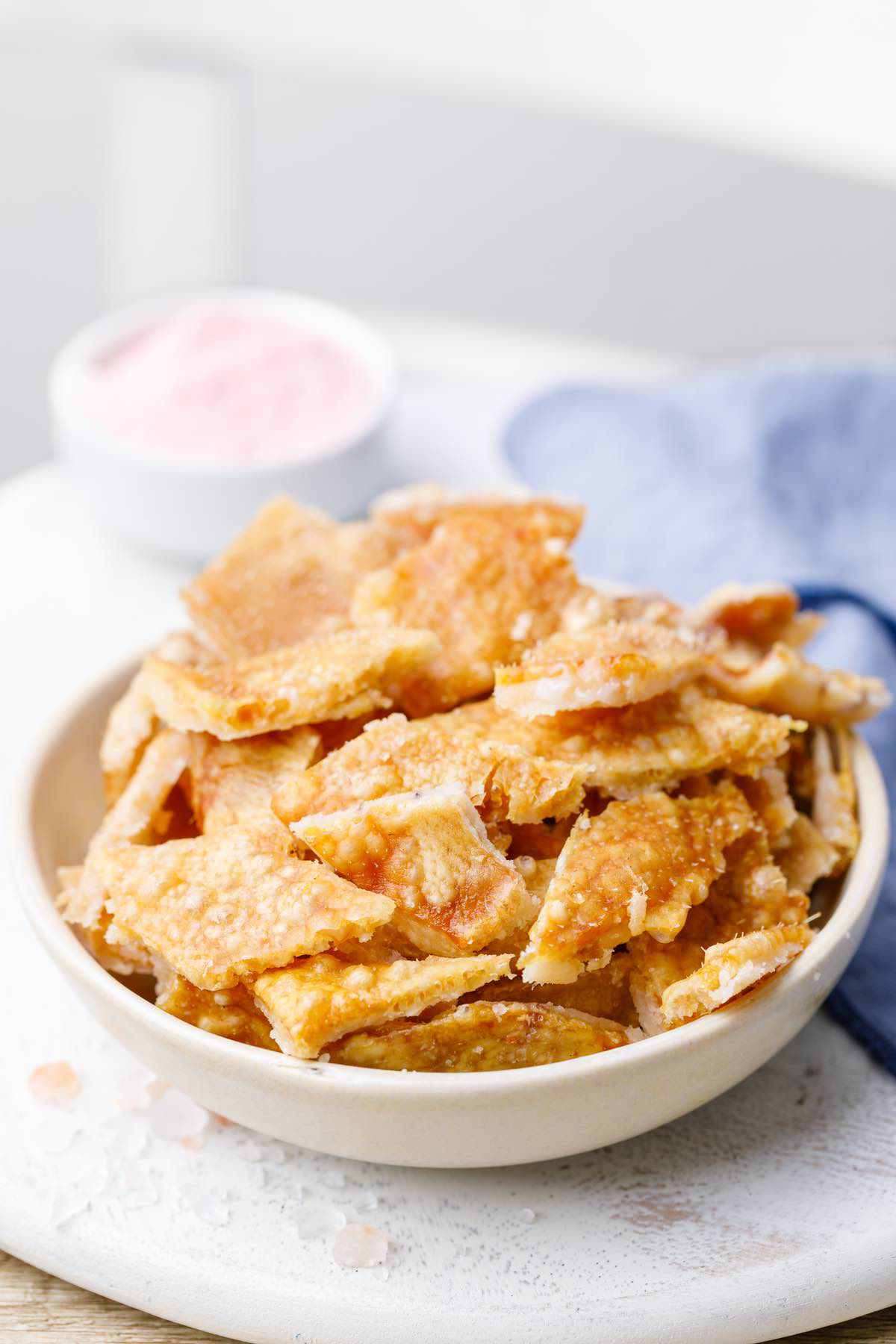 All you have to do to prepare the pork rinds before baking is to trim the fat, score it, and season it. I use pink Himalayan salt for the base recipe, but really, you can use all kinds of spices or even herbs to flavor your pork rinds. Here are a few must-try recipes from some of my go-to keto blogs:
The pork rinds take about 1.5-2 hours to bake, so you'll have plenty of time to check out other keto recipes you can make with pork rinds. It really is such a versatile ingredient with an ideal macronutrient profile. Speaking of macronutrients…
Are Pork Rinds Healthier than Potato Chips?
Pork rinds are made from the skin of the pig, but they are a much better snack option for you compared to potato chips. Here's a quick comparison in 1 ounce servings:
Pork Rinds, Plain, Deep Fried – 152 calories, 0 grams of carbohydrate, 17.2 grams of protein, 8.8 grams of fat (1)
Potato Chips – 150 calories, 14.8 grams of carbohydrate, 1.96 grams of protein, 9.69 grams of fat (2)
As you can see, the calorie content is around the same, but the composition of pork rinds is far better for keto dieters than the composition of potato chips.
Pork Rinds vs. Cracklins – What's the Difference?
Unlike pork rinds which are made from just the skin of the pig, cracklins contain both the skin and a layer of fat. With pork rinds, you are supposed to trim the fat off before frying or oven-roasting, which is why the overall calorie content is lower than cracklins.
Because of the higher fat content and overall calorie content of cracklins, we much prefer pork rinds for our keto snacking.
Can Pork Rinds Be Frozen?
Once cooked, you can't freeze pork rinds because the moisture will make them soggy. However, if you're talking about freezing the raw pork skin before cooking, you certainly can. Just make sure to thaw your raw skin properly and pat away excess moisture before baking.
Pork rinds can be stored in an air-tight container for 2-3 days before they go stale. For best results, we recommend eating them fresh.
Print Recipe
Pink Himalayan Sea Salt Oven-Baked Keto Pork Rinds
Author: Bree - KetoPots.com
Prep Time:

10 minutes

Cook Time:

1 hour, 30 minutes

Total Time:

1 hour, 40 minutes

Yield:

7

1

x
Scale
14 oz of raw pork skin
2 tsp pink Himalayan salt
Preheat oven to 325°F. 

Line a baking sheet with parchment paper. 

Remove as much fat as you can from the pork skin. 

Score the skin in a square or diamond pattern with a sharp knife. 

Rub it with pink Himalayan salt. 

Place the skin on the prepared baking sheet. 

Bake in preheated oven for 1 ½ to 2 hours. 

Remove from the oven and allow to cool. 

Cut or break into small pieces and enjoy.
More Crispy, Crunchy Keto Snacks You'll Love:
FREE KETO RECIPES + 5-INGREDIENT KETO COOKBOOK

Make sure to sign up for free to get instant access to the 5-Ingredient Keto Cookbook, which includes my favorite 20+ keto recipes of all-time, all under 5 ingredients.