Keto Recipes
Cauliflower Keto Pizza Casserole (Holy Moly!)
There are very few meals that I can think of that are as comforting as a classic homemade casserole. The smell of one baking in the oven always conjures up memories of weekend dinner gatherings at my grandparents house with all of my family present. Just because I have since started living a keto lifestyle doesn't mean I was prepared to give up casserole dishes — quite the contrary, actually! By swapping out most of the carb heavy ingredients, you can actually make quite a mean keto casserole. In fact, I would venture to guess that this cauliflower keto pizza casserole just might be one of the tastiest keto meals that you will ever try!

Also try my Chicken Cordon Bleu Casserole, Cauliflower Casserole and Philly Cheesesteak Casserole for a comforting, set it and forget it meal.
How to Make Keto Cauliflower Pizza Casserole
Normally, casserole dishes are made with some sort of starch as a main ingredient in order to help hold everything together when it's baking. Unfortunately, most starchy foods tend to be quite high in carbohydrates, which is obviously no good to anyone on a keto diet.
All hope is not lost however, as surprisingly enough, cauliflower makes for a rather spectacular starch replacement. Not only is it an excellent low carb vegetable option, but it's also packed full of antioxidants, vitamins, and minerals that help to fight off inflammation in your body and reduce your risk of developing diseases such as cancer. (1)
Once you place your cut-up cauliflower pieces in the food processor and blend them together along with the terrific fat sources like heavy cream, cream cheese, butter (preferably grass-fed), and shredded mozzarella cheese, you end up with a deliciously creamy puree that works amazingly well as a casserole filling.
As you can probably imagine, the above mix of fat sources also makes this quite a satisfying casserole to sit down and enjoy — you definitely won't be feeling hungry again for a while after a plate of this.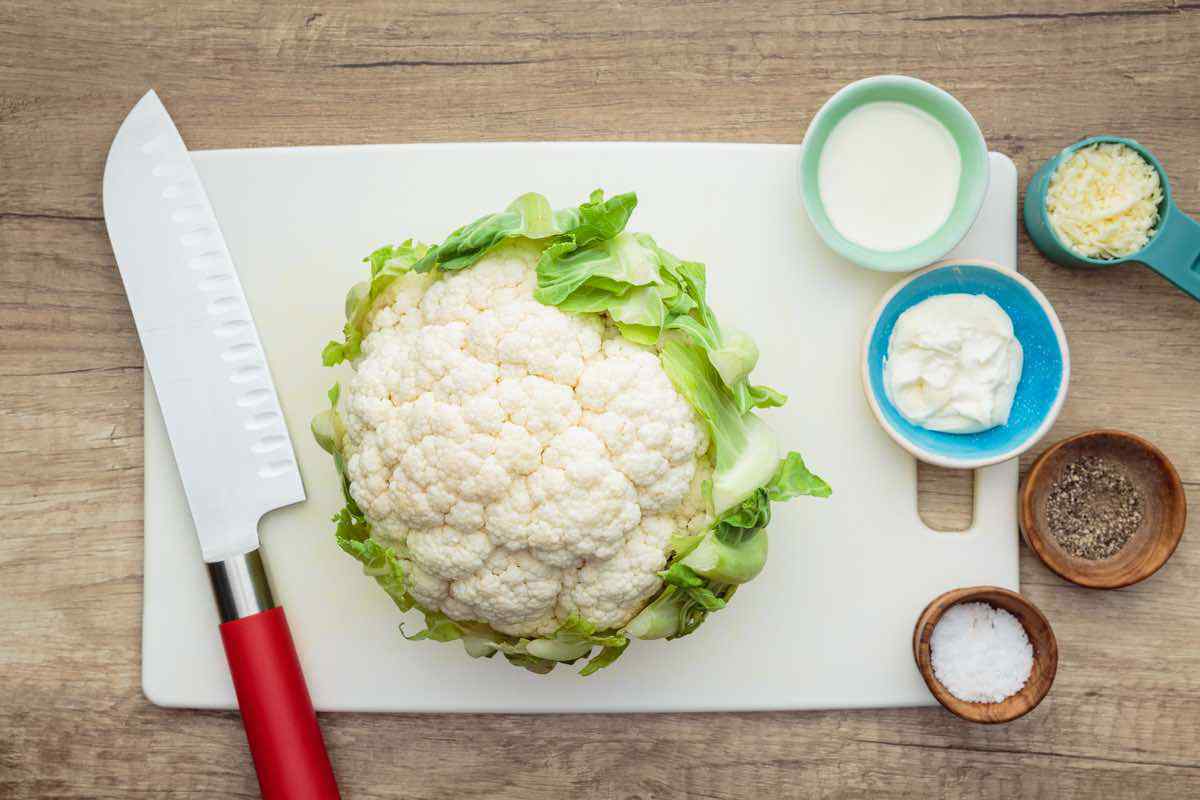 After processing your puree mixture, transfer it into your baking dish and smooth it out with a spatula. Next comes my favorite part of the recipe — adding the classic pepperoni pizza toppings.
Add 12 slices of pepperoni, some more shredded mozzarella cheese, and finally, some low carb pizza sauce. I strongly recommend making your own homemade pizza sauce when preparing this casserole dish (you can find a variety of fantastic homemade sauce recipes elsewhere on this site) in order to make absolutely sure that everything you are using is keto-friendly.
Once you have your pepperoni pizza topping covering your casserole, you'll be all set to throw it in the oven. You are going to want to bake the casserole for 20-25 minutes — and then just sit back and watch as your whole family starts to salivate once they smell this baking in the oven.
It's absolutely amazing how versatile cauliflower is as a low carb replacement for all kinds of different ingredients. If it isn't already, it will definitely become a staple ingredient with all of your keto cooking going forward. When you are ready to serve the casserole, you should add some fresh basil leaves for decoration as well to really complete that classic pepperoni pizza flavor. Enjoy!
More Good Keto Pizza Recipes
Print Recipe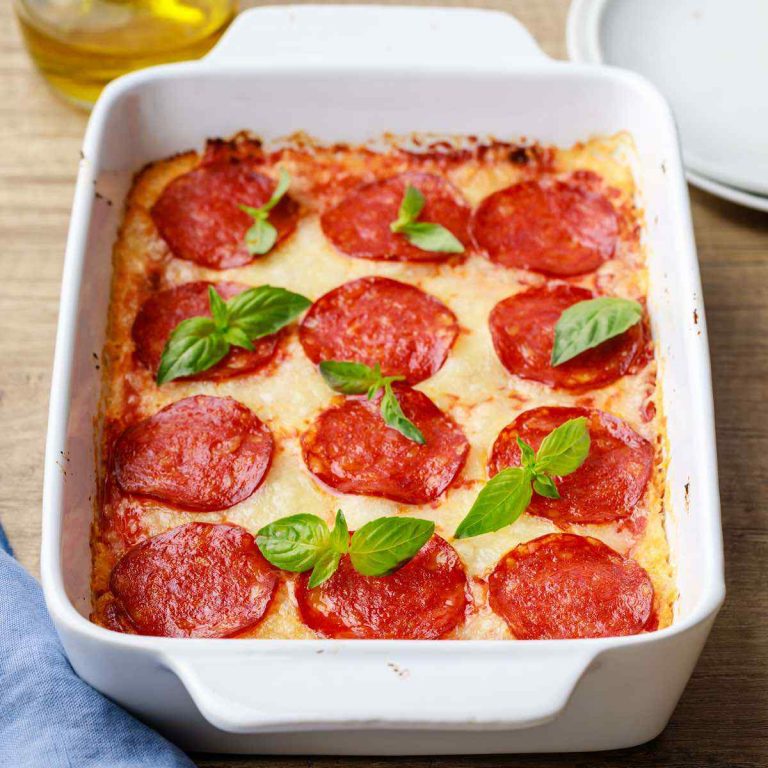 Cauliflower Keto Pizza Casserole
Author: ketopots.com
Prep Time:

10 minutes

Cook Time:

35 minutes

Total Time:

45 minutes

Yield:

6

1

x
FREE KETO RECIPES + 5-INGREDIENT KETO COOKBOOK

Make sure to sign up for free to get instant access to the 5-Ingredient Keto Cookbook, which includes my favorite 20+ keto recipes of all-time, all under 5 ingredients.
Scale
For the cauliflower puree:
1 medium cauliflower, washed, trimmed and cut into large pieces
2 tbsp heavy cream
¼ cup cream cheese
1 tbsp butter
1/4 cup shredded mozzarella cheese
salt and pepper to taste
For the toping:
12 slices pepperoni
½ cup shredded mozzarella cheese
1/3 cup homemade or store bought low carb pizza sauce
fresh basil leaves (for decoration)
Preheat oven to 375°F.
Place the cauliflower and 1 tablespoon of water in a microwave safe bowl.
Cover with plastic wrap and microwave on high for 10 minutes.
Remove and place the cauliflower in a food processor.
Add the heavy cream, cream cheese, butter and ¼ cup of shredded mozzarella.
Season with salt and black pepper to taste.
Process until smooth.
Transfer the mixture into a baking dish and smooth with spatula.
Spread the tomato sauce over the top, cover with shredded mozzarella and layer with pepperoni.
Bake in preheated oven for 20- 25 minutes.
Decorate with fresh basil and serve.