Keto Recipes
Low Carb (And Fluffy) Keto Pita Bread
I love making my own homemade pita bread just because of the sheer variety of yummy recipes you can make with it. Today I'm going to be sharing my favorite recipe for making a low carb (and oh so fluffy) keto pita bread.
How to Make Low Carb Keto Pita Bread
Melt the cheese. Add the shredded mozzarella cheese and cream cheese to a microwave safe bowl and microwave on high in 30 second intervals. After every 30 seconds, stir the mixture until it's completely smooth.
Add the remaining ingredients. Add in the almond flour, eggs, and salt (to taste) and mix to combine.
Refrigerate. Cover the dough mixture with plastic wrap and refrigerate for a minimum of one hour.
Preheat the oven. Preheat your oven to 350℉ and prepare the dough for baking.
Divide the bread dough. Line a baking sheet with parchment paper before dividing the bread dough into balls.
Bake. Place the balls evenly on the baking sheet. Bake the bread for 15-17 minutes.
Cool. Remove the bread from the oven and let it cool slightly.
Serve. Serve the pita bread once it has cooled.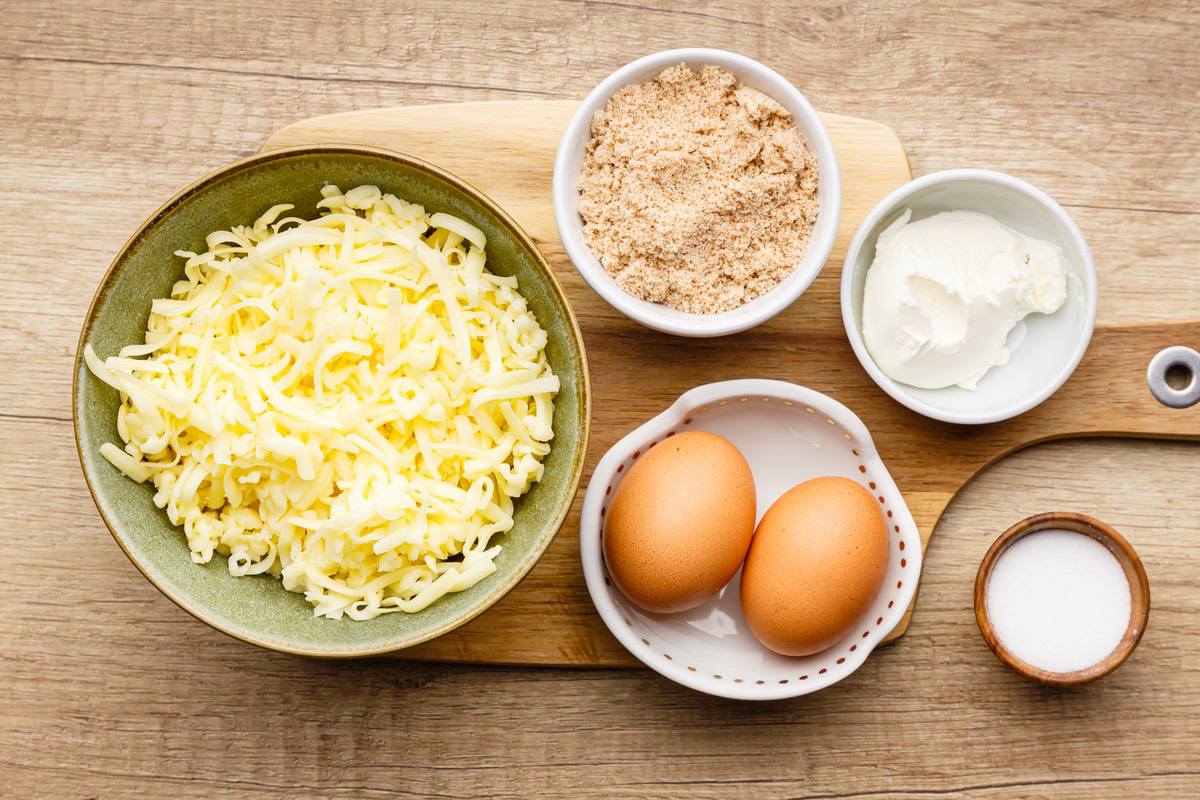 4 Quick Tips for Making the Best Keto Pita Bread
Making pita bread isn't like making regular bread. There are a few key things to keep in mind when making it. So with that being said, here are 4 quick tips to help make sure you end up with awesome keto pita bread, each and every time.
Adjust the heat if necessary when cooking. To make perfect pita bread, you're going to need heat. Since this particular recipe focuses on staying low carb and keto-friendly, you'll be able to get away with an oven temperature of only 350℉. Just make sure to keep an eye on the bread as it bakes. Don't be afraid to increase the heat if needed (anywhere between 375-400℉ should still be fine with this recipe).
Consider a baking stone. Continuing on from the point above, if you're going to be making pita bread often, then it may be worthwhile to invest in a baking stone. When making pitas, you want them to get a blast of heat on both the top and bottom when they go into the oven, and using a baking stone can make that a breeze.
Get the right thickness. Don't be afraid to press your pita dough balls to make them a little bit thinner. When it comes to ending up with the ideal pita bread texture, you're going to want thinner dough so that the heat from baking has an easier time reaching the center of the bread, giving it that trademark 'pita poof'.
Moisture matters. Speaking of that 'pita poof', moisture is essential to make that happen. When you place the pita in the oven, the temperature will immediately start to cook the outside of your dough. Meanwhile, moisture will begin to build up in the middle, which will eventually cause a burst of steam to release within the pita dough, which in turn causes it to puff up. The ideal pita dough will feel somewhat sticky and completely soft. This will help to make sure that your dough doesn't end up drying out.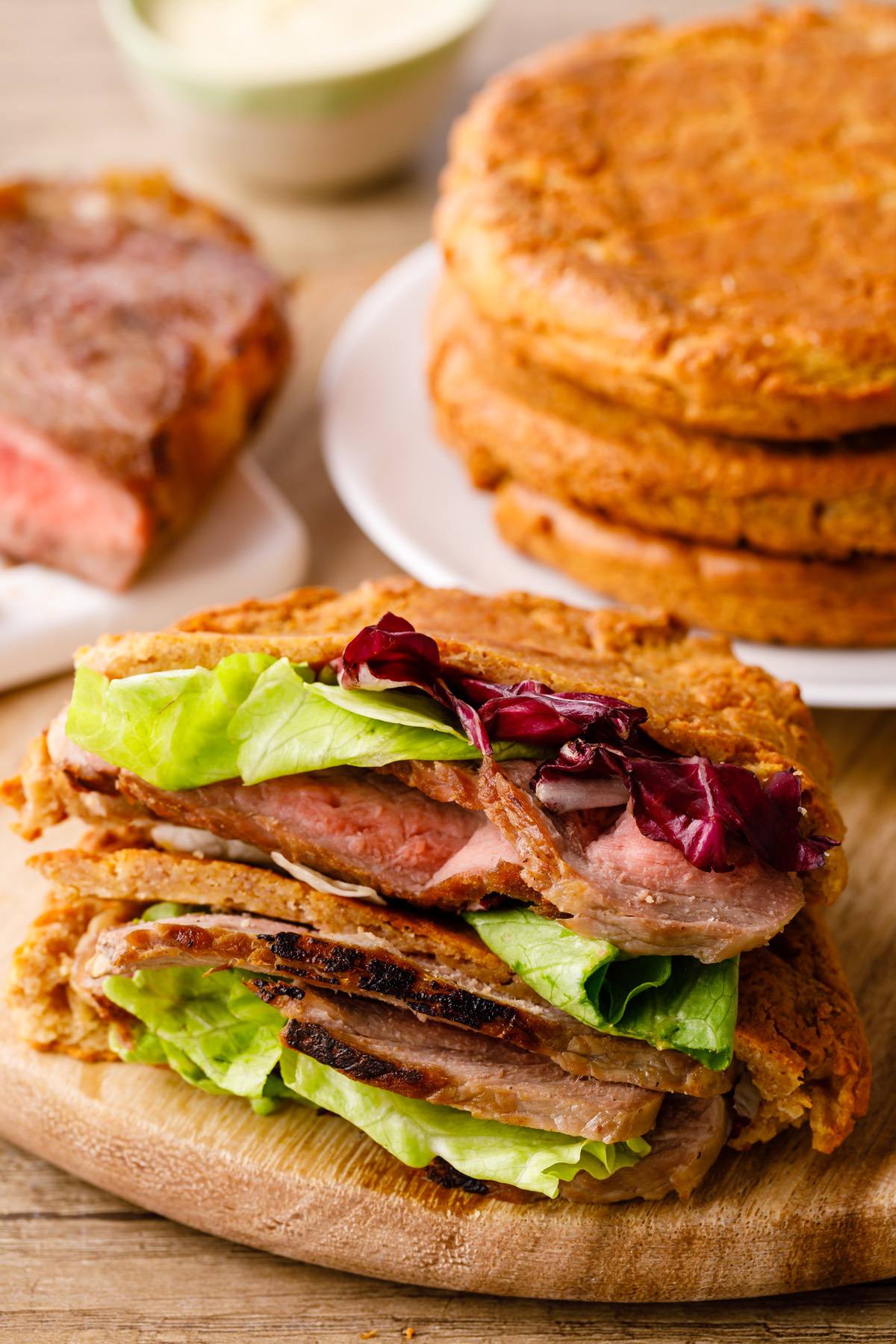 Can I Freeze This Keto Pita Bread?
You can definitely freeze this keto pita bread recipe; as a matter of fact, this recipe is a great candidate for making in bulk to freeze for later.
After baking the pita bread, you'll first want to make sure that you allow it to cool completely.
As this recipe makes 4 servings, I would recommend wrapping each individual piece of pita bread in plastic cling wrap first.
You'll be able to keep this keto pita bread in your freezer for 2-3 months stored like this. Just keep in mind that the longer you keep the pita bread frozen, the dryer it will end up when you thaw it out!
When you're ready to thaw it out, I would recommend simply leaving it out on the counter at room temperature. It's not recommended to use the microwave or oven for reheating because you can end up causing the pita to dry out or turn crispy.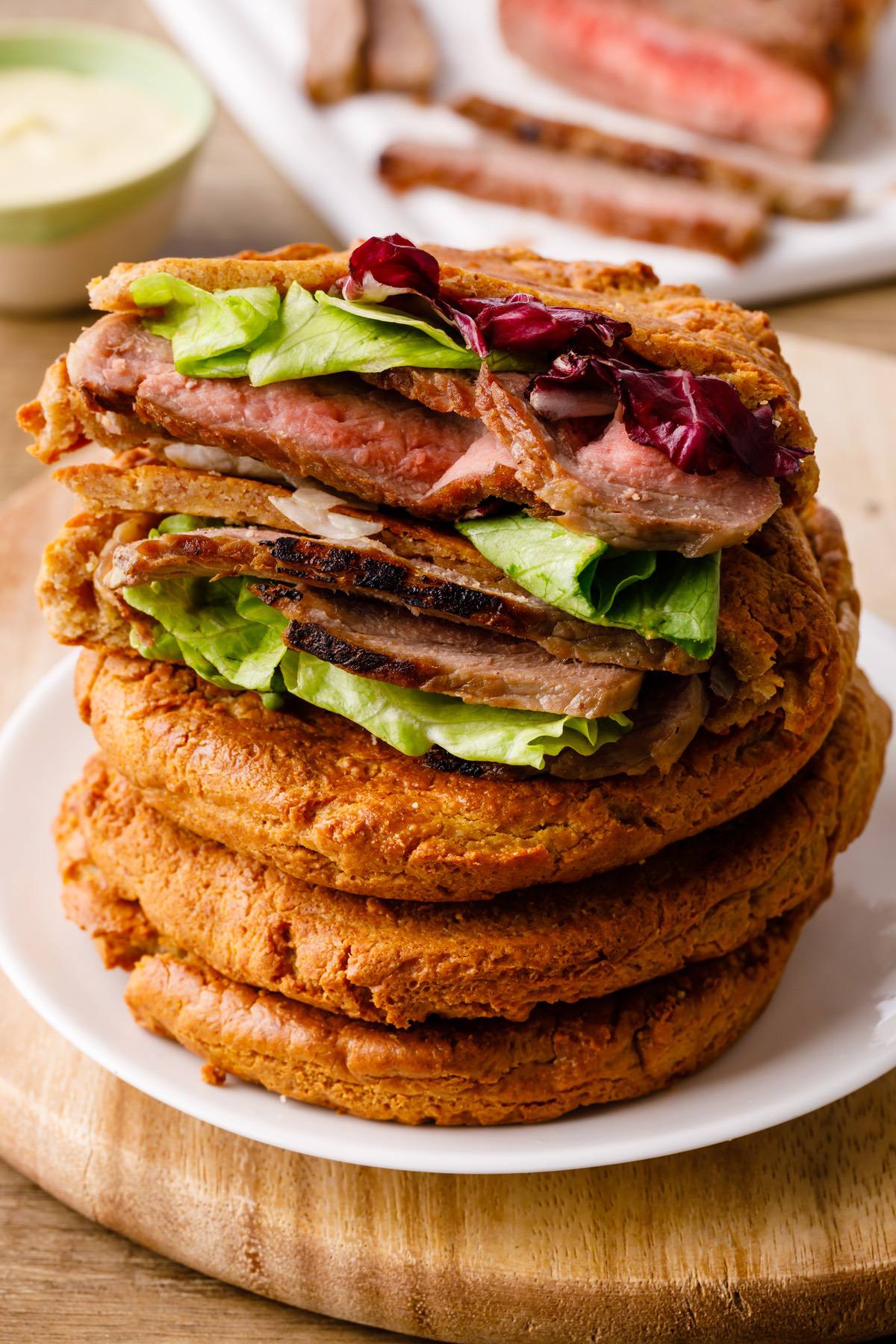 More Good Keto Bread Recipes:
Print Recipe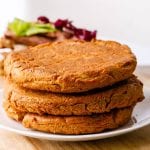 Low Carb (And Fluffy) Keto Pita Bread
Author: Bree
Prep Time:

10 minutes

Cook Time:

20 minutes

Total Time:

30 minutes

Yield:

4

1

x
Scale
2 cups

shredded mozzarella cheese

2 tbsp

cream cheese

2

eggs, beaten

2 cups

almond flour

salt to taste   
Place the mozzarella and cream cheese in a microwave safe bowl and microwave on high. 

Stir every 30 seconds until the mixture is completely smooth. 

Add in the almond flour, eggs and salt to taste and mix to combine.

Cover with plastic wrap and refrigerate the dough for minimum 1 hour. 

Preheat oven to 350°F. 

Divide the dough into balls and place them on a baking sheet lined with parchment paper. 

Bake for 15-17 minutes. 

Remove from the oven and allow to cool slightly then serve.
FREE KETO RECIPES + 5-INGREDIENT KETO COOKBOOK

Make sure to sign up for free to get instant access to the 5-Ingredient Keto Cookbook, which includes my favorite 20+ keto recipes of all-time, all under 5 ingredients.