Keto Desserts
Honey Roasted Keto Peanut Butter Protein Balls with Strawberry Jam
These keto peanut butter protein balls make the best snack! Covered in ground homemade honey roasted peanuts and filled with keto chia strawberry jam they're healthy, incredibly satisfying and curb your sweet cravings.
5 Reasons Keto Peanut Butter Balls Make the Best Snack or Healthy Dessert
These keto peanut butter balls are among my top favorites for healthy snacks or even dessert for a few reasons:
Peanut butter balls are packed full of energy. Keto snacks are calorie-dense and filled with nutrients, so you're getting clean, sustained energy throughout the day.
They're soo yummy. Need I say more? The peanut butter and jelly combo is hard to beat, especially when everything's homemade.
They keep well and can be stored for later. What I love about these keto peanut butter balls is how you can make a huge batch of them and they'll be just as good a few days later.
You don't need a lot of ingredients. The ingredients you'll need for this recipe are probably already sitting in your pantry!
Modify the recipe as you see fit. Use this recipe as a base and add your favorite toppings for more variety.
How to Make Keto Peanut Butter Balls
Making your own keto peanut butter balls is easier than you think once you have all your ingredients ready. Just put everything together, and you're done!
Prepare all your ingredients. This is the best way you can cut down on your preparation time. When everything is already laid out and prepared, you don't waste time hunting for stuff in your drawers.
Form your jam into balls. With a measuring spoon or melon ball scoop, measure a teaspoon worth of jam and place it on your baking sheet.
Place your baking sheet in the freezer. Freeze your jam for about 30 minutes or until they have started to firm up. This is an important step because unless your jam is firmed up, it will be difficult to form the rest of the peanut butter balls.
Prepare your outer topping. Combine the peanuts, melted butter and honey in a bowl and toss until all the peanuts are covered completely.
Roast your outer topping. Spread the peanut mixture evenly on a separate baking sheet. Bake it in the oven for about 10 minutes or until your peanuts have started to brown. This will give your peanuts a delicious, roasted flavor.
Crush the roasted peanut mixture. You can crush the mixture with the end of a rolling pin, but I prefer using my food processor and just pulse it a few times.
Prepare the peanut butter layer. Combine the peanut butter, sweetener and coconut flour in a bowl and mix well.
Portion the peanut butter dough. Divide the dough into 16 equal parts. Flatten them into uniform shapes.
Compose each peanut butter ball. Take your jam out from the freezer and place each ball of jam into the center of the flattened peanut butter dough.
Mold the peanut butter layer. Gently mold the peanut butter layer until it completely encases the chilled ball of jam.
Roll the peanut butter ball over your prepared topping. Once the peanut butter ball is firmly molded, gently roll it over the crushed peanut mixture. Repeat until you've used up all your ingredients.
3 Best Keto-Friendly Peanut Butter Brands
Justins' Classic Peanut Butter – Justin's Classic Peanut Butter is a popular choice for keto dieters and even non-keto dieters because of the great flavor and short ingredients list.
Per 32g serving: 6g carbs (2g sugar), 7g protein, 18g fat
Ingredients: Dry roasted peanuts, palm oil
Teddie's All Natural Peanut Butter (Smooth) – Teddie's all natural peanut butter is another favorite because it comes in salted and unsalted varieties. This gives you more room to adjust the taste and sodium levels of your recipes as needed.
Per 32g serving: 7g carbs (2g sugar), 8g protein, 16g fat
Ingredients: Dry roasted peanuts, salt
Crazy Richard's Creamy Peanut Butter – Crazy Richard's creamy peanut butter contains just one ingredient (peanuts) with no other additives and flavorings. It doesn't get much better than this!
Of the three brands listed here, Crazy Richard's is the only brand without any added sugars.
Per 32g serving: 5g carbs (2g sugar), 8g protein, 16g fat
Ingredients: Peanuts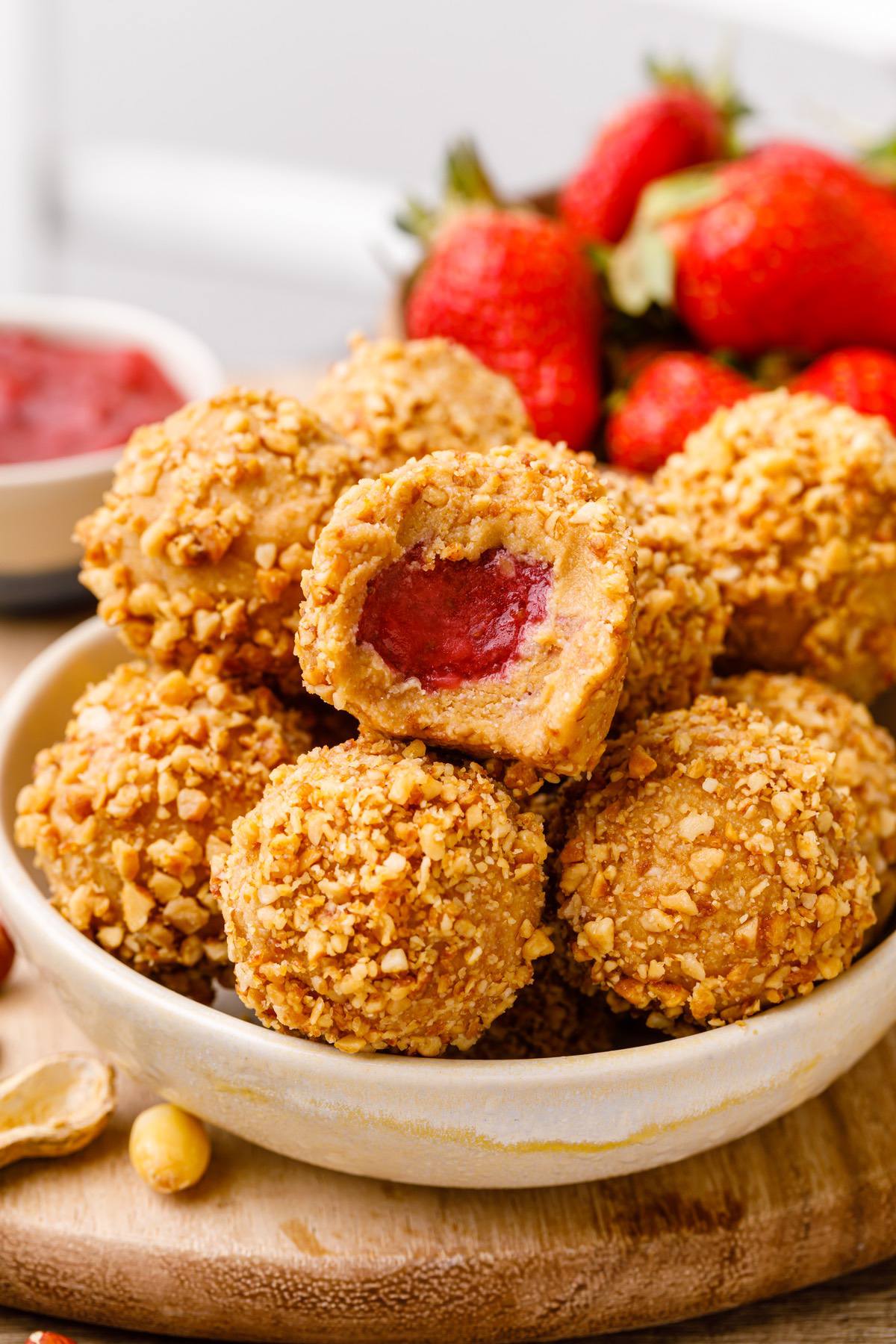 I Want to Increase the Protein Macros. Can I Add Protein Powder to These Instead of the Coconut Flour?
Absolutely! You need the dry powder to help form the peanut butter layer into more of a dough. If it's too wet, it will just stick to everything and won't really serve as a good outer layer.
Coconut flour can be substituted with protein powder in a 1:1 ratio, so for the 6 tablespoons of coconut flour in this recipe, you can use 6 tablespoons of whey protein powder.
I would suggest using a peanut butter flavored protein powder if you want to stay true to the peanut butter and jelly flavor of this recipe, however, I've also tried vanilla and chocolate whey protein powders with this and both turned out fantastic as well.
Just make sure to use a whey protein isolate to avoid adding unnecessary carbs to the recipe, as whey protein concentrates and mass gainer whey shakes contain more carbs than a whey protein isolate.
Also, feel free to experiment with different whey protein flavors to see how it affects the overall recipe.
(You may also like: Peanut Butter and Chocolate Keto Fat Bombs)
Print Recipe
Honey Roasted Keto Peanut Butter Protein Balls with Strawberry Jam
Author: Bree - KetoPots.com
Prep Time:

20 minutes

Cook Time:

10 minutes

Total Time:

30 minutes

Yield:

1

6

1

x
Scale
For the balls:
1 cup

natural peanut butter 

¼ cup

granulated Stevia or low carb granulated sweetener

6 tbsp

coconut flour 

16 tsp

homemade keto strawberry jam
For the roasted peanuts: 
2 oz

peanuts 

1 tsp

melted butter 

1 tsp

honey
Using a teaspoon measuring spoon, scoop out balls of jam and lay them on a baking sheet lined with parchment paper.

Freeze for 30 minutes or until the jam balls have firmed up a bit.

Preheat oven to 350°F. 

Line another baking sheet with parchment paper. 

Add the peanuts, melted butter and honey to a bowl and toss to coat. 

Transfer peanuts to the prepared baking sheet and spread into a single layer.

Bake in preheated oven for 10 minutes, stirring occasionally.

Remove from the oven and allow to cool completely. 

Add the peanuts to a food processor and pulse a few times. 

Transfer the chopped peanuts to a plate and set aside. 

Add the peanut butter and sweetener to a bowl and beat until well combined.  

Add the coconut flour and mix to combine. 

Divide the dough into 16 balls. 

Flatten each ball into a disk.

Place the jam ball in the middle of the disk

Lift up and pinch the edges of the peanut butter so that they're coming up around the jam ball. 

Roll the ball into the chopped peanuts. 

Repeat until all materials have been used. 

Store in the freezer in an airtight container. 

Remove from the freezer 5-10 minutes before serving.
5 More Easy Peanut Butter Keto Desserts to Try
3-Ingredient Keto Peanut Butter Cookies – Just three ingredients and you get cookies–what's not to love about this super simple recipe?
Sugar-Free Keto Peanut Butter Cups – If you loved these peanut butter balls, then you're going to go absolutely nuts for my keto peanut butter cups.
Flourless Keto Peanut Butter Mug Cake – Mug cakes are a lifesaver when it comes to convenience, and this recipe is no exception. Everything is prepared and cooked in a mug!
Peanut Butter and Chocolate Keto Fat Bombs – Silky smooth chocolate and peanut butter in one delicious package–that's exactly what these keto fat bombs are all about.
Homemade Chocolate and Peanut Butter Keto Cereal – This chocolate and peanut butter cereal is keto-approved and packed with flavor at every crunch.
FREE KETO RECIPES + 5-INGREDIENT KETO COOKBOOK

Make sure to sign up for free to get instant access to the 5-Ingredient Keto Cookbook, which includes my favorite 20+ keto recipes of all-time, all under 5 ingredients.