Keto Recipes
Flourless Keto Peanut Butter Mug Cake (Quick and Effortless)
Peanut butter lovers rejoice! Today I'm pleased to share a fantastic keto-friendly dessert recipe with all of you guys that you'll especially love if you grew up on peanut butter cookies and chocolate peanut butter cups like I did. This flourless keto peanut butter mug cake is super quick and nearly effortless to make, and as the name of the recipe would suggest, it contains absolutely no flour or added sugar. This recipe is good enough by just making the peanut butter mug cake but then we improve things even more by mixing in some sugar free chocolate chips as well. If you're a fan of peanut butter and chocolate, this one's for you.
Quick, Easy, and Oh So Delicious
You can start by taking three tablespoons of all-natural creamy peanut butter (you can opt for crunchy peanut butter as well, but I find the mug cake turns out much better when using creamy) and microwaving it in a microwave-safe mug for about 30 seconds. I know some of you may be hesitant to make a dessert that uses a lot of peanut butter like this one does, considering it's a commonly added ingredient into shakes to help individuals with their weight gain goals.
Not to worry though, as so long as you're adhering to the main principles of the keto diet and keeping your carb intake to a minimum, you can enjoy peanut butter freely. In fact, one study even found that with 12 weeks of high oleic peanut consumption, individuals experienced several cardio-metabolic benefits with only minor amounts of weight gain; far less than originally anticipated! (1)
Yet another reason that you can enjoy this dessert without feeling guilty or worrying about unwanted weight gain is due to the fact it's totally flourless and sugar free. Excessive sugar consumption (especially sugar additives like fructose-glucose) is well known to be one of the major contributing causes of obesity as it causes a state of nutrient and energy deficiency. (2) Thankfully, this recipe opts to use a low carb sweetening alternative such as Stevia instead of sugar to help improve the taste of the mug cake while keeping the calories down.
The next step after adding in your sweetener is to whisk in a single egg and some baking powder until the mixture is smooth. You can now fold in your sugar free chocolate chips before you microwave the mug cake on high for between 75-90 seconds, however long your microwave needs to make the cake firm to the touch. As an added note, we also have a great recipe for homemade sugar free chocolate chips that's super easy to make as well — highly recommend for use with this recipe.
You're definitely going to want to enjoy this mug cake when it's straight out of the microwave, with the chocolate chips and peanut butter nice and warm for an incredibly gooey and tasty treat. The best part of all is that you can enjoy it 100% guilt-free thanks to the fact there's no flour or added sugars anywhere to be found — just simple, all-natural whole food ingredients that combine beautifully to make one awesome keto-friendly snack. Enjoy!
More Keto Mug Cake Recipes:
The Best Gooey Keto Molten Chocolate Lava Mug Cake
Print Recipe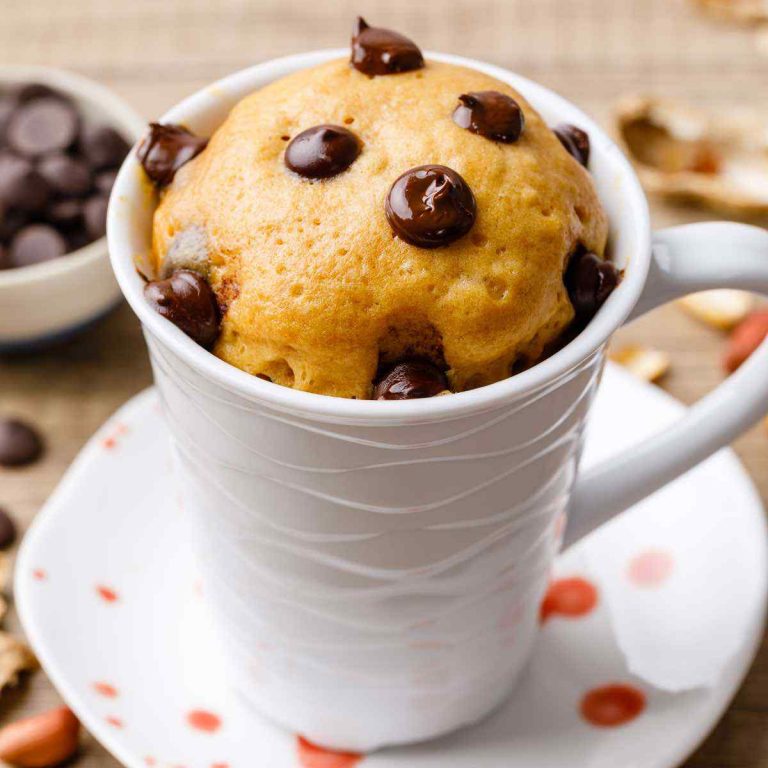 Flourless Keto Peanut Butter Mug Cake
Author:
Prep Time:

2 minutes

Cook Time:

2 minutes

Total Time:

4 minutes

Yield:

1

1

x
FREE KETO RECIPES + 5-INGREDIENT KETO COOKBOOK

Make sure to sign up for free to get instant access to the 5-Ingredient Keto Cookbook, which includes my favorite 20+ keto recipes of all-time, all under 5 ingredients.
Scale
3 tbsp natural creamy peanut butter
1 tbsp granulated Stevia or other low carb granulated sweetener
¼ tsp baking powder
1 egg
1 tbsp sugar free chocolate chips or chopped sugar free chocolate
Place the peanut butter in a microwave-safe mug and microwave on high for 30 seconds.
Remove from the microwave oven and stir well.
Add the sweetener and mix to combine.
Add the egg and baking powder and whisk until smooth.
Fold in the chocolate chips.
Microwave on high for 75-90 seconds or until just firm to touch.