Keto Recipes
Copycat Peanut Butter Frosty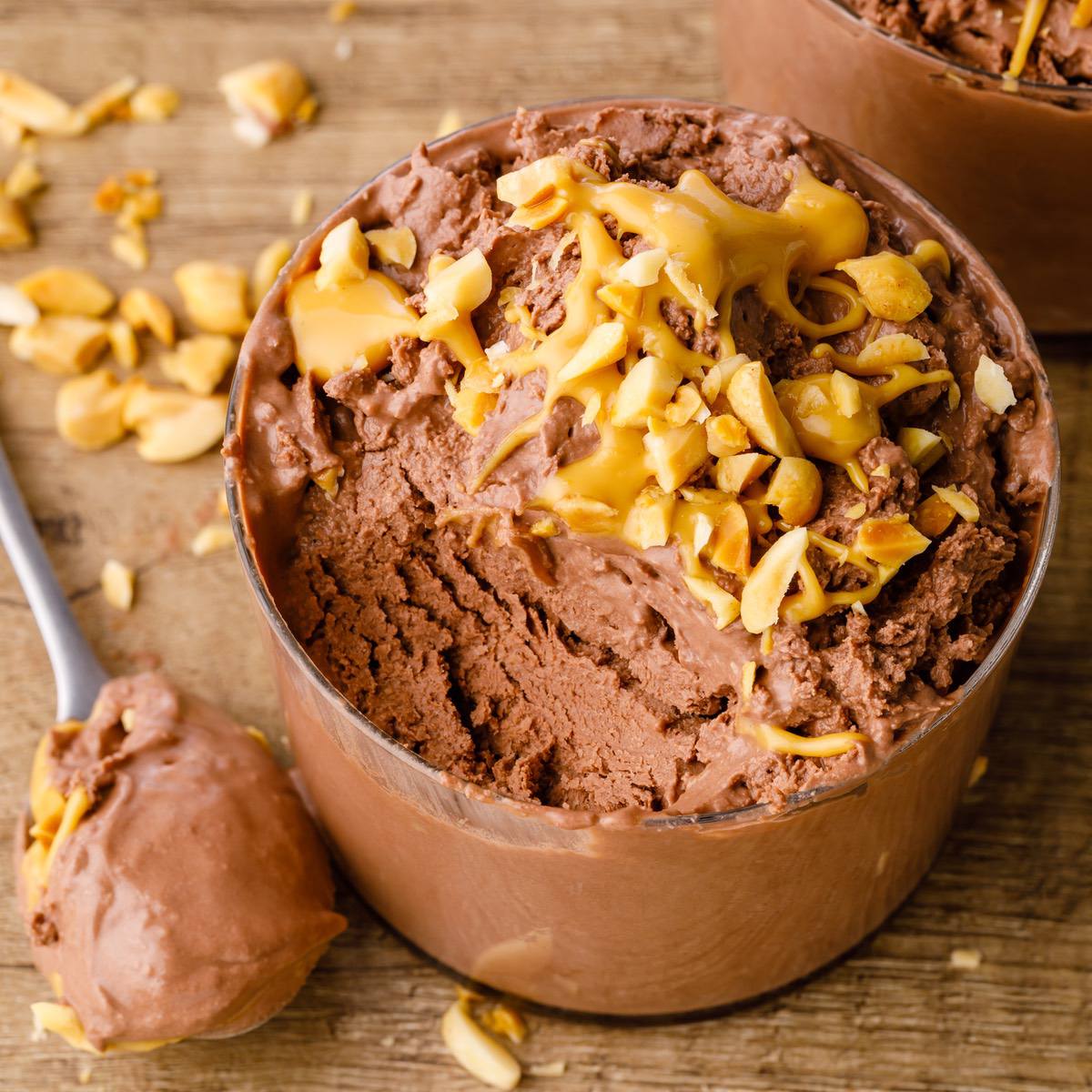 This copycat peanut butter frosty is incredibly decadent and indulgent, but is actually very good for you. Here's how to make it.

Need more ideas for deeply chocolate desserts? Try this thick chocolate milkshake, this overnight chocolate chia pudding and this dark chocolate fluff.
---
How to Make a Keto Frosty
Mix the liquid ingredients. In a bowl, add your heavy cream, vanilla extract, peanut butter and sweetener. Whip everything together until soft peaks form. Tip: Use a chilled bowl for this recipe to get the right frosty texture.
Add cacao powder. Mix well until well-combined.
Pour. Pour the mixture into a container and seal it tightly. Freeze for 40 minutes or so.
Portion it out. Once the mixture is nice and smooth with just the right amount of ice in it, you can start dividing it into glasses.
Add toppings. Drizzle with extra peanut butter and some chopped peanuts on top if you'd like!
Serve immediately.
Related: Fudgesicle Ice Cream Bar Recipe
---
<3 id="tips-for-making-the-best-homemade-keto-frosty-drinks">3 Tips for Making the Best Homemade Keto Frosty Drinks
When I think of a frosty, I have a very distinct texture in mind. It's not too thick that it's a soft-serve, but it's also not as runny as a smoothie.To achieve this texture, I have some key tips for you to follow:
Stir every so often. Given that we all have different types of freezers, your results may vary with the allotted 40 minutes freezing time. If you find that your frosty is freezing solid on top, I recommend breaking up the solid parts and mixing them with the rest of the batch.
Use a chilled bowl. When I say chilled, I mean a bowl that you have left in the freezer for about 30 minutes before using. Think of this as the equivalent of preheating your oven. Using a chilled bowl will kickstart the process so you're not starting with warm ingredients.
Use only full-fat ingredients. You don't want to be using low-fat or fat-free cream for this recipe because those will have a higher water to fat ratio. Fat is essential to the creamy texture of this recipe, which is why the good old full-fat heavy cream is a must.
---
Can I Leave this Keto Frosty in the Freezer Overnight?
Yes and no. Yes because you can preserve your keto frosty for later, but it won't stay in that deliciously creamy frosty texture if left in the freezer overnight. It will eventually freeze solid.
To achieve a frosty-like texture again after freezing, you'll basically just keep stirring the frosty until it defrosts enough liquid. However given that there will be frozen blocks, the texture will not be as smooth as it was initially.
For this reason, I don't recommend letting the keto frosty freeze overnight to make sure you can really enjoy this recipe as intended.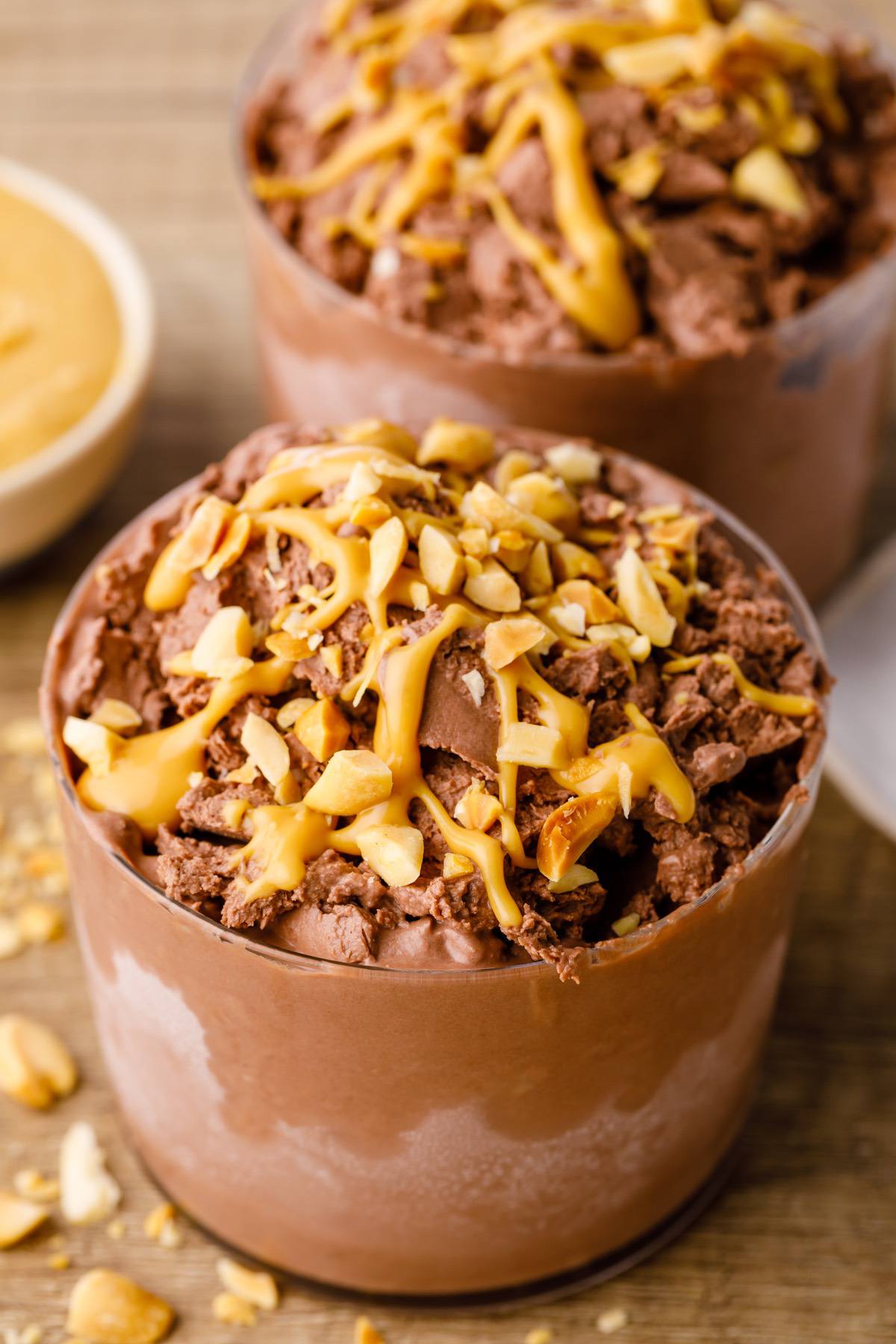 P.S. If you want to go all out, or have a birthday coming up, this cookies and cream ice cream cake recipe is to-die-for: https://ketopots.com/keto-ice-cream-cake
---
Print
Print Recipe
Copycat Peanut Butter Frosty
Author: Bree
Prep Time:

10 minutes

Total Time:

10 minutes

Yield:

4

1

x
Category:

Dessert

Cuisine:

American
Scale
1 cup

heavy cream 

2 tbsp

natural peanut butter plus extra for serving

1 tbsp

cacao powder 

2 tbsp

granulated Stevia or other low carb granulated sweetener

1 tsp

pure vanilla extract 

chopped roasted peanuts for decoration (optional)
In a large chilled bowl add the heavy cream, vanilla extract, peanut butter and sweetener and whip until soft peaks form.

Add the cacao powder and mix until combined.

Pour the mixture into an airtight container and freeze for 40 minutes. 

Divide the frosty between serving glasses. 

Drizzle with extra peanut butter, sprinkle with chopped peanuts (if using) and serve.
Keywords: ice cream, frosty
FREE KETO RECIPES + 5-INGREDIENT KETO COOKBOOK

Make sure to sign up for free to get instant access to the 5-Ingredient Keto Cookbook, which includes my favorite 20+ keto recipes of all-time, all under 5 ingredients.