Keto Recipes
Keto Peanut Butter Chocolate Candy Bars
Some food combinations go together so effortlessly, it's almost as if they were meant to be. Honey garlic is one example. Ham and cheese is another. Then there's of course spaghetti and meatballs. But perhaps the most delicious combination out there is chocolate and peanut butter. It's a classic pairing that is loved all over the world. These low carb no bake keto chocolate peanut butter bars are so good, fulfill the peanut butter and chocolate cravings, and really easy to make. Here's how.
Also make sure to try this sugar-free chocolate keto bark (if you're looking for something without peanut butter) or these no-bake keto mississippi mud bars (they are to-die-for!).
---
How to Make Sugar-Free Chocolate Peanut Butter Candy Bars
It's crazy how much peanut butter I go through on a weekly basis ever since I started living a keto lifestyle. I eat it by the spoonful, I add it into my shakes, and then there are the recipes like this one.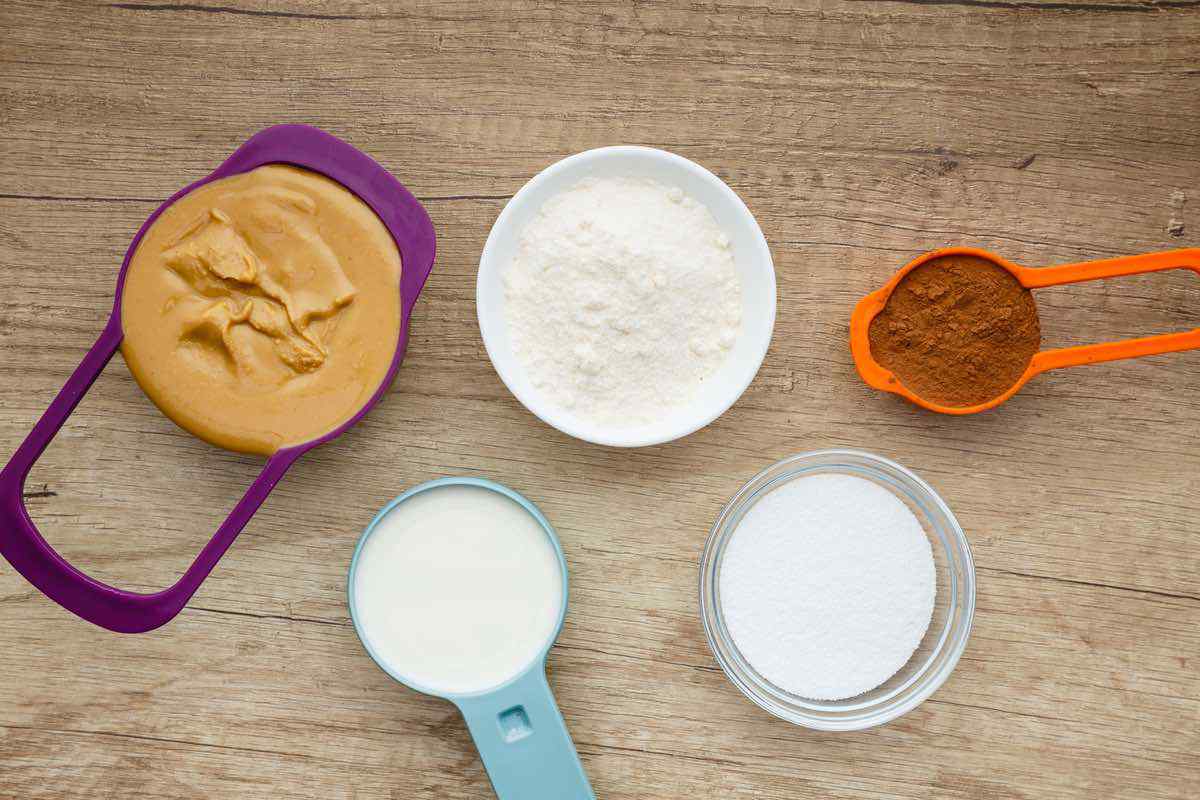 Of course, I make sure to use all natural peanut butter instead of the hydrogenated varieties commonly found at the grocery store.
These processed varieties do in fact contain small amounts of trans fats, despite claims to the contrary. Considering that trans fats are a huge source of inflammation and have been linked with heart disease (1), it's definitely worth it to stick to all natural peanut butter.
You may also like: Chocolate Chip Cookie Bars
---
For these peanut butter chocolate bars, you're first going to first soften up your peanut butter a bit and then cream it together with a low carb granulated sweetener like Stevia until the mixture is fluffy.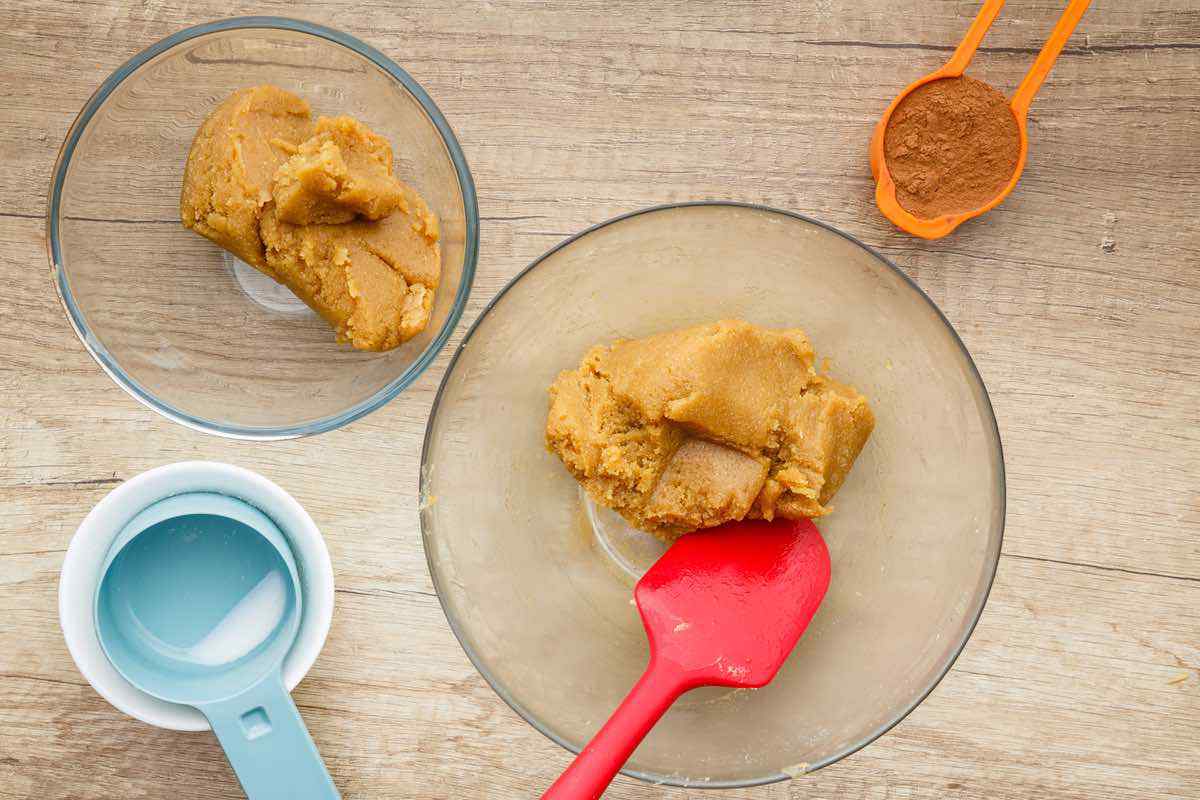 Next, you'll beat in your full fat milk until it's nice and smooth. With that done, go ahead and add in your coconut flour. I like to use coconut flour when making these bars because it adds a slight hint of a coconut aftertaste, and it's also a fairly nutrient-dense baking flour.
And just as we use all natural peanut butter over a processed variety, coconut flour isn't known to cause inflammation, unlike refined wheat flours. (2)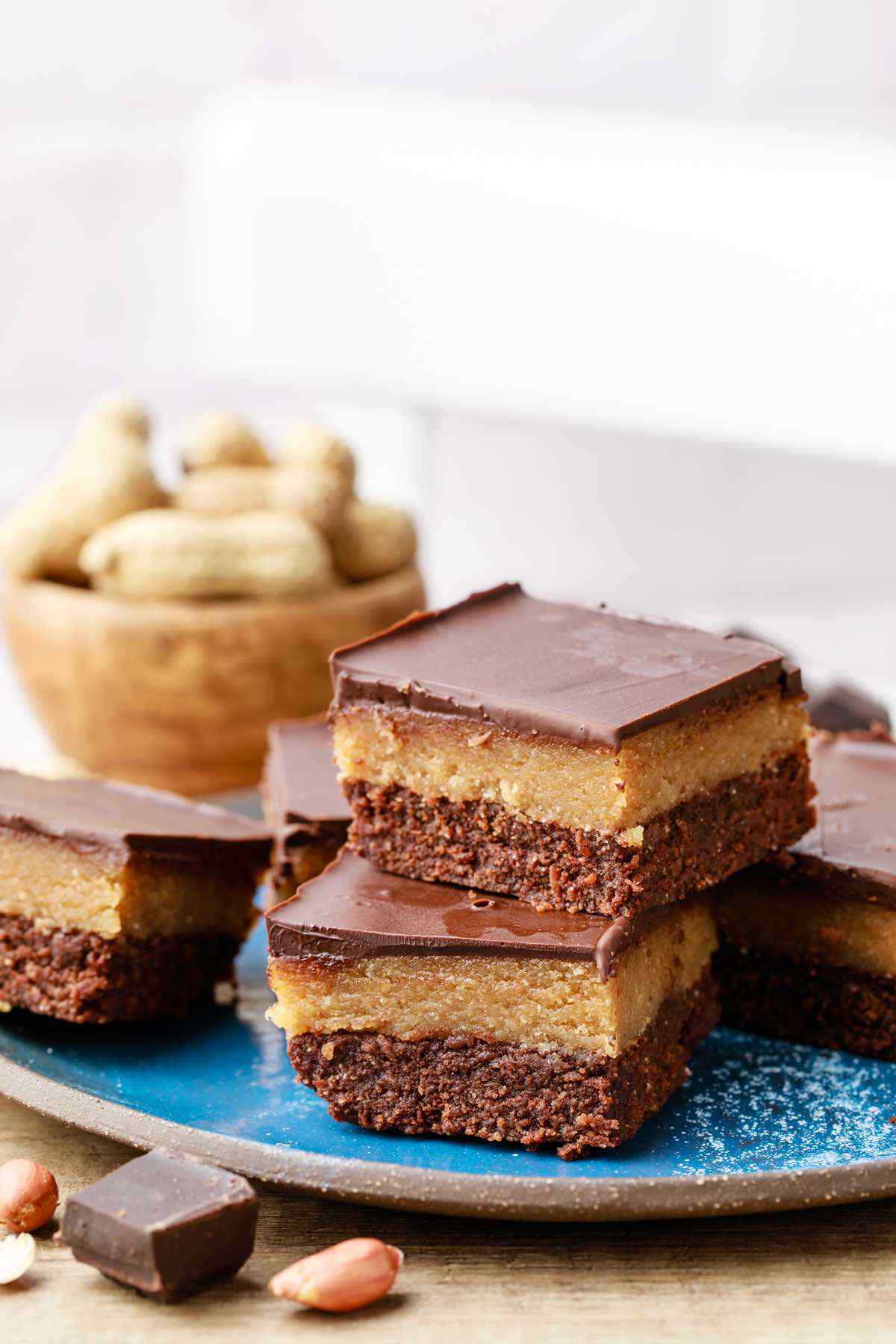 Take half of the resulting mixture and transfer it into a separate bowl. The next step is to add the chocolate flavor by mixing in the cacao powder. Unlike milk chocolate, cacao powder contains nearly no sugar and offers plenty of dietary fiber and disease-fighting antioxidants. (3) After mixing in the cacao powder, press it into your prepared baking pan.
Freeze this mix for about 10 minutes, and then spread the remaining peanut butter batter over the top of it before freezing for another 10 minutes.
---
While your bars are in the freezer, you can turn your attention towards making the chocolate glaze. It's incredibly easy to prepare, as you only have to melt together some coconut oil with sugar free chocolate in a double boiler. Once your bars are done in the freezer, just pour the glaze on top of them.
You'll want to refrigerate them for a minimum of six hours before serving.
I have to be honest with all of you — I'm absolutely hooked on these chocolate peanut butter bars. They're so easy to make and they are just SO good.
The good news is that at least I don't have to feel guilty about being hooked on them, because as you can see from this recipe, the ingredients used are all quite good for you. These no bake bars are the very definition of delicious and nutritious — and best of all, I've still been losing weight even while snacking on them!
P.S. If you like sweet bars with a little more tang to them, give these keto lemon bars a try (they're so good!): https://ketopots.com/keto-lemon-bars
---
Print
Print Recipe
Keto Peanut Butter Chocolate Candy Bars
Author: Bree
Prep Time:

25 minutes

Total Time:

25 minutes

Yield:

1

6

1

x
Category:

Dessert

Cuisine:

American
Scale
For the bars:
1 cup natural peanut butter, softened
¼ cup granulated stevia sweetener or other low carb granulated sweetener
½ cup coconut flour
¼ cup cocoa powder
½ cup full fat milk
For the glaze:
1 cup sugar free chocolate
1 tbsp coconut oil
Line an 8×8 inch baking pan with parchment paper and set aside.
In a bowl cream the peanut butter and sweeter until fluffy.
Add the milk and beat until smooth.
Add the coconut flour and beat until combined.
Transfer half of the mixture into another bowl and add the cacao powder. Mix to combine.
Press the cacao mixture into the prepared pan.
Freeze for 10 minutes.
Spread evenly the peanut butter batter over the top.
Freeze for another 10 minutes.
Combine the chopped chocolate and coconut oil in a glass bowl and using a double boiler, melt together.
Pour the glaze over the top and refrigerate for minimum 6 hours.
To slice and serve, leave the bars at room temperature for 10 minutes, then use a hot knife to cut through the chocolate.
Keep the bars in an airtight container in the refrigerator.
Keywords: chocolate, peanut butter, bars, sugar-free
FREE KETO RECIPES + 5-INGREDIENT KETO COOKBOOK

Make sure to sign up for free to get instant access to the 5-Ingredient Keto Cookbook, which includes my favorite 20+ keto recipes of all-time, all under 5 ingredients.