Keto Recipes
Peanut Butter and Jelly Keto Shake (Try This)
I can still remember the very first lunch that I ever brought with me to school — it was a peanut butter and jelly sandwich. PB&J sandwiches were a huge staple of my early years, and I'm sure they were for many of you as well. If the thought of a sandwich smothered in peanut butter and jelly takes you back, then you're going to absolutely love the recipe that I'm sharing today. It makes a peanut butter and jelly keto shake that works phenomenally well as a quick and easy breakfast or lunch option, or even just as a tasty mid-afternoon snack. In order to provide that classic PB&J taste, you'll be mixing all natural peanut butter in with some frozen strawberries, along with a few other choice keto-friendly ingredients.

An All-Time Classic Duo
I'm sure that many of you are no stranger to adding peanut butter into your shakes, especially if you're working towards gaining some mass with your workouts. Peanut butter is a tasty way to increase the overall fat and calorie content of your shakes, and it works perfectly in this recipe to make this shake incredibly satisfying, even without any added protein source. It's also a good food to include in your daily diet for health purposes as well, as research has found that daily nut and peanut butter consumption has actually lead to a reduced risk of type 2 diabetes. (1) That should come as no surprise to anyone who's been following a keto lifestyle, as a variety of nuts are a huge staple on the keto diet, considering they provide a ton of heart healthy fats.
For the "jelly" part of your shake, you'll be using a third-of-a-cup of frozen strawberries. At least, that's what I use when I make this recipe, as I was always a fan of strawberry jelly. If you would prefer using raspberries or even blackberries to handle the jelly role, you can go right ahead, both options will work just as well. Whatever you choose, berry fruits are well known to provide many positive health benefits, especially when it comes to helping to prevent metabolic syndrome and its related complications. (2) However, just keep an eye on your total daily carb intake if you're trying to remain in strict ketosis — while berries are a rather low carb fruit option that can be enjoyed in moderation, they can quickly increase your daily total.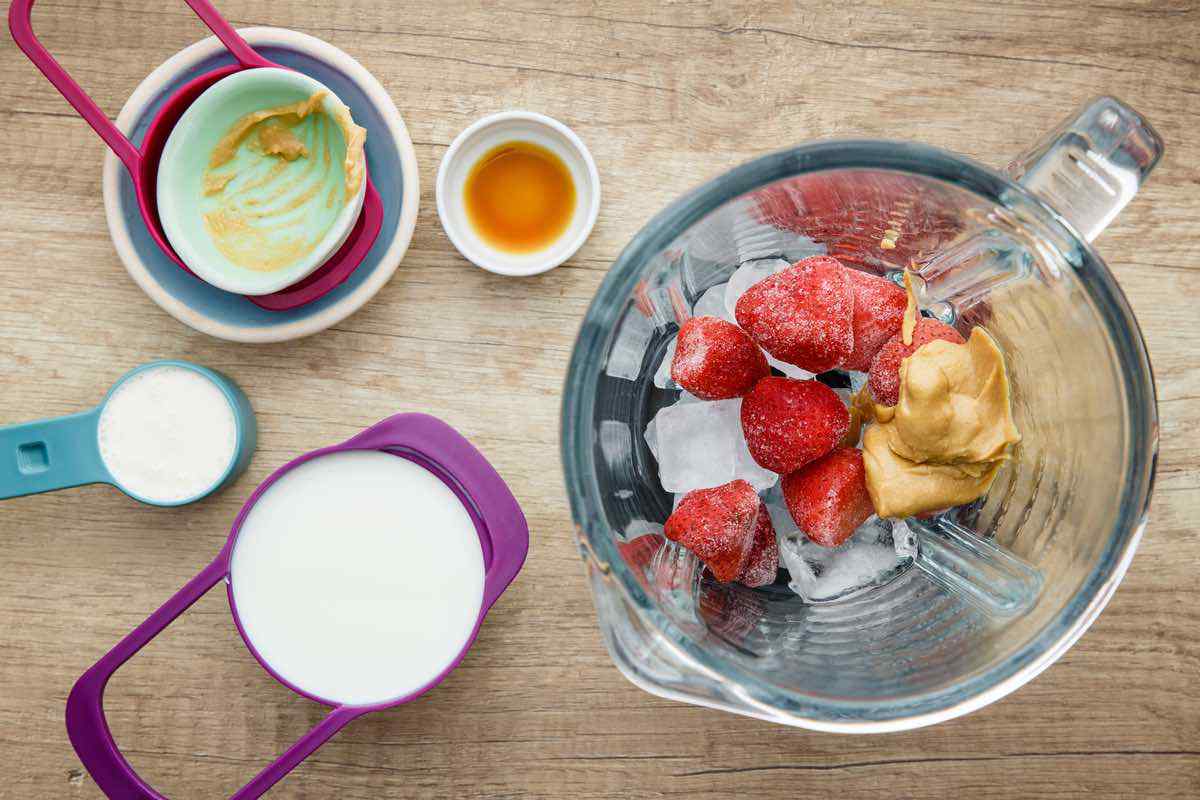 To further keep your shake low carb and keto-friendly, you'll be adding Stevia in order to sweeten up the taste a little bit. Stevia is used because it's a zero calorie natural sweetening option that won't add any carbs, and unlike other varieties of artificial sweeteners, it doesn't cause any negative side effects. (3) This is in stark contrast to some of the awful side effects that have been reported in other sweetening options like aspartame, which can cause migraines, nausea, vomiting, and even depression in some people.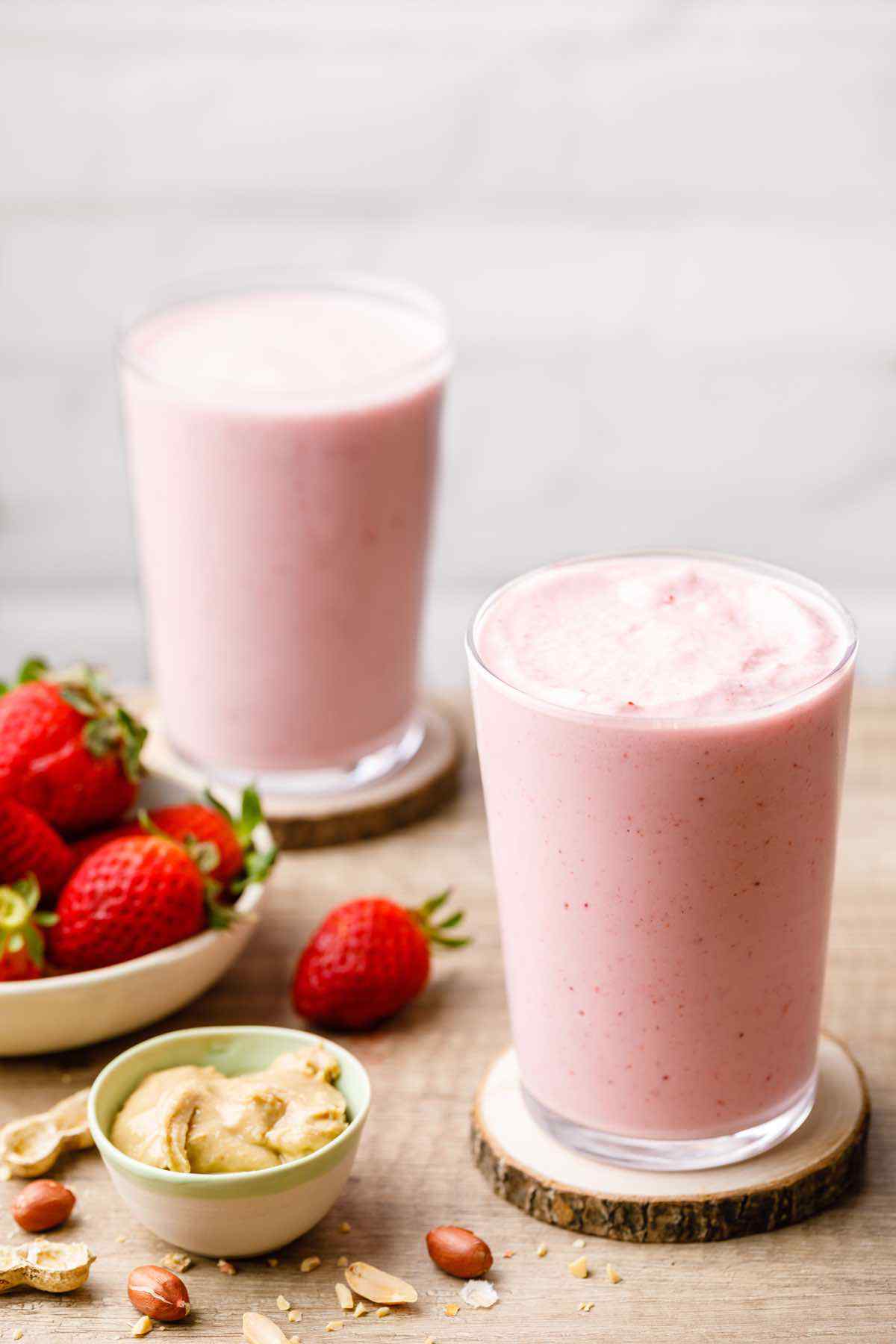 To round out the shake recipe, you'll also be mixing in ice cubes, some heavy cream to further bolster the fat content, and a bit of vanilla extract as well for added flavor. Last but not least, you'll also need half-of-a-cup of unsweetened almond milk — I like to use vanilla flavored almond milk as it pairs nicely with the pure vanilla extract. Simply blend all of the ingredients together until they're smooth and then enjoy!
More Keto Protein Shake Recipes:
4 Ingredient Chocolate Shake (The Easiest Keto Shake Ever)
Mocha Frozen Latte Keto Shake for Energy
Cinnamon, Blueberry and Almond Butter Keto Breakfast Shake
Quick and Easy Protein-Packed Keto Vanilla Shake
Raspberry Chocolate Keto Protein Shake – Low Carb Chocolate Goodness
Print Recipe
Peanut Butter and Jelly Keto Shake
Author: ketopots.com
Prep Time:

5 minutes

Total Time:

5 minutes

Yield:

1

1

x
Scale
¼ cup heavy cream
1/3 cup frozen strawberries
3 tbsp natural peanut butter
½ cup unsweetened almond milk
1 tsp pure vanilla extract
½ cup ice cubes
1 ½ tsp granulated Stevia sweetener or to taste
Place all the ingredients in a blender and blend until smooth.
Serve immediately.
FREE KETO RECIPES + 5-INGREDIENT KETO COOKBOOK

Make sure to sign up for free to get instant access to the 5-Ingredient Keto Cookbook, which includes my favorite 20+ keto recipes of all-time, all under 5 ingredients.