Keto Recipes
Peanut Butter Stuffed Chocolate Keto Cookie Sandwiches
A lot of people agree with me when I say that a meal wouldn't be complete without a touch of sweetness at the end. Unfortunately, traditional desserts are loaded with calories and the majority of their calories come from refined sugar. For keto dieters however, that's a big no-no, which is why we have an incredible library of dessert recipes for you to choose from. I'm not even ashamed to admit that I have a major sweet tooth, and most of the desserts in my house are products of my own cravings. The latest addition to our arsenal of recipes is this peanut butter stuffed chocolate keto cookie sandwich.
My peanut butter cookie recipe was a hit with you guys, so I'm pretty sure this one will be as well. It's peanut butter stuffed, after all. Not only do these cookies taste amazing but they're gluten-free and sugar-free, and they're full of healthy fats.
Cookies That Are Loaded with Nutrients
Regular cookies are made with processed white flour and refined sugar which aren't very good for you. In fact, consuming too much of it may cause unwanted weight gain and other negative health effects such as obesity, cardiovascular disease, cognitive decline, and more. (1) These cookies are made with almond flour, unsweetened cocoa powder and coconut oil, all of which contain essential nutrients, vitamins, minerals, fiber and healthy fats that your body can greatly benefit from.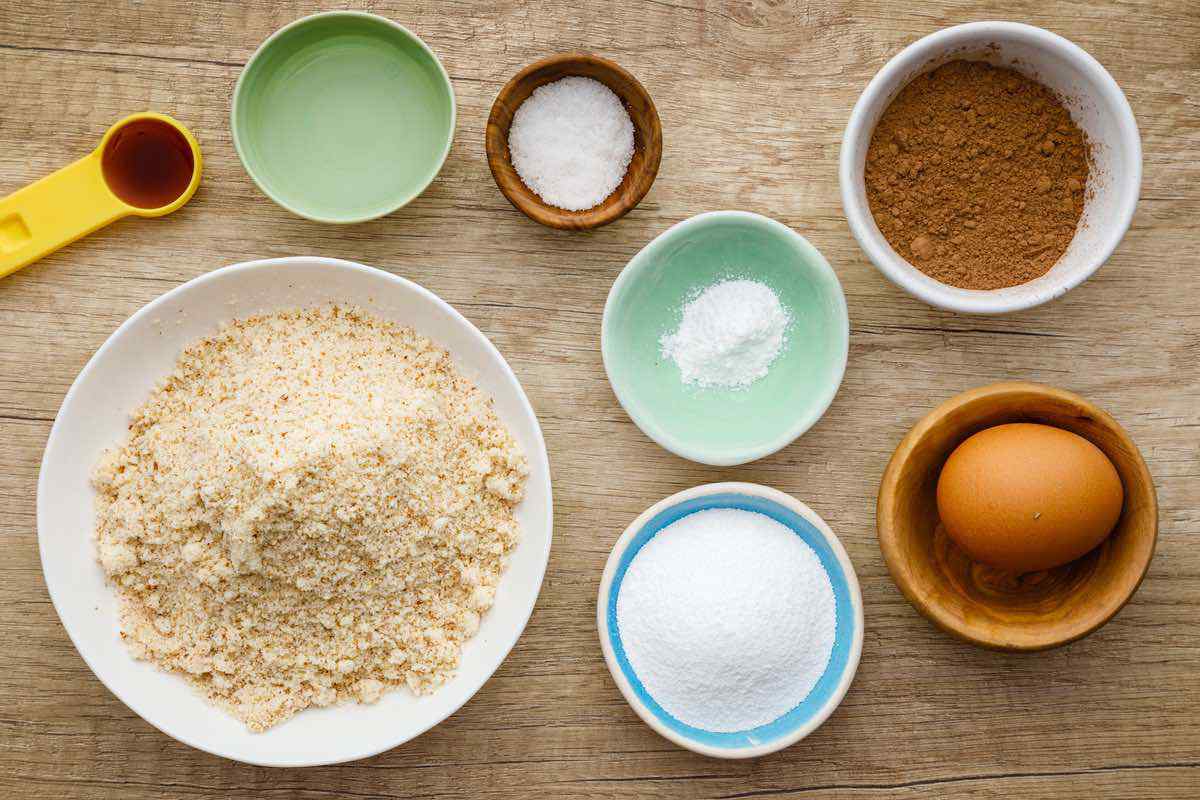 To make the batter, all you have to do is combine the dry ingredients (almond flour, cocoa powder, baking powder, a pinch of salt) in a bowl. In another bowl, mix the wet ingredients (coconut oil, granulated sweetener, 1 egg, vanilla extract) and whisk until smooth. This is the only thing you really need to remember when it comes to baking with keto ingredients to avoid chunky or chalky batters. Make sure the wet and dry mixes are well incorporated so that it cooks evenly as well.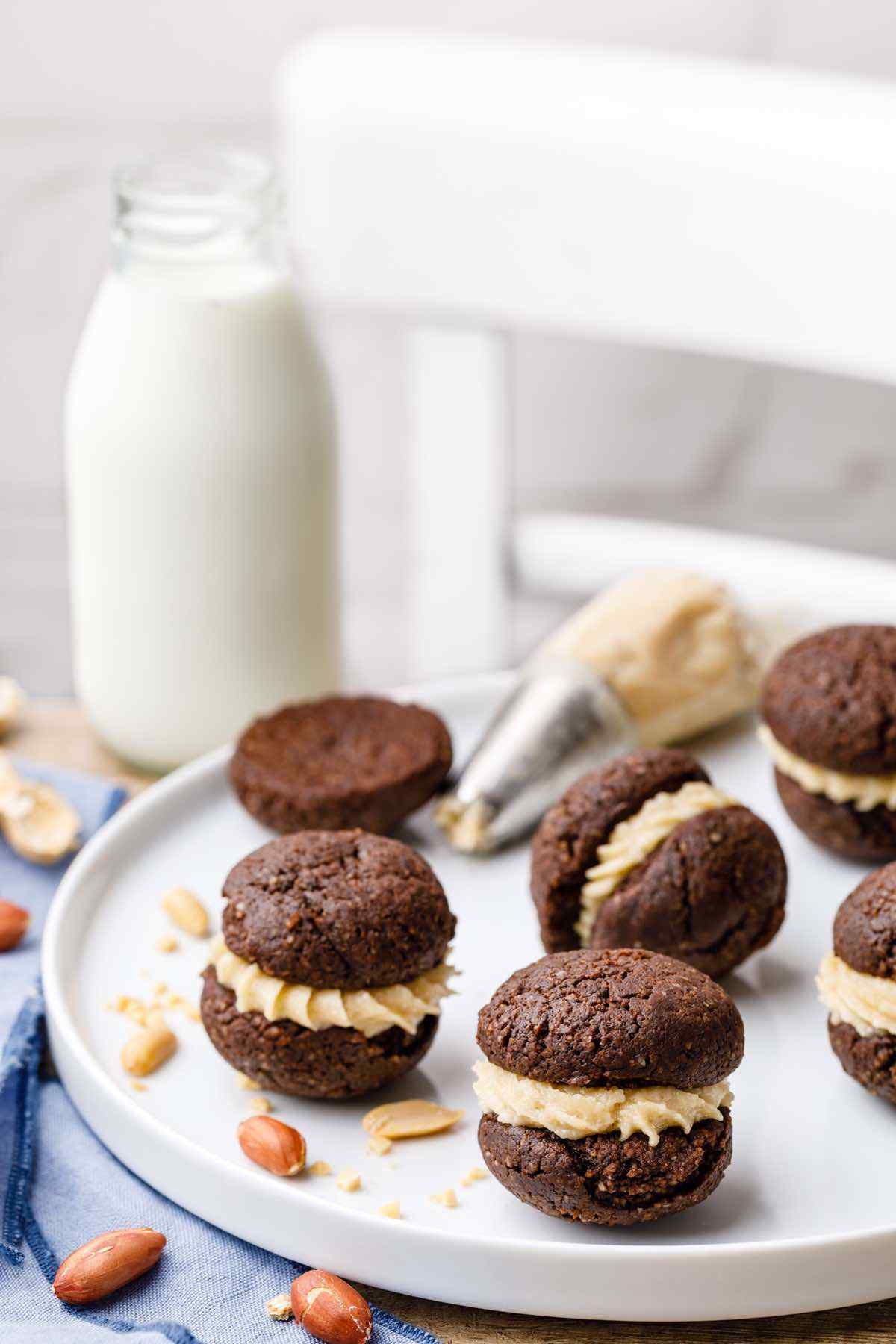 Bake the cookies for 10 to 12 minutes, allow them to completely cool down, and set them aside. This is usually the part where I have to swat away some of my taste-testers. It's not quite done yet! There's still the delicious peanut butter filling.
How to Make the Best Keto Peanut Butter Filling
The filling is made with cream cheese, natural peanut butter with no added sugar, heavy cream and granulated sweetener. Yes, it tastes as delicious as it sounds. You'll know once you taste it. I have to stop myself from dipping my fingers in the bowl, and trust me, I've made this recipe countless times already. It's just that good.
All that's left to do is to assemble your cookie sandwiches! Place the peanut butter cream filling into a piping bag. Grab 8 cookie and pipe the filling evenly onto the bottoms. Finally, take the other 8 cookies and set them down lightly onto the filling. There you have it. The best cookie sandwich you'll probably ever make! I recommend chilling them for a bit after forming the sandwiches to keep the filling from melting onto your warm cookie.
A lot of people are still under the assumption that a ketogenic diet is all about deep-fried cheese and bacon. I think it's time they found out that we have some incredible, nutrient-dense dessert recipes, too. This peanut butter stuffed chocolate keto cookie sandwich is proof that you can create mouth-watering desserts without breaking your diet. It's also proof that eating healthy doesn't have to be boring. By substituting a few ingredients in a recipe, you can significantly lessen the calories and sugar being consumed, attain the health benefits from more nutritious ingredients, and while still being able to enjoy your favorite foods.
PS. In case you missed it, here's that peanut butter cookie recipe I was talking about earlier. You'll only need 3 ingredients for that one, so feel free to check it out if you haven't already.
PPS. Quick side note for my chocolate lovers out there. I actually have a recipe for keto-approved chocolate chips that you can add to your dessert recipes. You're welcome.
More Keto Cookie Recipes:
Keto Pumpkin Cookie Sandwiches (My Kids Love These)
Low Carb Keto Cream Cheese Cookies with Cherry Glaze
The Best Keto Sugar Cookies Ever (These are Butter Bombs)
Easy 3-Ingredient Keto Peanut Butter Cookies (These are My Favorite)
Keto Double Chocolate Chip Cookies (Better Than the Bakery!)
Print Recipe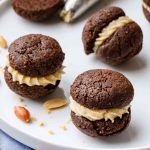 Peanut Butter Stuffed Chocolate Keto Cookie Sandwiches
Author: ketopots.com
Prep Time:

20 minutes

Cook Time:

10 minutes

Total Time:

30 minutes

Yield:

1

6

1

x
Scale
For the cookies:
2 cups almond flour
½ cup unsweetened cocoa powder
1 tsp baking powder
pinch of salt

2 tbsp melted coconut oil
½ cup granulated Stevia or other low carb granulated sweetener
1 tsp vanilla extract
1 egg
For the filling:
4 oz cream cheese, softened
½ cup creamy peanut butter
2 tbsp heavy cream
¼ cup granulated Stevia or other low carb granulated sweetener
Preheat oven to 350°F.
Line a baking sheet with parchment paper.
In a bowl combine the almond flour, cocoa powder, baking powder and pinch of salt.
In another bowl whisk the sweetener, egg, coconut oil and vanilla extract until smooth.
Stir the dry ingredients into the wet ingredients with a wooden spoon.
Drop by rounded tablespoon onto the prepared baking sheet.
Bake for 10-12 minutes.
Remove from the oven and allow to cool completely before adding filling.
To make the filling, beat the cream cheese, peanut butter, and sweetener together until well combined.
Beat in the heavy cream until smooth.
Pipe the filling onto bottoms of half the cookies.
Sandwich with remaining cookies and serve.
FREE KETO RECIPES + 5-INGREDIENT KETO COOKBOOK

Make sure to sign up for free to get instant access to the 5-Ingredient Keto Cookbook, which includes my favorite 20+ keto recipes of all-time, all under 5 ingredients.