Keto Recipes
No Bake Peanut Butter and Chocolate Keto Cheesecake
Today I'm going to be sharing a recipe that takes a keto style cheesecake and adds a classic candy pairing into the mix — chocolate and peanut butter. Rest assured though that it does so in a totally healthy and keto-friendly way, keeping things sugar-free, grain-free, and oh so delicious. How does this cheesecake manage to pull that off? Easy. It uses healthy ingredients like cocoa powder instead of milk chocolate, all natural peanut butter instead of a processed junk food variety, and a zero calorie sweetener like Stevia instead of sugar. The end result is a 100% keto-friendly dessert that tastes so ridiculously good that even your kids won't believe that it's made with nothing but healthy, nutritious ingredients.

A Cheesecake That Will Overload Your Taste Buds
The crust used in this cheesecake recipe is a little bit different than the usual crust of almond and butter that our cheesecakes feature. While you'll still be using melted butter and Stevia, you'll be replacing the almonds with almond flour and then adding in some cocoa powder as well. Using cocoa powder is a great way to add a delicious chocolate taste to the cheesecake crust in a healthy way, as cocoa has been shown to provide some incredible benefits for your health, particularly when it comes to preventing cardiovascular disease. (1) The almond flour and Stevia help out to offset the slight bitterness of the cocoa powder.
The cheesecake filling is fairly standard fare when it comes to make a no bake keto-friendly dessert as well. You'll be using a mixture of gelatin and water in place of eggs since you won't be baking the cake, and the other ingredients like cream cheese, heavy cream, and pure vanilla extract all help to give the filling its texture and great taste (while also adding up the quality fats in this dessert).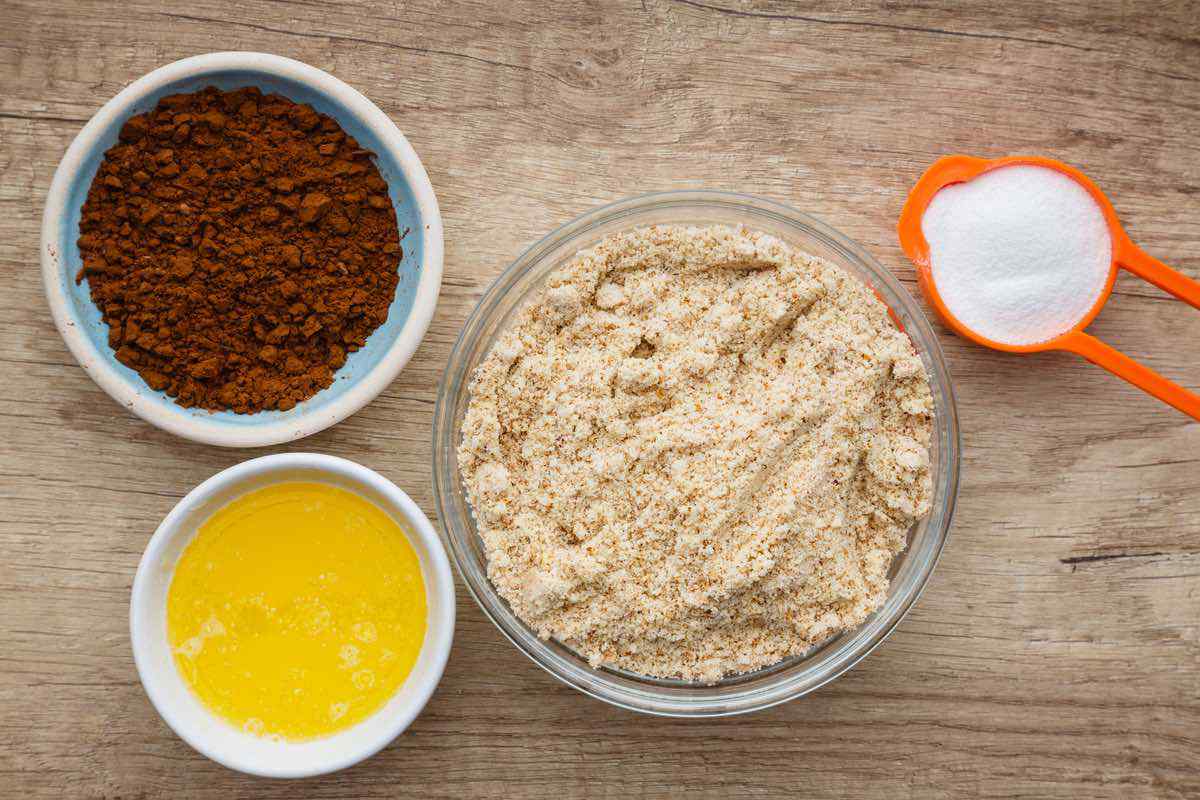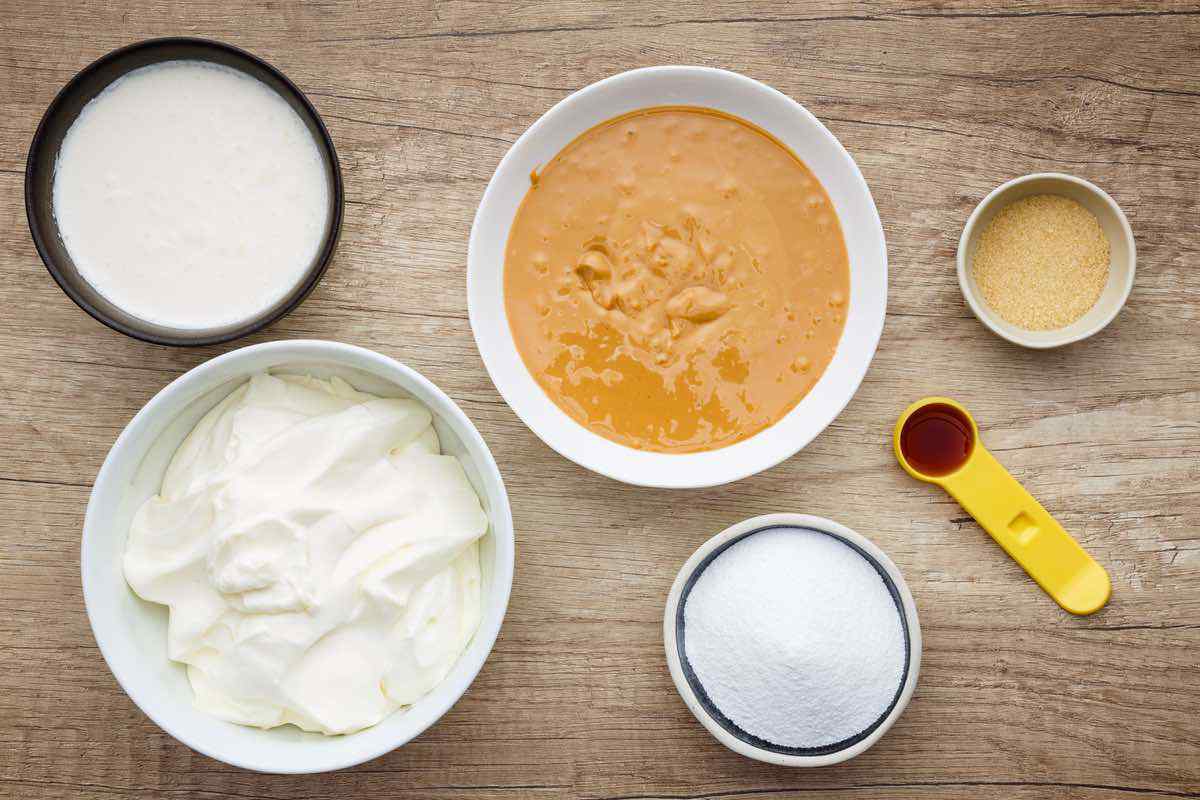 Along with those other great filling ingredients, you'll of course need to mix in some all natural peanut butter as well — make sure that you aren't using any of that processed and hydrogenated junk found on grocery store shelves! All natural peanut butter tastes great, provides even more healthy fat calories for the cheesecake, and it may even be useful when it comes to lowering your risk of type 2 diabetes according to one study. (2)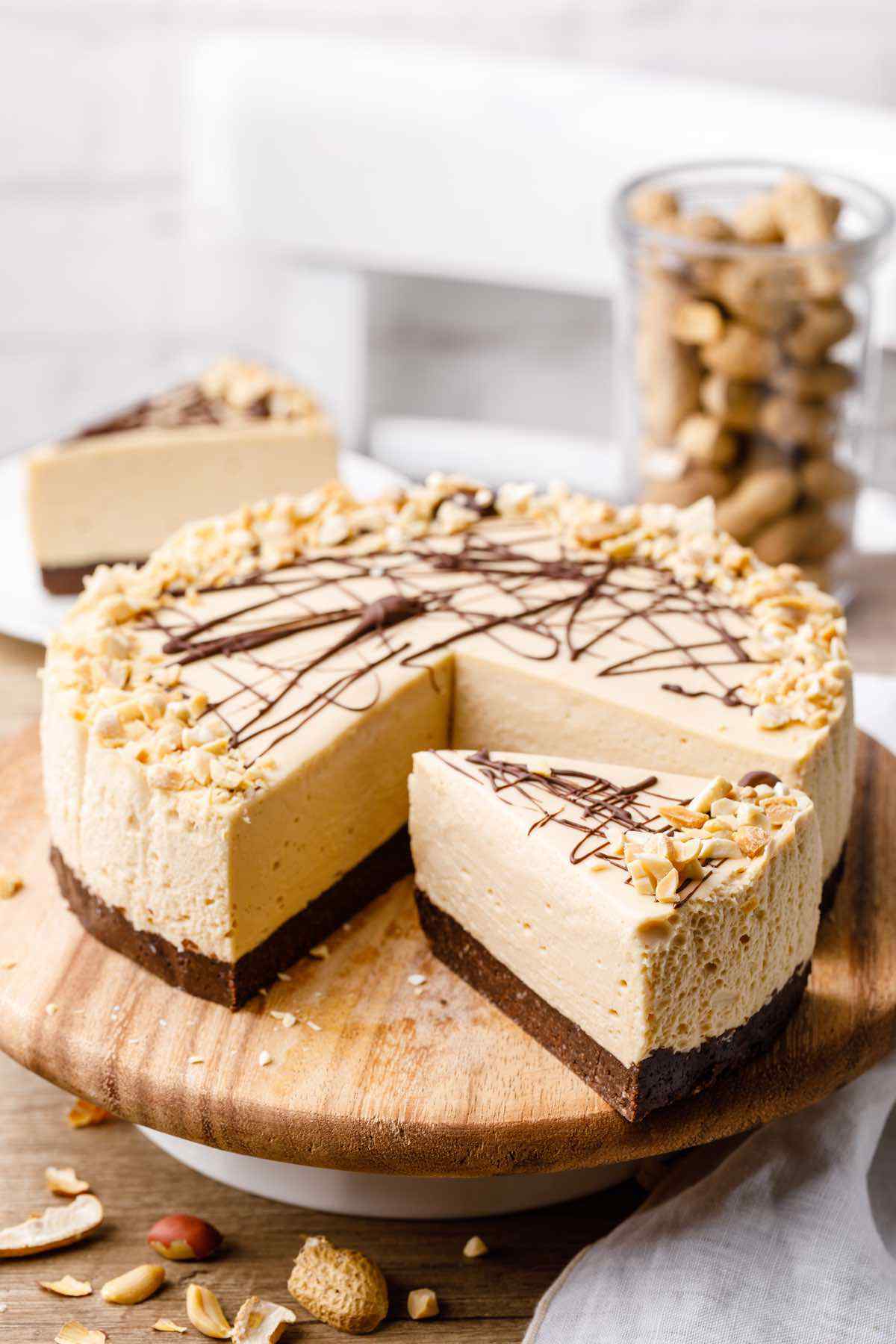 After mixing your cheesecake filling together, simply pour it over the almond and cocoa crust and pop it into the fridge for at least six hours (or overnight like I usually do). When you're ready to enjoy it, there's one final step before you can dig in and enjoy this decadent dessert. Simply melt some dark chocolate and drizzle it over the top of your cheesecake, and then decorate it with some peanuts for good measure. The chocolate and peanut topping really end up pushing this cheesecake to the next level — it's so good, I've made it no less than three times in just over a week!
More Keto Cheesecake Recipes:
Heavenly Key Lime No Bake Keto Cheesecake
New York Style No Bake Keto Cheesecake (Easy and Low Carb)
Creamy Keto Cheesecake Fluff (Quick and Easy Keto Dessert)
No Bake Keto Pumpkin Cheesecake in a Jar
Print Recipe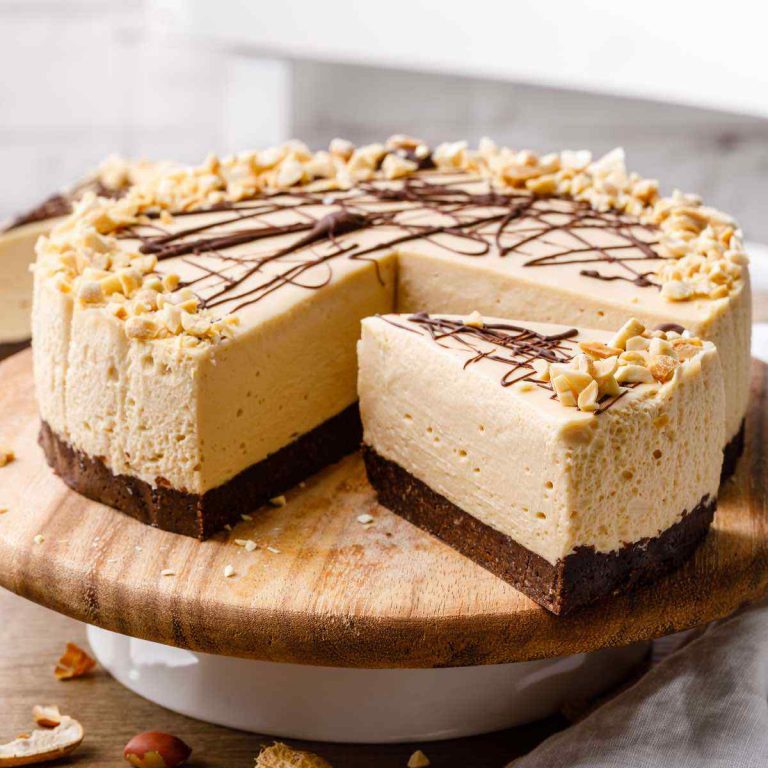 No Bake Peanut Butter and Chocolate Keto Cheesecake
Scale
For the crust:
1 ½ cups almond flour
1/3 cup cocoa powder
¼ cup granulated Stevia or other low carb granulated sweetener
2 ½ oz butter, melted
For the filing:
16 oz cream cheese, at room temperature
½ cup granulated Stevia or other low carb granulated sweetener
1 tsp vanilla extract
1 cup peanut butter
1 cup cold heavy cream
1 tbsp powder gelatin
¼ cold water
For decoration:
1 oz sugar free dark chocolate, melted
1 tbsp chopped peanuts
Lightly grease a 9″ springform pan and line with parchment paper. Set aside.
To make the crust, add the almond flour, cocoa powder, sweetener and melted butter in a food processor and process on the S blade until a sticky mixture has formed.
Press the mixture firmly and evenly against the bottom of the cake pan.
Refrigerate for 30 minutes.
To make the filling, sprinkle the gelatin over the cold water in a microwave-safe bowl.
Stir until the gelatin is fully incorporated and let sit for about 5 minutes.
Microwave on high for 20 seconds or until the gelatin is dissolved and liquid. Set aside.
Place the cream cheese, vanilla and sweetener in the bowl of a stand mixer fitted with a paddle attachment.
Mix on medium-low speed until the mixture is creamy.
Add the peanut butter and beat until well combined.
Scrape down the beater and the sides of the bowl with a spatula then switch to the whisk attachment.
Pour in the heavy cream.
Mix at low speed to combine, then increase to high and whip until soft peaks form.
Reduce the speed to medium and slowly drizzle the warm gelatin into the bowl.
Increase the mixer speed to high and beat until the mixture forms firm peaks.
Pour the filing over the cake base and smooth with spatula.
Refrigerate for minimum 6 hours or overnight.
To serve, take the cheesecake out of the refrigerator.
Unmold the cake, drizzle with melted chocolate and decorate with chopped peanuts.
Slice and serve.
FREE KETO RECIPES + 5-INGREDIENT KETO COOKBOOK

Make sure to sign up for free to get instant access to the 5-Ingredient Keto Cookbook, which includes my favorite 20+ keto recipes of all-time, all under 5 ingredients.