Keto Recipes
Creamy Keto Pasta Carbonara with Low Carb Homemade Pasta
If you had told me when I first started the keto diet that I would still be able to enjoy a delicious homemade pasta carbonara dish, I would have looked at you as if you had two heads. That was before I discovered keto pasta, though. I'm definitely a convert now because nothing feels better than having your favorite foods while still staying within your dietary guidelines. If you enjoy pasta even a little bit, you're going to want to make this carbonara recipe folks.

Tasty Low Carb Pasta From Scratch
While it's true that pasta noodles are typically loaded with carbohydrates, it's also incredibly easy to just make your own from scratch. That's exactly what QueenKeto with her recipe for keto pasta sheets that you can use in lasagna.
Just have a look at this amazing list of recipes and tell me you can't eat pasta while keto:
Even I'm shocked at the sheer number of options that I can still make without breaking my diet. These are recipes that can be made with your own homemade pasta, veggie pasta, or other keto alternatives.
For this recipe, the pasta that you'll be making with this recipe is a terrific source of all kinds of keto goodies, including an abundance of heart healthy monounsaturated fats, protein, dietary fiber, and other essential nutrients.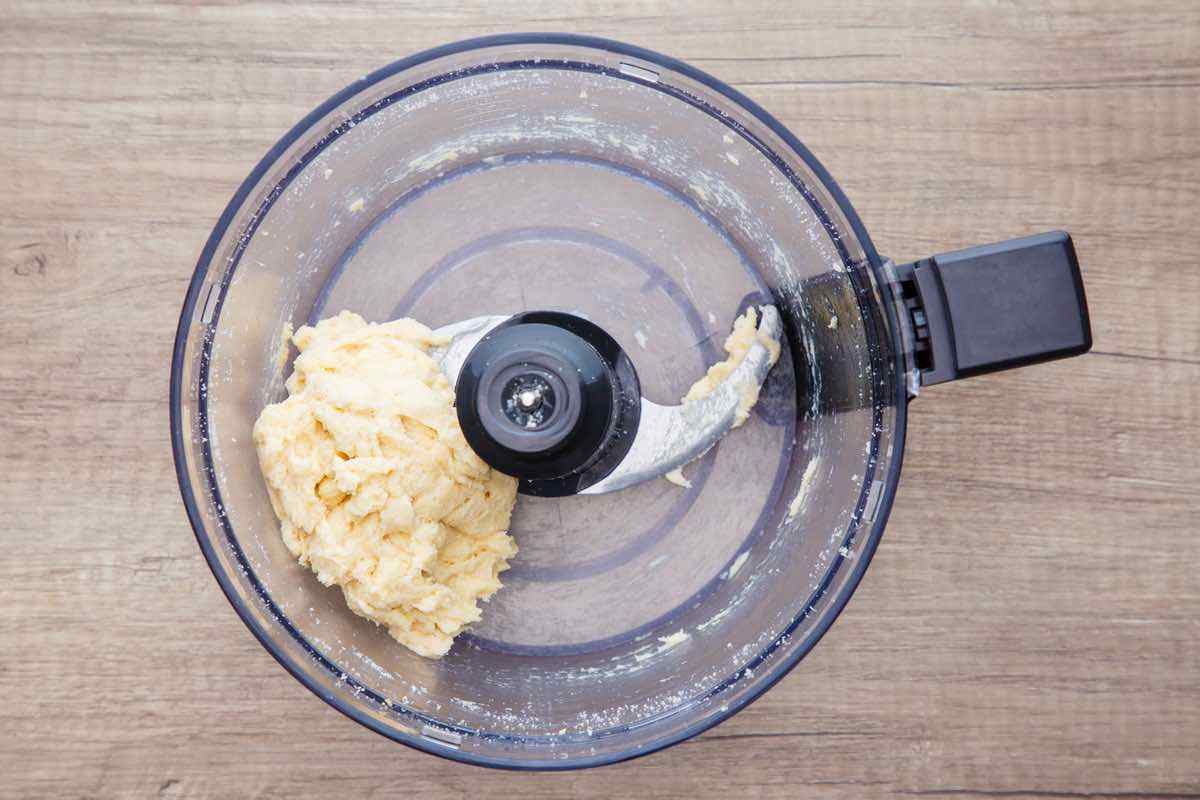 To make the pasta, you'll first want to place one cup of almond flour along with three tablespoons of coconut flour, two teaspoons of xanthan gum, and ¼ teaspoon of salt into your food processor. Pulse to combine, and then with the motor still running, add two teaspoons of apple cider vinegar, one egg, and one tablespoon of water at a time until the dough forms into a ball.
Wrap your dough tightly in cling film and throw it in the fridge for a minimum of two hours. With that done, roll the dough out completely between two parchment sheets until it's about ⅙" thick. Cut the dough into thin strips of spaghetti and then set to the side while you turn your attention to the homemade sauce.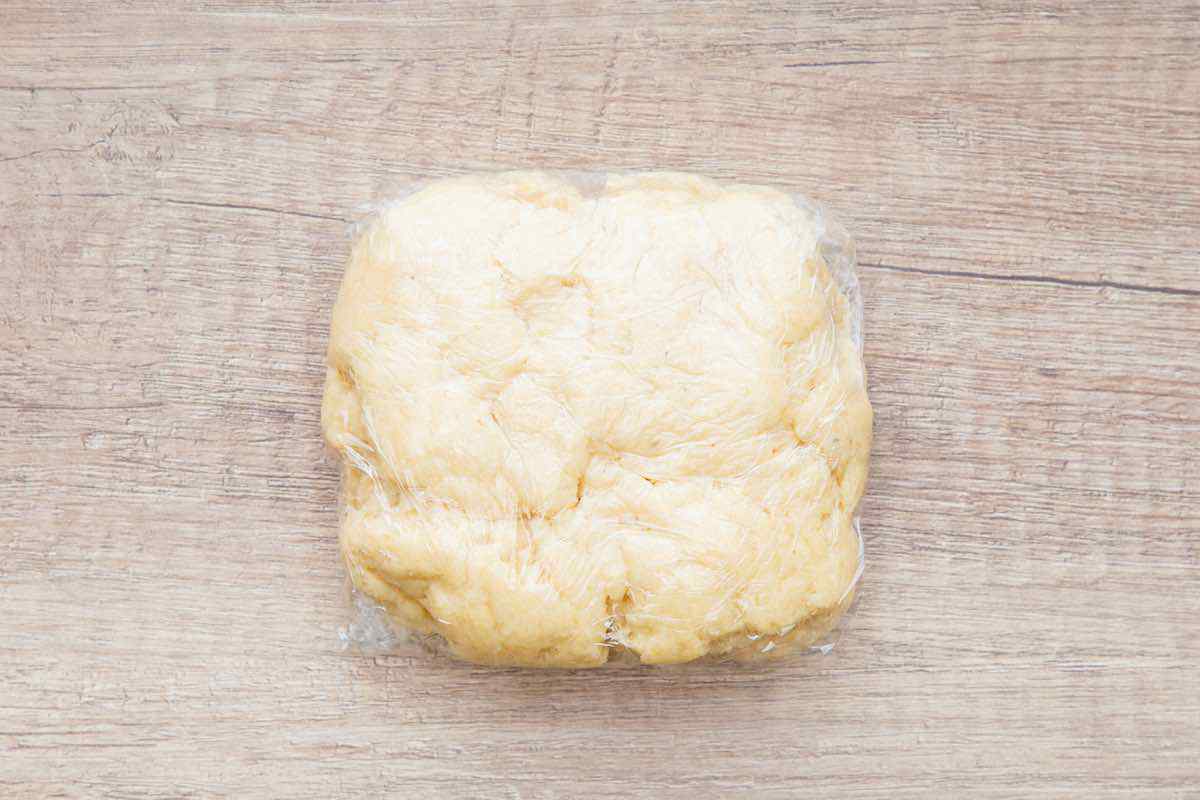 DIY Keto Carbonara Sauce Is the Best Type of Sauce
I say it's the best because you know exactly what's in it, and you can tweak it until it's perfect. With the spaghetti out of the way, you can start making your homemade sauce by lightly beating three large eggs together with two tablespoons of warm water and three ounces of finely grated Parmesan cheese. Add a bit of salt and black pepper to taste and then set this mixture to the side as well.
You can now go ahead and fry your three ounces of pancetta in a large skillet before transferring it to a plate. Using the same skillet that you fried the pancetta in, add three tablespoons of unsalted butter and melt it over a medium heat. Add in the minced garlic cloves next, cooking them for approximately 30 seconds.
You can then add your homemade pasta noodles and cook them for between 3-5 minutes, just long enough to get some color. Add in the pancetta, toss to combine, and then remove from the heat and quickly pour in your egg mixture. Last but not least, sprinkle the whole dish with any extra leftover Parmesan cheese and then dig in!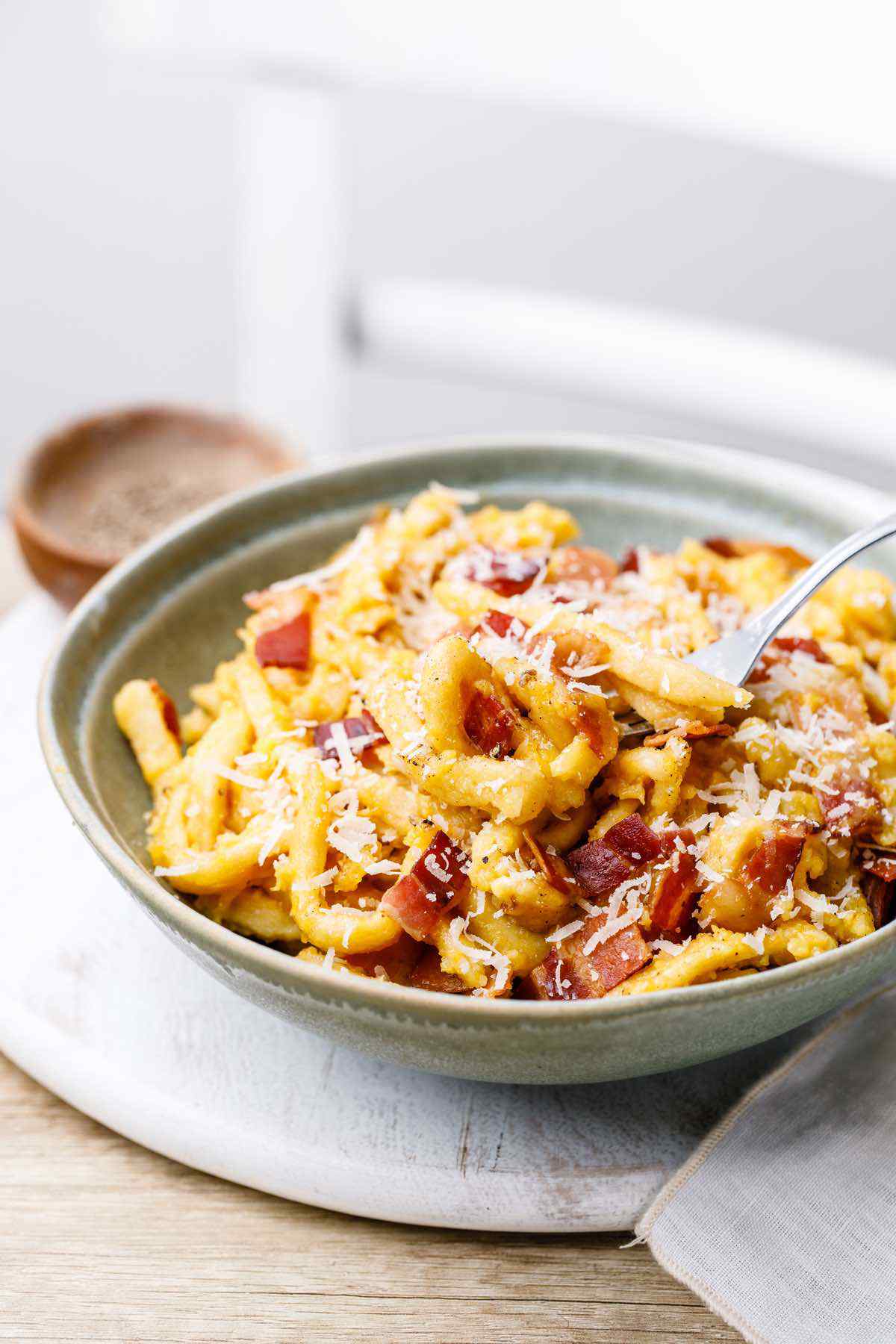 Is There Anything Else That I Can Use For the Pasta Noodles?
If you would rather not use the DIY spaghetti noodles with this keto pasta carbonara, you still have a few viable options.
One of my favorite ways to make keto pasta is to use spiralized veggie noodles. Healthy, fibrous veggies like zucchini, sweet potatoes, turnips, parsnips, and more all make for fantastic pasta noodle alternatives.
If you would rather use veggie noodles yourself, then rest assured, all of the options that I mentioned above slot in perfectly with this keto pasta carbonara.
Why Are There Bits of Egg in My Carbonara?
For the egg mixture, make sure to only toss it in once you remove it from the heat. This will prevent it from forming into small egg bits in your pasta, while still heating it enough to be cooked.
Can I Freeze My Carbonara for Later?
You can refrigerate this meal for 3-5 days if it's stored in an air-tight container. You could also freeze this once it has completely cooled. I like making pasta because it's easy to make in bulk, so with just a bit of prep and cook time, I can have lunch or dinner ready for a few days in advance at least.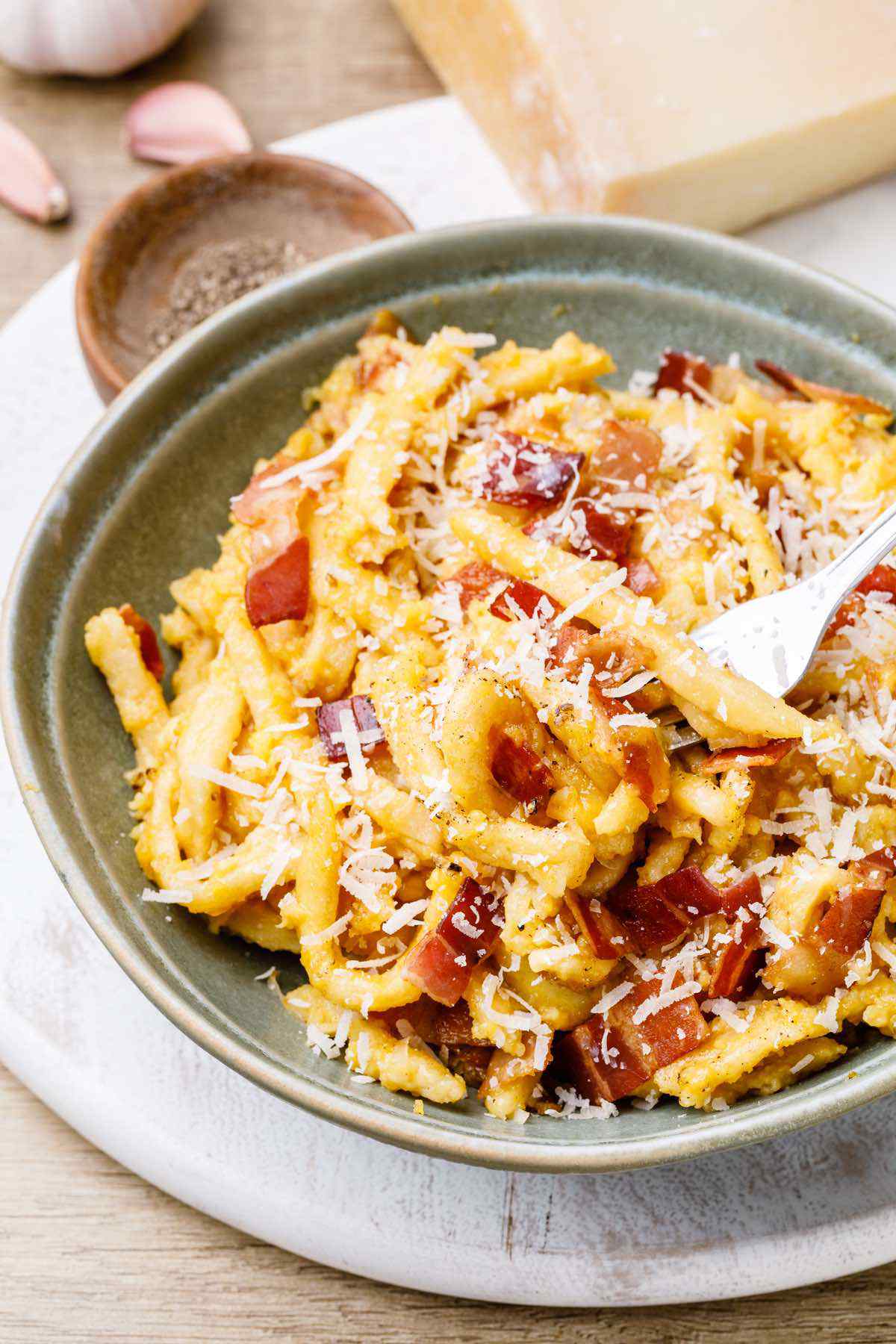 Print Recipe
Creamy Keto Pasta Carbonara with Low Carb Homemade Pasta
Author:
Prep Time:

20 minutes

Cook Time:

5 minutes

Total Time:

25 minutes

Yield:

4

1

x
Scale
For pasta: 
1 cup almond flour 
3 tbsp coconut flour
2 tsp xanthan gum
¼ tsp salt
2 tsp apple cider vinegar
1 egg 
1–2 tsp water or as needed
For sauce: 
3 oz pancetta
2 oz finely grated Parmesan cheese plus extra for serving
3 large eggs,  
2 garlic cloves, minced 
3 tbsp unsalted butter
salt and black pepper to taste
Add almond flour, coconut flour, xanthan gum and salt to food processor and pulse to combine.

With the motor running, add the apple cider vinegar, egg and water, a tablespoon at a time, until the dough forms into a ball. 

Wrap the dough in cling film and refrigerate for minimum 2 hour (and up to 5 days). 

Roll out the dough between 2 parchment sheets until about 1/6" thick.

Cut into thin spaghetti and set aside. 

Lightly beat 3 eggs,  2 tablespoons of warm water and Parmesan cheese. 

Season to taste with salt and black pepper and set aside. 

Fry the pancetta in a large heavy-bottomed skillet. 

Transfer to a plate and set aside. 

Add the butter to the same skillet and melt over medium heat. 

Add the garlic and cook for 30 seconds. 

Add the pasta and cook for 3-5 minutes or until it just begins to get some color. 

Add the pancetta and toss to combine. 

Remove from the heat and quickly pour in the egg mixture. 

Toss to coat. 

Sprinkle with extra grated Parmesan and serve.
(You may also like: Ermahgerd-worthy Low Carb Instant Pot Keto Lasagna)