Keto Recipes
Crispy Thick Cut Keto Onion Rings with Homemade Ranch Dressing
There's nothing like a perfectly crispy keto onion ring dipped in homemade ranch dressing (yum!). This keto onion ring recipe makes the best thick cut crunchy onion rings in the oven without the extra grease from frying and the most addictive homemade ranch. They're low carb, perfectly crispy and 100% keto-friendly.

How to Make the Crispiest Keto Onion Rings In The Oven
Onion rings with an audible crunch–that's my kind of onion ring. I put together my best tips to achieve oh-so crunchy keto onion rings every time, without having to use a deep fryer!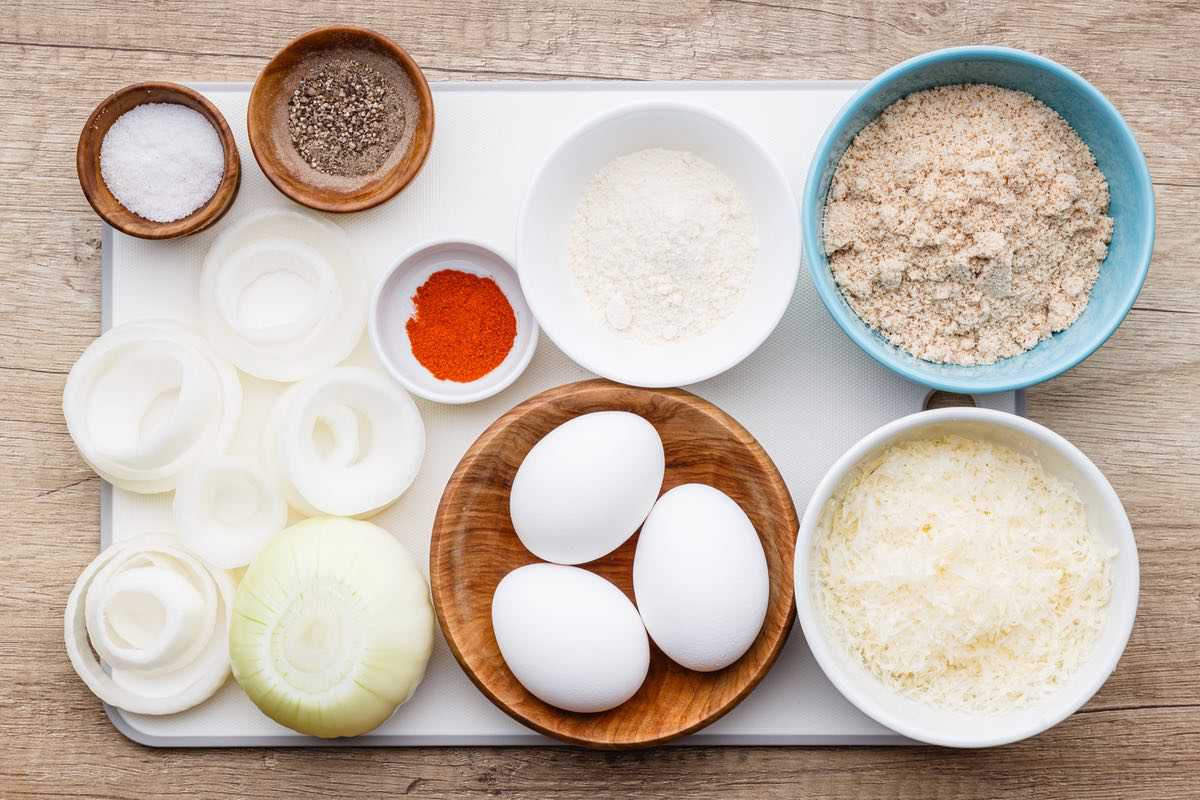 Slice your onions ½ inch thick. It's important to have uniform slices to ensure that they cook evenly and all at the same time.
Thinly coat the onion slices in the egg mixture. Dip it but don't transfer it to the dry mixture until the excess has dripped off of the onion.
Coat the onion slices in the dry mixture. Make sure you coat every nook and cranny of those onion slices in the dry mixture.
Arrange the coated onion slices evenly on a baking sheet. Don't let any of the coated onion slices overlap each other.
Spray some olive oil on the onion slices. Just a quick coating of oil using the spray will help it turn a beautiful golden brown. You could also use butter spray for this.
Bake at 400 degrees fahrenheit. Use the right temperature to ensure that it will get crispy on the outside but not dry on the inside.
How to Make OMG-worthy Keto Ranch Ranch Dressing for Dipping
To finish off this heartstopping recipe for onion rings, be sure to make an equally impressive dip to pair it with, which means you NEED to try my keto ranch dip.
It's made with mayonnaise, sour cream, and an excellent balance of spices and herbs that would really elevate this already-fabulous onion ring recipe.
Can You Make Keto Onion Rings in the Air Fryer?
Absolutely! The air fryer works for just about anything you would need to cook in a deep fryer–but without the excess oil and calories.
Instead of baking this recipe in the oven, pop it into your air fryer for 12-16 minutes. The total cooking time would depend on the power output of your air fryer and the size of your onion slice, so keep an eye on it and check it from time to time.
Almond Flour and Coconut Flour Alternatives for Onion Ring Coating
As much as I love using almond flour and coconut flour, sometimes I dig through my pantry and realize too late that I don't have enough of either to make this recipe.
No worries though because you can make a quick ingredient swap and it will still turn out delicious.
Sunflower Seed Flour – Made from ground sunflower seeds, this is a good alternative to almond flour in a 1:1 ratio.
Pumpkin Seed Flour – Similar to sunflower seed flour, pumpkin seed flour is another seed-based flour that can be a substitute for almond flour in a 1:1 ratio.
Chickpea Flour – Chickpea flour is a low-carb, high fiber flour that can be used to substitute coconut flour in a 1:1 ratio but with 10% less liquid than you would need to use with coconut flour.
Thick Onion Rings vs. Thin
I highly recommend going for the ½ inch thick cut onion rings as opposed to making them thinner.
With thicker onion rings, they are less likely to burn or shrivel up into nothing. Onions have a high water content, so if you don't crisp up that outer layer before the onion dries up, you're not going to have any structure to your onion ring.
For this recipe, definitely stick with the thicker cut! You won't regret it.
What to Make with Keto Onion Rings?
Crunchy Keto Chicken Tenders – Chicken tenders and onion rings are the perfect finger food pairing you can make for your kids as a packed lunch or for family dinners at home.
Keto Pulled Pork Sandwiches – Pulled pork sandwiches are great on their own, but made even better when the smokey BBQ flavor is complemented with crunchy onion rings.
Sheet Pan Keto Cheeseburgers – You either have cheeseburgers with fries, onion rings, or both. Personally, my buttery, bacon-loaded keto cheeseburgers always come with a side of onion rings for max effect.
Keto Buffalo Wings – Thanks to my super secret sauce, these keto buffalo wings are extremely addicting and something you'll be making for years to come, guaranteed.
Keto Grilled Cheese Sandwich with 90-Second Bread – For the ultimate comfort food, be sure to try this grilled cheese sandwich recipe made with 100% keto bread. Paired with onion rings, it's the perfect balance of salty and crunchy.
Print Recipe
Crispy Thick Cut Keto Onion Rings with Homemade Ranch Dressing
Author: Bree - KetoPots.com
Prep Time:

15 minutes

Cook Time:

20 minutes

Total Time:

35 minutes

Yield:

1

5

1

x
FREE KETO RECIPES + 5-INGREDIENT KETO COOKBOOK

Make sure to sign up for free to get instant access to the 5-Ingredient Keto Cookbook, which includes my favorite 20+ keto recipes of all-time, all under 5 ingredients.
Scale
For the onion rings: 
2

large onions

3

eggs

¾ cup

almond flour

¾ cup

grated Parmesan cheese

3 tbsp

coconut flour

 ½ tsp paprika 

salt and black pepper to taste 

olive oil spray    
For the ranch dressing: 
¾ cup

homemade or store-bought keto approved mayonnaise 

¼ cup

Greek yogurt  

½ tsp

dried dill

½ tsp

dried garlic powder

1 tsp

dried parsley

½ tsp

dried onion powder

½ tsp

dried chives
salt, black pepper to taste
To make the dressing, add all the ingredients to a bowl and mix to combine. 

Refrigerate until ready to serve. 

Preheat oven to 400°F. 

Line a baking sheet with parchment paper. Set aside. 

Cut off ends of onion and peel. 

Slice into ½" thick slices and separate into rings. 

Add the coconut flour, almond flour, Parmesan cheese and paprika to a shallow bowl and mix to combine.  

Season to taste with salt and black pepper. 

Set aside. 

Beat the eggs in an another shallow bowl and set aside. 

Dip the onion ring in the eggs then coat in almond flour mixture. 

Repeat this step. 

Repeat this for all the onion rings, placing them on the prepared baking sheet.  

Spray the onion rings with olive oil spray. 

Bake in preheated oven for 20-30 minutes or until golden and crispy. 

Serve with ranch dressing.