Keto Recipes
The Best Roasted Keto Nut Mix for Healthy Snacking
When it comes to keto snacks, you can never really go wrong by grabbing a handful of nuts. Almonds, cashews, walnuts, pecans, peanuts, and more are all amazing keto snacking options. While I find raw nuts to be quite tasty, I have to admit that I prefer them roasted with a variety of savory herbs and spices added in for seasoning. So with that in mind, today I'm going to be sharing a recipe that will teach you how to make the best keto nuts or my version of keto trail mix for healthy snacking. You'll be using three different kinds of nuts when making this snack, plus some fantastic dried herbs and spices to elevate the flavor of your nuts to the next level.
A Keto Snack That's Loaded With Quality Fats & Tons of Flavor
When you're making this particular recipe, you'll be using three different types of nuts: one cup of almonds and ½ cup each of cashews and walnuts. All three varieties are perfect snacking options for anyone following the keto diet because they're packed full of monounsaturated fatty acids, modest amounts of protein, dietary fiber, and other essential vitamins and minerals like vitamin E, magnesium, and zinc.
Can You Recommend Any Other Good Keto Nut Recipes?
Since nuts make such a great keto snacking choice, it should come as no surprise to anyone that there are literally dozens upon dozens of keto nut recipes out there. But in order to save you guys a bit of time spent searching the web for them, I thought I would instead just share five fantastic recipes from my favorite keto blogs:
As I briefly mentioned above, the type of fats found in most varieties of nuts are of the heart healthy monounsaturated fatty acid variety. Countless studies have shown that a diet high in monounsaturated fats has incredible benefits for your cardiovascular health. This type of fatty acid is capable of lowering the 'bad' type of LDL cholesterol in your bloodstream, while also helping to lower elevated blood pressure levels. (1) Both of these great benefits result in a decreased risk of heart disease and stroke.
To go along with the three types of nuts, you'll be adding in a yummy mix of ingredients that includes dried rosemary, dried oregano, dried thyme, smoked paprika, cayenne pepper, garlic powder, extra virgin olive oil, and just a bit of salt to taste.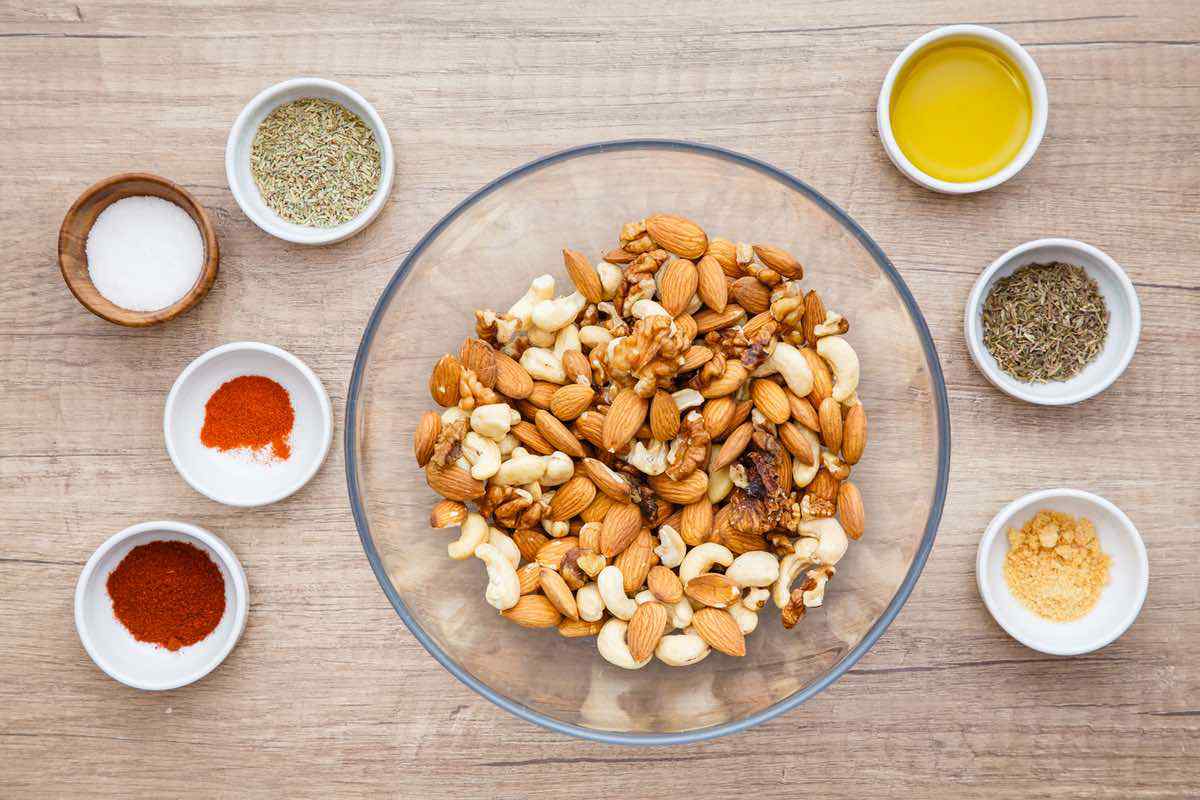 In order to actually make this roasted nut mix recipe, you'll simply need to add everything into a single bowl and thoroughly mix until well combined. Next, spread the nut mixture out in a single layer on your prepared baking sheet. Bake them in the oven at 350 degrees fahrenheit for about 20-25 minutes, stirring everything occasionally, until the nuts are toasted. Once you take them out of the oven, you'll want to allow them to cool off completely before serving them.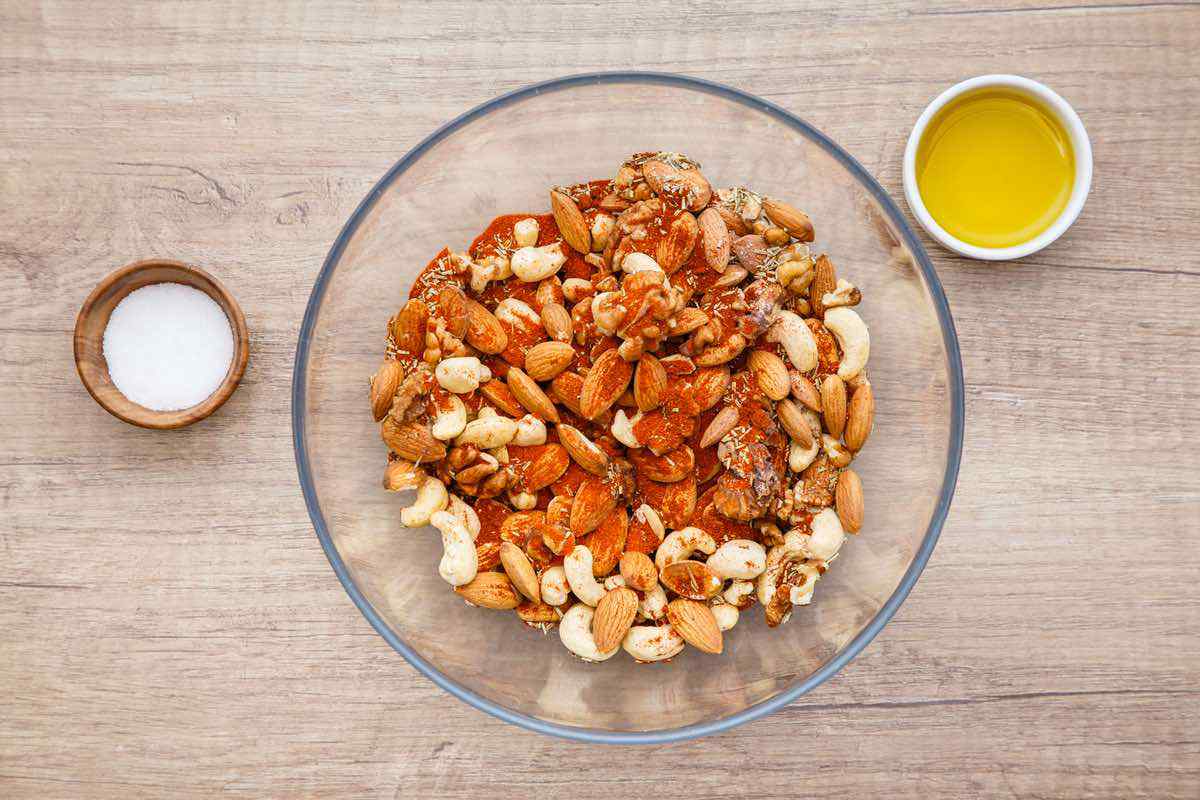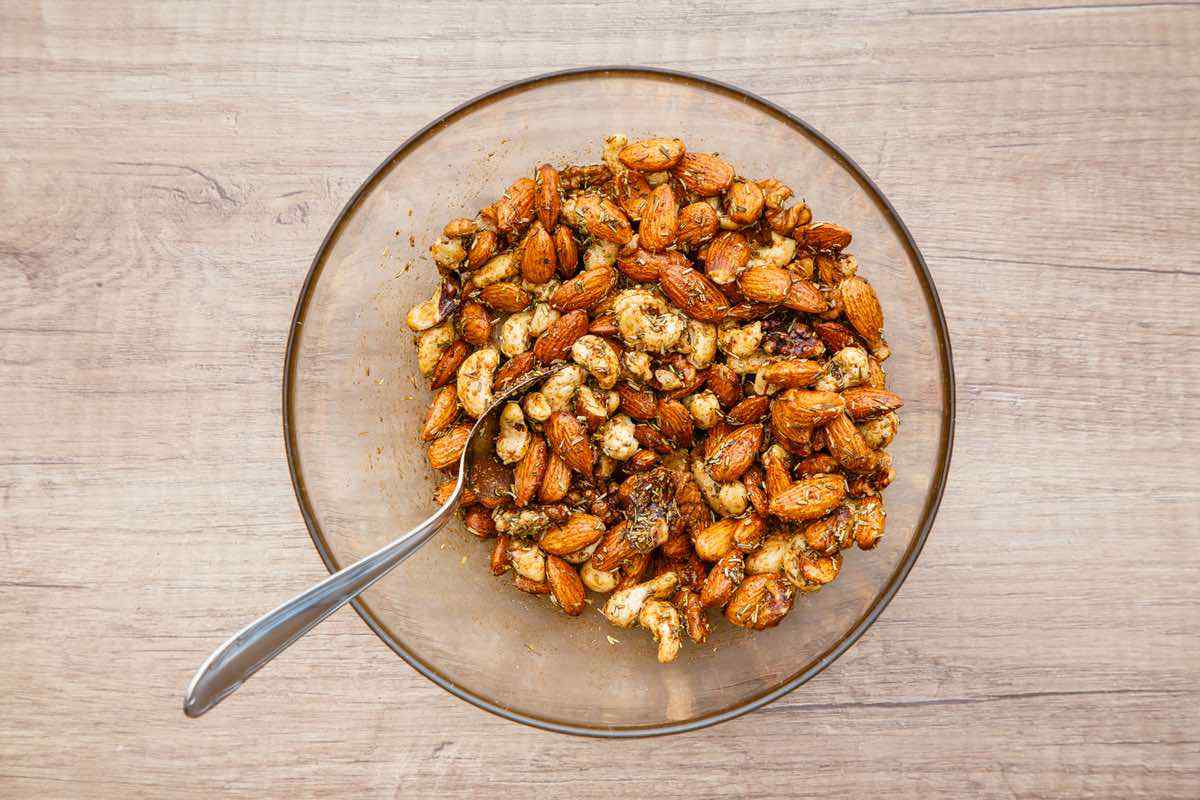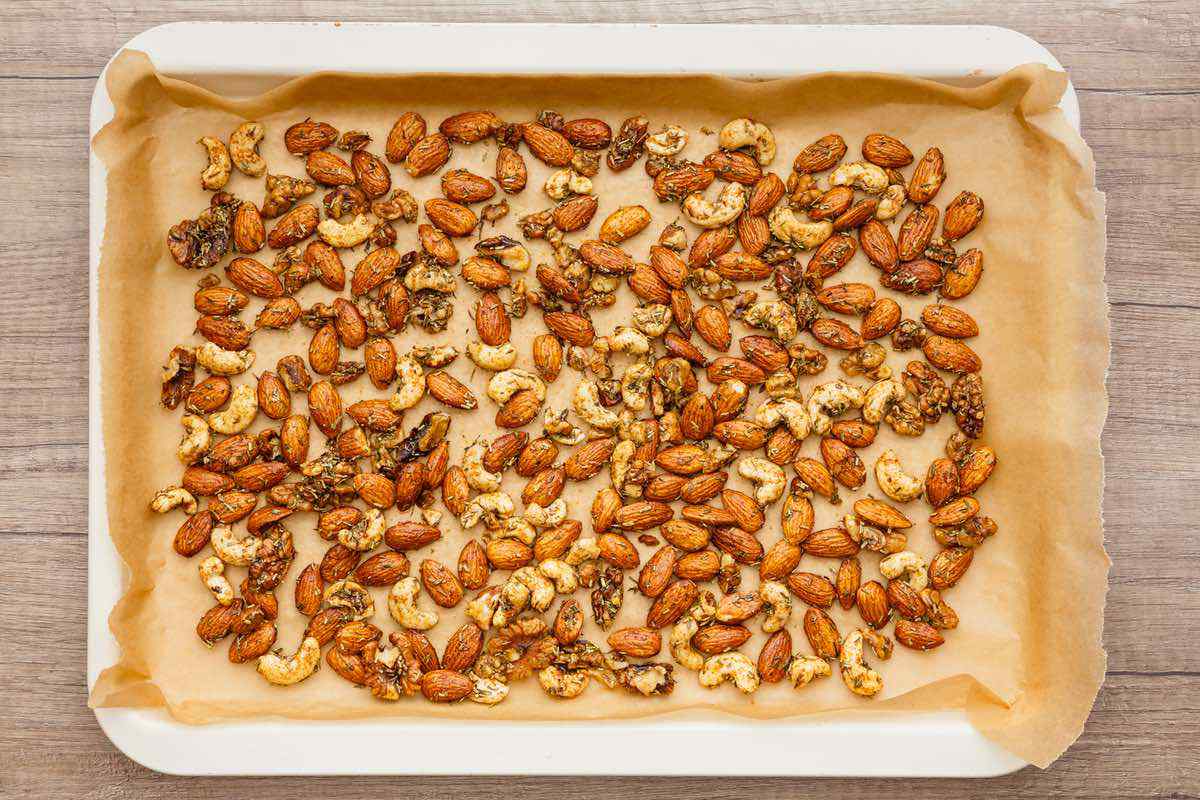 Does This Roasted Keto Nut Mix Go Well With Salads?
Yes! This roasted nut mix makes for a fantastic addition to just about any type of salad! As a matter of fact, one of the most common complaints people on the keto diet have in regards to salads is that it can be hard to make a truly satiating keto salad.
But adding in a roasted nut mix like this one is a great way to add satiating fats, dietary fiber, and protein into your salad – all of which will work together in tandem to leave you feeling fuller after you eat, which in turn helps to curb your appetite throughout the day.
Can This Roasted Nut Mix Be Frozen?
There are a few keto friendly versions of things that I would recommend not freezing – things like homemade keto mayonnaise come to mind. The reason for that is because of the types of fats and oils that go into making these kinds of recipes. Sometimes when thawing your foods out, they can lose a lot of their texture and consistency.
Well, I'm very happy to report that's not at all the case with this roasted keto nut mix. So long as you store the nuts properly (sealed in an airtight jar or container), they can be safely frozen for up to one month without risk of losing any of their crispy texture.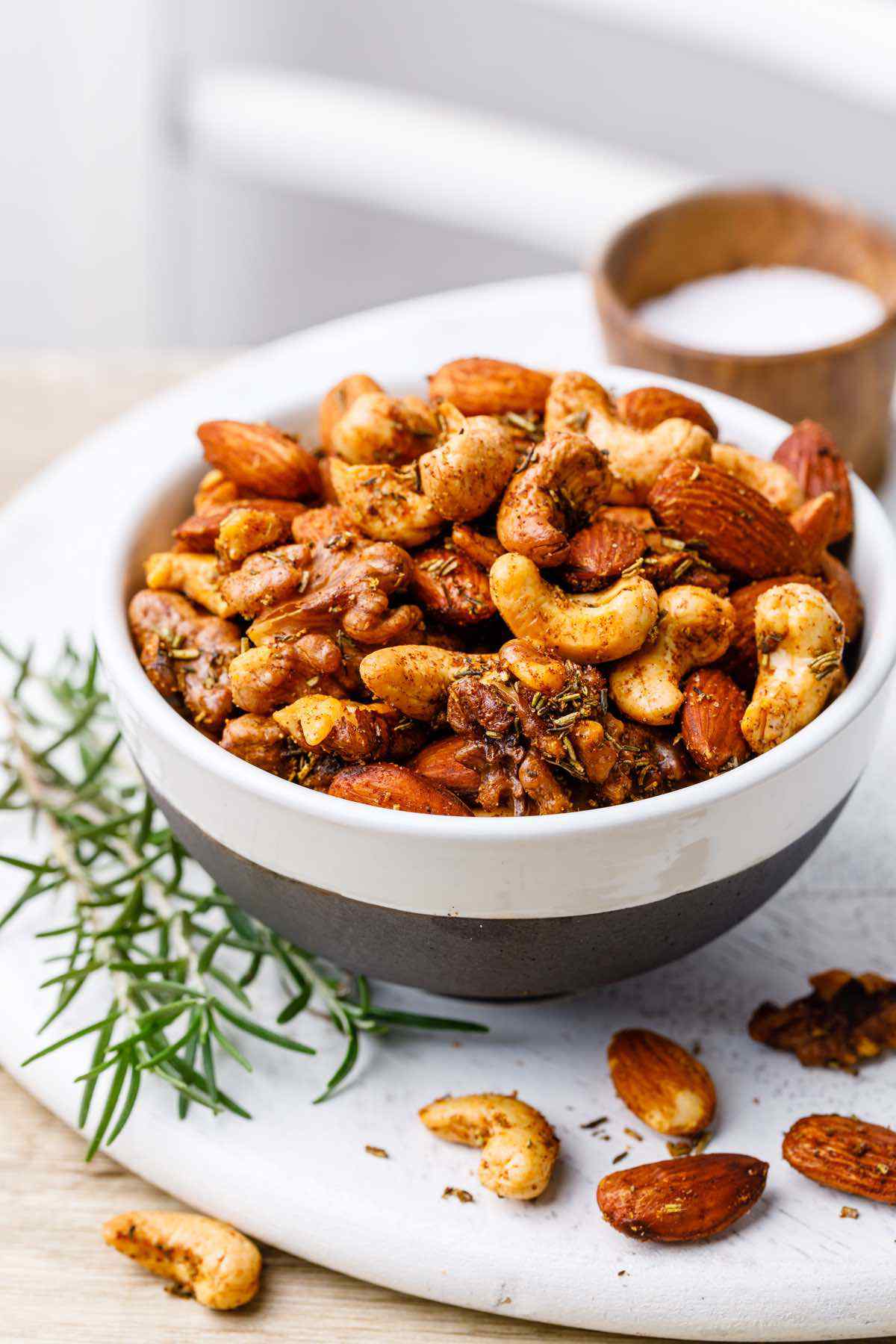 How Can I Tell If My Roasted Nut Mix Has Gone Bad?
While not always perfectly accurate, the single best method to tell if your nuts have gone bad is to give them a sniff test. Nuts that have gone bad have a rather rancid odor to them that should be immediately noticeable.
The best way to minimize the risk of your nuts going bad is also the best way to extend their shelf life: by following proper storage protocols and making sure they're sealed up airtight.
Print Recipe
The Best Roasted Keto Nut Mix for Healthy Snacking
Author: Bree - KetoPots.com
Prep Time:

5 minutes

Cook Time:

10 minutes

Total Time:

15 minutes

Yield:

8

1

x
FREE KETO RECIPES + 5-INGREDIENT KETO COOKBOOK

Make sure to sign up for free to get instant access to the 5-Ingredient Keto Cookbook, which includes my favorite 20+ keto recipes of all-time, all under 5 ingredients.
Scale
1 cup almonds 
½ cup cashews 
½ cup walnuts 
1 tsp dried rosemary 
1 tsp dried oregano
1 tsp dried thyme
1tsp smoked paprika
1/3 tsp cayenne pepper
1 tsp garlic powder
salt to taste 
2 tbsp olive oil
Preheat oven to 350°F. 

In a bowl combine the almonds, cashews, walnuts, rosemary, oregano, thyme, smoked paprika, cayenne pepper, garlic powder, olive oil and salt to taste. 

Spread nuts in single layer on prepared baking sheet.

Bake, stirring occasionally, until toasted, about 20-25 minutes. 

Remove from the oven and allow to cool completely.
More Incredible Keto Snacks: