Keto Recipes
Easy 2-Ingredient Low Carb Keto Noodles (try these!)
Today I'll be sharing a recipe that will show you how to make quick and easy 2-ingredient low carb keto noodles that you can use in a ton of different pasta recipes. If you love pasta as much as I do, especially pasta that's 100% keto friendly, then you're going to want to bookmark this recipe.
If you're fairly new to the keto diet, you may be scratching your head and wondering to yourself, "low carb keto noodles? Huh?" Rest assured that your eyes are not deceiving you and it's indeed possible to enjoy keto friendly versions of just about any pasta dish you can think of.
Aside from this recipe that I'm about to share, there are a few other keto-approved pasta or noodle options you can try:
These three keto-approved low carb noodle or pasta alternatives are excellent and can be used for a variety of dishes, but keep in mind that the spaghetti squash pasta and zucchini noodles are vegetable based, while shirataki noodles are made from konjac yam. As such, the taste is not exactly like wheat-based pasta.
The recipe I'm sharing today on the other hand, is made up of protein and fats with zero carbs. It's also made with just two ingredients!
How to Make Low Carb Keto Noodles with Only 2 Ingredients
I'm pretty sure that this is without a doubt the easiest homemade low carb keto noodle recipe you can make. Here's how you can turn mozzarella cheese and egg into the best keto pasta.
Microwave the cheese. Add the shredded mozzarella cheese to a microwave safe bowl. Microwave for approximately 60 seconds or until melted.
Add the egg. Separate egg yolk from egg and then add the yolk to your cheese. Beat to combine.
Make into dough. Roll the dough mixture out between 2 parchment sheets until about ⅙" thick.
Wrap with cling film. Refrigerate the dough overnight.
Make into noodles. Cut the dough into thin noodle strips. Add the noodles into boiling water and cook for one minute. Drain and rinse under cold running water.
Serve. Serve immediately with your favorite pasta sauce.
What Other Low Carb Noodles Can I Have on a Keto Diet?
Making keto noodles with cheese and egg is just one way to make low carb pasta. You can try these other options too for more variety in your keto diet:
Spaghetti squash
Shirataki noodles
How Long Does Keto Pasta Keep in the Refrigerator?
You have the option of storing these low carb noodles in dough form for one more night (after already letting it sit in the refrigerator the first night). Otherwise, I highly recommend cooking the entire batch and simply storing the leftover cooked pasta in the refrigerator.
Try to drain as much moisture from the keto pasta as you can before storing the pasta in an airtight container to avoid spoilage. Once cooked, your low carb pasta will keep for about 3 to 5 days in the refrigerator.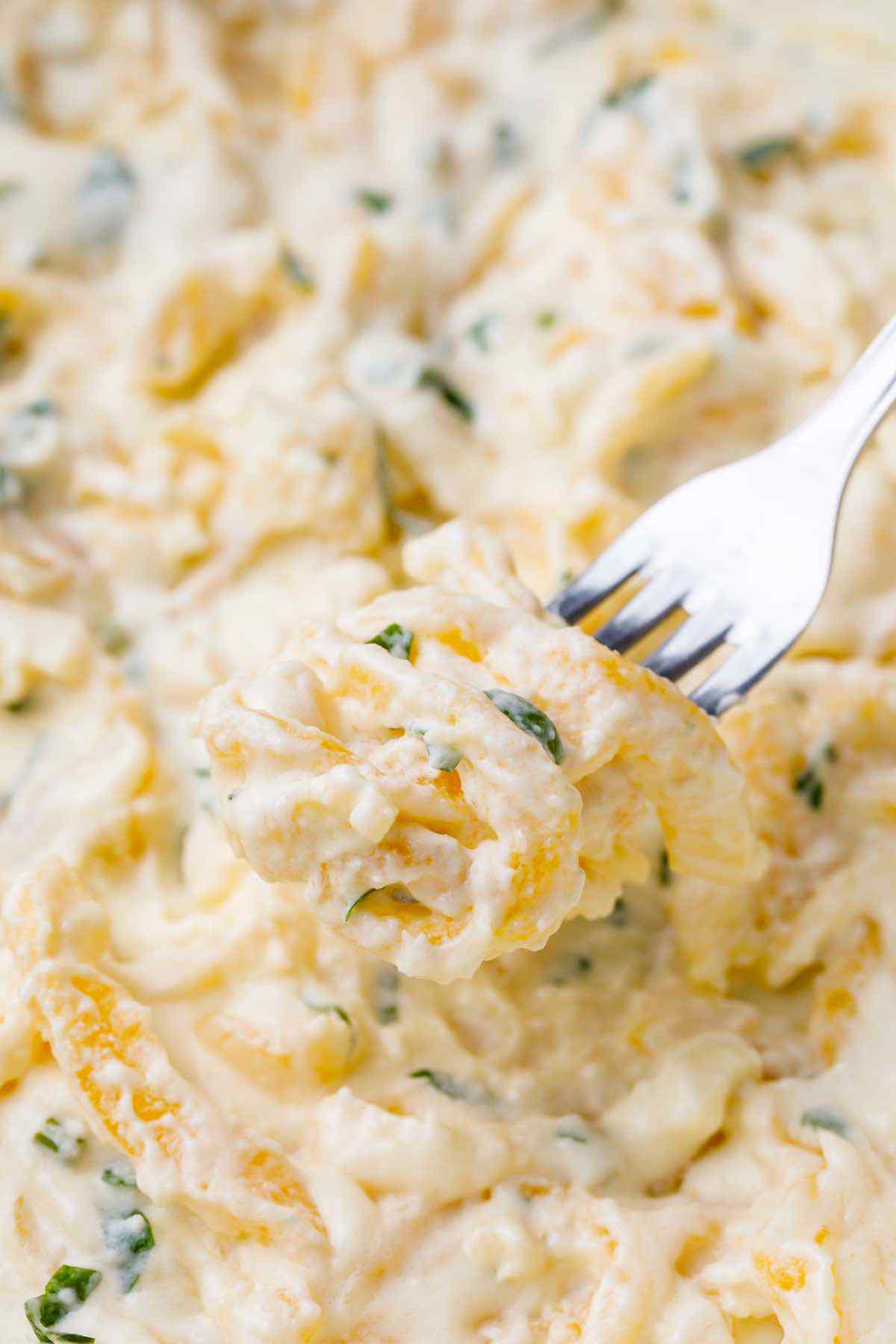 Can Low Carb Pasta Be Cooked Al Dente?
Yes, definitely! One of the most pleasing aspects of low carb pasta is its ability to hold firmness or be served al dente once cooked. Just make sure to closely follow the instructions and you'll end up with the proper texture every time.
(Make with this: 5-Ingredient Keto Alfredo Sauce)
Print Recipe
Easy 2-Ingredient Low Carb Keto Noodles (try these!)
Author:
Prep Time:

5 minutes

Cook Time:

1 minute

Total Time:

6 minutes

Yield:

1

1

x
FREE KETO RECIPES + 5-INGREDIENT KETO COOKBOOK

Make sure to sign up for free to get instant access to the 5-Ingredient Keto Cookbook, which includes my favorite 20+ keto recipes of all-time, all under 5 ingredients.
Scale
1 cup shredded mozzarella cheese
1 egg yolk
Add the mozzarella cheese to a microwave safe bowl.
Microwave for 1 minute or until melted.
Add the egg yolk and beat to combine.

Roll out the dough between 2 parchment sheets until about 1/6" thick.

Refrigerate overnight.

Cut into noodles.

Place the noodles into a boling water and cook for one minute.

Drain and rinse the noodles under cold running water.

Serve immediately with your favorite sauce.

I served mine with Alfredo sauce.
More Keto Pasta Meals You Need to Try:
More Keto-Approved Pasta Sauces I Love:
As I mentioned above, I like to enjoy these mozzarella keto noodles with a homemade alfredo sauce. If you're interested in some suggestions for different types of keto pasta sauces to try with these noodles, then I can wholeheartedly recommend these: