Keto Recipes
Ooey-Gooey (And Crunchy) Keto Mozzarella Sticks
Craving a cheesy keto snack? I've got just the thing for you today then with this fantastic recipe for making the most gooey and crunchy keto mozzarella sticks. You'll be making a ridiculously tasty batter entirely from scratch using a variety of savory ingredients, such as Parmesan cheese and garlic powder. Perfection!

For Those Times When You're Craving Something Extra Cheesy
Making the batter for your mozzarella sticks is a ridiculously easy process. All you'll need to do is grab a bowl and combine your almond flour, grated Parmesan cheese, flaxseed meal, Italian seasoning, garlic powder, and just a pinch of salt.
Once all of those ingredients have been thoroughly combined, set the bowl aside. Next, add your egg into a separate bowl and beat it lightly. You can then take each one of your cheese sticks and dip them in the egg before then coating with the almond flour mixture.
Repeat this step for all eight of your cheese sticks and then place them on a baking sheet lined with parchment paper. Freeze them for a minimum of four hours. I usually just whip these up in the evening and then simply freeze them overnight.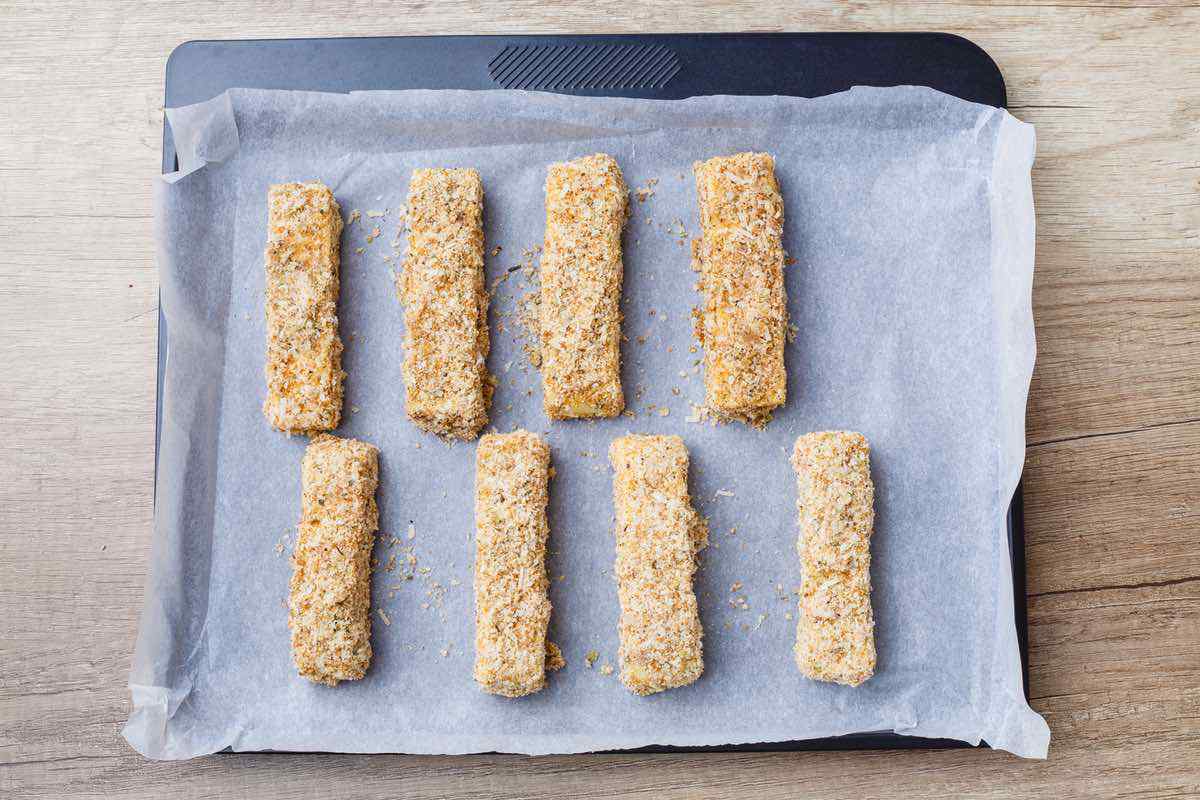 When you're ready to cook the mozzarella sticks, use a heavy saucepan and heat up your preferred type of cooking oil (I always use extra virgin olive oil due to its high concentration of antioxidants and heart healthy monounsaturated fatty acids). You can then work in batches to fry your cheese sticks until they're golden brown. It should take about 30 seconds per side.
Just make sure to drain the mozzarella sticks over a piece of paper towel once you remove them from the heat!
Mozzarella Stick Variations
Are you a full fledged cheese addict like I am? In that case, you may be interested in a few alternative ways to make your very own keto mozzarella sticks from scratch. These are from some of my personal favorite keto food blogs so rest assured guys, these are great too:
Can I Bake These Mozzarella Sticks Instead?
Yes! You can most definitely throw your mozzarella sticks in the oven to bake them instead of frying. You'll want to bake them at 400° for 4-5 minutes before turning them over and then cooking the other side for an additional 4-5 minutes.
Can I Make My Own Almond Flour for Coating?
Making your own homemade almond flour is a perfectly viable option when it comes to this recipe. Making homemade almond flour is actually incredibly easy as well. All you'll need is a food processor. Simply add ¼ cup of blanched almonds at a time, processing them until they make a flour-like consistency. So easy and you can use the almond flour in so many different recipes too!
How to Make Mozzarella Sticks Crispy Every Time
The best way to make sure that your mozzarella sticks are nice and crispy is to follow the recipe directions given on this page: by frying each side until the sticks are a nice golden brown color, you should be able to end up with perfectly crispy mozzarella sticks, each and every time.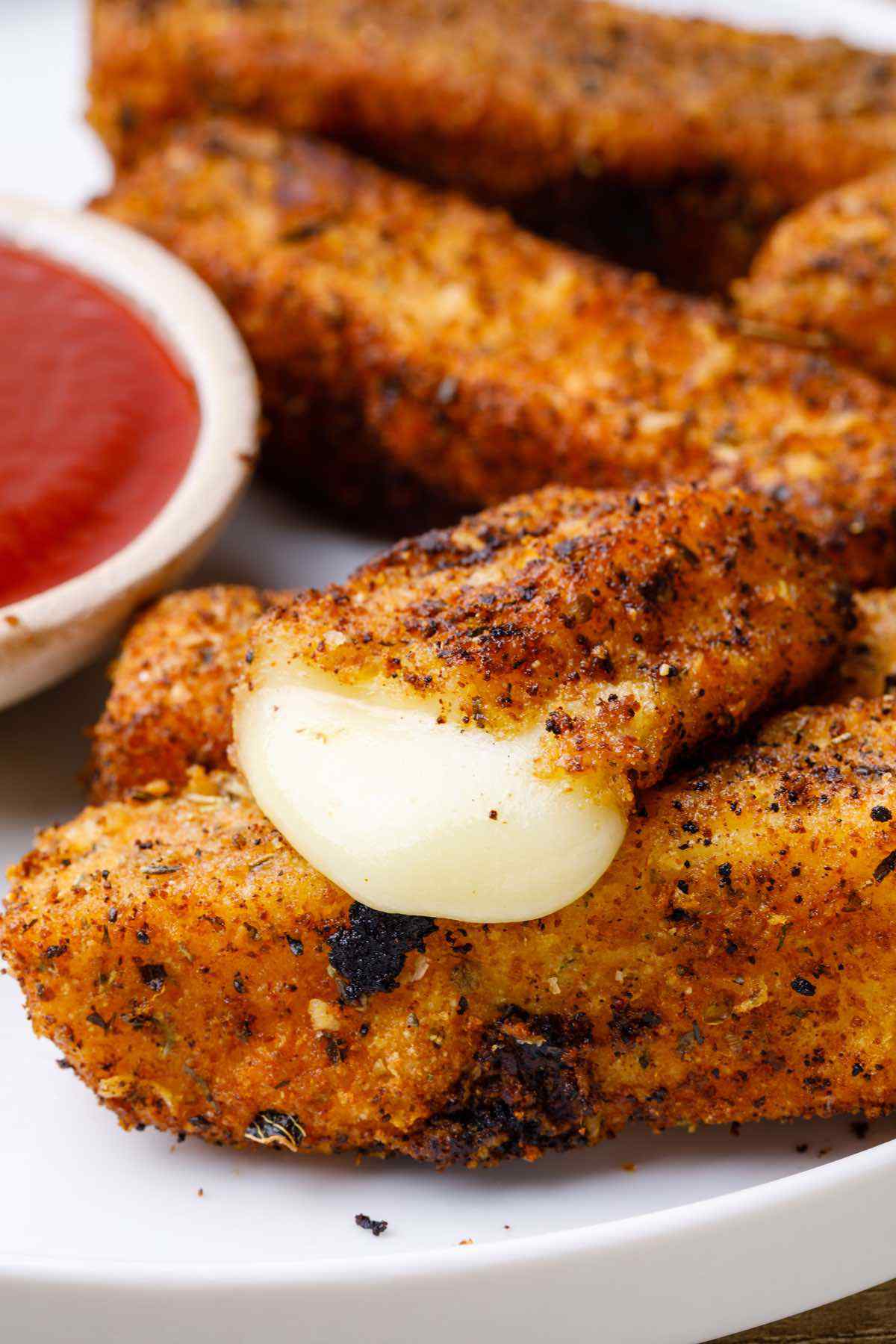 What's the Best Keto Dip for Mozzarella Sticks?
Whenever I make this particular recipe, I usually like to go with a keto friendly marinara sauce. As a matter of fact, I prefer to make my own from scratch by following this excellent recipe for making an easy keto marinara sauce.
Another great option to pair with these mozzarella sticks is this tasty recipe for making a low carb keto ranch dressing.
Those are my two go to options, but at the end of the day, as long as the sauce you use is appropriate for the keto diet, you can definitely go with whatever flavor you like best!
Do I Have to Defrost Mozzarella Sticks Before Frying Them?
No, defrosting these mozzarella sticks isn't a requirement before you fry them. If your mozzarella sticks have already thawed, then I would simply recommend shortening the cooking time by 1-2 minutes per side.
(You may also like: Crispy, Crunchy Keto Fried Chicken)
Print Recipe
Ooey-Gooey (And Crunchy) Keto Mozarella Sticks
Author:
Prep Time:

10 minutes

Cook Time:

5 minutes

Total Time:

15 minutes

Yield:

8

1

x
FREE KETO RECIPES + 5-INGREDIENT KETO COOKBOOK

Make sure to sign up for free to get instant access to the 5-Ingredient Keto Cookbook, which includes my favorite 20+ keto recipes of all-time, all under 5 ingredients.
Scale
8

Mozzarella sticks

1

large egg

½ cup

almond flour

½ cup

grated Parmesan cheese

2 tbsp

flaxseed meal 

1 tsp

Italian seasoning

1 tsp

garlic powder

1 1/2 cups

oil of choice for frying

salt to taste
Place the almond flour, Parmesan cheese, flax meal, Italian seasoning, garlic powder and salt to taste in a shallow bowl and mix to combine. Set aside. 

Add the egg to another bowl and beat it lightly.

Dip each cheese stick in the egg then coat in the almond flour mixture. 

Repeat this step. 

Place them on a baking sheet lined with parchment paper. 

Freeze for minimum 4 hours or overnight. 

In a heavy saucepan, heat the oil to 365°F..

Working in batches, fry the cheese until golden brown, about 30 seconds per side. 

Remove from heat and drain on paper towels.