Keto Recipes
Easy Low Carb Keto Marshmallows for the Best Smore's Ever
I was so excited to find out that not only are low carb, sugar free marshmallows an option while on the keto diet, they ended up being so much better than my previous experiments with smores. Here's how to make the fluffiest, most delicious keto marshmallows.
How to Make Low Carb Keto Marshmallows
Dust your pan with some coconut flour. Line your pan with some parchment paper and dust it with coconut flour.
Hydrate the gelatin. In a small saucepan with about ¼ cup of water, sprinkle some gelatin over it and allow it to hydrate for about 5 minutes. Add more water then mix.
Dissolve the gelatin. In the same sauce pan, dissolve the gelatin for about 3-4 minutes and remove from the heat.
Whisk the egg whites. In a stand mixer, beat the egg whites for about 2 minutes and then add your granulated sweetener and cream of tartar.
Whisk until you create soft peaks. If you don't have a stand mixer, a hand mixer will work too.
Add the dissolved gelatin. Pour the gelatin mixture into the bowl with the egg whites and sweetener in a slow and steady stream.
Keep whisking. Continue whisking the mixture together for another 7-10 minutes.
Transfer to your pan. Transfer the mixture to a baking pan. Smooth out the top.
Dust more coconut flour over the top. Pat down the top of the marshmallow mixture until it lies flat.
Let it sit for 4-6 hours. Once it sets, you can remove it and cut it up!
How to Make the Best Keto Smores Ever
A classic smores recipe contains these three ingredients:
Once you have those ready, all that's left to do is:
Prepare the graham crackers. I prefer bite-sized pieces–it's less messy that way!
Roast the marshmallows. Take your marshmallow piece and toast it over the fire for about 10-20 seconds, maintaining about 12-16 inches away from the fire to maintain a melted center.
Roast the chocolate. If you like your chocolate roasted and melted as well, toast it over the fire for about 10 seconds at about 12-16 inches away from the fire.
Compose the smore! First, put the melted chocolate on the graham cracker. Next, add the marshmallow and then finish it off on top with more chocolate (optional!) or another graham cracker piece.
Press down firmly. You want all of the components to melt together before you take a bite!
Do These Low Carb Marshmallows Roast Well?
If you're looking for a low carb marshmallow that you can roast over a fire, this is an excellent option. I find that the texture is not all that different from regular marshmallows thanks to the granulated sweetener.
Don't Forget to Serve These Keto Marshmallows with These Other Must-Try Recipes
Keto Hot Chocolate – Can't have smores without an equally comforting drink, and what better way to round up this dessert than with some hot chocolate?
Keto Whipped Cream – Level up any dessert with a healthy dollop of whipped cream, especially if you're looking for some added fluff and texture.
Keto Chocolate Ice Cream – If you haven't already discovered this mind-blowing combo, I must insist you try combining a classic smores recipe with some good old-fashioned chocolate ice cream.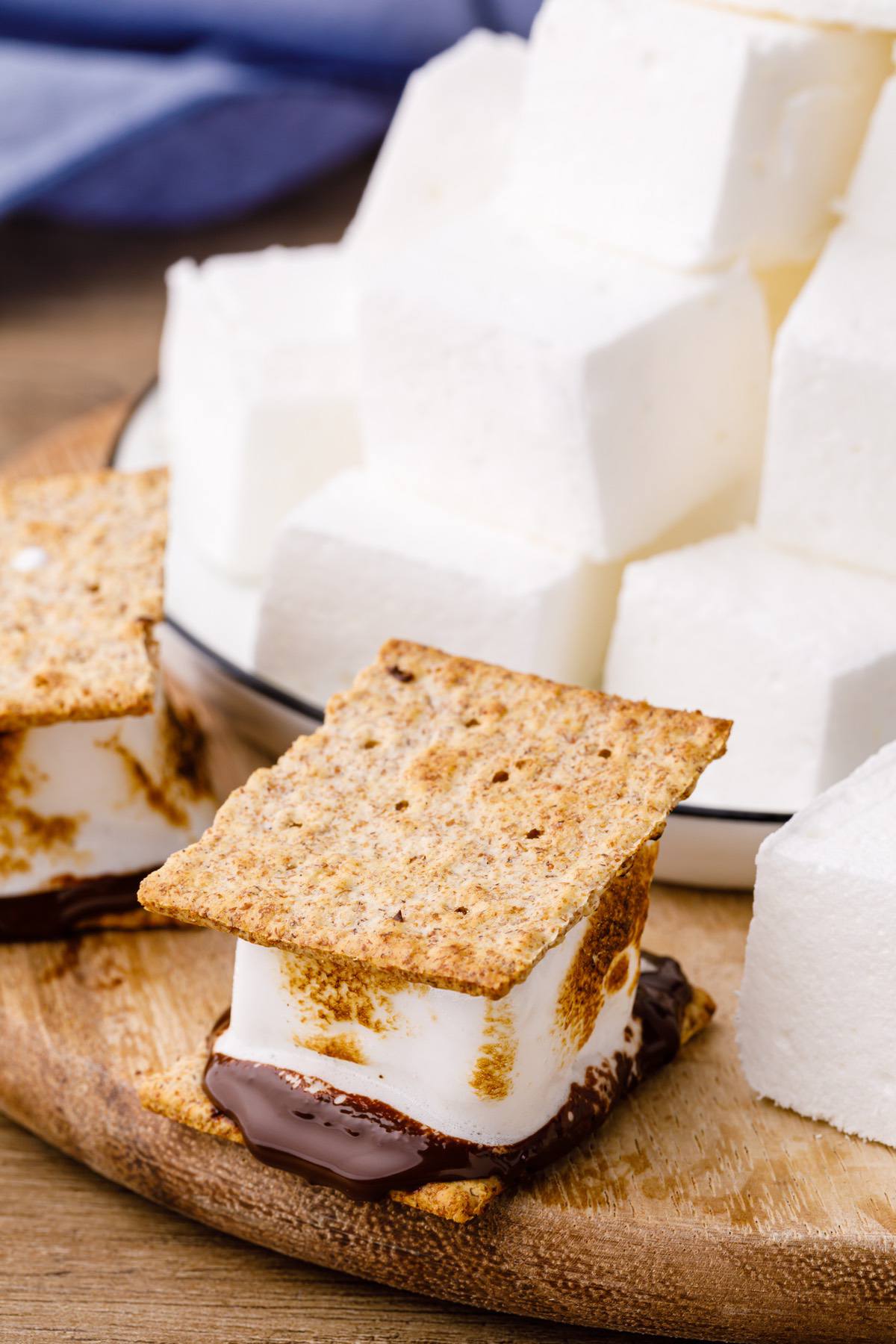 Print Recipe
Easy Low Carb Keto Marshmallows for the Best Smore's Ever
Author: Bree - KetoPots.com
Prep Time:

20 minutes

Cook Time:

4 minutes

Total Time:

24 minutes

Yield:

3

2

1

x
Scale
3

large egg whites

4 tbsp

gelatin powder 

1 tsp

cream of tartar 

1 1/3 cup

granulated Stevia or other low carb granulated sweetener 

2 tsp

pure vanilla extract

1 cup

water 

1 tbsp

coconut flour 
Line an 8×8 inch baking pan with parchment paper. 

Dust the parchment paper with half of coconut flour. Set aside. 

In a small saucepan add ¼ cup of water and sprinkle the gelatin evenly over. 

Allow to hydrate for 5 minutes.

Add the remaining water and mix to combine. 

Heat the mixture over medium low heat until everything has dissolved, about 3-4 minutes. 

Remove from the heat and set aside. 

In a stand mixer bowl fitted with the whisk attachment, beat the egg whites for 2 minutes. 

Add the sweetener and cream of tartar.

Keep beating until it becomes thick and creates soft peaks.

Pour the gelatin mixture into the bowl in a steady stream.

Turn the mixer up to high and continue beating until the mixture triples in volume, about 7-10 minutes.

Transfer the marshmallow mixture into the prepared pan. 

Smooth out the top with back of a spoon. 

Dust the top with remaining coconut flour and pat down.

Let sit for 4-6 hours. 

Remove from the pan and cut to desired size. Set aside.
More Good Recipes Using Keto Marshmallows
FREE KETO RECIPES + 5-INGREDIENT KETO COOKBOOK

Make sure to sign up for free to get instant access to the 5-Ingredient Keto Cookbook, which includes my favorite 20+ keto recipes of all-time, all under 5 ingredients.