Keto Recipes
Low Carb Keto BBQ Turkey Meatloaf
With summer just around the corner, it's almost time to hit the beach and show off that chiseled summer body. It's during this time of year that many people have the same goal of trying to lose some excess weight and fat. Eating better and exercising more are two excellent ways to get started with this goal, and what better way to do it than with some of our best keto recipes?
When carbohydrate consumption is significantly lowered for a period of time, the body runs out of glycogen from carbs used to fuel our bodies. As a result, the body switches to using fat stores as it's primary source for energy. This is an extremely basic summary of ketosis and how ketogenic diets are so effective for fat loss. (1) So you see, the keto diet isn't just great for overall health and wellness; it can help you shed some unwanted pounds, too.
Loaded With Protein
This meatloaf recipe makes use of turkey. Be sure to use all-natural organic turkey breast and have it ground fresh for best results. One of the leanest cuts of meat around is turkey breast. You'll be surprised to find out that one pound of lean turkey breast is only 486 calories, 108 grams of protein, 6 grams of fat, and zero carbs. Even though a keto diet only has low to moderate protein, it's important to keep in an adequate amount for satiety and metabolic health.
Make An Amazing BBQ Sauce
Before you do anything with the turkey, you'll want to prepare the BBQ sauce. Those who have cooked with turkey before know that it needs heavy seasoning or a flavorful sauce because turkey breast is extremely bland when cooked alone. In a saucepan, add in tomato puree, apple cider vinegar, granulated stevia (or any low carb granulated sweetener), Worcestershire sauce, smoked paprika, garlic powder, ground cayenne, and salt. Allow the sauce to simmer on low heat while stirring frequently. Once the BBQ sauce has reached your desired thickness, remove the pan from the heat and set it aside.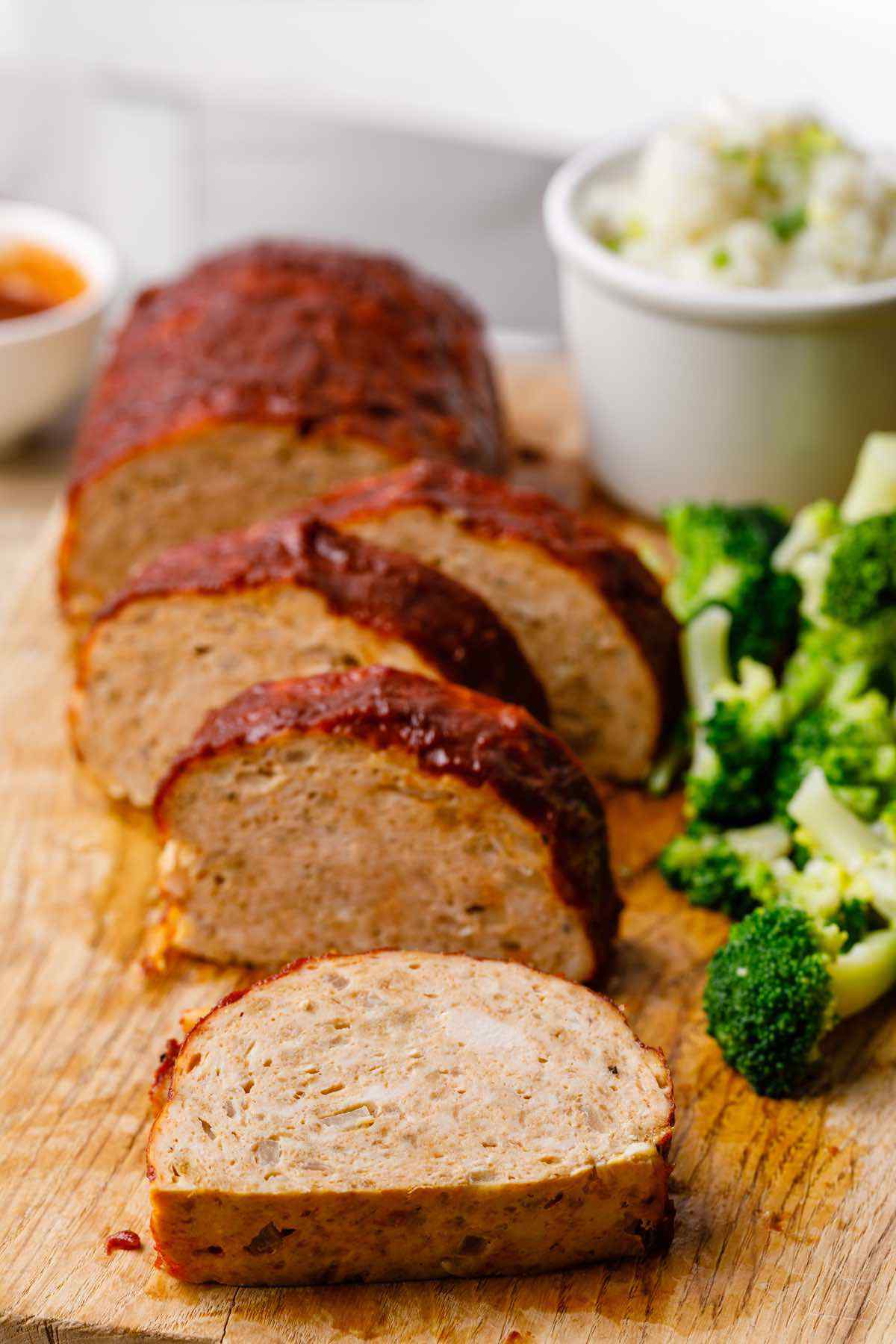 Next, it's time to prepare the turkey. In a large bowl, add in the ground turkey, flaxseed meal, grated parmesan cheese, diced onions, 1 large egg, 1/3 of the BBQ sauce, and salt. Combine all the ingredients using your hands to make sure that the ground turkey breast is seasoned well. Remember to wash your hands thoroughly after handling the raw turkey. Cover the bowl and place it in the refrigerator allowing it to marinate for 25-30 minutes.
Take your meatloaf out of the refrigerator and shape it into a loaf. Place the loaf in the middle of a baking sheet lined with parchment paper to avoid it from sticking. In a preheated oven of 350 degrees Fahrenheit, roast the meatloaf for 40 minutes. Avoid opening the oven door to ensure that it cooks evenly. Additionally, use a kitchen timer to prevent overcooking as the turkey could end up with a papery texture.
When the timer goes off, take out the meatloaf carefully and brush it with 1/3 of the BBQ sauce. Be sure to cover all surfaces of the loaf with the sauce. Finally, bake the turkey meatloaf for an additional 5-10 minutes and serve warm with the remaining BBQ sauce.
The next time you plan a backyard BBQ with family and friends, surprise them with this homemade low carb keto BBQ turkey meatloaf. It's an awesome, tasty dish that will keep you full, help you lose weight, and will send your tastebuds to heaven.
More Keto Meatloaf Recipes:
Teriyaki Chicken Meatloaf with Fresh Scallions
Bacon Wrapped Keto Meatloaf with a Sweet and Sour Glaze
Classic Crockpot Keto Meatloaf for an Easy Family Meal
Print Recipe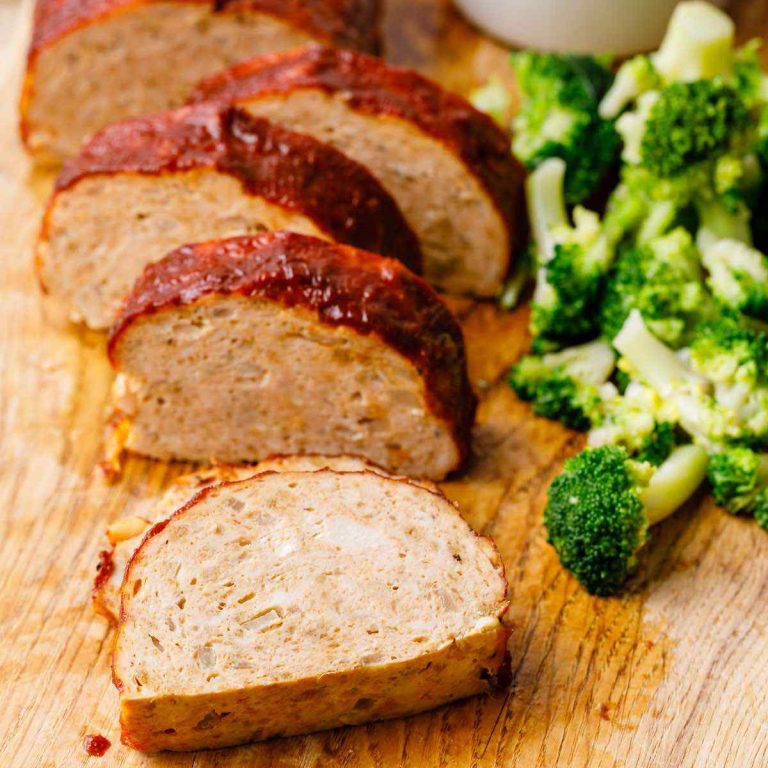 Low Carb Keto BBQ Turkey Meatloaf
Author: Bree - KetoPots.com
Prep Time:

15 minutes

Cook Time:

50 minutes

Total Time:

1 hour, 5 minutes

Yield:

4

1

x
FREE KETO RECIPES + 5-INGREDIENT KETO COOKBOOK

Make sure to sign up for free to get instant access to the 5-Ingredient Keto Cookbook, which includes my favorite 20+ keto recipes of all-time, all under 5 ingredients.
Scale
For BBQ sauce:
½ cup tomato puree
2 tbsp apple cider vinegar
1 tbsp granulated Stevia or other low carb granulated sweetener
1 tbsp Worcestershire sauce
1 tsp smoked paprika
½ tsp garlic powder
¼ tsp ground cayenne
salt to taste
For the meatloaf:
1 pound ground turkey
¼ cup flaxseed meal
½ cup finely grated Parmesan cheese
½ medium onion, diced
1 large egg
salt to taste
First, make the sauce.
Place all the ingredients in a small saucepan and simmer, stirring frequently, until the sauce reaches your desired thickness.
Season with salt to taste and set aside.
Preheat oven to 350°F.
Line a baking sheet with parchment paper. Set aside.
In a large bowl place the ground turkey, flaxseed meal, Parmesan, onion, egg, 1/3 of the BBQ sauce and salt to taste.
With clean hands, mix the ingredients until well combined.
Place the meat mixture on the prepared baking sheet and form into a loaf.
Roast the meatloaf for 40 minutes.
Remove the meatloaf from the oven and brush with 1/3 of the BBQ sauce.
Bake for another 5-10 minutes.
Serve the meatloaf with remaining BBQ sauce.