Keto Recipes
Crave-worthy Asian Keto Lettuce Wraps (Low Carb PF Chang Copycat)
If you've been trying to eat low carb, but have really been missing your street tacos and tortilla wraps, this easy Asian keto lettuce wrap recipe is for you.

The lettuce wrap filling for this recipe also works incredible as a super satisfying meal prep, so make sure to make extra and keep it in your fridge for quick and easy keto meals!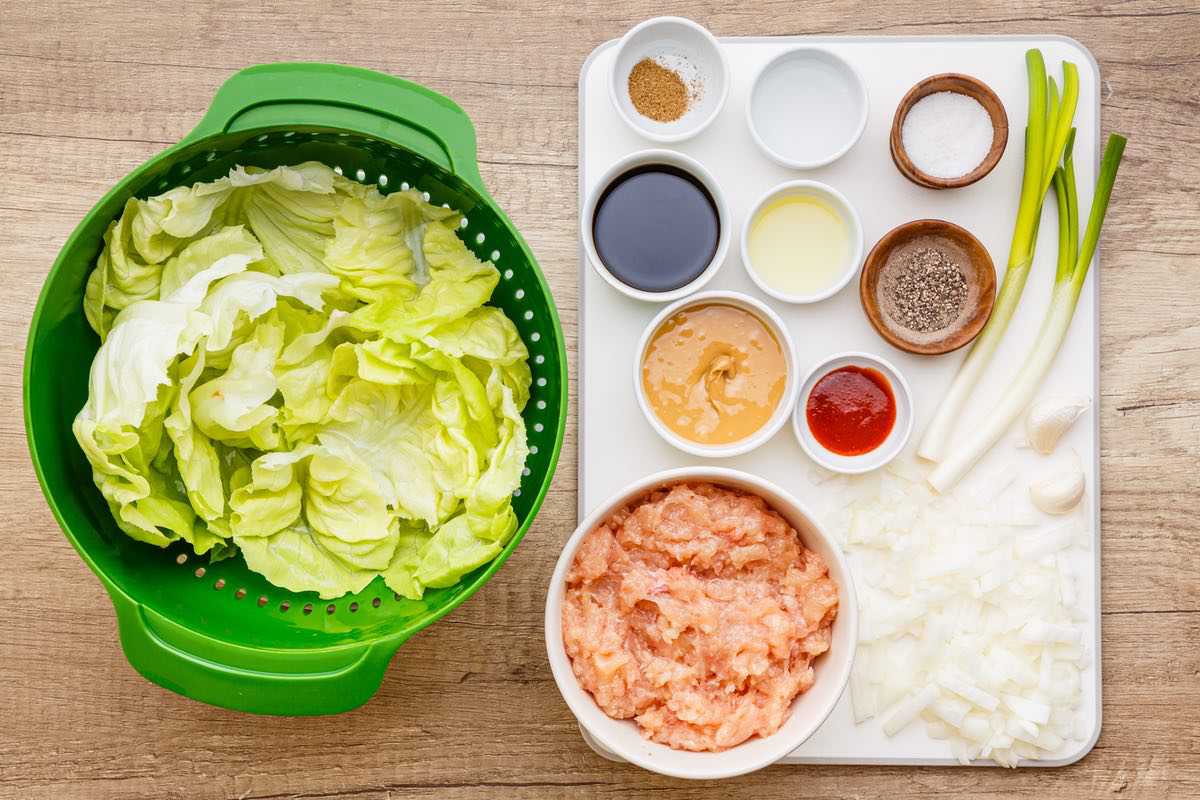 The Best Lettuce for Lettuce Wraps (4 Types to Try)
Since we're on the topic of keto lettuce wraps, it's so important to choose the perfect one for each recipe. This tiny detail matters in the finished product, believe me. I've put together a short list of my go-to lettuce types for you to try:
Iceberg – Known for being crispy and with a very high water content, this lettuce type is excellent for wedge salads and sandwiches or even tacos. The boat shape fits a lot, which is why it's also used for some lettuce wrap recipes.
Romaine – With a crisp center rib, romaine actually holds up very well. It has just enough support for heavy fillings.
Butter – Butter lettuce gets its name from how soft and tender the leaves are. It's perfect for both salads and wraps.
Little Gem – Little gem lettuce looks like baby romaine, but they're actually fully grown. They are naturally small, which makes it great for bite-sized feedings.
How to Make Chicken Lettuce Wraps
So now that we know the different types of lettuce leaves, how do we make lettuce wraps?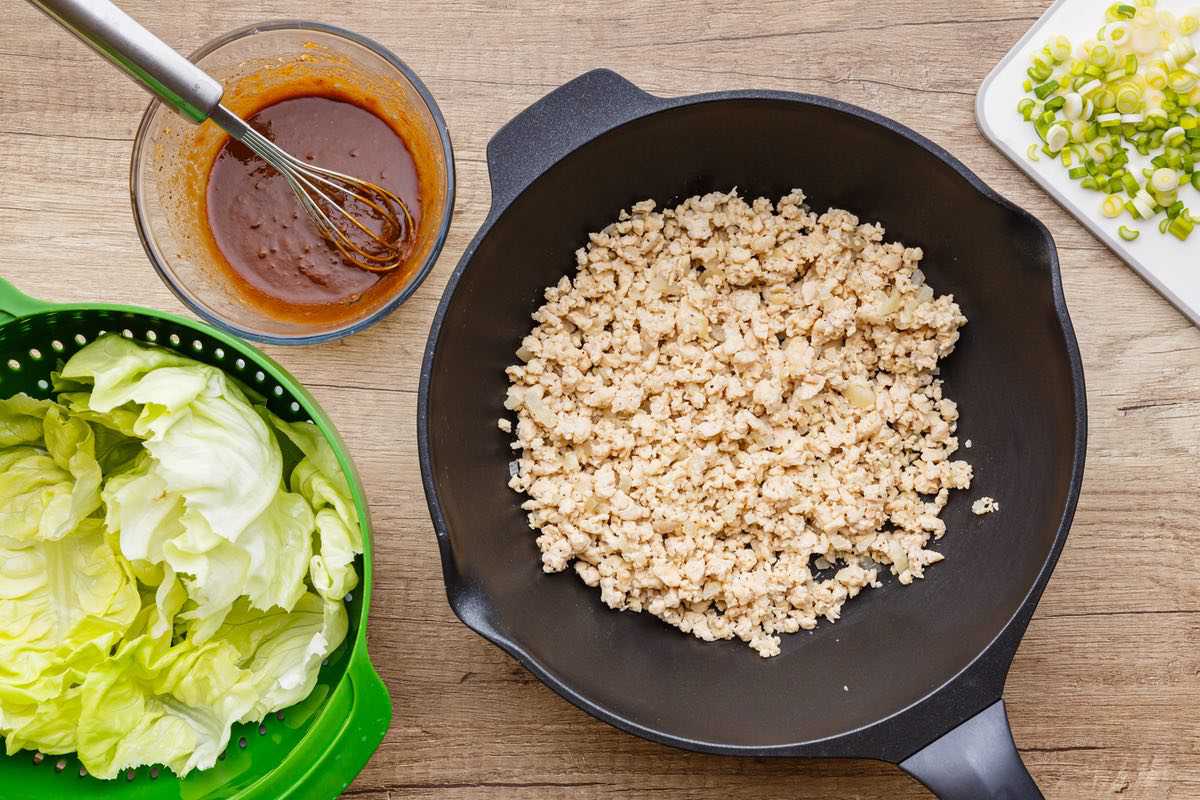 Roll it up. For certain types of lettuce that have larger leaves, you can use them to fully wrap your filling until it looks like a roll.
Use smaller lettuce leaves as 'spoons.' Smaller lettuce make cute makeshift spoons like hors d'oeuvres or appetizers.
Spoon just enough mixture onto the lettuce leaves. Don't add too much to make it easier to fold or roll.
Fold or roll tightly. This will help keep the filling secure and make the lettuce wrap easier to eat.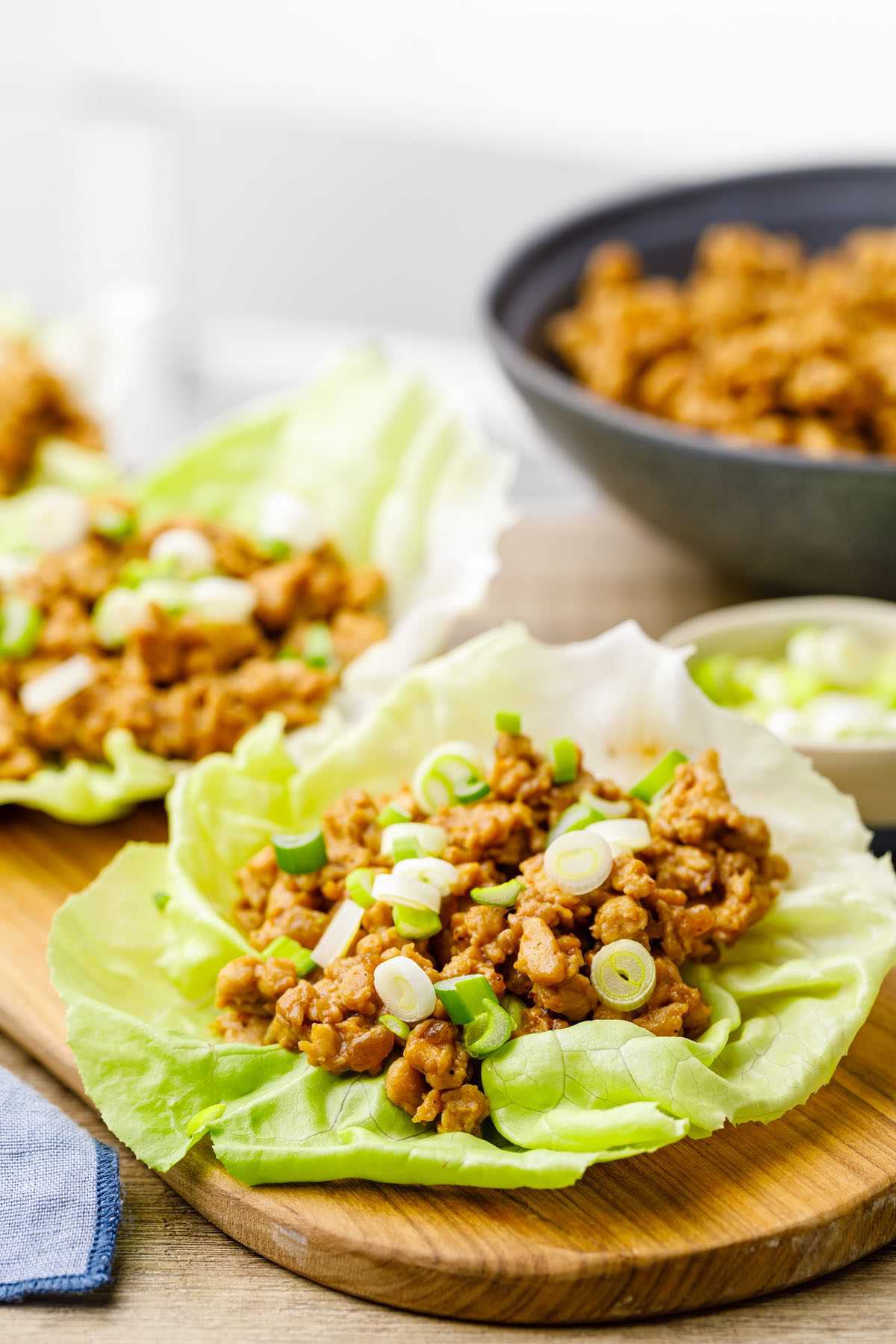 Wrap or Roll (Which is Better for Lettuce Wraps?)
Ultimately, the choice to use your lettuce as a wrap or as a roll is up to you. There are benefits to both and you can't go wrong with either!
Roll – Choose a lettuce type with larger leaves if you prefer to roll your lettuce so that you have enough space to work with. Forcing a roll with a smaller lettuce leaf is just going to make it harder to eat. Still delicious of course, but it's probably going to be messy.
Make sure you have enough leaf space to overlap your leaves and fully cover the mixture inside.
Wrap – For wraps, you can use small to medium-sized lettuce leaves that lay flat and can be folded in half like a taco, or use boat-shaped leaves that hold their shape even when loaded with filling.
Lettuce Wrap Alternatives (What Can I Use Instead of Ground Chicken?)
I love ground chicken because it's light and complements the freshness and crunch of the lettuce leaves. However, there are other alternatives you can try:
Ground pork – Ground pork, especially lean ground pork, is another great option for lettuce wraps. The key is to use a leaner cut and have it ground by your butcher so that it doesn't get too oily when cooking.
Ground beef – For best results, don't go any leaner than 90% beef when using ground. While a 97% lean beef is the lower calorie option, I find that the fattier cut really gives your mixture a rich, buttery flavor.
Ground turkey – Similar to ground chicken, ground turkey is a very lean protein to use. You may need a bit more sauce with ground turkey just because it tends to be a little more drier than chicken.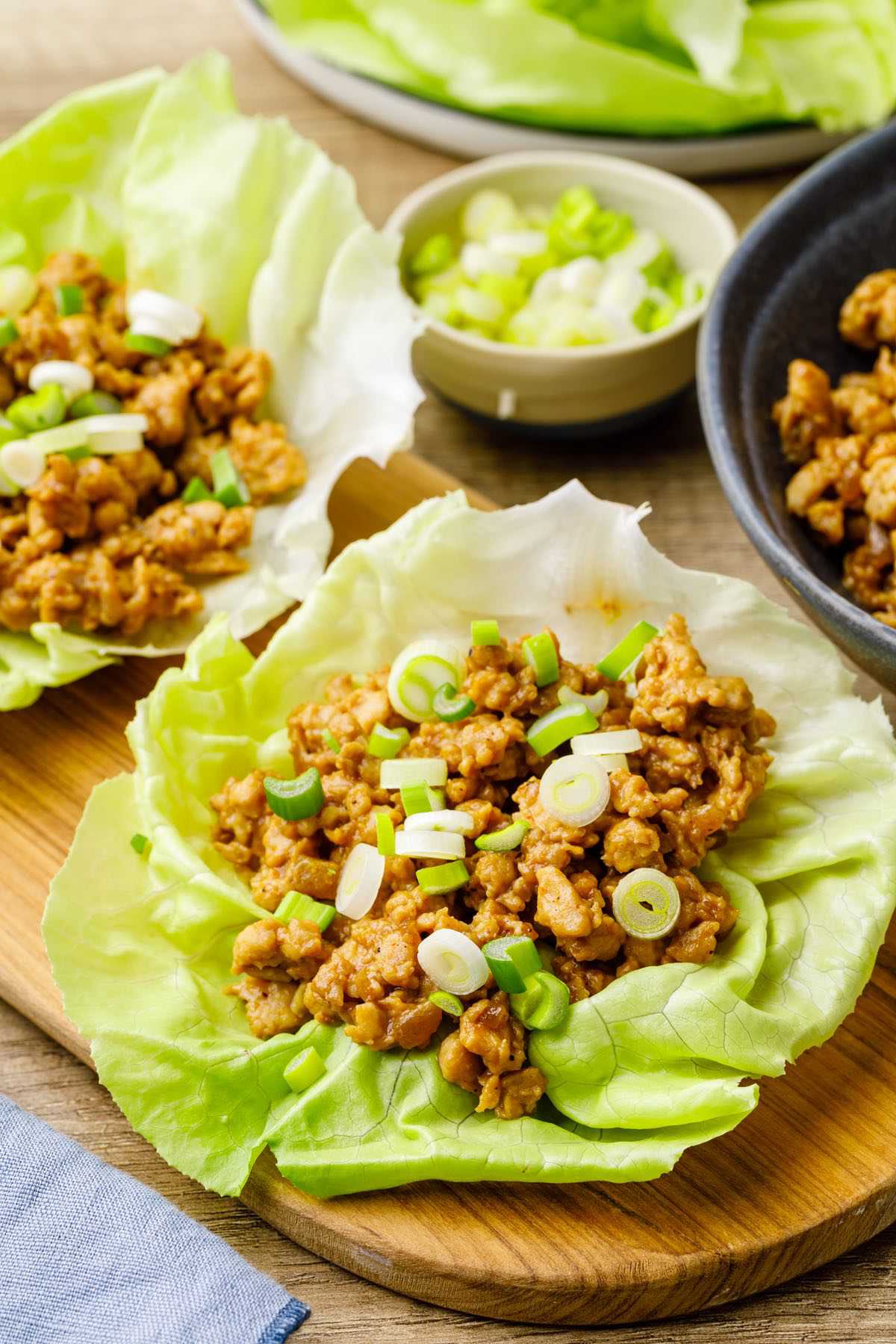 Easy Lettuce Wrap Sauces to Try Instead
Even if you decide to use a basic recipe for your meat mixture, you can completely transform the flavor profile of your meal using any of these special sauces. Here are a few suggestions:
Soy Sauce, Ginger and "Honey" – I've made this version with honey before, but I discovered that you can easily recreate the flavor of honey with a bit of Stevia powder. Stevia has a slight licorice aftertaste, which in small amounts, can be similar to the mild flavor of honey but without the carbs, of course.
I use about 2 tablespoons of Braggs liquid aminos or low sodium soy sauce and 1 teaspoon of finely chopped ginger for every pinch of Stevia powder. A little Stevia goes a LONG way, so make sure to add a little at a time!
Fish Sauce, Lime and Chili – This is a lighter sauce you can top your lettuce wraps with. The fish sauce is salty, which is balanced out by the lime and slices of chili. You can adjust the chili depending on how spicy you like it!
I do 2 tablespoons of fish sauce with 1 teaspoon of lime juice and 2-3 thin slices of chili for mild spice.
Sriracha Yogurt Cream Sauce – This is one of my favorite sauces for pretty much anything. It's mildly spicy because the creaminess from the yogurt really balances it out. It's slightly tangy as well.
I use 1 tablespoon of plain, unsweetened yogurt per 2 tablespoons of sriracha. I like to serve it with chopped green onion on top!
5 Reasons Why Lettuce Wraps Make the Best Meal Prep for an Easy Meal
Lettuce wraps are a staple in my cooking because… well, you don't need to do much cooking, really. For people like me who are always on the lookout for simple but nutritious meals, it's such a welcome addition to my routine.
Here are some other reasons to start making lettuce wraps:
You can use leftovers. When I'm pressed for time, I like to use leftover rotisserie chicken sometimes for my mixture and it's absolutely fabulous served this way.
It's low in carbs. Most of the 'fast food' we see has a carb component of some sort, but not this one. You can literally eat a whole head of lettuce and it wouldn't make much of a dent in your carb allowance!
It's versatile and goes with anything. What I like about lettuce wraps is it can be the main dish or be an appetizer or side dish of some sort.
It's ready in no time. How long does it take you to spoon your filling mixture onto a lettuce wrap? Probably 3 seconds. Once you have the filling ready, it really takes no time at all to prepare.
It helps increase your vegetable intake. You probably already consume an adequate amount of vegetables, but another serving or two can't hurt. For those who sometimes forget to have their veggies, this is one way to make sure you're getting your fill.
Are Lettuce Wraps Low Carb and Keto-friendly?
Absolutely! Leafy vegetables are a cornerstone to keto dieting because they contain a lot of nutrients with very little carbs. So for those who have a very small carb allowance, it's a great way to get in a ton of vitamins, minerals, antioxidants and fiber.
Depending on the type of lettuce, the carb content per cup (yup, per cup!) is probably less than 5 grams. That's A LOT for just 3-5 grams of carbs!
Also, take into account that some of the carbs in lettuce are actually dietary fiber, so the total net carbs is even lower per cup serving. Impressive, right?
I'm Allergic to Peanuts. Do I Need to Add the Peanut Butter to the Sauce?
Just in case you're wondering if you can make this recipe without peanuts, the answer is yes!
I've made this sauce with tahini instead of peanut butter and it's incredibly tasty, as well. Tahini is a sauce made from ground hulled sesame seeds, so you still get a lot of flavor, albeit a little different from peanut butter.
Also, in case you're allergic to peanuts and peanut butter but not allergic to other nuts, you can also use almond butter or cashew butter instead.
Print Recipe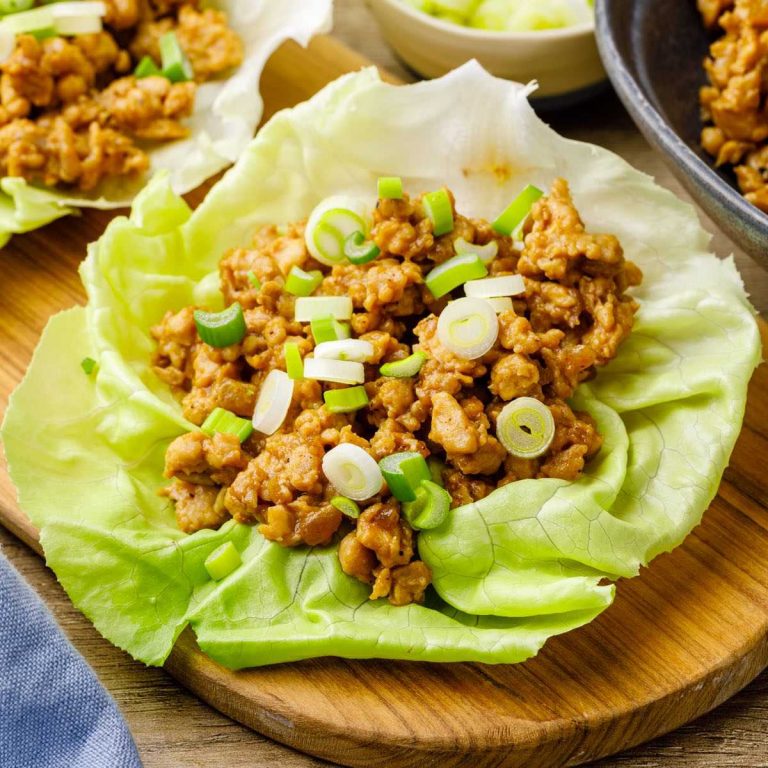 Crave-worthy Asian Keto Lettuce Wraps (Low Carb PF Chang Copycat)
Author: Bree - KetoPots.com
Prep Time:

5 minutes

Cook Time:

10 minutes

Total Time:

15 minutes

Yield:

6

1

x
FREE KETO RECIPES + 5-INGREDIENT KETO COOKBOOK

Make sure to sign up for free to get instant access to the 5-Ingredient Keto Cookbook, which includes my favorite 20+ keto recipes of all-time, all under 5 ingredients.
Scale
For the sauce: 
4 tbsp

soy sauce 

2 tbsp

natural peanut butter 

2

garlic cloves, minced 

1 tsp

hot sauce 

1 tbsp

sesame oil 

2 tsp

sugar free, unseasoned rice vinegar 

2 tsp

granulated Stevia or other granulated low carb sweetener  of choice 

¼ tsp

Chinese 5 spices 

salt, black pepper to taste 
The rest of ingredients: 
1 tbsp

grape seed oil 

1

pound ground chicken 

1

small onion, chopped 

1

head butter lettuce

 2 green onions, sliced
To make the sauce, add all the ingredients to a bowl and mix to combine. 

Season to taste with salt and black pepper. 

Set aside. 

In a skillet heat the grape seed oil over high heat. 

Add the onion and cook for 2 minutes. 

Add the chicken and stir fry, breaking up in to tiny crumbles with a spatula, until the chicken has browned.

Add the sauce and cook for 1-2 minutes. 

Spoon chicken mixture onto lettuce leaves. 

Top with green onions and serve.
More Easy Low Carb Keto Chicken Meals