Keto Recipes
Out of This World Keto Myer Lemon Mug Cake
I've always loved making all kinds of desserts using lemons — lemon cakes, lemon meringue pies, you name it, I probably love it. Very recently I tried meyer lemons for the first time, and I was hooked. I knew right away that I had to find a way to make a keto style dessert using them. This out of this world keto meyer lemon mug cake is the result of that decision. The recipe makes a fairly standard keto mug cake that uses both the zest and juice from a meyer lemon to add an incredible amount of naturally sweet flavor to the cake. And as with nearly all of our other great mug cake recipes, this tasty treat can be ready to go in just a few minutes.
A Perfectly Sweet Hybrid Fruit
If you're not familiar with meyer lemons, they are a natural hybrid of a regular lemon and either a sweet orange or a mandarin. While regular lemons have a highly acidic and tangy taste, meyer lemons are actually quite sweet — especially their juice and zest, which you'll be using in this recipe. Due to their hybrid status, they're also naturally high in vitamin C, much like regular lemons, mandarins, and sweet oranges. A lot of their naturally sweet flavor can be attributed to thymol and limonene, two flavonoids that strengthen your immune system by providing an antioxidant boost. (1)
When it comes to making the mug cake itself, you'll be taking your meyer lemon juice and zest and placing them in a microwave-safe mug with one egg, some melted butter (as always, aim to use grass-fed butter whenever possible), and Stevia. The combination of the meyer lemon juice and zest with a zero calorie sweetener like Stevia is what gives this mug cake it's deliciously sweet flavor, with the added benefit of keeping it nearly completely free of carbohydrates.
After whisking everything together, you can then add in the almond flour along with some baking powder. Using almond flour is another creative way to keep your mug cake nice and low carb. Instead, it's an excellent source of dietary fiber, vitamins, minerals, protein, and healthy fats. Almond flour is incredibly good for you as well, offering all kinds of great health benefits like reducing your risk of heart disease and helping to keep your mind sharp. (2)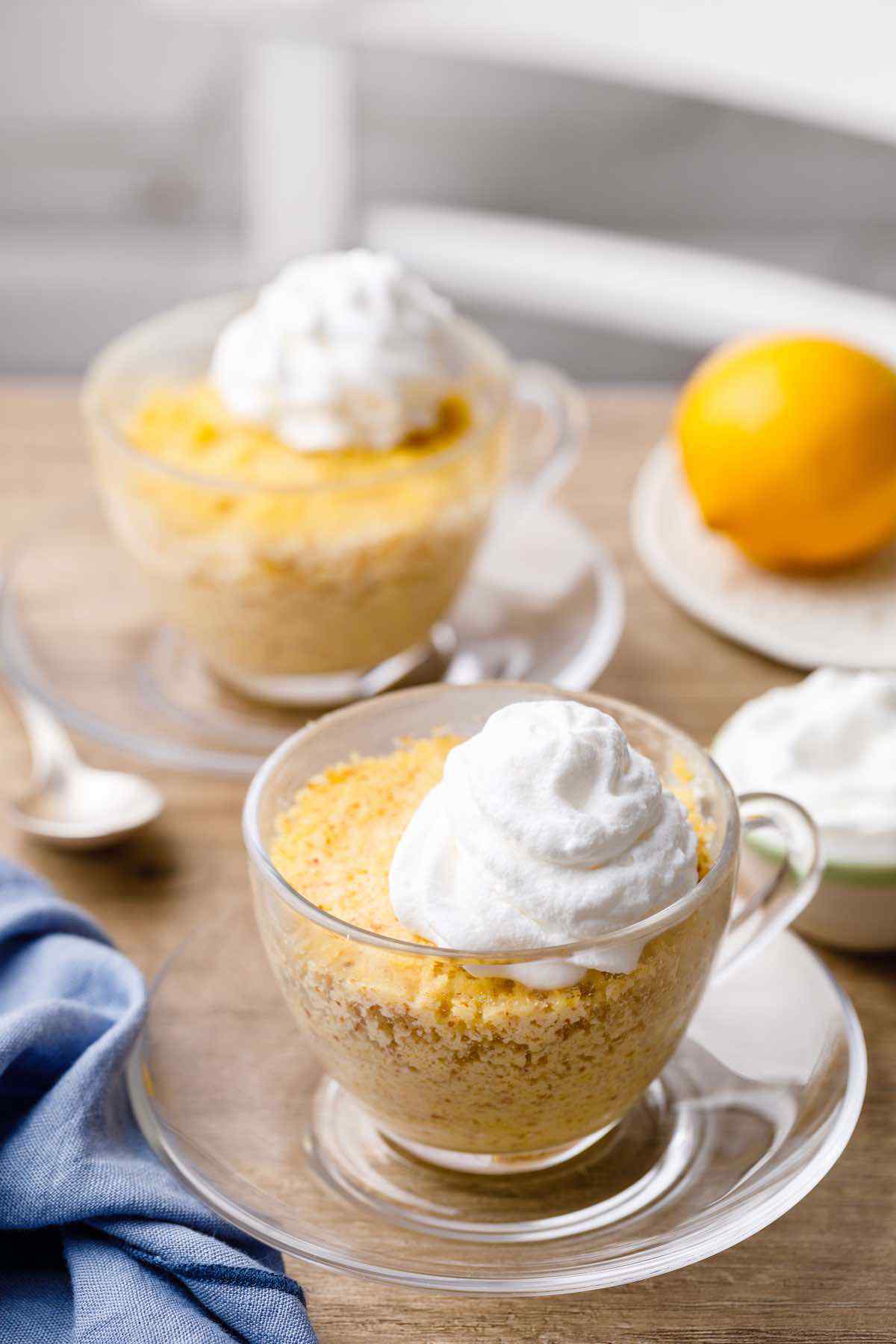 Whisk the almond flour and baking powder in with all of the other ingredients until everything is smooth, and then go ahead and microwave your mug cake on high for about 75 seconds. You're going to want to serve this one warm right away, preferably with a yummy whipped cream topping to help squeeze in a few extra fat calories. As soon as you take your first bite out of this mug cake, you'll see exactly why I'm definitely planning on experimenting with meyer lemons a lot more in the near future to see what other kinds of tasty keto-friendly treats I can come up with using them!
By the way, if you liked this quick and easy mug cake recipe, then you should definitely check out some of the other great recipes just like this one that we've recently posted. I would definitely start with this gooey keto molten chocolate lava mug cake recipe. You should also try out our unbelievably good cinnamon roll mug cake with cream cheese frosting. Last but not least, we also have a flourless peanut butter mug cake recipe that's ridiculously good. I'm sure you're going to love all of them!
More Keto Mug Cake Recipes:
Guilt-Free Keto Cinnamon Roll Mug Cake (Holy Moly This is Good)
3-Minute Coconut Flour Mug Cake (Keto-Friendly and Low Carb)
Flourless Keto Peanut Butter Mug Cake (Quick and Effortless)
The Best Gooey Keto Molten Chocolate Lava Mug Cake
Print Recipe
Keto Myer Lemon Mug Cake
Author: ketopots.com
Prep Time:

2 minutes

Cook Time:

1 minute

Total Time:

3 minutes

Yield:

1

1

x
FREE KETO RECIPES + 5-INGREDIENT KETO COOKBOOK

Make sure to sign up for free to get instant access to the 5-Ingredient Keto Cookbook, which includes my favorite 20+ keto recipes of all-time, all under 5 ingredients.
Scale
1 egg
1 tbsp unsalted butter, melted
½ small Meyer lemon, zested and juiced
2 tbsp granulated Stevia
¼ cup almond flour
¼ tsp baking powder
whipped heavy cream, to serve (optional)
In a 12 oz microwave-safe mug place the egg, melted butter, sweetener, lemon juice and lemon zest and whisk to combine.
Add the almond flour and baking powder and whisk until smooth.
Microwave on high for 75-90 seconds or until just firm to touch and toothpick inserted into the center comes out clean.
Serve warm with whipped cream(if using).