Keto Recipes
Low Carb Keto Lemon Blueberry Bread (Quick and Easy Recipe)
Making keto lemon blueberry bread from scratch works wonders for when you're craving homemade comfort food. It's even better when you can make a low carb version of lemon blueberry bread thanks to this awesome, keto-friendly recipe.

How to Make Keto Lemon Blueberry Bread
Preheat the oven. Preheat your oven to 350℉ and prepare your baking pan. Tip: Line your loaf pan (8×4 for this) with some parchment paper for easy extraction afterwards. This also helps with clean-up!
Combine the dry ingredients. Add the almond flour, baking powder, and xanthan gum to a bowl and mix to combine. Set aside.
Beat the ingredients together. Using the bowl of a stand mixer fitted with the paddle attachment, beat the eggs and a low carb sweetener like Stevia for 3-5 minutes or until the mixture is pale and fluffy. Then add the melted butter, lemon zest, and pure vanilla extract and beat until well combined. Finally, add in your prepared almond flour mixture and beat until smooth.
Gently fold in the fresh blueberries.
Bake. Transfer the bread batter to your prepared baking pan and bake for 45-55 minutes or until a toothpick inserted into the center of the bread comes out clean.
Cool. Allow the bread to cool completely.
Serve. Slice and serve.
3 Tips to Keep in Mind When Making Low Carb Keto Bread
Making keto bread recipes differs slightly from traditional homemade bread recipes. With that in mind, here are a few handy tips to keep in mind if you're just getting used to making keto bread.
Pay attention when mixing. Since you'll be avoiding more traditional carb heavy baking ingredients, you'll definitely want to pay extra close attention when mixing your ingredients together. When beating the eggs in particular, mix them until they form very stiff peaks. This will keep them fluffy enough to not fall apart when mixing them with the remaining ingredients.
Try to preserve as much air as possible. When adding the remaining ingredients in with your eggs, I would recommend folding them in at first just as you would with the blueberries. Folding them instead of stirring them in will help to prevent your bread from ending up flat or dense.
Don't forget the parchment paper. Believe it or not, a lot of people skip over this recommended step when making recipes because they just don't think it's actually necessary. Don't make that mistake when making keto bread. Your bread will likely stick without it. Also, make sure that you're lining all of the sides of the pan, not just the bottom.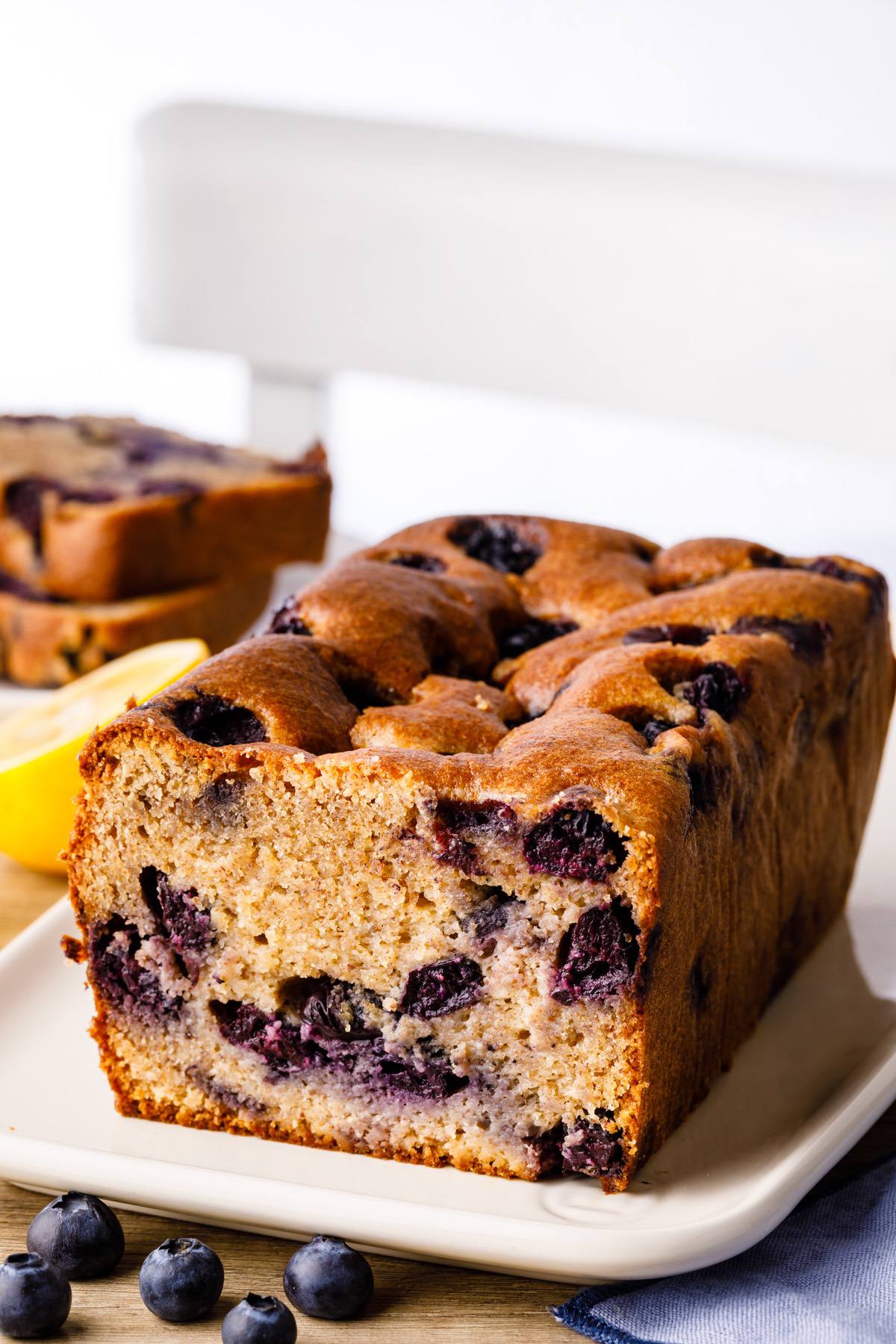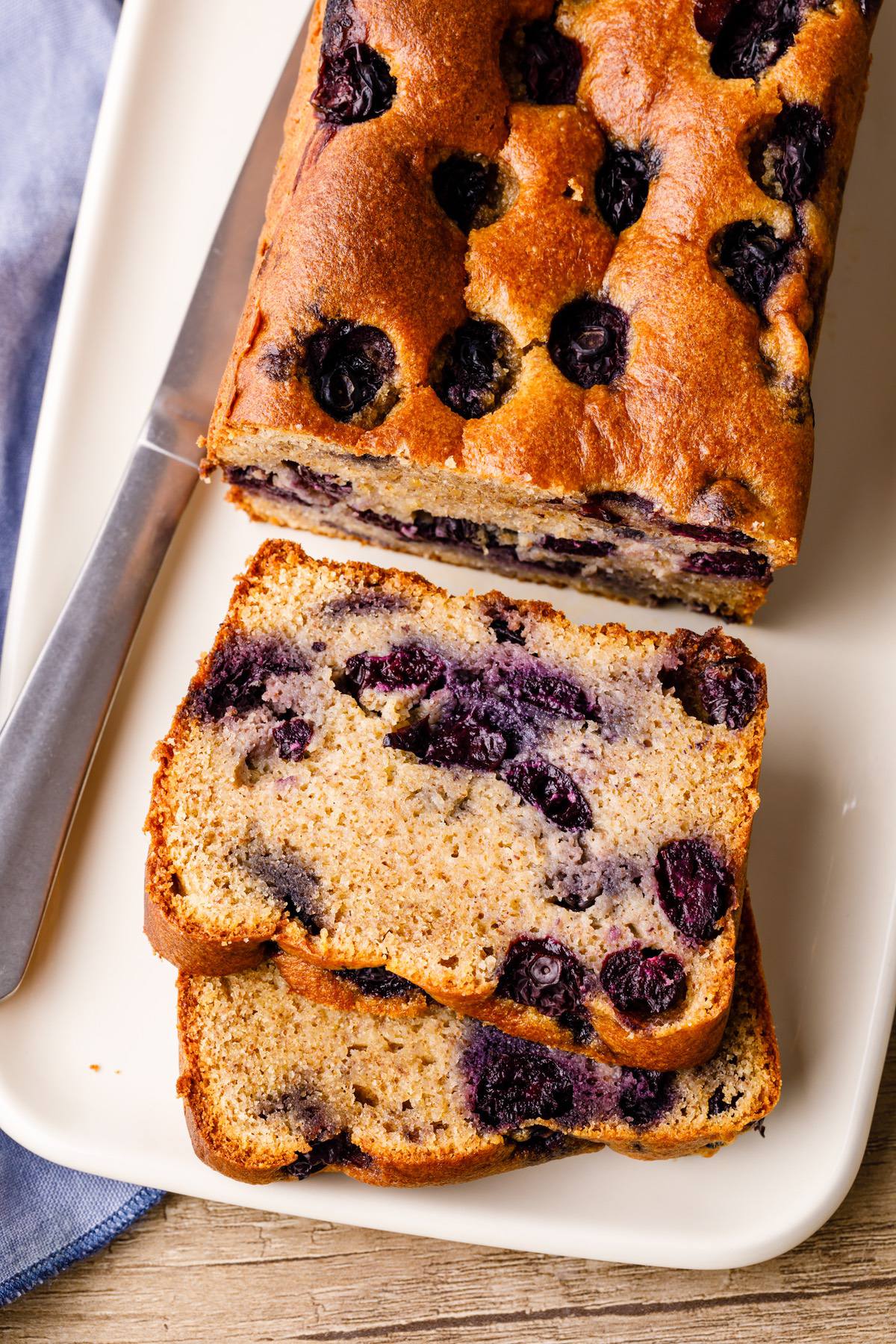 How to Bake Keto Recipes with Almond Flour
Baking keto recipes like this lemon blueberry bread recipe and using almond flour instead of regular wheat flours doesn't need to be difficult. Just keep these quick tips in mind and you'll do just fine when making this bread (or any other recipe that uses almond flour):
Almond flour can be used as a 1:1 substitute for wheat flour.
Keep almond flour stored somewhere cool. It has a higher moisture content than regular flour to begin with so you don't want any added moisture getting in there to avoid spoilage. It's best to keep your almond flour sealed in an airtight container (if you make your own).
Almond flour can easily be combined with other popular keto baking flours, such as coconut flour. In many cases, combining it with other flours can end up producing quite a delightful flavor. However when adding coconut flour, you will have to add to the moisture content as well.
You can also use almond meal instead of almond flour if the recipe requires a more coarse ingredient.
Almond flour does not rise on its own, so if your recipe calls for mega volume, adjust the recipe accordingly; don't just rely on almond flour to do the rising.
More Good Keto Bread Recipes:
Print Recipe
Low Carb Keto Lemon Blueberry Bread (Quick and Easy Recipe)
Author: Bree
Prep Time:

15 minutes

Cook Time:

45 minutes

Total Time:

1 hour

Yield:

1

2

1

x
Scale
2 ½ cups

almond flour

½ cup

granulated Stevia or other low carb granulated sweetener 

½ tbsp

baking powder

½ tsp

xanthan gum or flaxseed meal 

1/3 cup

unsweetened almond milk

1/3 cup

melted butter

3

large eggs

½ tsp

vanilla extract

1 tbsp

lemon zest 

3/4 cup

fresh blueberries
Preheat oven to 350ºF. 

Line an 8×4 inch loaf pan with parchment paper. Set aside.

In a bowl combine the almond flour, baking powder and xanthan gum. Set aside. 

In the bowl of a stand mixer fitted with the paddle attachment beat the eggs and sweetener until pale and fluffy, about 3-5 minutes. 

Add the butter, lemon zest and vanilla extract and beat until well combined. 

Add in the almond flour mixture and beat until smooth.  

Gently fold in the blueberries. 

Transfer the batter into the prepared pan. 

Bake in preheated oven for 45-55 minutes or until a toothpick inserted into the center comes out clean. 

Remove from the oven and allow to cool completely before serving.
FREE KETO RECIPES + 5-INGREDIENT KETO COOKBOOK

Make sure to sign up for free to get instant access to the 5-Ingredient Keto Cookbook, which includes my favorite 20+ keto recipes of all-time, all under 5 ingredients.