Keto Recipes
Tart and Creamy Keto Key Lime Pie with Graham Cracker Crust
One of the very best things about the keto diet is without a doubt having the ability to enjoy all of my old favorite desserts in new and healthier ways. This tart and creamy keto key lime pie made with a 'graham cracker' crust is a perfect example of what I'm talking about. It's quite possibly the most decadent and delicious key lime pie that I've ever tasted, yet it's made with nothing but 100% real whole food ingredients that are all keto friendly.

How to Make the Most Incredible Keto Key Lime Pie
One of the biggest reasons why I love making keto style desserts like this is because literally everything is made from scratch, from the filling right on down to the crust.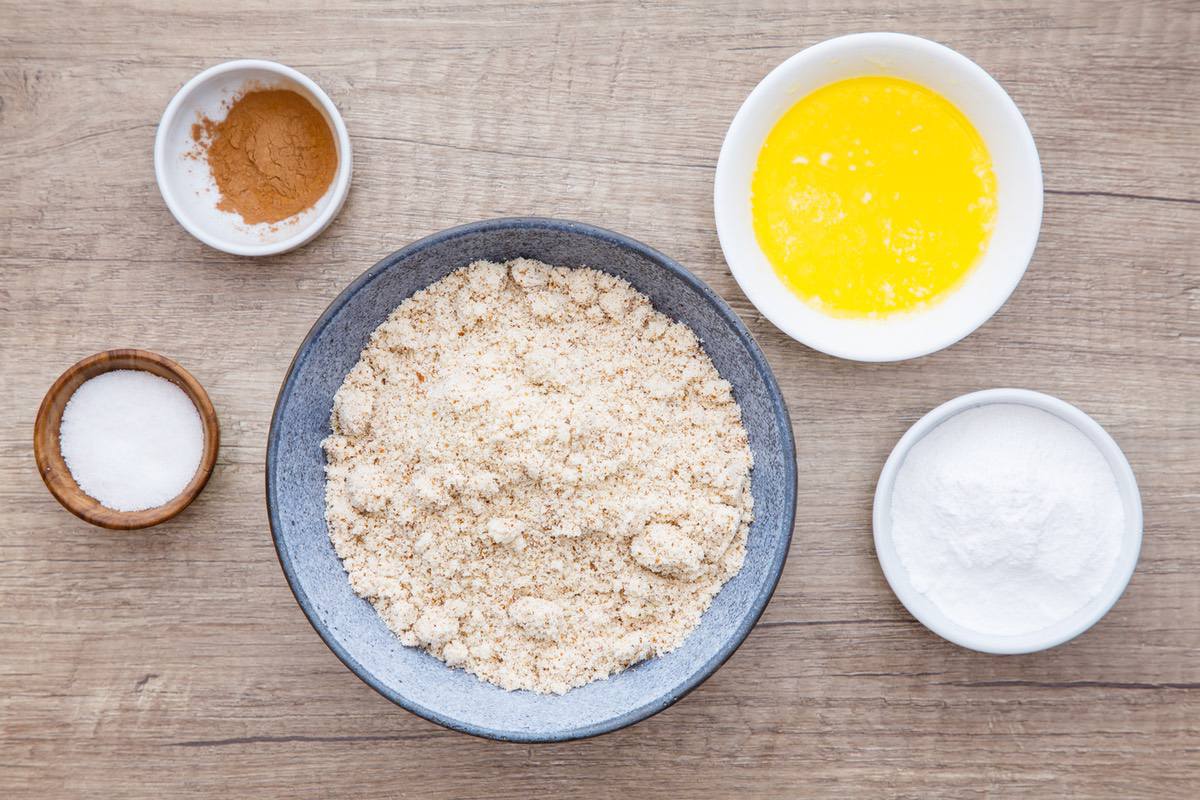 The first thing that you'll want to do when making this pie is to prepare the crust. First, you'll need to lightly grease a nine inch pie dish and set it to the side. Then grab a bowl and combine your almond flour, cinnamon, and whatever low carb sweetener that you're using (I like to use Stevia for all of my keto baking needs).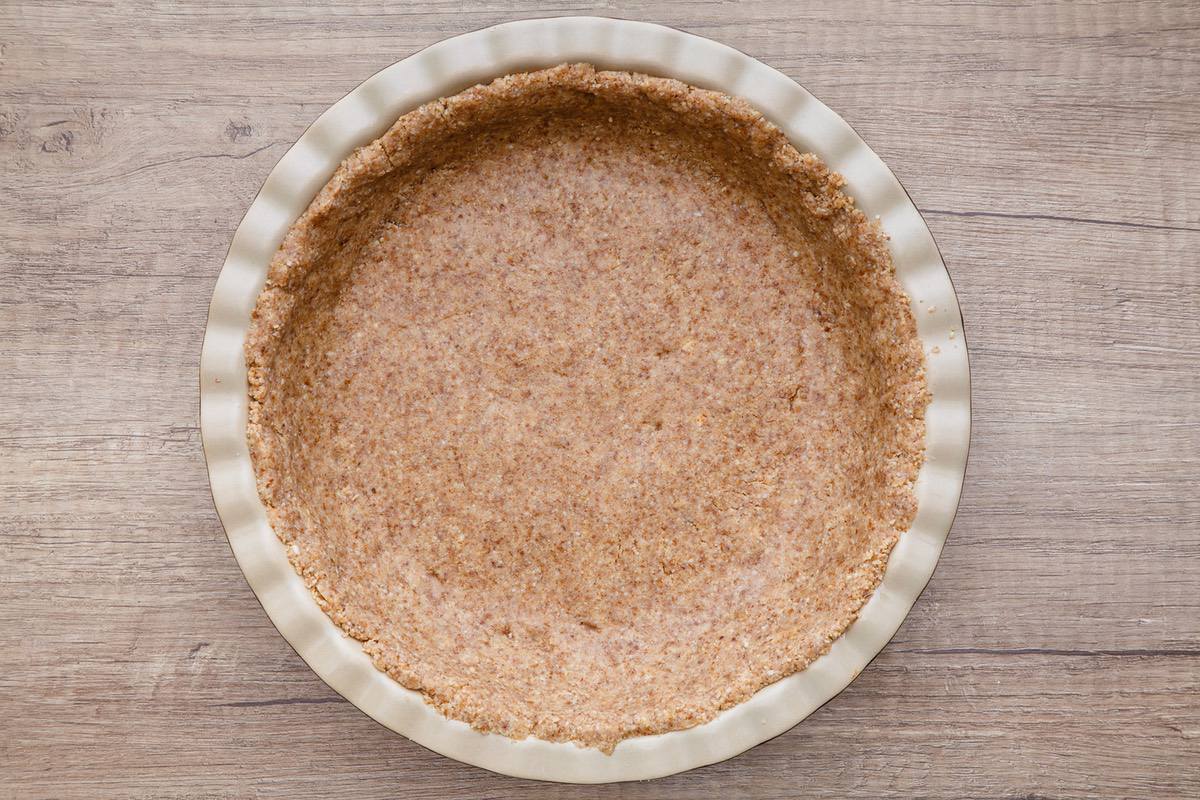 Add the butter into your almond flour mixture and mix everything together until a soft dough forms. Take this mixture and press it into the bottom and up the sides of your pie dish. You'll then want to throw your crust in the fridge for at least one hour.
In order to make the filling, get a small saucepan out and add in the butter, sweetener, and heavy cream. Bring to a boil over medium heat, whisking constantly, and then lower the heat and leave to simmer for approximately 20 minutes.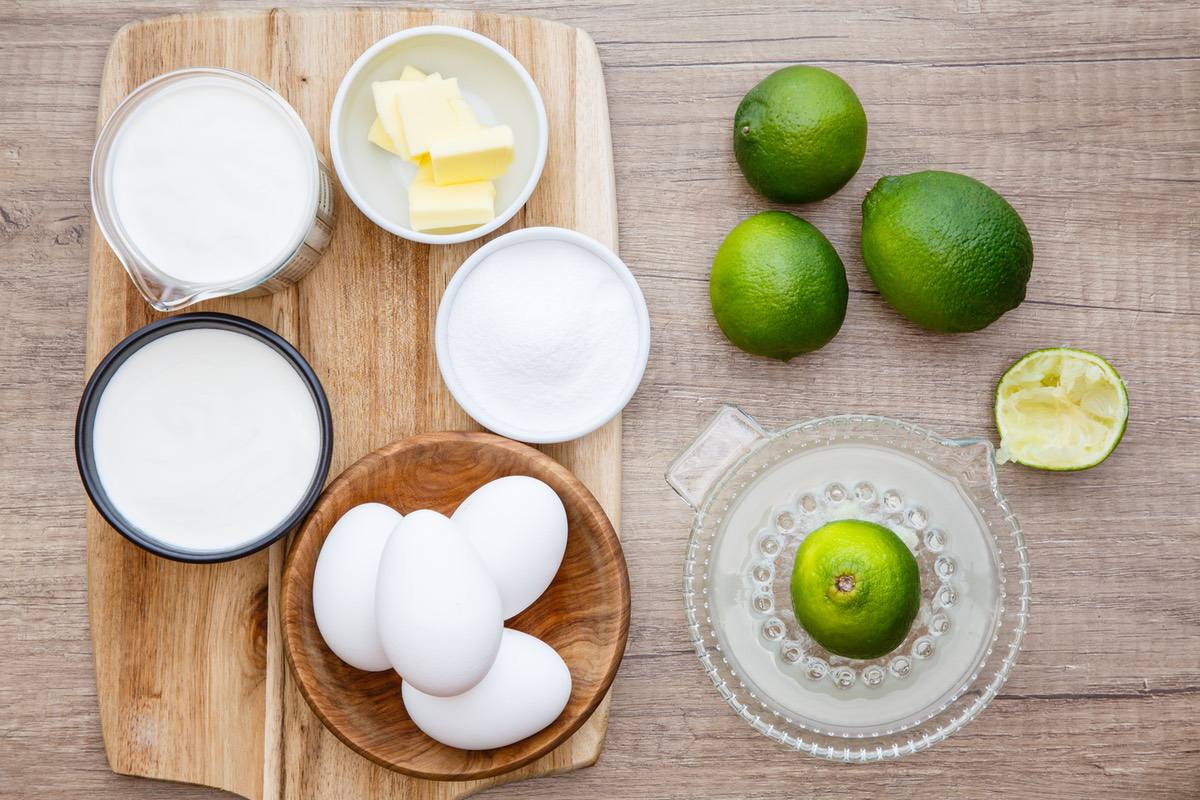 While the filling is simmering, you can preheat your oven to 350°F. Take your pie crust out of the fridge and bake it for 10 minutes.
While the crust is baking, grab a large bowl and combine your heavy cream and butter mixture with four large eggs. Beat until well combined and then add in the key lime juice and key lime zest. I love using freshly squeezed key lime juice because it's not only delicious, but it's also a good source of antioxidants that may help to protect against diseases like cancer. (1) Beat to combine again and then pour the filling onto your crust.
Next, reduce your oven temperature down to 300°F and bake the pie dish for 35-40 minutes. You'll know the pie is done when there is only a slight wobble in the center. Leave the pie to cool completely when you take it out of the oven and refrigerate for a minimum of two hours before serving. I also recommend serving it with whipped cream and lime slices as a topping, but that's totally optional.
What's the Difference Between a Lime and a Key Lime?
There are a few subtle differences between regular limes (also known as Persian limes) and key limes.
Key limes tend to be smaller and contain more seeds than regular limes. They also have a more yellowish skin color compared to the thick, bright green skin of regular limes. Key limes also taste slightly less tart than regular limes, which could be considered a plus or a negative depending on how tart you like your key lime pie!
How Do I Fix Watery Key Lime Pie?
The easiest way to prevent your key lime pie from turning out watery is to be mindful of your measurements when making the pie. You'll want to use the exact amounts called for in the recipe when using ingredients like heavy cream and the lime juice. Adding in more than the recommended amounts can easily cause your filling to be too runny.
Why Did My Key Lime Pie Turn Out Bitter?
Believe it or not, but one of the most common reasons for key lime pie to turn out bitter is because it's made with regular limes instead of key limes!
Since key limes tend to be slightly less tart than their regular counterparts, if you use regular limes in their place, especially if you're using the exact same amount of lime juice and lime zest, you will naturally end up with a more bitter tasting pie.
Why Did My Key Lime Pie Curdle?
A little bit of curdling is to be expected whenever you're making key lime pie. After all, the acidity of the lime juice combined with heavy cream causes this curdling effect to occur, which gives the key lime pie it's texture in the first place.
However, if you over whip the heavy cream when mixing it with the eggs, your key lime filling can end up looking more curdled than intended. This should still be fine though, and won't affect the final product!
(You may also like: No-Fuss Keto Creme Brulee (Creamy and Decadent))
Print Recipe
Tart and Creamy Keto Key Lime Pie with Graham Cracker Crust
Author: Bree - KetoPots.com
Prep Time:

15 minutes

Cook Time:

55 minutes

Total Time:

1 hour, 10 minutes

Yield:

1

6

1

x
FREE KETO RECIPES + 5-INGREDIENT KETO COOKBOOK

Make sure to sign up for free to get instant access to the 5-Ingredient Keto Cookbook, which includes my favorite 20+ keto recipes of all-time, all under 5 ingredients.
Scale
For the filling: 
4

large eggs

1 ¾ cups

heavy cream 

2 tbsp

butter 

½ cup

granulated Stevia or other low carb granulated sweetener 

½ cup

key lime juice
zest of

3

limes
For the crust:
2 cups

almond flour

¼ cup

granulated Stevia or other low carb granulated sweetener 

1 tsp

cinnamon

¼ cup

unsalted butter, melted
For decoration (optional):
Lightly grease a 9-inch pie dish and set aside. 

To make the crust, in a bowl combine the almond flour, cinnamon and sweetener. 

Add the butter and mix until soft dough forms. 

Press the mixture into the bottom and up the sides of the pie dish.

Refrigerate for minimum one hour. 

To make the filing, add the butter, sweetener and 1 ¼ cup of heavy cream to a saucepan. 

Bring to a boil over medium heat, whisking constantly. 

Lower the heat and simmer for 20 minutes. 

Remove from the heat and set aside. 

Preheat oven to 350°F.

Remove the crust from the refrigerator. 

Bake in preheated oven for 10 minutes. 

In a large bowl add the eggs and, heavy cream, heavy cream – butter mixture and beat until just combined.

Add the lime juice and lime zest and beat to combine. 

Pour the filling onto the crust.

Reduce the oven temperature to 300°F.  

Return the pie dish to the oven and bake for 35-40 minutes or until there is only a slight wobble in the center.

Remove from the oven and allow to cool completely. 

Refrigerate for minimum 2 hours before serving. 

Decorate with whipped cream and lime slices (if using) and serve.
More Easy Keto Dessert Recipes: