Keto Recipes
Keto Chicago Hot Dog with Romaine Lettuce Bun
Spending time outdoors with my family over a round of hot dogs and burgers is my idea of fun. Even when I switched to keto, I was able to find ways to make low carb keto hot dogs and burgers without much trouble. If you're looking to make the switch just like I did, here are my tips on how to make your own keto hot dogs without the classic hot dog bun.

How to Make Keto Hot Dogs
Are Hot Dogs Keto-Friendly?
Yes, hotdogs are packed with protein and they also contain some fat. While most brands may have a gram or two of carbs, most hot dogs are very much keto-friendly.
You may find the occasional flavored frank (usually honey glazed or honey BBQ) with a few extra grams of carbs, but in general, these may still fit your keto lifestyle depending on how many carbs you can tolerate without getting knocked out of ketosis.
Keto-Approved Substitutes for a Bread Bun
To make your hot dog keto-approved, you'll have to switch out the bread bun for something else. Lucky for you, I have a few that have already been tried and tested with great results:
You can use a lot of ingredients as your 'bun' depending on the flavors and vibe you're going for. I've tried all sorts of keto crust recipes with this, too, and they would work just as well.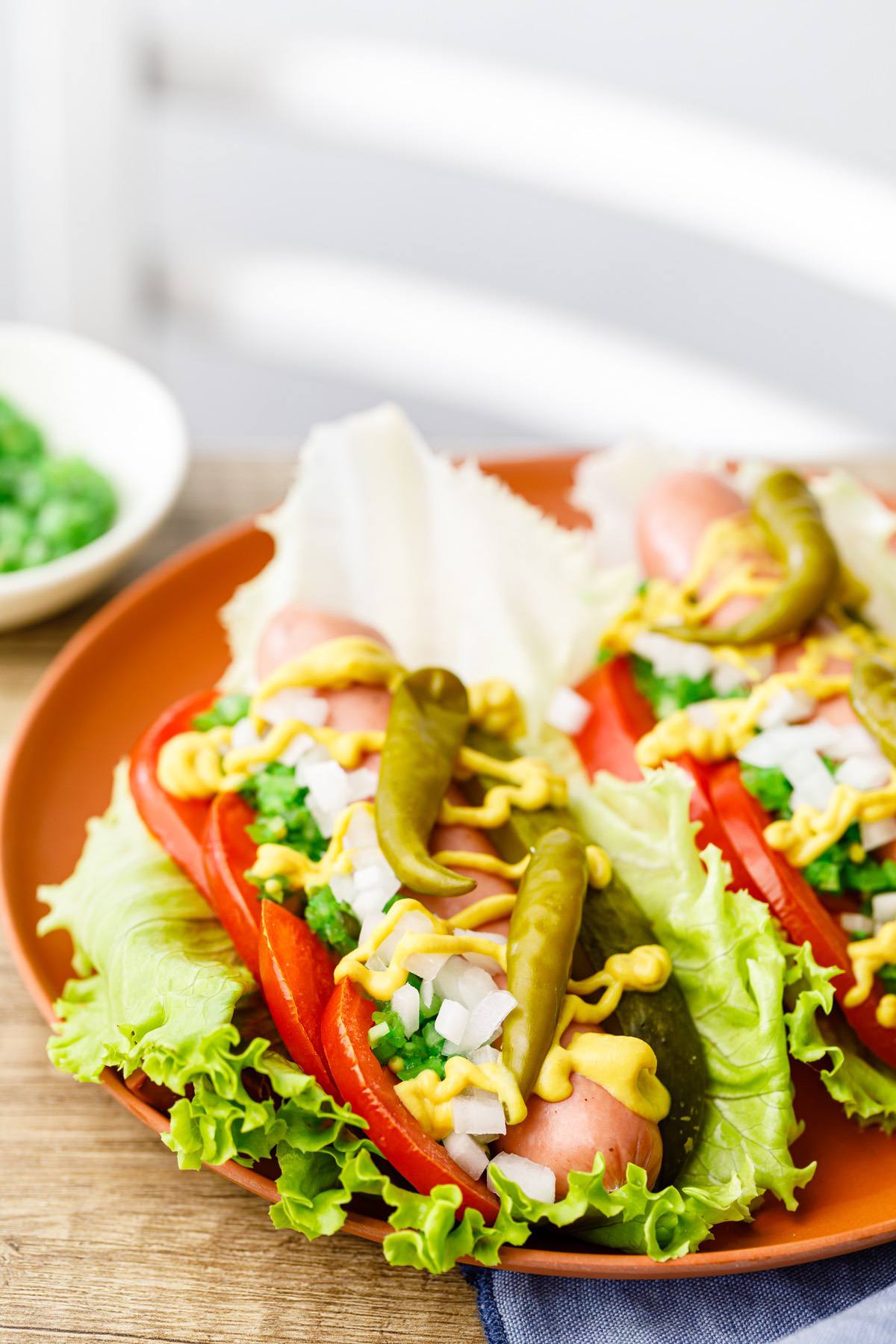 How to Store Keto Hot Dogs
As much as I love reaching for these keto hot dogs for a light lunch or even as a snack, I've learned that they are best eaten freshly cooked, or at least assembled fresh.
The hot dogs can be frozen, however the fresh ingredients like the lettuce or even the toppings like the relish and pickles are best served at room temperature or slightly chilled.
Cooked hotdogs can be stored in the refrigerator for 3-5 days.
4 Best Keto-Friendly Condiments to Serve with Your Keto Hot Dog
More Good Keto Hot Dog Recipes
Print Recipe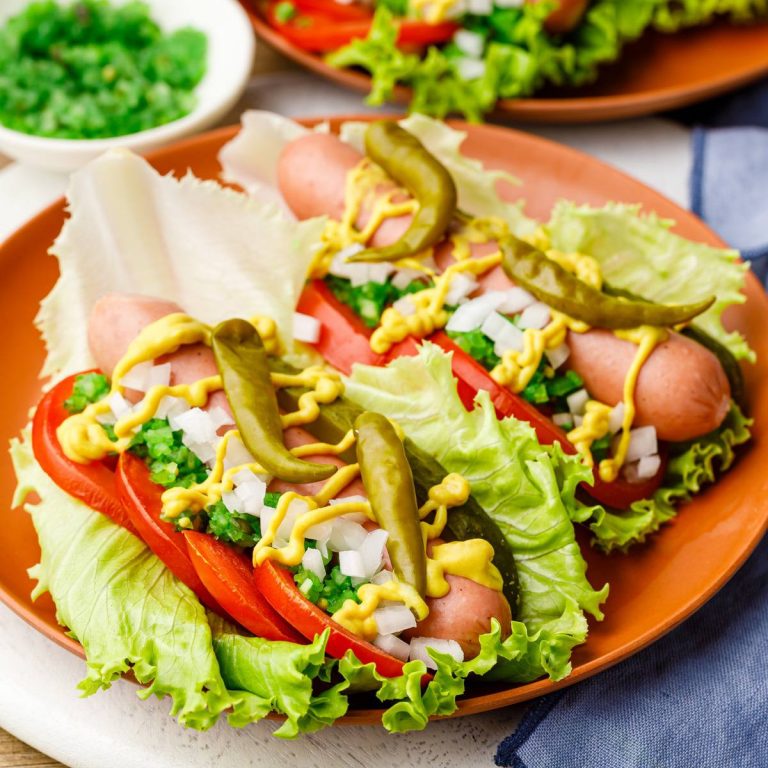 Keto Chicago Hot Dog with Romaine Lettuce Bun
Author: Bree - KetoPots.com
Prep Time:

5 minutes

Cook Time:

5 minutes

Total Time:

10 minutes

Yield:

1

1

x
Scale
1

lettuce leaf 

1

beef hot dog 

1 tbsp

yellow mustard 

1 tbsp

sweet green pickle relish

1 tbsp

chopped onion

4

thin tomato slices 

1

dill pickle spear

2

sport peppers

pinch of celery salt
Fill a saucepan halfway with water and bring to a boil over high heat.

Add the hot dog and cook for 5 minutes. 

Remove from the heat. 

Place hot dog, tomato slices, dill pickle spear, pickle relish and onion in lettuce leaf. 

Top with mustard, sport pepper and celery salt and serve.
More Good Keto Recipes Using Hot Dogs
FREE KETO RECIPES + 5-INGREDIENT KETO COOKBOOK

Make sure to sign up for free to get instant access to the 5-Ingredient Keto Cookbook, which includes my favorite 20+ keto recipes of all-time, all under 5 ingredients.