Keto Recipes
Creamy Ham Soup (Keto, Low Carb)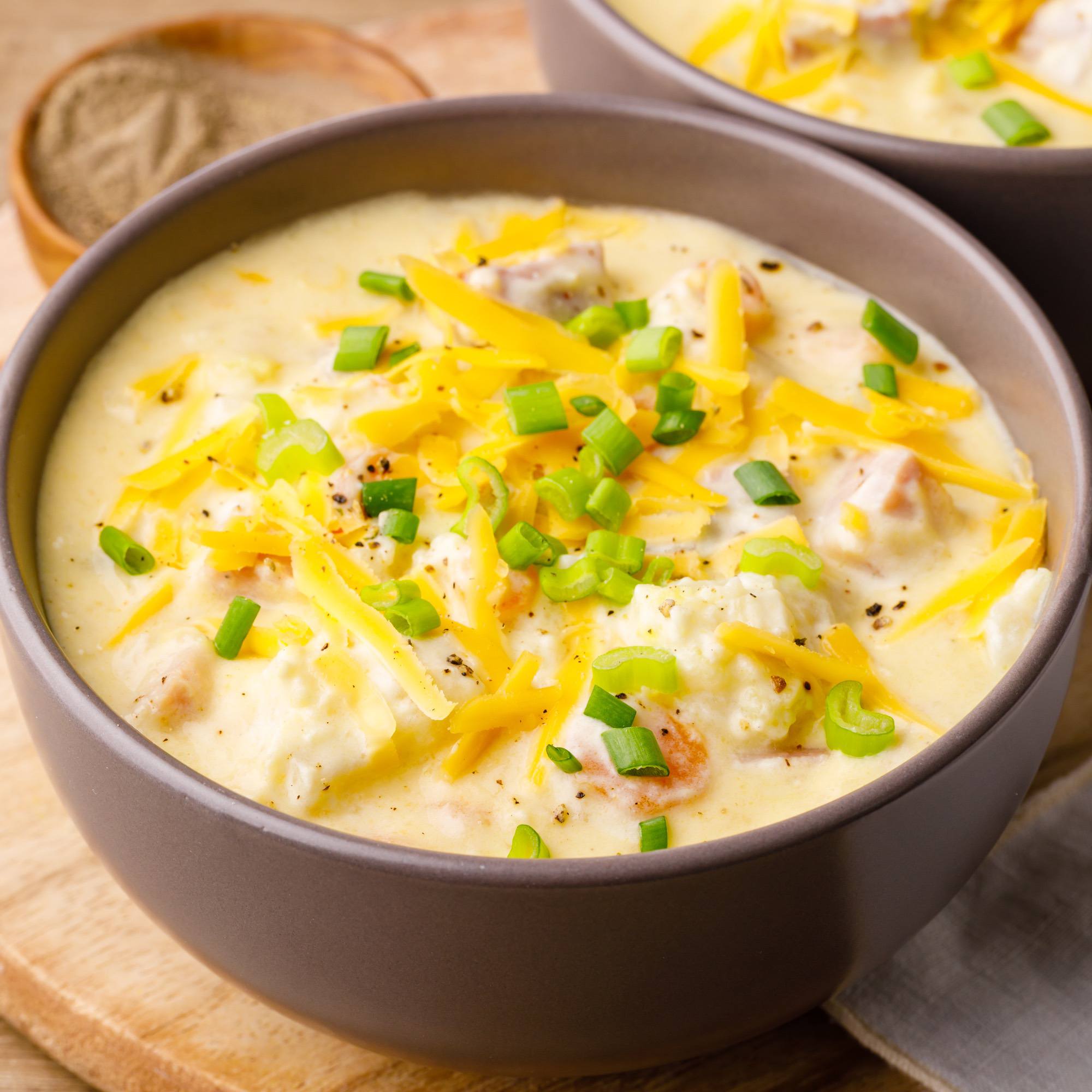 Hearty soups like this creamy keto ham soup come to mind when you're in the mood for something warm and filling, while still being relatively easy to make. The soup is chock full of savory ingredients that all together make for a great high-protein meal that you'll want to keep eating long after you're done with the first bowl.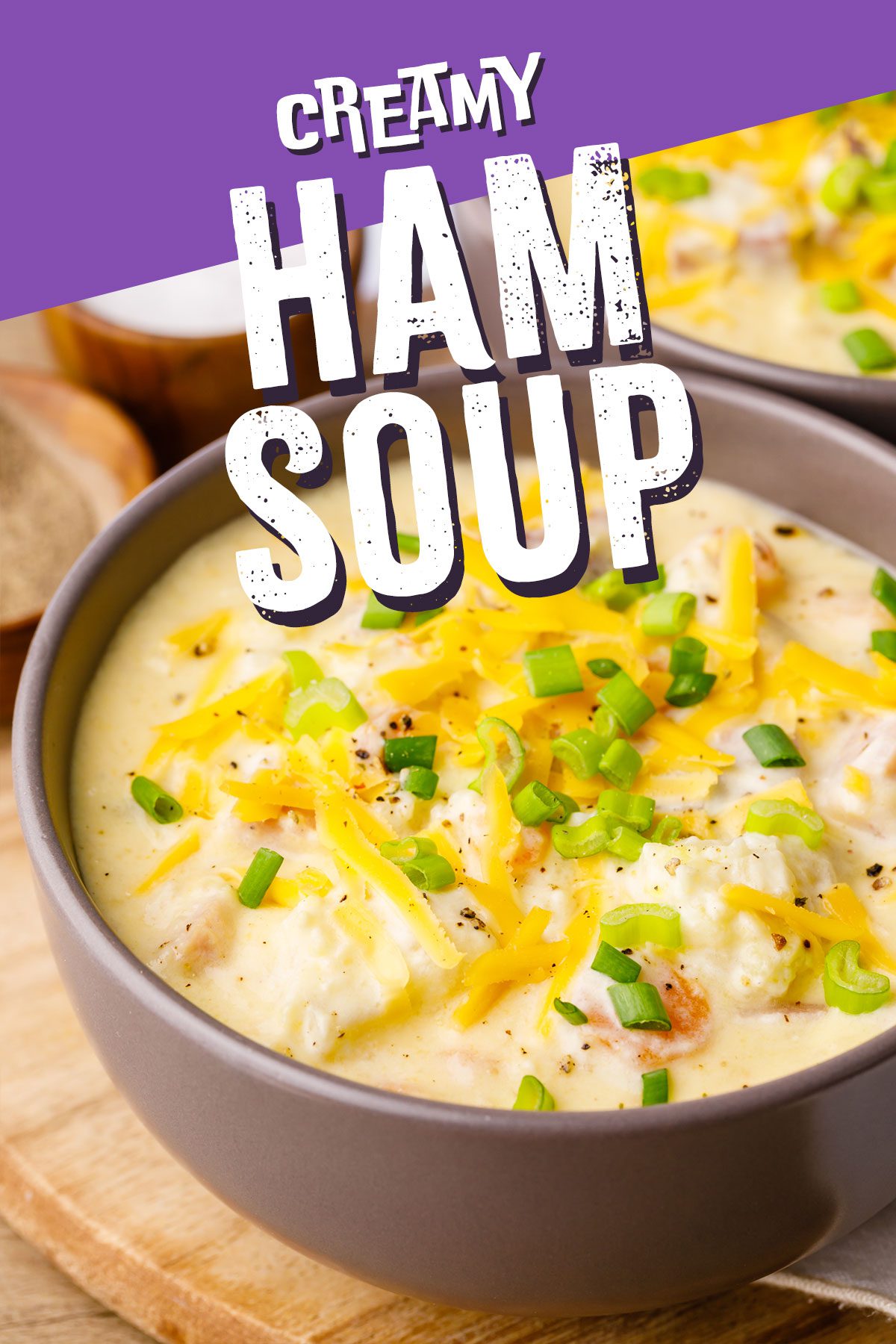 For more hammy goodness, make sure to try this garlic butter chaffle ham and cheese sandwich you will be blown away by how good this is).
---
How to Make Keto Ham Soup
Here's everything that you'll need to know in order to make this cheesy keto ham soup from scratch:
Melt the butter. Add one ounce of butter to a large pot and melt it over medium heat.
Cook the onion. Add the chopped onion and cook for 5 minutes.
Add ham and veggies. Add the cauliflower florets, sliced carrot, cubed ha, and chicken stock.
Simmer. Simmer over medium heat for 20 minutes (or until the vegetables are fork tender).
Add cream. Add the heavy cream.
Boil. Bring the soup to a boil and then remove from the heat.
Add the cheese. Stir in the shredded cheddar cheese until melted.
Season. Season with salt and black pepper to taste.
Garnish. Top with extra shredded cheddar cheese and (optionally) sliced green onion.
Serve. Serve warm.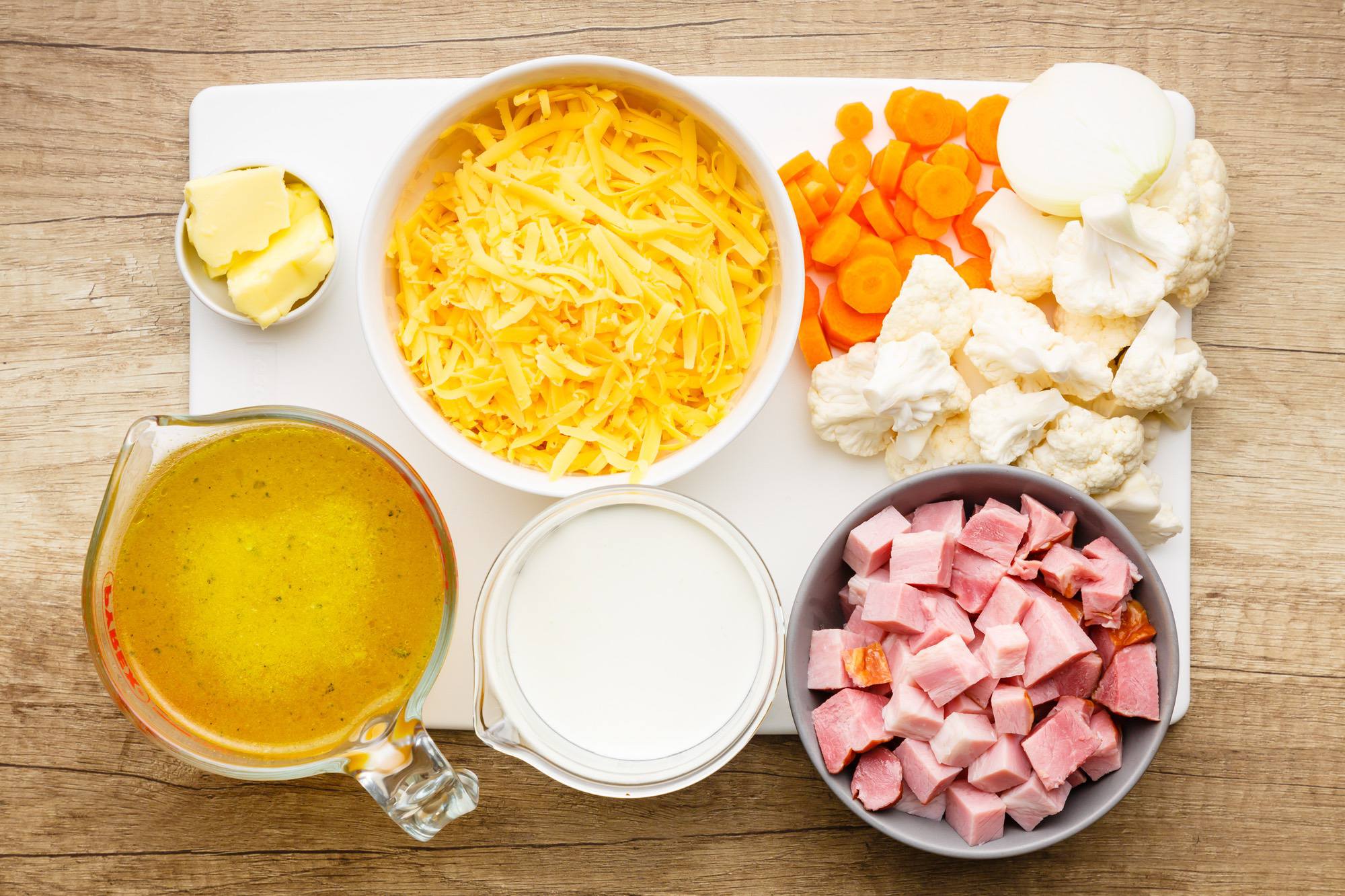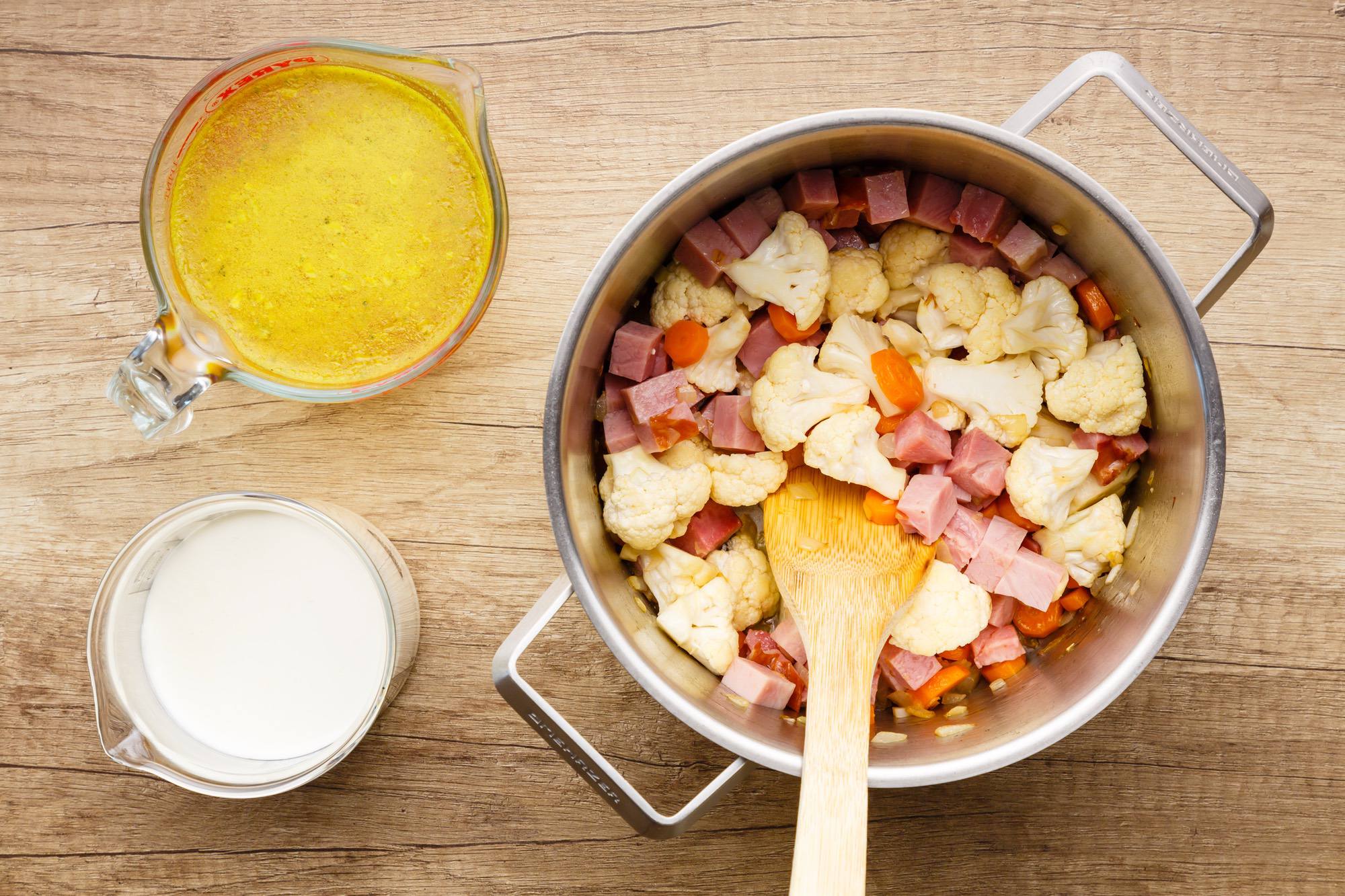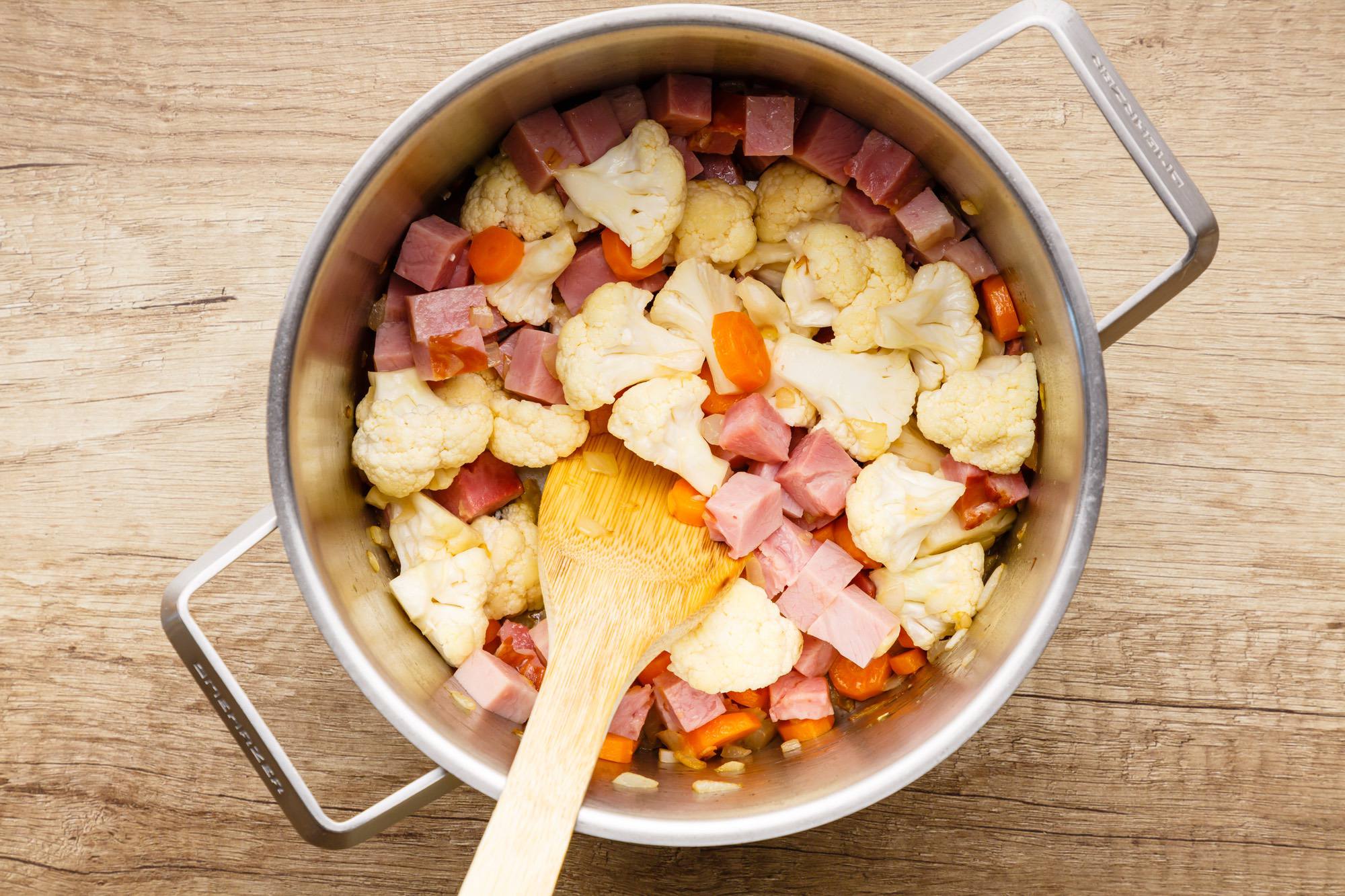 ---
Tips for Making Low Carb Soup Recipes
Here are a few helpful tips to keep in mind for whenever you're making your next low carb soup from scratch:
Stick with keto staples. It goes without saying that you're going to want to stick with using low carb ingredients whenever you're planning on making a keto-friendly soup recipe – this means no carb heavy vegetable options like white potatoes. Instead, stick with keto staples like healthy greens, tomatoes, olives, and other great low carb veggie choices.
Don't forget the protein. Adding protein sources like meat and cheese is a great way to round out your keto soups and increase their satiety. The combination of ham and cheddar cheese used in this ham soup recipe is a great example of a protein-heavy combo that will leave you feeling full long after you finish a bowl of this soup.
Choose the right sides. It's not a bad idea to make keto approved side dishes like low carb sandwiches, salads, or even just something as simple as cauliflower rice to go along with your keto soup recipes in order to make a more well-rounded meal.
Related: Creamy Tomato Basil Soup
---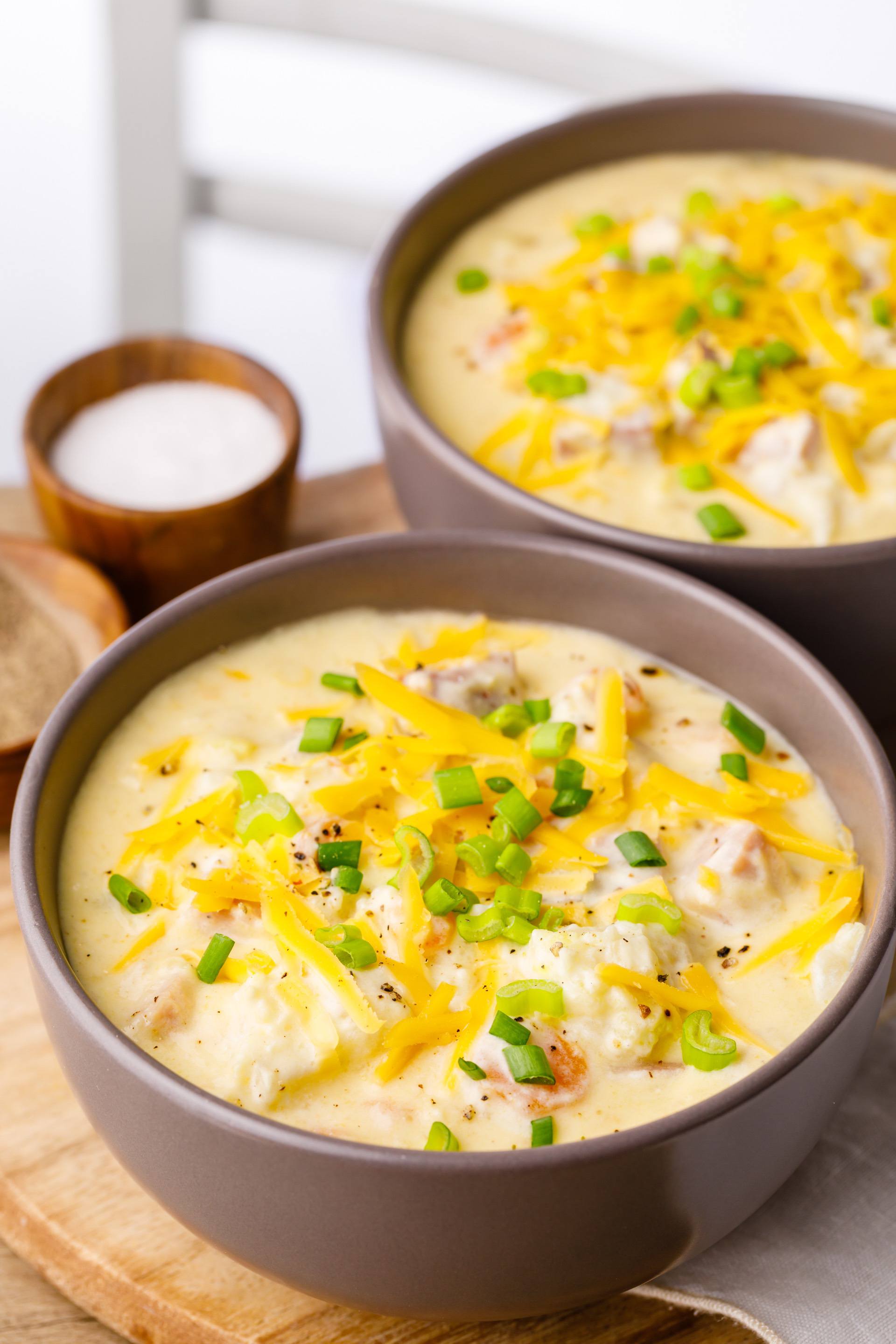 Can I Freeze Keto Ham Soup? (+ Best Way to Reheat)
While it's certainly possible to freeze your leftover keto ham soup, I honestly wouldn't recommend doing so.
Ingredients like heavy cream and shredded cheddar cheese don't exactly freeze well and you could end up losing a lot of your soup's texture during the thawing out process.
---
Instead, you should simply transfer any leftover soup into an airtight container and store it in the fridge. Your soup will keep for up to 3-4 days when stored like this.
When you're ready to reheat your soup, I would recommend once again adding it into a large pot and bringing to a boil before allowing the soup to simmer until it has warmed through.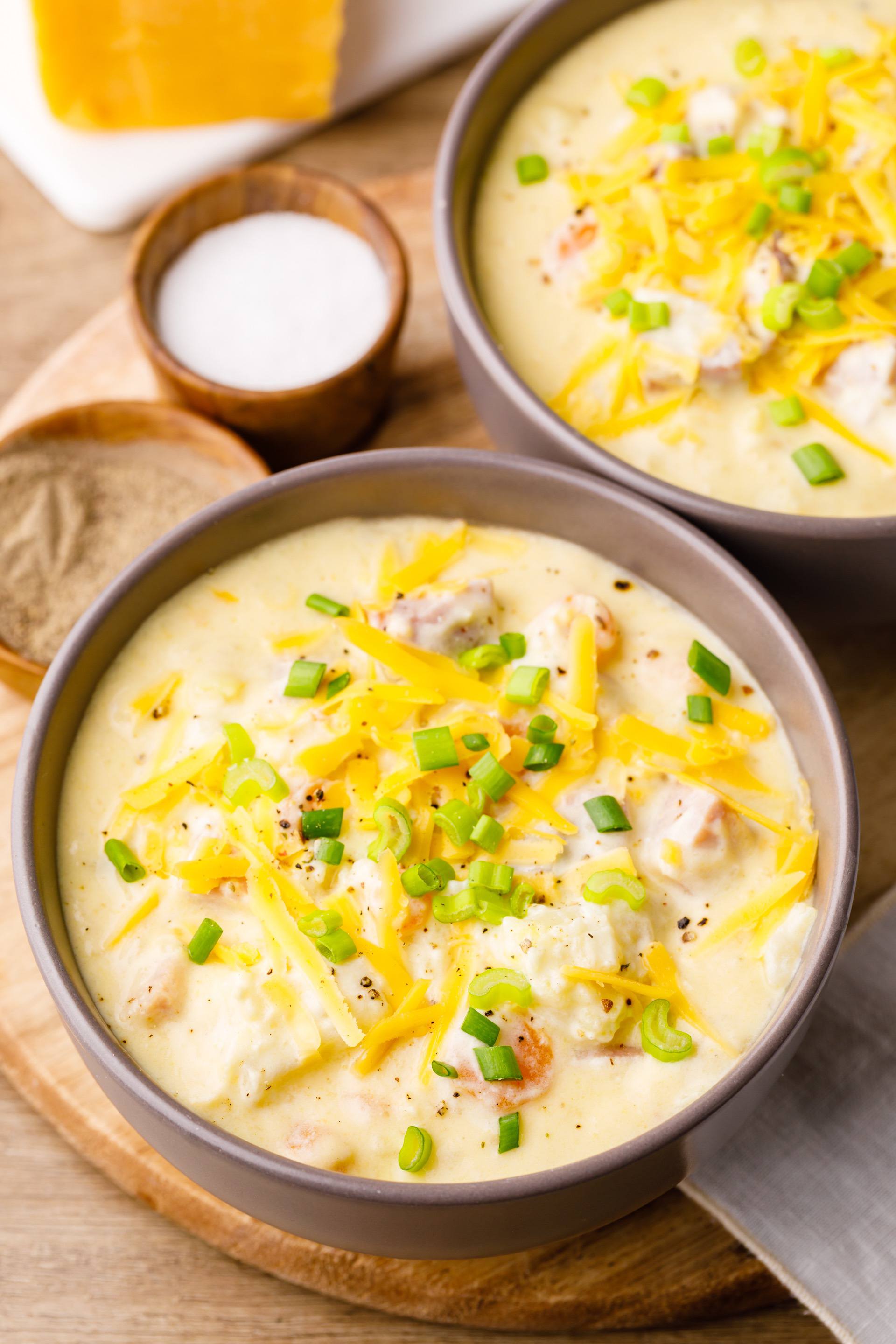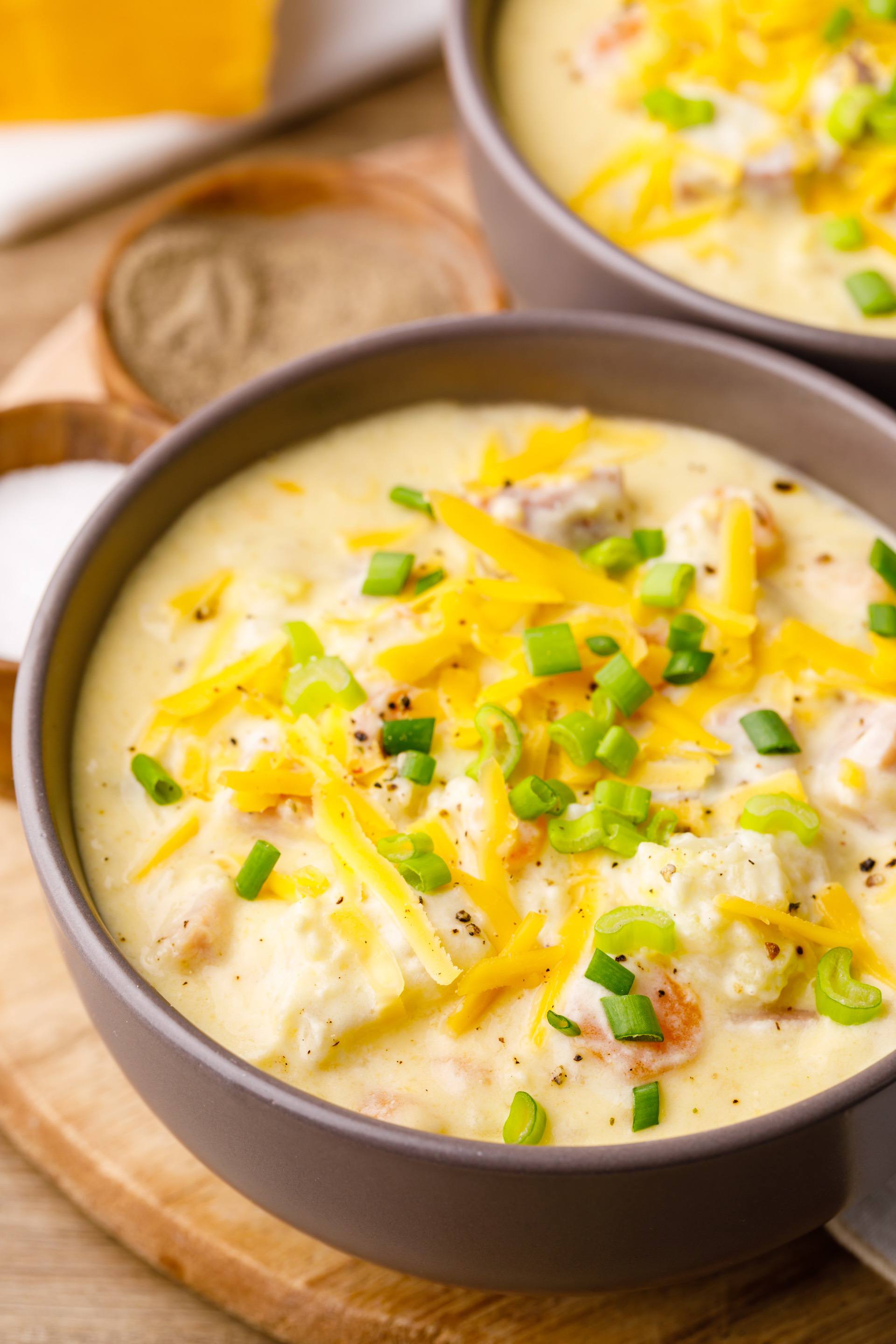 P.S. Another really nostalgic and creamy soup you need to try is this beer cheese soup. It's also really good with ham sandwiches!: https://ketopots.com/keto-beer-cheese-soup
---
Print
Print Recipe
Creamy Ham Soup (Keto, Low Carb)
Author: Bree
Prep Time:

10 minutes

Cook Time:

30 minutes

Total Time:

40 minutes

Yield:

6

1

x
Category:

Soup, Dinner

Cuisine:

American
Scale
2 cups

cauliflower florets 

¼ cup

sliced carrot

½

medium onion, chopped 

1 oz

butter 

1 ½ cups

heavy cream 

3 cups

chicken stock 

1 ½ cups

cubbed cooked ham 

2 cups

shredded cheddar cheese plus extra for serving 

salt and black pepper to taste 

sliced green onion for serving (optional)
Melt the butter over medium heat in a large pot. 

Add the onion and cook for 5 minutes. 

Add the cauliflower, carrot, ham and chicken stock and simmer over medium heat for 20 minutes or until the vegetables are fork tender. 

Add the heavy cream. 

Bring to a boil. 

Remove from the heat. 

Stir in the shredded cheddar until meted. 

Season to taste with salt and black pepper. 

Top with extra shredded cheddar and green onion and serve.
FREE KETO RECIPES + 5-INGREDIENT KETO COOKBOOK

Make sure to sign up for free to get instant access to the 5-Ingredient Keto Cookbook, which includes my favorite 20+ keto recipes of all-time, all under 5 ingredients.