Keto Dinner
How to Make the Best Keto Grilled Cheese (with 90 Second Bread!)
I can't be the only person out there who doesn't want to imagine what a world without grilled cheese sandwiches would look like, so it's no wonder that when I first made the switch over to the keto diet all those years ago, one of the first things on my 'to do' list was to track down a way to make keto friendly grilled cheese. Since then I've tried dozens of recipes in the name of research and this keto grilled cheese recipe is definitely highly recommended!
A Grilled Cheese Sandwich Made 100% Keto-Friendly
If you were to ask me, I think that grilled cheese sandwiches are one of those foods that are pretty much like pizza: even when they're not great, they're still good. With that being said though, as far as 100% keto friendly grilled cheese sandwich recipes go, this particular recipe is definitely great.
I genuinely believe it's all thanks to the 90 second bread that you'll need to whip up. In order to make it, you'll first need to add the eggs into a small bowl along with two tablespoons of melted butter. Whisk together and then go ahead and add in the almond flour and baking powder.
After whisking everything together, pour your mixture between two glass food containers that are square shaped. Microwave each batter individually for 90 seconds on high and then carefully remove your bread slices from the containers.
After heating up an extra tablespoon of butter over medium-low heat in a nonstick skillet, you can place the two ounces of sharp cheddar cheese between your bread slices. Once your butter starts to foam, put the sandwich in the skillet.
You'll need to cook your sandwich for about 3-5 minutes per side–just long enough for it to come out golden brown. When you're done cooking, cut the sandwich into two triangles and go ahead and dig in!
Other Keto Friendly Grilled Cheese Sandwich Recipes
This is far from the only way that you can make yourself a keto friendly grilled cheese sandwich. I was actually quite surprised myself to see how much variety there actually is when it comes to making this classic sandwich keto. With that in mind, be sure to check out these five other great keto grilled cheese sandwich recipes from some of my favorite food blogs:
Best Grilled Cheese Combinations
It's safe to say that a grilled cheese sandwich is just about as classic as it gets. However, it's also one of those foods that can be made even better by simply mixing and matching different combinations of ingredients when you make it.
I'm not just talking about using different cheese combos either – although I also love making keto grilled cheese sandwiches using the combo of blue cheese and provolone cheese. So good!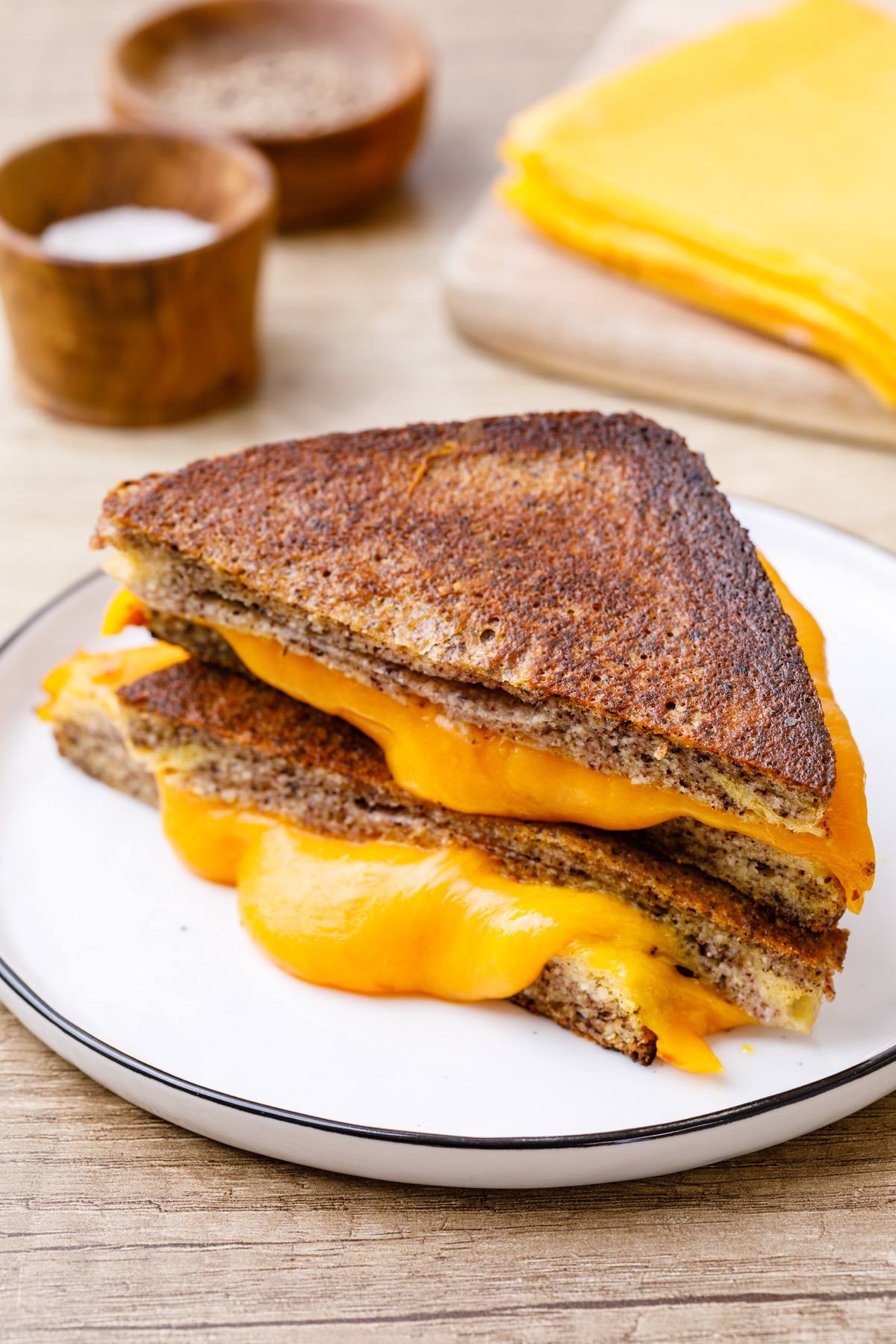 Another great combo that you should try out ASAP if you haven't already is making a grilled cheese sandwich using cheese, ham, bacon, and truffle honey. Other good grilled cheese combinations include grilled cheese sandwiches made with marinara sauce. Pesto and grilled cheese is another top notch combo.
Don't be afraid to do a little bit of mixing and matching on your own in order to see what kind of tasty combos you can come up with!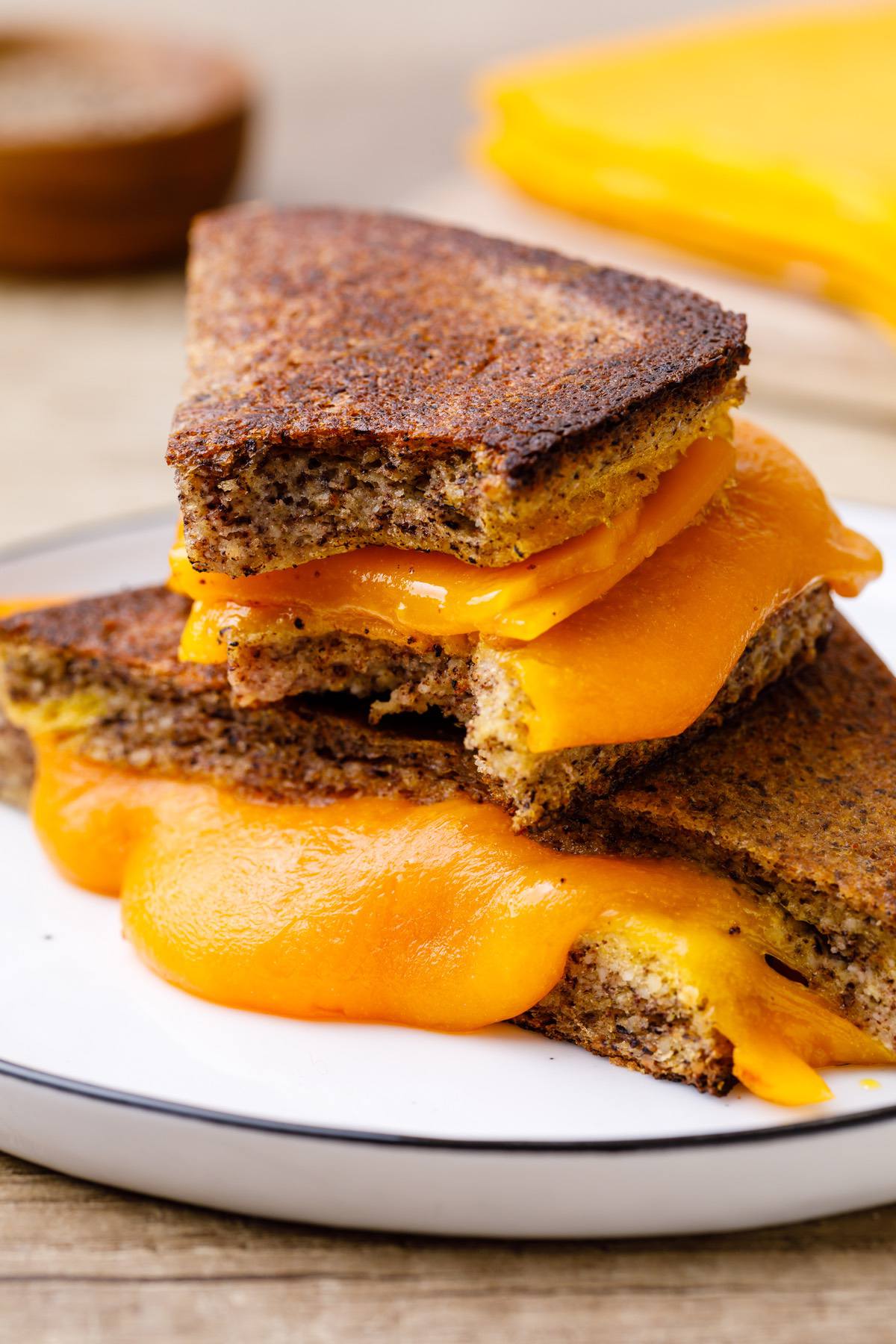 How to Make a Grilled Cheese Sandwich Using an Oven
While you can't really beat the convenience of quickly throwing a couple pieces of bread and some cheese into a frying pan in order to make your grilled cheese, there is definitely also something to be said for making an oven baked sandwich from time to time.
As a matter of fact, some of the most mouth wateringly delicious grilled cheese sandwiches that I've ever had were baked.
If you would rather make your own sandwich in the oven, then check out this 20 minute grilled cheese in the oven recipe. It's my go to whenever I'm craving an oven baked grilled cheese.
Are Grilled Cheese Sandwiches Vegetarian?
There are typically two schools of thought when it comes to answering this question. Some people think that grilled cheese sandwiches are 100% not vegetarian friendly. Others tend to think that yes, they are safe for vegetarians to eat BUT not for vegans.
If you're following a vegetarian diet and you're at all unsure if you should include dairy products like cheese, or even if you would rather just avoid dairy for personal reasons, there's still hope!
There are quite a few vegetarian (and even vegan friendly) cheese options available these days that are actually pretty tasty. You can simply swap out cheddar cheese for an option like that while keeping the rest of this recipe the same in order to make sure that things are definitely 100% vegetarian friendly.
(You may also like: 90 Second Keto Bread That Doesn't Suck)
Print Recipe
How to Make the Best Keto Grilled Cheese (with 90 Second Bread!)
Author: Bree - KetoPots.com
Prep Time:

5 minutes

Cook Time:

9 minutes

Total Time:

14 minutes

Yield:

1

1

x
Scale
7 tbsp

almond flour 

2 tbsp

melted butter plus extra for toasting sandwich

2

egg

1 tsp

baking powder

2 oz

sharp cheddar cheese
Add the eggs and melted butter to a bowl and whisk to combine. 

Add the almond flour and baking powder and whisk until smooth. 

Divide the mixture between 2 glass square microwave safe food containers.

Microwave each batter for 90 seconds on high. 

Carefully remove the bread slices from the containers. 

Place the cheddar cheese between the bread slices. 

Heat 1 tablespoon butter in a nonstick skillet over medium-low heat.

When the butter foams, place the sandwich in the skillet.

Cook for 3-5 minutes per side or until golden brown. 

Cut into two triangles and serve.
More Easy 90 Second Keto Bread (And Dessert) Recipes:
FREE KETO RECIPES + 5-INGREDIENT KETO COOKBOOK

Make sure to sign up for free to get instant access to the 5-Ingredient Keto Cookbook, which includes my favorite 20+ keto recipes of all-time, all under 5 ingredients.