Keto Recipes
Easy Keto Gravy That Works for Any Meal (Try this!)
There was an unwritten rule in the kitchen at my house when I was growing up. If you were having mashed potatoes, it was a must to serve gravy along with them. Which was fine with me because I've absolutely loved gravy for as long as I can remember. Even now that I'm on the keto diet, I'm still all about my gravy. With that in mind, today I'm going to be sharing a recipe for making an easy keto gravy that literally works for any meal.
DIY Gravy That Goes With Everything
My favorite thing about this recipe is undoubtedly how easy it is to prepare this gravy from scratch. You simply have to get a small bowl and sprinkle three tablespoons of unflavored gelatin powder over top of one single cup of cold water.
You'll then want to thoroughly stir the gelatin in and set it aside to bloom. Next, get a saucepan and melt ½ cup of unsalted butter over medium heat. Add in two cups each of turkey drippings and chicken broth and mix until everything is combined.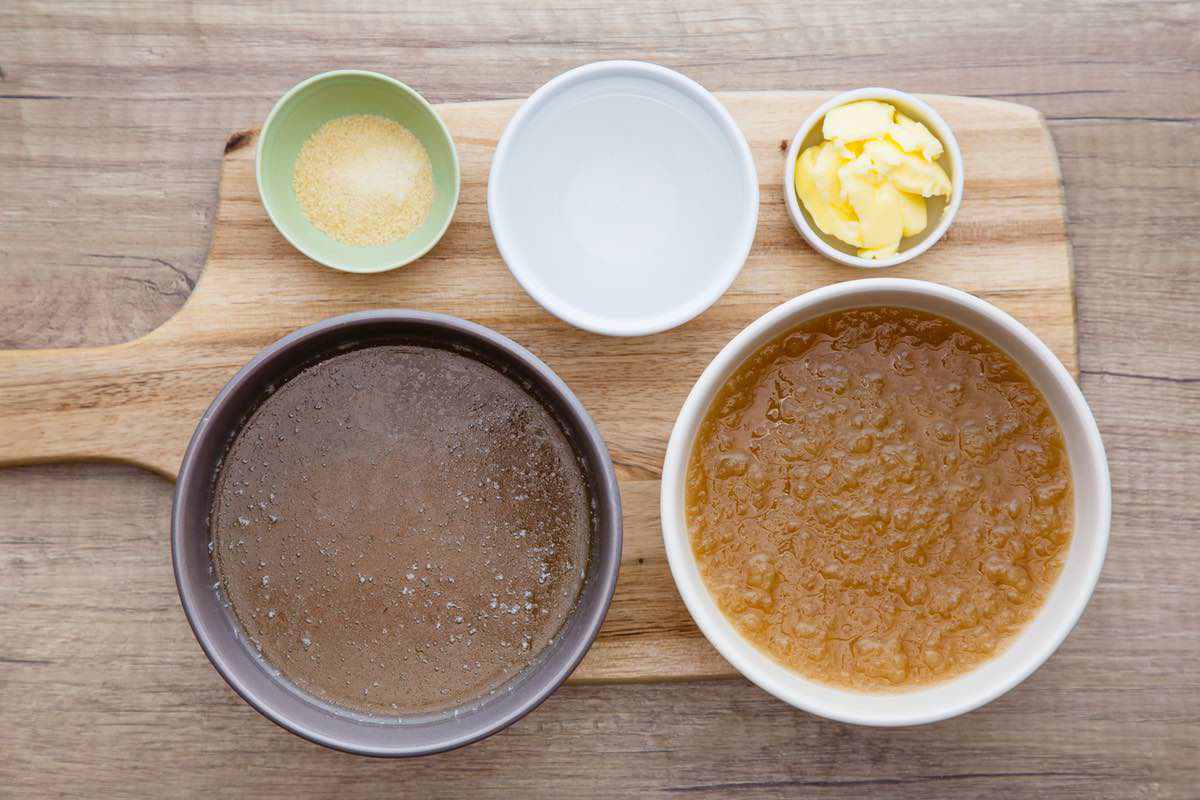 Bring the gravy to a boil and then reduce the heat and simmer until the sauce has been reduced by about half. You can then add in the gelatin and whisk the gravy until all of the gelatin has dissolved.
Remove the gravy from the heat and allow it to cool slightly. You'll notice that it should start to thicken as it cools off. If it gets too cold, simply reheat the gravy again in order to make it pourable.
The next time you're making a keto dish that calls for gravy, keep this recipe in mind!
Other Homemade Keto Friendly Gravy Recipes
Now that I'm on keto, I still love my homemade gravy just as much, only now I just have to be more mindful of the ingredients that go into it. So I guess it's a good thing that there are so many yummy ways to make keto friendly gravy from scratch. Here are some of my other favorite gravy recipes from some of the best keto blogs around:
Do You Need Real Stock to Make Gravy?
While technically, no, you don't need real stock to make homemade gravy, I highly recommend using it anyway. The reason being that homemade gravy made with real stock almost always ends up being so flavorful. A good stock should always serve as the base for any good gravy recipe.
There's a good reason why this particular keto gravy recipe uses both two cups of chicken broth as well as two cups of turkey drippings. Both of these ingredients end up increasing the flavor of this gravy.
How Do I Thicken My Gravy Without Using Starch?
Normally, when making a 'regular' type of gravy without worrying about keeping it low carb or keto friendly, you would use an ingredient like flour or starch in order to thicken the gravy.
For the purposes of keeping your gravy recipes 100% keto though, you can simply use an alternative like arrowroot flour as a viable substitute that's both low carb and gluten free.
Although the gelatin does a fine job of thickening this gravy, you can also definitely add in a small amount of arrowroot flour if you would like to make the sauce a bit thicker.
Why Is My Gravy Lumpy?
The most common cause of lumpy gravy is using too much flour when making it, causing clumps to form. Since this specific recipe is keto friendly and doesn't use ingredients like refined wheat flour, ending up with a lumpy gravy shouldn't be a concern.
However, in the event that you ever decide to take a break from the keto diet, the easiest way to fix lumpy gravy is to ensure that you're whisking your gravy mix often, especially as you mix in the wheat.
White Gravy vs Brown Gravy – What's the Difference?
Considering that both white gravy and brown gravy are absolutely scrumptious, I often get asked which variety is better and what the differences are. To break things down as simply as possible, brown gravy is simply gravy that has been made from meat drippings and broth mixed with a liquid base like water.
White gravy is similar, except that it adds in either milk or cream with the meat drippings, along with butter and flour (or cornstarch).
Other than that, the only differences between the two comes down to the way the gravy is made and what extra ingredients you decide to include.
(You may also like: Homemade Keto Mashed Cauliflower (Buttery and Creamy))
Print Recipe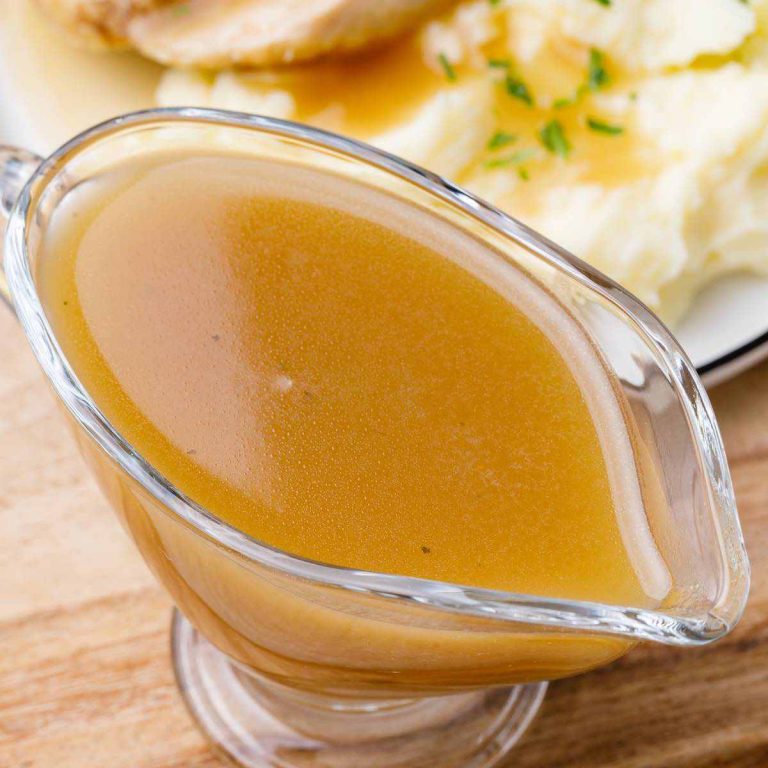 Easy Keto Gravy That Works for Any Meal (Try this!)
Author: Bree - KetoPots.com
Prep Time:

10 minutes

Cook Time:

30 minutes

Total Time:

40 minutes

Yield:

1

2

1

x
Scale
½ cup unsalted butter
2 cups turkey drippings 
2 cups chicken broth
3 tbsp unflavored gelatin powder
1 cup cold water
In a small bowl, sprinkle the gelatin over the cold water. 

Stir until the gelatin is fully incorporated and set aside to bloom. 

In a saucepan melt the butter over medium heat. 

Add the turkey drippings and chicken broth and mix to combine. 

Bring to a boil then reduce the heat and simmer until the sauce is reduced by half.

Add the gelatin and whisk until the gelatin is completely dissolved. 

Remove from the heat. 

Allow to cool slightly and serve. (It will thicken as it cools.) 

If it gets completely cold, just reheat it to make it pourable again.
FREE KETO RECIPES + 5-INGREDIENT KETO COOKBOOK

Make sure to sign up for free to get instant access to the 5-Ingredient Keto Cookbook, which includes my favorite 20+ keto recipes of all-time, all under 5 ingredients.