Keto Breakfast Ideas
Extra Crispy Low Carb Keto Granola (With Clusters)
I actually love making parfaits and shakes, so when I switched over to a keto diet, I had to find low-carb alternatives to my old toppings. It wasn't as challenging as you would probably think because there are plenty of tasty and crunchy options to choose from. You'll see what I mean once we start getting into the components of this keto granola.

How to Make Homemade Keto Granola
Granola is so easy to make at home, even for first-timers. The key is to bake it long enough to make it crunchy and brown without burning it, so do keep a close eye on it. After this recipe, feel free to check out some of these other granola flavor combinations from some of my go-to keto blogs:
Simply mix the almonds, walnuts, pumpkin seeds and flax meal in a roasting pan and combine well. Drizzle your melted butter and vanilla extract over it and toss so that the dry ingredients are coated. In a separate bowl, beat your egg white until it's foamy and pour it over the mixture. It takes approximately 25-30 minutes for your granola to brown, depending on your oven. Once it's done, remove it from the oven and let it cool. Once the granola has cooled to a comfortable warm texture, you can start scraping it off the try, breaking apart any large clusters.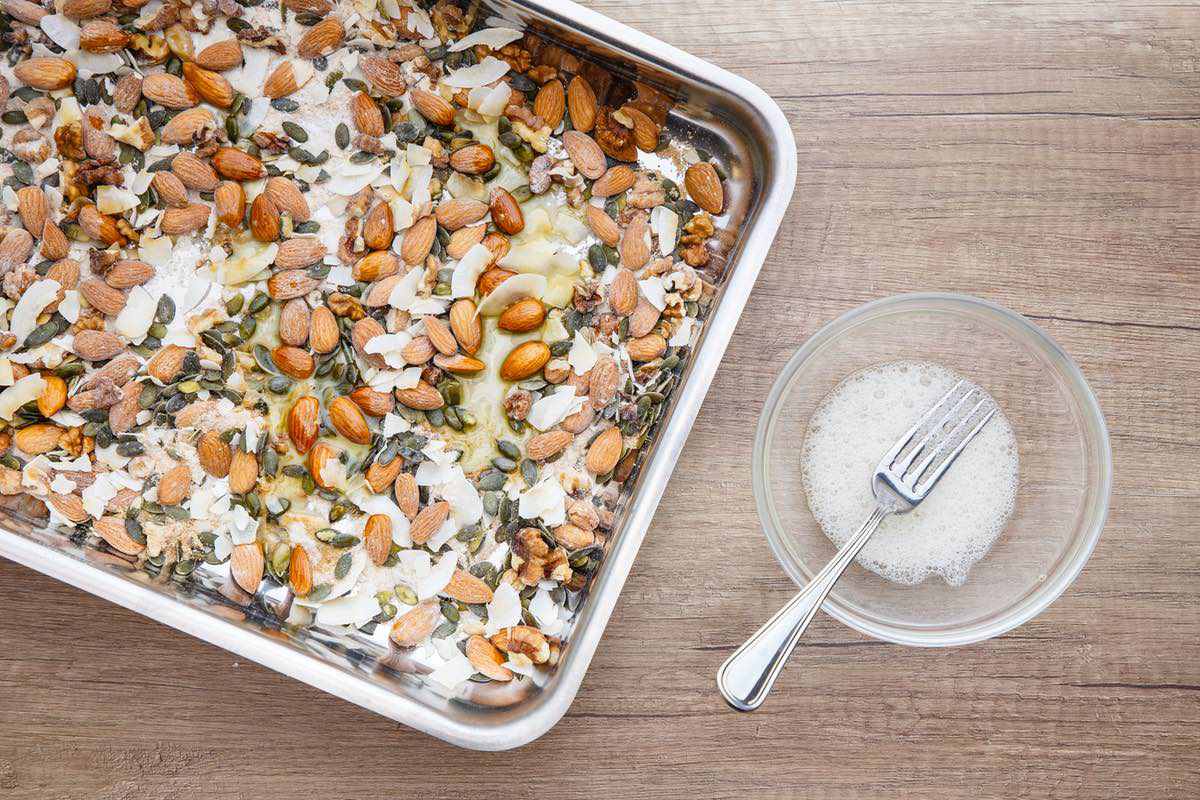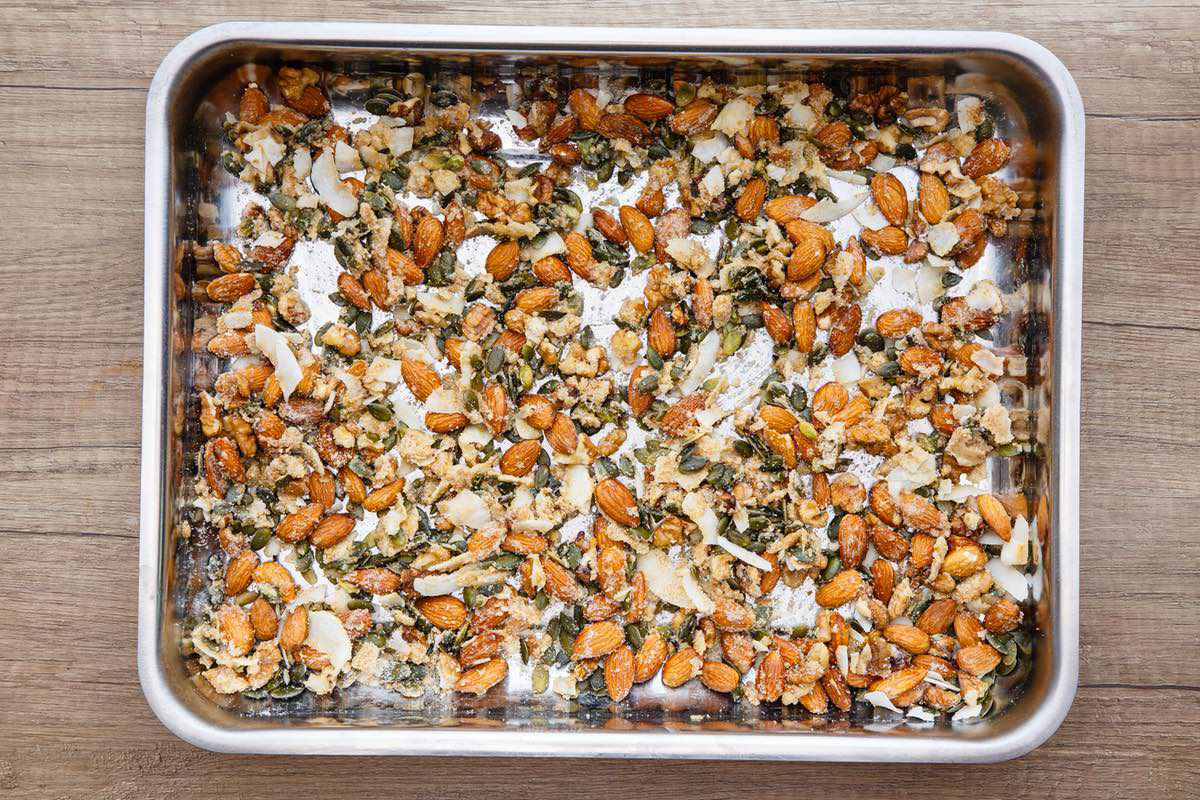 Not many granola recipes have the egg white step outlined in this recipe, but I have to say, it makes a difference and really helps to bind everything together without adding more fats. I love melted butter just as much as the next person, but considering I eat 2-3 servings of this granola at one time, it can't hurt to add a lower-calorie binder instead.
(You may also like: The Best Roasted Keto Nut Mix for Healthy Snacking)
Should Granola Be Refrigerated?
Granola is perfectly fine in an airtight container in a cool, dry spot. The key things to avoid are leaving it in the heat because the nuts, with their high fat content, will eventually go rancid. I love storing my granola in my pantry in a mason jar or in ziploc bags for easy grab-and-go.
Why Homemade Keto Granola is Good for You
I always make my own granola when possible because commercial granola is often filled with added refined sugars and other unnecessary ingredients. By making your own, you always have control over the ingredients and you can tweak when necessary, ensuring that whatever you eat is made with your nutritional requirements in mind. Here are 3 more reasons why homemade keto granola is good for you:
1. High in Fiber
Adequate fiber intake is associated with reduced risk for diseases such as cardiovascular disease, type 2 diabetes, stroke, among many others. However, according to research, many people believe they consume enough fiber when in fact, they do not. (1) Keto dieters especially must be mindful of fiber intake since many fiber-rich foods contain a high amount of carbohydrates. This recipe contains 3-5 grams of fiber per serving, making it ideal for those who have trouble consuming enough fiber on keto.
2. Rich in Heart-Healthy Fats
Contrary to dietary advice from the past couple of decades, total fat content in one's diet is not the only factor to blame in the development of chronic diseases. Unlike regular granola which may contain trans-fats and refined carbohydrates, this keto granola is an excellent source of heart-healthy fats thanks to the coconut, walnuts, pumpkin seeds, and flax meal. To promote a healthy diet, different types of fat must be considered as well, with emphasis on monounsaturated fats and polyunsaturated fats, including omega-3 fatty acids. (2)
3. Filling and Satiating
Regular granola tends to be very sweet, containing unnecessary refined sugars. Consuming a lot of sugar at once can lead to a rapid spike in blood sugar and an eventual crash in blood sugar, resulting in unstable energy levels. (3) Fiber helps slow down digestion, keeps blood sugar levels more stable, and keeps you feeling fuller longer, which is why this homemade granola is so, so good for you.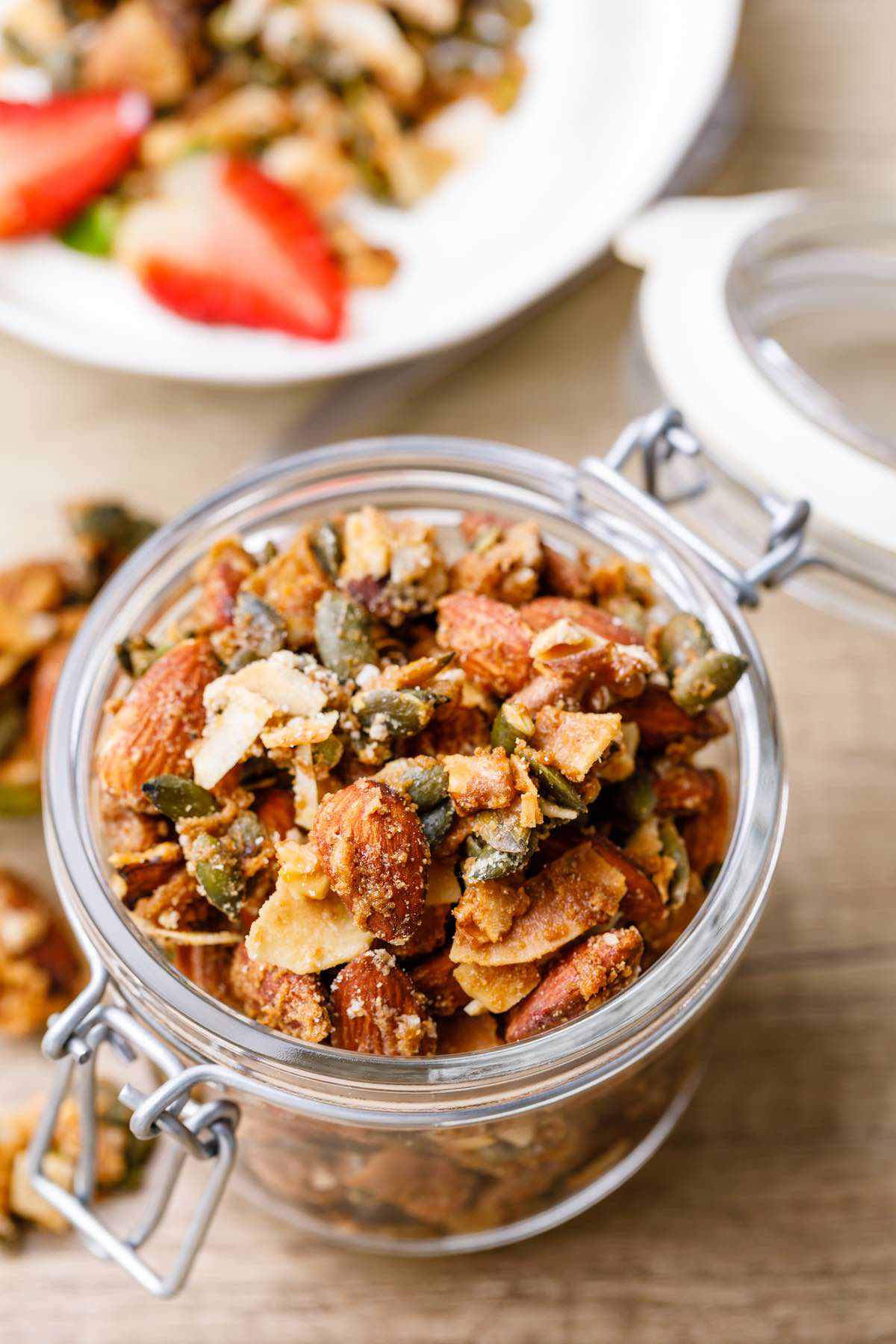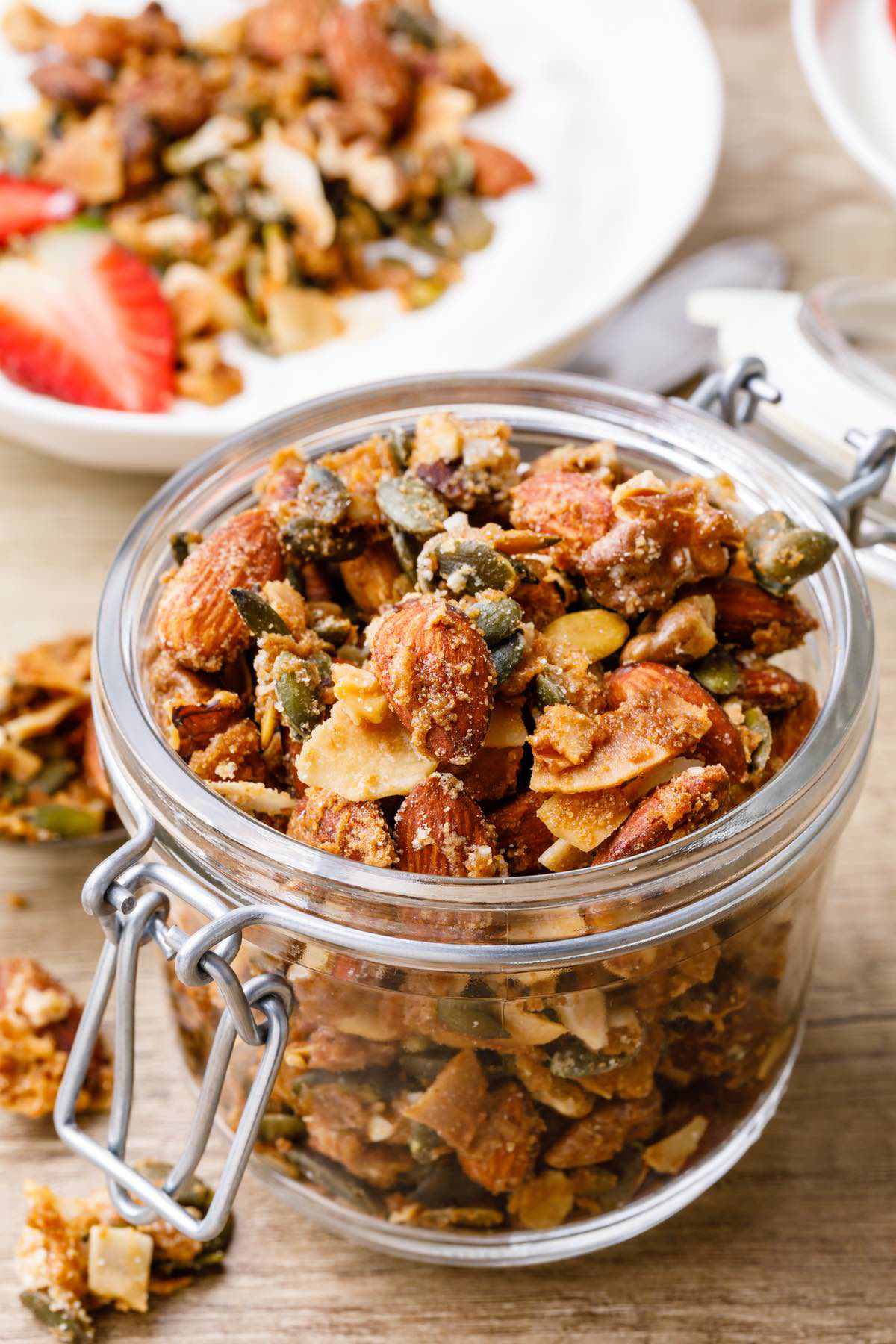 (Make this with your granola: Creamy Instant Pot Keto Yogurt)
Is Granola High in Calories?
The calorie content of your granola would depend on your ratio of ingredients. Other types of granola may have more nuts and less seeds and vice versa, not to mention the oil or butter used to help toast and bind the components together.
For this keto granola, one serving contains approximately 140-170 calories.
Granola vs. Muesli – What's the Difference?
Both granola and muesli typically contain rolled oats, nuts, seeds and dehydrated or glazed fruits, and can be of the slightly chewy or crunchy variety. Muesli is uncooked and can be served hot or cold, whereas granola is baked with sweetener and/or oil to act as a binder.
Of course, in this keto version, we eliminated the oats to reduce the carbohydrate content, but you won't even miss it, I promise!
Print Recipe
Extra Crispy Low Carb Keto Granola (With Clusters)
Author: Bree - KetoPots.com
Prep Time:

10 minutes

Cook Time:

25 minutes

Total Time:

35 minutes

Yield:

8

1

x
Scale
1 cup almonds, whole or coarsely chopped
1 cup flaked coconut
½ cup walnuts peaces 
½ cup pumpkin seeds
3 tbsp flax meal 
¼ cup granulated Stevia or other low carb granulated sweetener 
¼ cup butter, melted 
1 tsp vanilla extract 
1 egg white
Preheat oven to 300°F. 

Add the almonds, walnuts, pumpkin seeds, coconut and flax meal to a roasting pan and mix to combine. 

Drizzle with melted butter and vanilla extract and toss to coat. 

Beat the egg white until foamy and increased in volume. 

Pour over the mixture and toss to combine.

Bake in preheated oven for 25-30 minutes, stirring halfway through. 

Remove from the oven and let it cool on the baking sheet undisturbed.

Scrape the bottom of the tray with spatula to loosen granola and break into clusters.
More Keto Breakfast Ideas:
FREE KETO RECIPES + 5-INGREDIENT KETO COOKBOOK

Make sure to sign up for free to get instant access to the 5-Ingredient Keto Cookbook, which includes my favorite 20+ keto recipes of all-time, all under 5 ingredients.