Keto Chicken Recipes
Keto Garlic Chicken Skillet with Red Onions and Mushrooms
I've been making this chicken dish for years now, and I'd say it's as close to perfect as it's going to get thanks to countless tweaks. Here's how to make the best keto garlic chicken skillet.

How to Make the Best Garlic Chicken Skillet Dish
Make the rub. For my chicken rub, I like to use garlic and onion powder, some herbs, and some salt and pepper to taste.
Coat the chicken pieces with the rub. Make sure the chicken has been pat dry before putting the rub.
Sear the chicken. In a large skillet, sear the chicken for 4 minutes on each side. Remove from the heat and set aside.
Saute the other ingredients. In the SAME skillet, saute your red onion and garlic, and then add your mushrooms.
Add the chicken. Add the chicken back to your skillet with the garlic, onion and mushrooms.
Bake. Bake for 20-25 minutes at 350 degrees Fahrenheit.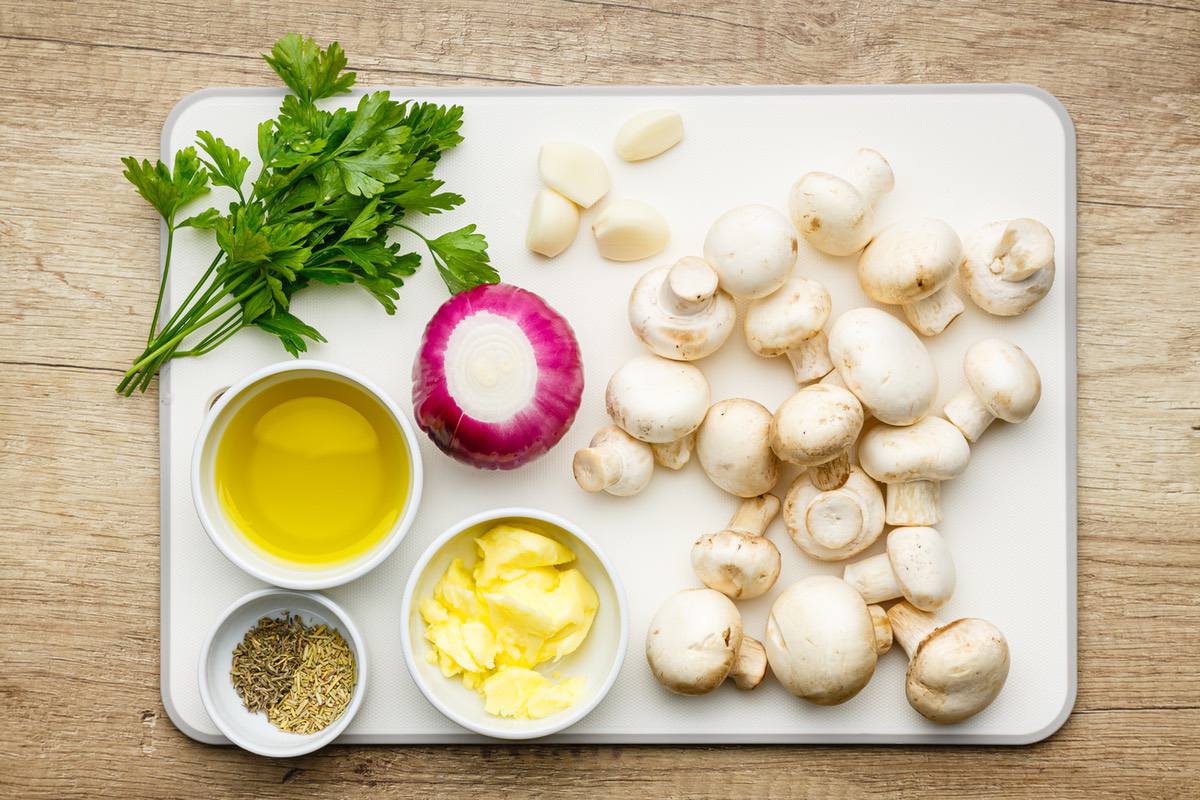 How to Keep Chicken Moist
The secret to juicy chicken, especially larger fillet pieces, is to first sear it on a pan or skillet for a couple of minutes on each side to give it some color. Then pop it in the oven to finish cooking on the inside.
Make sure to use a thermometer to monitor the internal temperature of your chicken. The thermometer should read 165 degrees Fahrenheit to ensure that your chicken is cooked on the inside.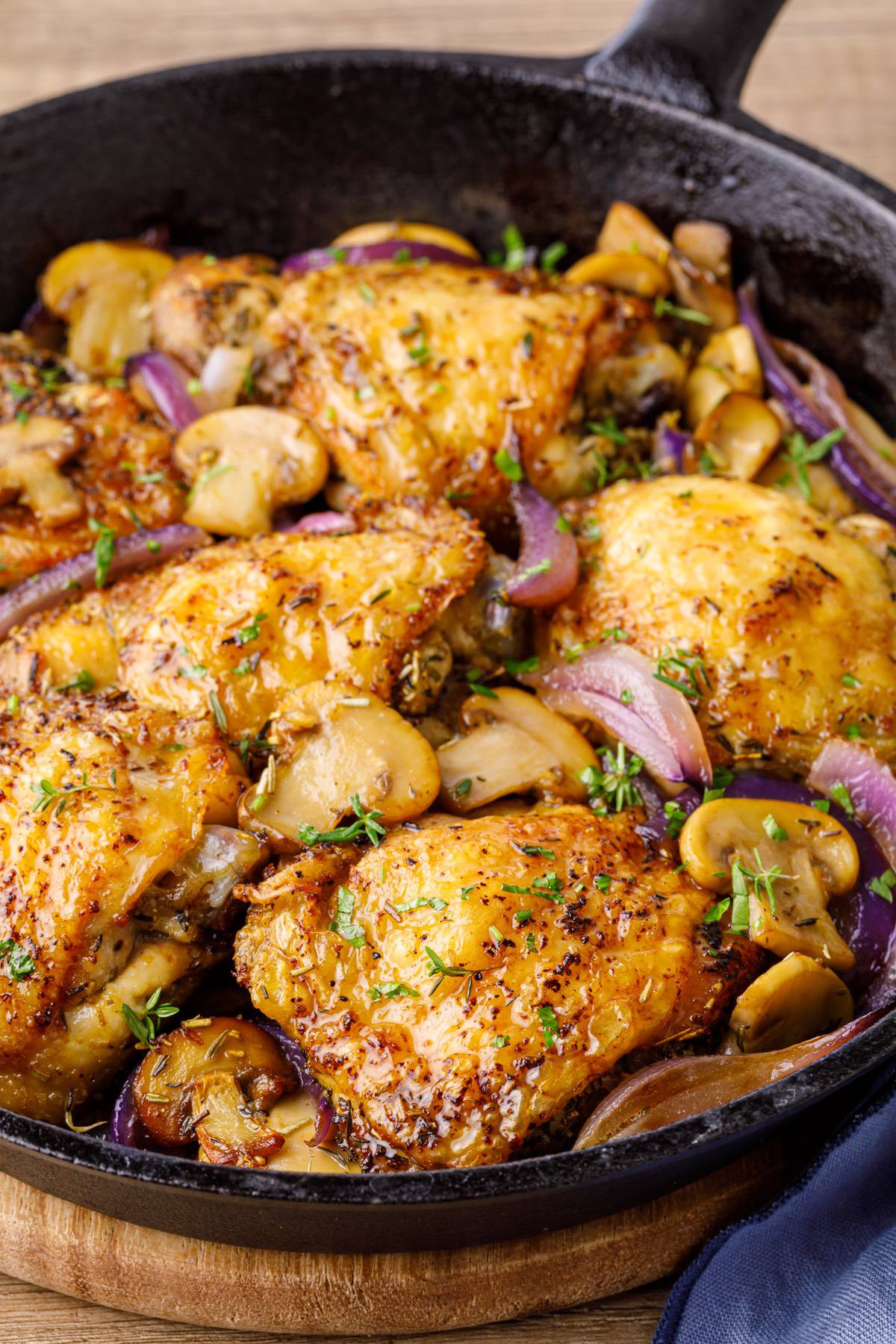 Can You Use A Different Pan Instead of A Skillet?
You can use a regular frying pan if you don't have a skillet. Just make sure that your pan is oven-safe and small enough to fit inside your oven.
What I will say though, is that a skillet helps give your dish that yummy crust on the bottom, which for this recipe is something I really look for. However, for regular pans, it may not come out the same as far as the crust goes but trust me when I say, it will turn out amazing either way.
Can You Freeze Keto Garlic Chicken? (+How to Store Properly)
After cooking, let the chicken cool completely then transfer it to an airtight container, freezer bag or cling wrap.
When you're ready to eat, make sure to give the garlic chicken a couple of hours to defrost before reheating. You could also do this by leaving it in the refrigerator overnight.
Reheat in the microwave for 1-2 minutes on high, or reheat in the oven on broil for 3-5 minutes.
What to Serve with Your Garlic Keto Chicken Skillet
Keto Biscuits – These savory biscuits are packed with so much flavor thanks so the cheddar and chive combo and would make an outstanding side dish to beef, chicken or lamb recipes.
Keto Garlic Breadsticks – Perfect as an appetizer or side dish, these keto garlic breadsticks magically disappear whenever they're served–you've been warned!
Keto Rolls – You don't need to give up bread while on keto, just be sure to have a keto-approved alternative like these keto rolls. I absolutely love the texture of these and they toast really well, too!
(You may also like: 5 Soul-Satisfying Keto Chicken Soup Recipes)
Print Recipe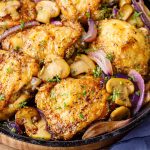 Keto Garlic Chicken Skillet with Red Onions and Mushrooms
Author: Bree - KetoPots.com
Prep Time:

10 minutes

Cook Time:

40 minutes

Total Time:

50 minutes

Yield:

4

1

x
FREE KETO RECIPES + 5-INGREDIENT KETO COOKBOOK

Make sure to sign up for free to get instant access to the 5-Ingredient Keto Cookbook, which includes my favorite 20+ keto recipes of all-time, all under 5 ingredients.
Scale
For the chicken:
1 1/2

pounds chicken thighs (bone in, skin on) 

1 tsp

onion powder 

1 tsp

garlic powder

½ tsp

dried thyme 

½ tsp

dried rosemary

salt and black pepper to taste 

2 tbsp

olive oil
The rest of ingredients: 
1 tbsp

butter

8 oz

mushrooms, sliced 

1

red onion, sliced 

4

garlic cloves, minced

1 tbsp

chopped fresh parsley

¼ tsp

dried thyme

¼ tsp

dried rosemary 

salt and black pepper to taste
Preheat oven to 350°F.

To make the rub for the chicken, in a small bowl combine the onion powder, garlic powder, thyme, rosemary and salt and black pepper to taste. 

Coat all sides of the chicken with the dry rub.

Heat the olive oil over medium heat in a large oven-safe skillet. 

Add the chicken and cook 4 minutes per side. 

Remove the chicken from the skillet. 

In the same skillet, melt the butter. 

Add the red onion and cook for 2-3 minutes. 

Add the garlic and cook for 30 seconds. 

Add the mushrooms and cook for 4 minutes. 

Return the chicken to the skillet. 

Place the skillet to the oven. 

Bake for 20-25 minutes or until chicken is cooked through. 

Remove from the oven. 

Sprinkle with fresh parsley and serve.