Keto Bread
Chewy Keto Garlic Breadsticks – Addictive, Healthy and Low Carb
I think it's safe to say that we all have that one food that we could never give up in a million years. For me? It's definitely garlic. I'm one of those people who honestly believes that garlic can make just about anything better, so believe me when I say that these are some bomb breadsticks. They're 100% keto garlic breadsticks, so if you're on a keto diet, not to worry–you can have this as often as you'd like!

How to Make the Most Incredible Keto Garlic Breadsticks
Now, on to my personal favorite breadstick recipe!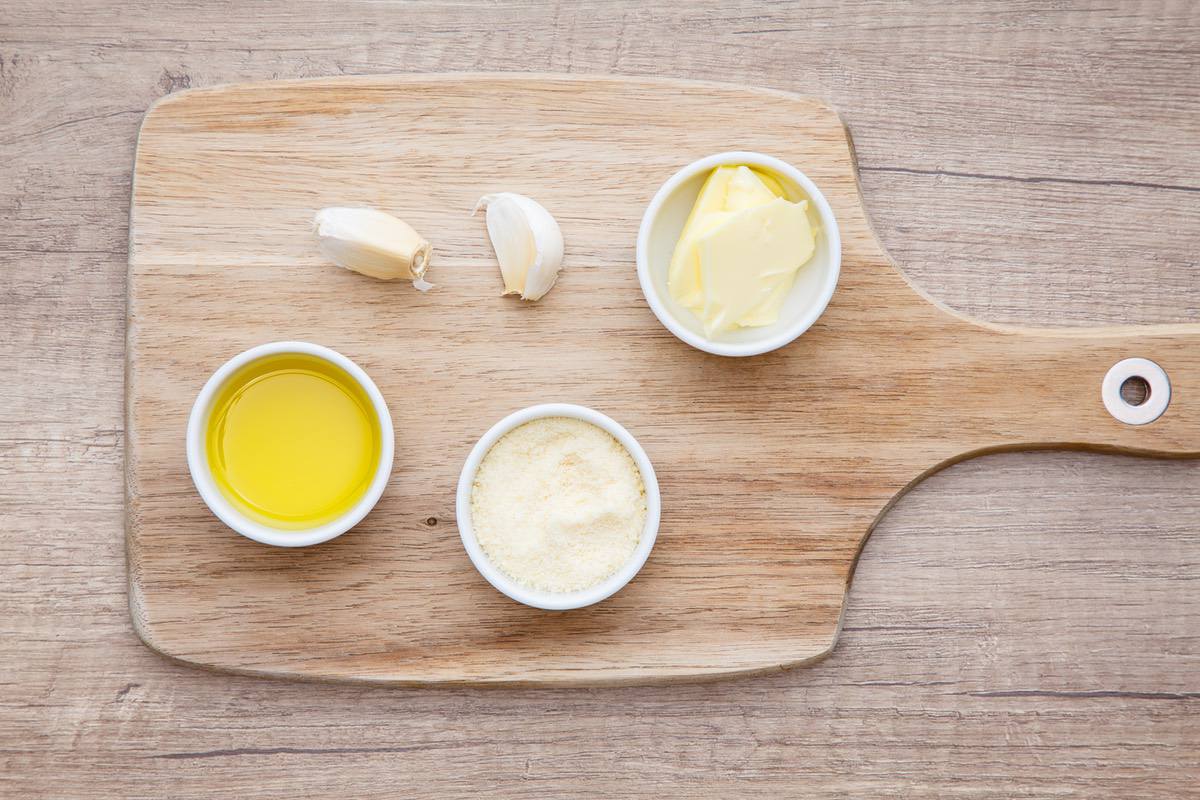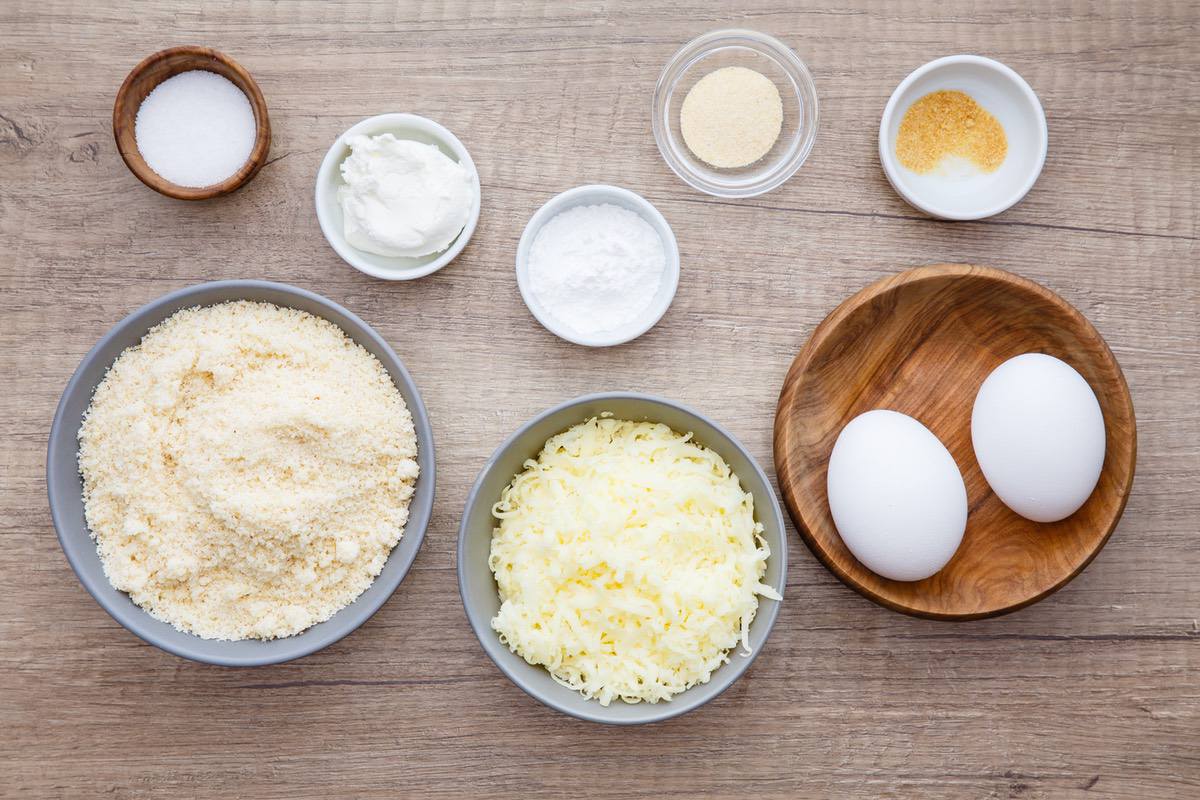 In order to make keto friendly bread 'dough', you'll want to get out a microwave safe bowl and combine your shredded mozzarella cheese (make sure that you're using skim low moisture cheese!) with the cream cheese. Microwave those together for approximately 60 seconds, or just long enough for them to melt together.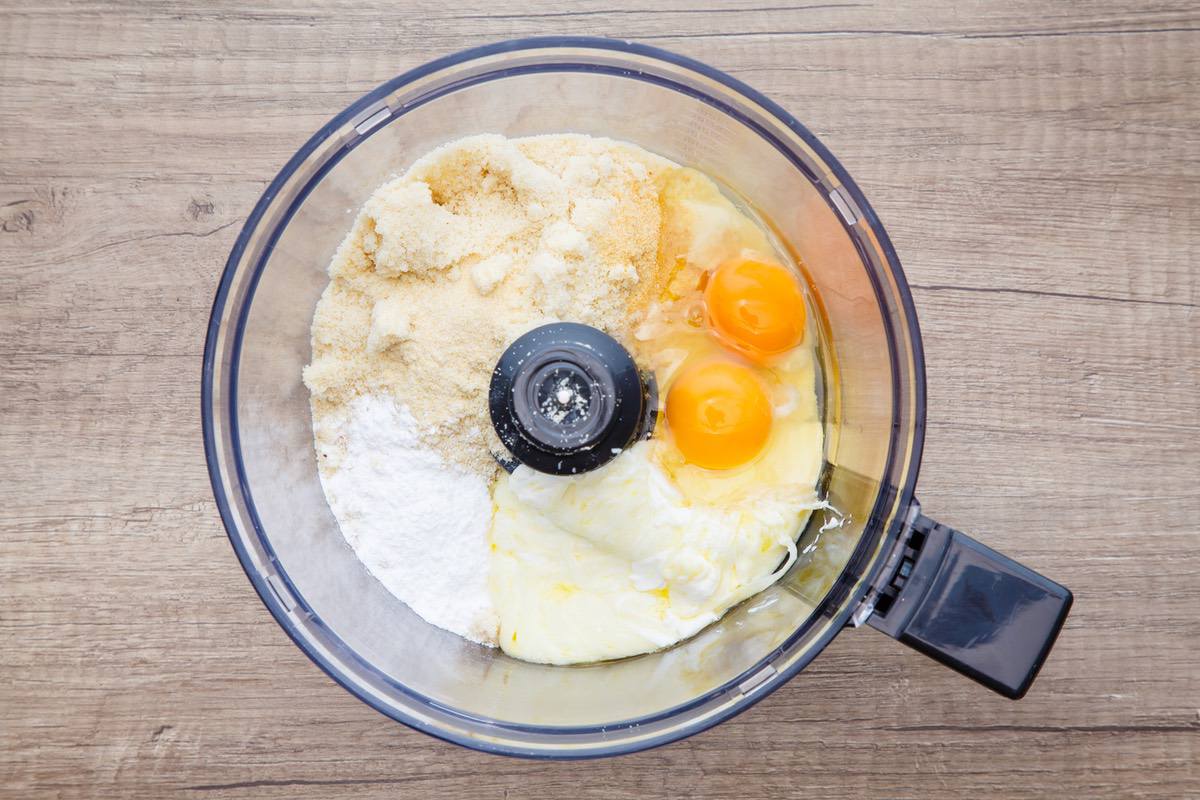 (Learn more: Is Garlic Actually Keto-friendly?)
Next, you'll need to use a food processor and add in the almond flour, baking powder, garlic powder, onion powder, two large eggs, a bit of salt to taste, and your mozzarella cheese mixture. Adding in a keto friendly baking flour like almond flour helps to hold the dough together, on top of adding in an abundance of heart healthy monounsaturated fatty acids, which help to prevent cardiovascular disease. (1)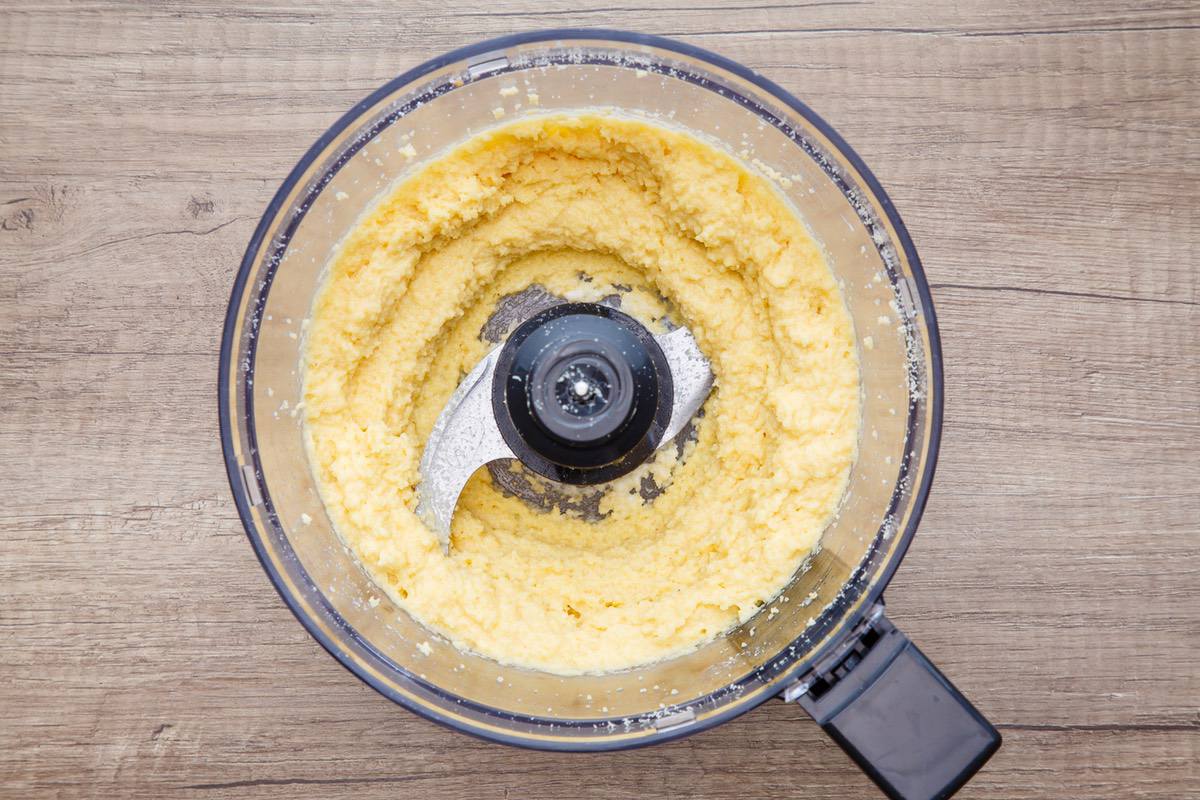 Process everything together until it's well combined. You can then take your dough and place it on top of some lightly oiled cling film and work it into a log shape. You'll then want to refrigerate the dough for at least four hours. I usually just prepare the dough in the evenings and leave it in the fridge overnight, but it's up to you.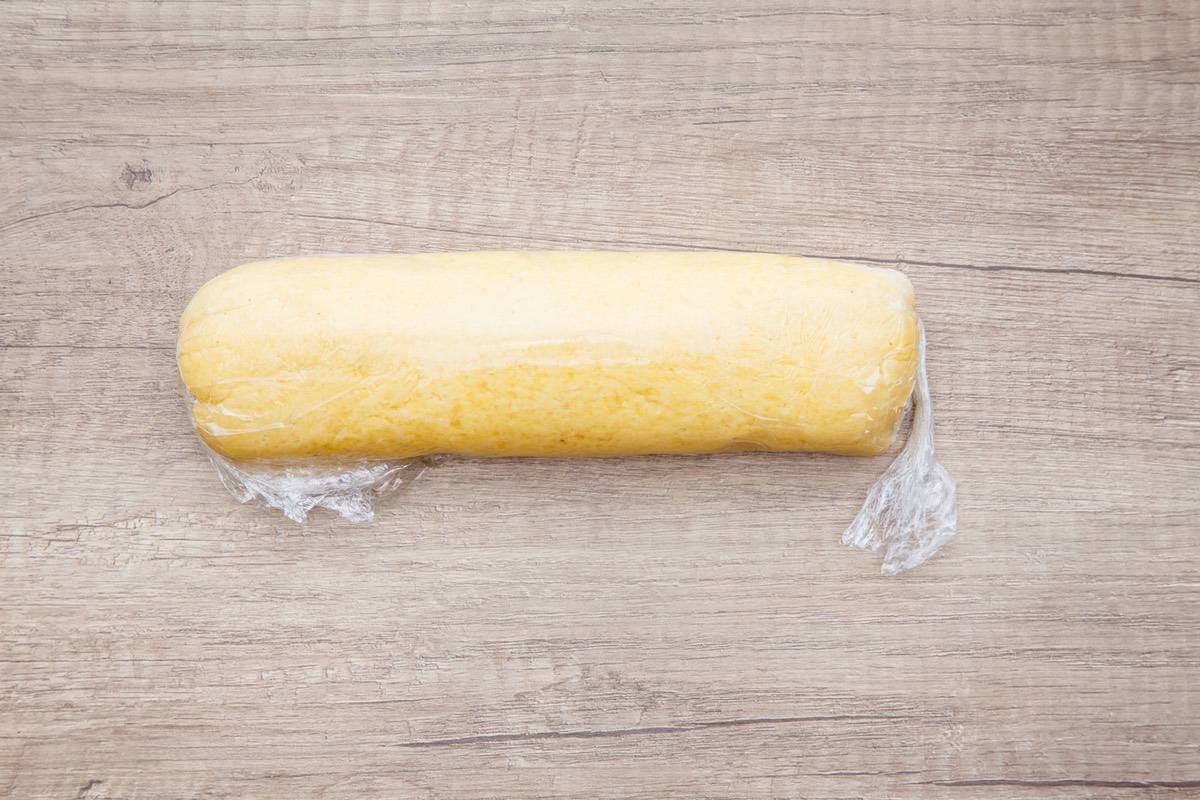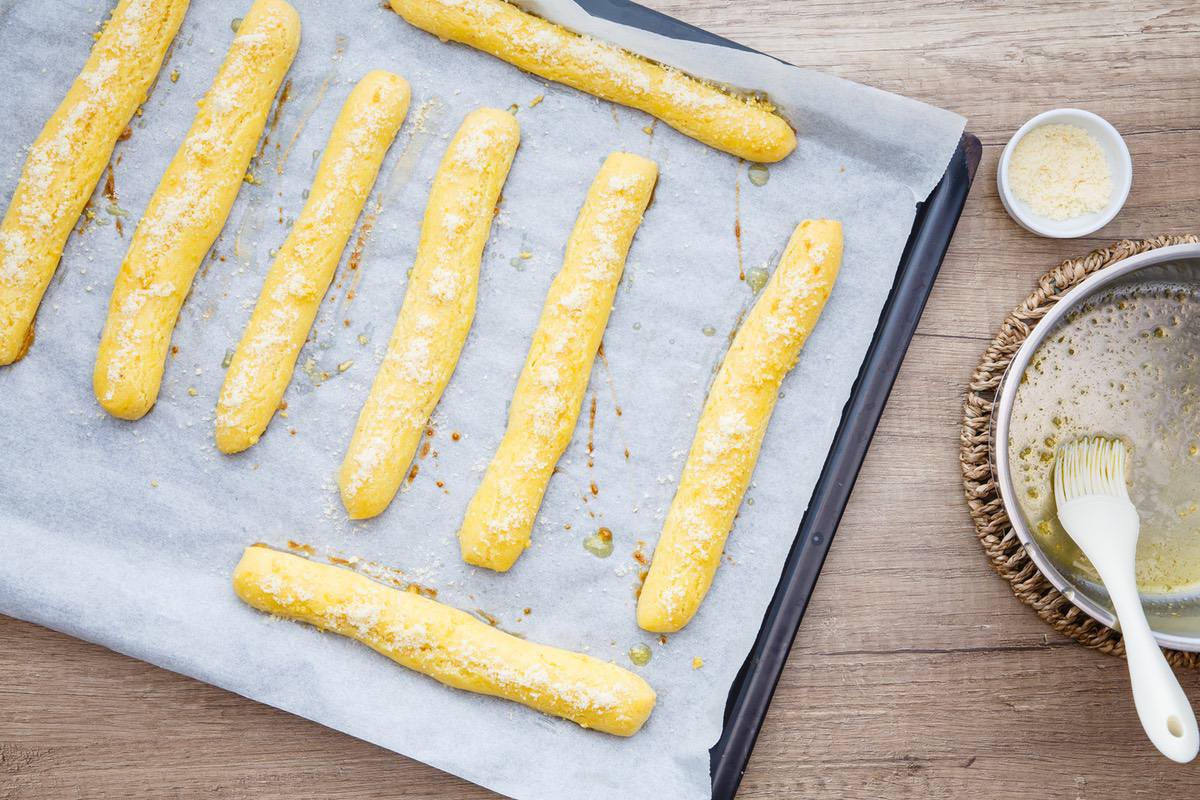 When you're all set to actually bake the breadsticks, you'll need to preheat your oven to 350°F and then line a baking sheet with some parchment paper. Take your log of dough and divide it into eight pieces and then roll each piece into a one inch thick stick. Place them all on your baking sheet.
Next, take a single egg and lightly beat it in order to make your egg wash. Lightly brush each of your eight pieces of dough and then bake them for 15-16 minutes–just long enough for them to turn out golden.
You can then turn your attention to preparing the DIY garlic topping. Get out a small saucepan and add in the extra virgin olive oil, butter, and minced garlic cloves. Cook them over medium low heat until the butter melts and the garlic ends up lightly browned.
Finally, go ahead and brush each breadstick with your garlic topping, sprinkle with Parmesan cheese, and then fire them back into the oven for an additional 2-3 minutes. When serving these garlic breadsticks, you can either enjoy them plain or serve them alongside your favorite low carb dipping sauce.
If you're interested in more breadstick recipes, I have a few in mind that are slightly different but definitely worth a look all the same. Do check them out after trying this recipe if you're like me and want to explore different techniques before deciding on your favorite:
Are These Breadsticks Vegan?
This particular garlic breadstick recipe is not vegan friendly due to the fact that it's made with ingredients like mozzarella cheese, cream cheese, and eggs.
However, it's definitely possible to make absolutely delicious vegan garlic breadsticks. You'll just have to get a little bit more creative with your ingredient choices. I would recommend trying out a recipe like this one for making vegan garlic herb breadsticks (complete with a vegan friendly marinara sauce as well).
Soggy Breadsticks – How to Fix Them
If your breadsticks turned out soggy, the most likely reason is that you are under measuring the amount of dry ingredients (like almond flour) that you're adding in.
Simply check to make sure that you're following the recipe instructions to the letter. If that fails, then you may have to leave your breadsticks in the oven for a couple of extra minutes or add an extra minute on broil!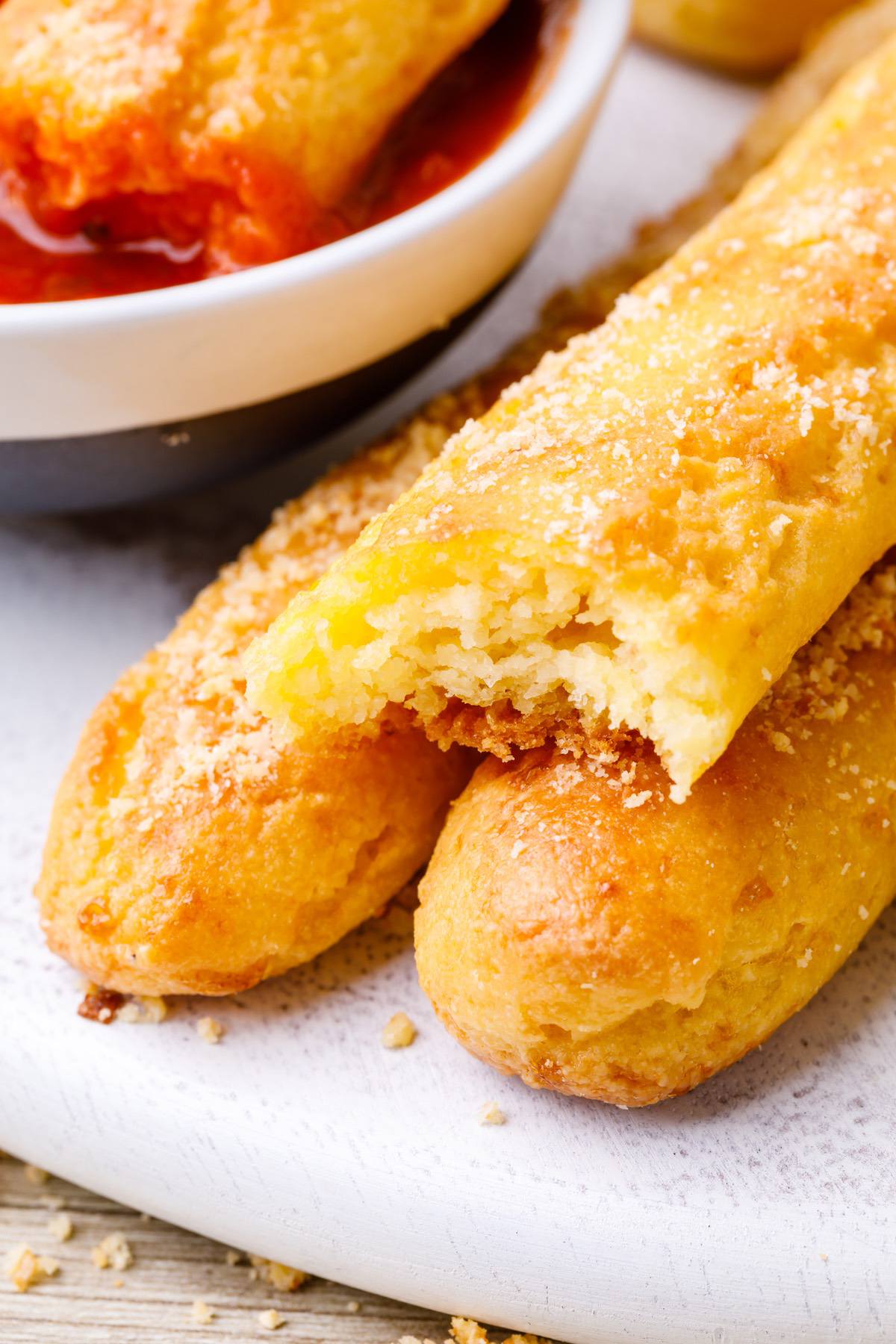 How Long Do Freshly Baked Breadsticks Last?
You're going to want to keep your garlic breadsticks at room temperature if you're planning on saving some for leftovers. You'll need to store them in either an airtight storage bag or wrap them in foil. When properly stored, you can expect the breadsticks to last for 4-5 days at room temperature.
It's not recommended to store breadsticks in the fridge as this can cause them to dry out.
Can I Make Breadsticks Without Yeast?
Yes, it's definitely possible to make keto friendly breadsticks without having to use yeast of any kind. This recipe is proof of that! All you need to do is get a little creative with your ingredient choices and you can make just about anything and still have it be 100% keto approved!
(You may also like: Garlic Butter Keto Skillet Bread)
Print Recipe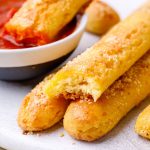 Chewy Keto Garlic Breadsticks – Addictive, Healthy and Low Carb
Author: Bree - KetoPots.com
Prep Time:

15 minutes

Cook Time:

20 minutes

Total Time:

35 minutes

Yield:

8

1

x
Scale
For the breadsticks: 
1 ½ cups

part skim low moisture shredded mozzarella cheese

2 tbsp

cream cheese

1 ½ cups

almond flour

1 ½ tbsp

baking powder

1 tsp

garlic powder

¼ tsp

onion powder

2

large eggs 

salt to taste 
For the egg wash: 
For the garlic topping: 
2

garlic cloves, minced

1 tbsp

butter

1 tbsp

olive oil

1 tbsp

grated parmesan cheese
To make the breadsticks, add the mozzarella cheese and cream cheese to a microwave safe bowl and microwave for 1 minute or until melted.

Add the almond flour, baking powder, garlic powder, onion powder, eggs, mozzarella mixture and salt to taste to a food processor and process until well combined. 

Place the dough on top of lightly oiled cling film and form into a log shape. 

Refrigerate for minimum 4 hours or overnight. 

Preheat oven to 350ºF.

Line a baking sheet with parchment paper. 

Divide the dough into 8 pieces. 

Roll each piece into 1 inch thick stick.

Place them on the prepared baking sheet. 

Brush with beaten egg. 

Bake in preheated oven for 15-16 minutes or until golden. 

To make the topping, add the olive oil, butter and garlic to a small saucepan and cook over medium low heat until butter is melted and garlic is lightly browned.

Remove from the heat. 

Brush the breadsticks with the topping, sprinkle with parmesan cheese and return to the oven. 

Cook for 2-3 minute. 

Serve plain or with your favorite low carb sauce.
FREE KETO RECIPES + 5-INGREDIENT KETO COOKBOOK

Make sure to sign up for free to get instant access to the 5-Ingredient Keto Cookbook, which includes my favorite 20+ keto recipes of all-time, all under 5 ingredients.