Keto Breakfast Ideas
The Best Keto BLT Frittata for a Wholesome Breakfast
Eggs are the perfect keto breakfast food. There are literally dozens upon dozens of fantastic keto friendly egg recipes, you could make a different egg breakfast for just about every day of the month if you wanted to. When it comes to protein-packed egg breakfasts though, my number one go to is this keto frittata.
This Easy Keto BLT Frittata Recipe Makes the Best Breakfast
After preheating your oven to 400°F, grab a large bowl and whisk together the eggs, heavy cream, and Parmesan cheese. When you're finished whisking, season with a bit of salt and black pepper and then set the bowl aside.
Next, you'll need to use a large cast iron pan to heat up one tablespoon of olive oil. Add in two cups of fresh spinach and cook while stirring. Once the spinach has wilted, you can remove from the heat. Sprinkle your spinach with your pre-prepared bacon crumble and then pour in the egg mixture that you whisked.
You can then bake at 400°F for approximately three minutes. Remove your frittata from the oven and top with the cherry tomato slices.
Frittata vs Quiche vs Omelette – What's the Difference?
Frittatas, quiche, and omelettes are three of the most common ways to prepare eggs for breakfast or brunch. There also tends to be a bit of confusion among some people as to what exactly the differences between these three options are. Not to worry as we're here to break it down for you just in case you've been wondering the same thing.
An omelette typically contains eggs with just a bit of water, salt, and black pepper if you're preparing it the traditional French way. You can also load it up with extra ingredients such as culinary herbs, ham, onion, etc. These extra ingredients are usually sprinkled on over top of the omelette during the cooking process.
The easiest way to describe a quiche is that it's a savory custard that has been baked in either a pastry or potato crust. Quiche usually ends up tasting quite rich because it's usually made using your choice of dairy product, either whole milk, heavy cream, or half and half.
Last but not least is the frittata. Quite similar to omelettes, a frittata is typically a bit thicker and has the ingredients cooked into the egg mixture, not sprinkled over the top as is the case with omelettes. Frittatas are also usually sliced like a pie and served warm.
Can I Make a Frittata Without Cheese or Cream?
Yes, it's definitely possible to make a frittata recipe without having to use either cheese or cream if you're trying to keep dairy out of your diet. Here are a couple of pointers if you're aiming for a dairy free frittata:
Swap out the heavy cream for something like almond milk or coconut milk instead
If you're not using any kind of cheese, feel free to mix and match different combinations of veggies until you come up with a flavor combo that works for you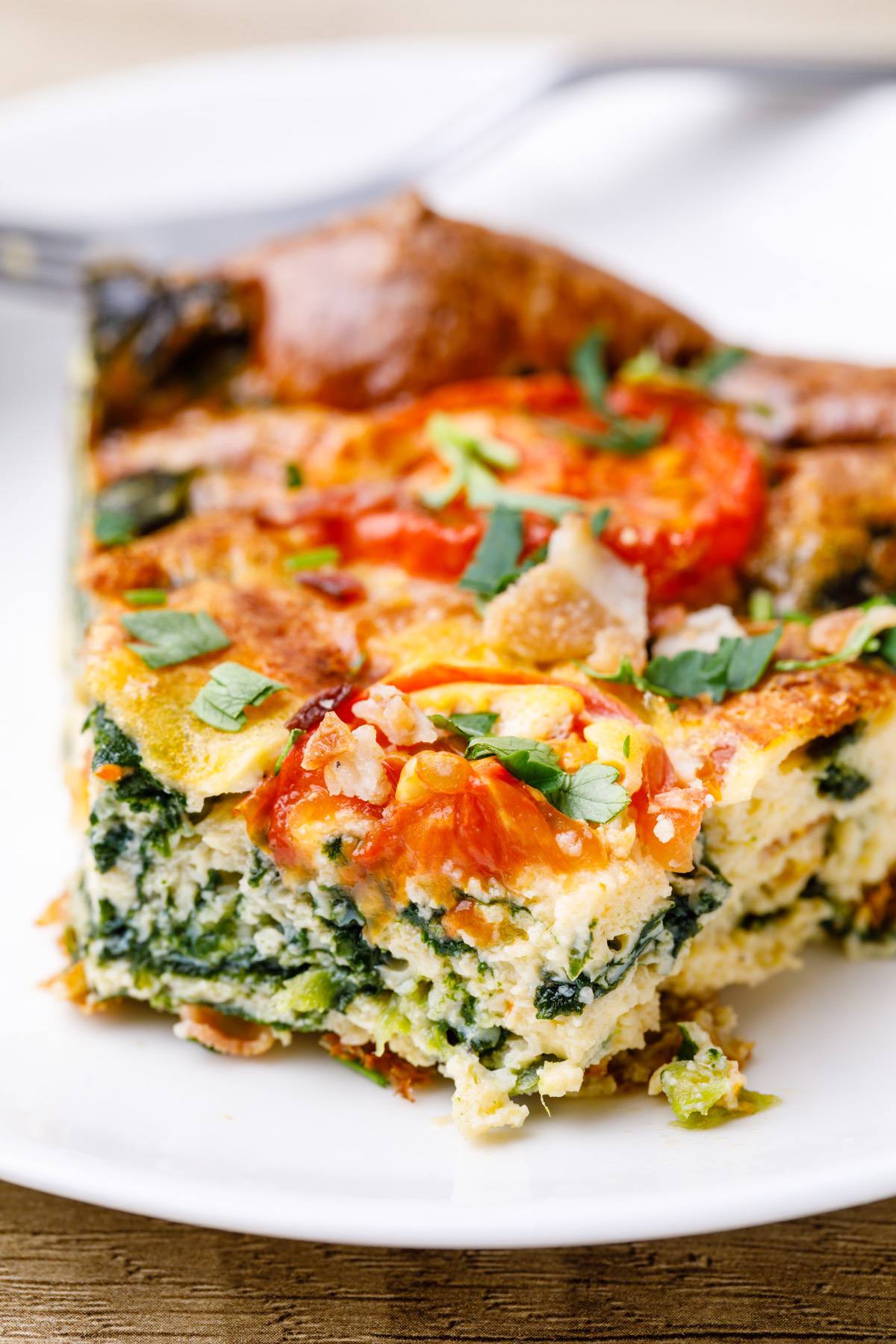 To be perfectly honest though, my recommendation would be (as long as you're able to include dairy with your diet of course) to follow this recipe to the letter. The combo of heavy cream and Parmesan cheese work great for making this such a great keto friendly option.
How to Know If Your Frittata is Done
You'll be able to tell that your frittata is done cooking once the eggs have properly set. The easiest way to check for this is to simply cut a small opening in the center of your frittata. If you see any raw egg running into the cut, you'll want to bake the frittata for a few more minutes.
On the other hand, if the eggs are set, you can remove your frittata from the oven. One extra tip is if you want a more crispy top that's golden brown, you can add a minute or two of cooking time with a broiler after the frittata comes out of the oven.
(You may also like: Easy 7-Ingredient Crustless Keto Quiche Lorraine)
Print Recipe
The Best Keto BLT Frittata for a Wholesome Breakfast
Author: Bree - KetoPots.com
Prep Time:

10 minutes

Cook Time:

30 minutes

Total Time:

40 minutes

Yield:

4

1

x
FREE KETO RECIPES + 5-INGREDIENT KETO COOKBOOK

Make sure to sign up for free to get instant access to the 5-Ingredient Keto Cookbook, which includes my favorite 20+ keto recipes of all-time, all under 5 ingredients.
Scale
1 tbsp

olive oil 

2 cups

fresh spinach, chopped 

6

strips bacon, cooked and crumbled 

¼ cup

heavy cream

7

large eggs

½ cup

shredded Parmesan cheese

5

cherry tomatoes, sliced

1 tbsp

chopped fresh parsley, to garnish

salt, black pepper to taste   
Preheat oven to 400°F. 

In a large bowl, place the eggs, heavy cream and Parmesan cheese and whisk until combined. 

Season to taste with salt and black pepper and set aside. 

In a large cast iron pan, heat the olive oil over medium heat. 

Add the spinach and cook stirring, until the spinach is wilted.  

Remove from the heat. 

Sprinkle with crumbled bacon. Pour in the egg mixture. 

Bake in preheated oven for 3 minutes. 

Remove from the oven and top with tomato slices. 

Return in the oven and cook for 15-20 minutes or until the frittata is golden and puffy and the center feels firm and springy. 

Remove from the oven, allow to cool slightly, slice and serve.
More Easy Keto Breakfast Recipes: