Keto Recipes
Crispy, Crunchy Keto Fried Chicken (This is the Best)
When some of my family and friends first heard that I was following a "keto diet", I was bombarded with questions. They would ask me if it's good for my health to be eating so much fat. They would ask if I'm missing out on all of my old favorite foods. And while they asked me these questions with good intentions, it was painfully clear to me that there's a lot of misinformation out there about low carb, high fat diets. So whenever I would answer these questions, I would say that YES, it's actually very healthy to eat a high fat diet (provided you're eating quality fat sources and not processed junk). And as for missing my old favorite foods? I simply point them towards this crispy, crunchy keto fried chicken recipe. I've been a lifelong fan of a good piece of fried chicken, and I'm totally convinced that this keto recipe makes quite simply the best crunchy fried chicken that I've ever had.
A Truly Finger Lickin' Good Seasoning
The first order of business with this recipe is making keto-friendly breadcrumbs to use for your seasoning. To start, add your milk, egg, and olive oil into a microwave-safe mug and whisk it all together. It's important that you make sure to use olive oil when following this recipe instead of any type of vegetable oil as it's a much healthier option that's full of good monounsaturated fats. And unlike vegetable oil, which is high in inflammation causing omega-6 fats, olive oil will actually lower your risk of cardiovascular disease. (1)
You can then add in the almond flour, coconut flour, baking powder, and a pinch of salt into the mug. Just as you want to use olive oil over vegetable oil, you'll want to use the combination of almond flour and coconut flour over refined white flours made with wheat. They're both excellent low carb alternatives that are equally nutrient-dense, offering plenty of added healthy fats, fiber, vitamins, and minerals to your keto breadcrumb mix. Next, go ahead and microwave your mug on high for about 90 seconds, then remove the bread and slice it. Then place the bread slices in the oven and bake them for 60-90 minutes. Once your bread is finished in the oven, throw it into a food processor and pulse it into your desired breadcrumb size.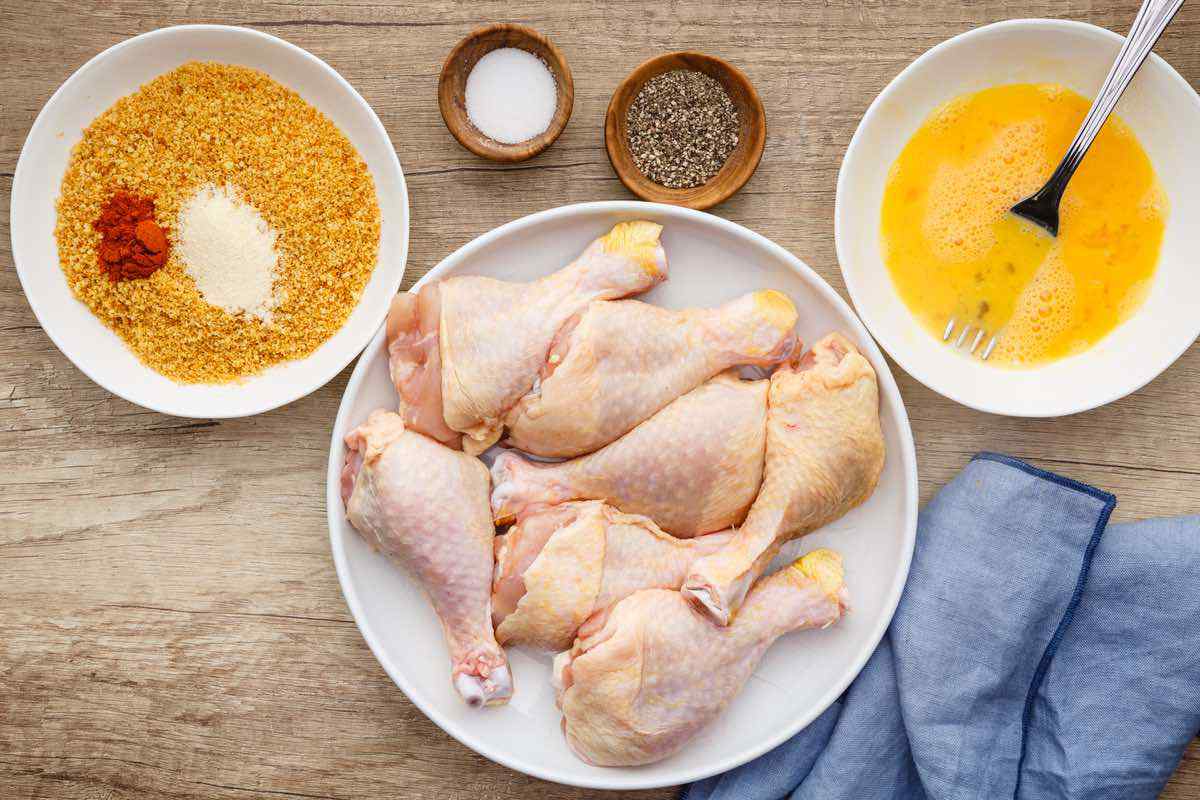 With that out of the way, you can now add in the rest of the seasoning ingredients. You'll definitely want to add some garlic powder and cayenne pepper, but I also like to include a bit of dried oregano, basil, and thyme when I make this recipe. Not only does this mix of herbs and spices add a huge amount of flavor to your seasoning, but all of these ingredients are beneficial for your health as well thanks to their high antioxidant content and their demonstrated ability to help prevent diseases like cancer. (2)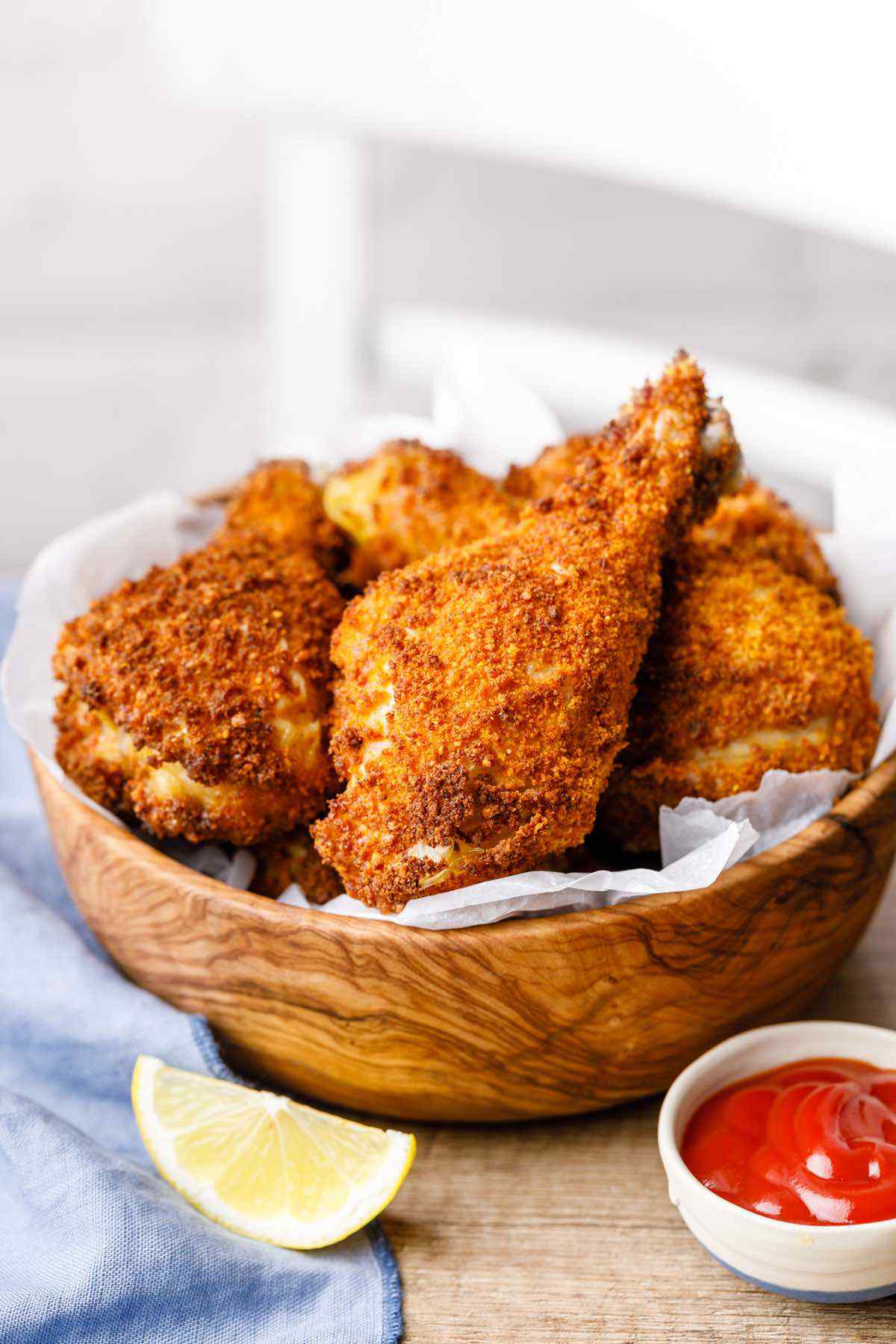 All that remains to be done now is to crack a couple of eggs on a separate plate and then season them with salt and pepper. Heat up some more olive oil in a heavy skillet, then dip your chicken drumsticks into the egg mixture before dredging them in your breadcrumb seasoning. You'll want to fry each batch of drumsticks for about 12-15 minutes, turning them once as you do so.
Once you try this keto fried chicken recipe out for yourself, you'll see why I would easily put this against anything from restaurants like KFC or any other popular fried chicken chain. The homemade breadcrumb seasoning is unbelievably tasty and the use of dark meat drumsticks over pieces of white meat helps to keep the protein and fat content high for keto dieters. Don't just take my word for it though. Go ahead and make this recipe yourself and you'll see just how truly finger lickin' good it really is!
PS. If this fried chicken isn't enough to convince them, maybe a scrumptious dessert will. Whip up a batch of our banana nut bread to show them just how versatile a keto diet can really be.
Print Recipe
Crispy, Crunchy Keto Fried Chicken (This is the Best)
Author:
Prep Time:

20 minutes

Cook Time:

90 minutes

Total Time:

110 minutes

Yield:

4

1

x
FREE KETO RECIPES + 5-INGREDIENT KETO COOKBOOK

Make sure to sign up for free to get instant access to the 5-Ingredient Keto Cookbook, which includes my favorite 20+ keto recipes of all-time, all under 5 ingredients.
Scale
For the breadcrumbs:
1 tbsp coconut flour
¼ cup almond flour
1 tbsp milk
1 tbsp olive oil
1 egg
¼ tsp baking powder
salt to taste
The rest of ingredients:
1 ½ pounds chicken drumsticks
2 tsp garlic powder
1 tsp cayenne pepper
½ tsp dried oregano (optional)
1 tsp dried basil (optional)
1 tsp dried thyme (optional)
2 eggs
oil for frying
salt, black pepper to taste
To make the breadcrumbs, place the milk, egg, olive oil in a microwave-safe mug and whisk to combine.
Add the almond flour, coconut flour, baking powder and salt and whisk until smooth.
Microwave on high for 90 seconds or until just firm to touch and toothpick inserted into the center comes out clean.
Remove from the mug and slice.
Preheat oven to 250°F.
Place the bread slices on a baking sheet lined with parchment paper.
Bake for 60-90 minutes or until the bread is dry.
Place the bread in a food processor and pulse to desired crumb size.
Place the breadcrumbs, cayenne pepper, garlic powder, dried thyme, basil and oregano in a plate.
Season with salt and black pepper to taste and mix to combine. Set aside.
Place the eggs in another plate, season with salt to taste and lightly beat. Set aside.
Season the chicken drumsticks with salt and black pepper to taste.
Heat 2 to 3 inches of oil in a deep heavy skillet over medium heat.
Dip each chicken drumstick in the eggs then dredge in the breadcrumbs mixture.
Fry the chicken drumsticks in batches for 12-15 minutes, turning once or until golden brown. Internal temperature should read 165°F.
Serve warm.