Keto Recipes
Bone Broth French Onion Soup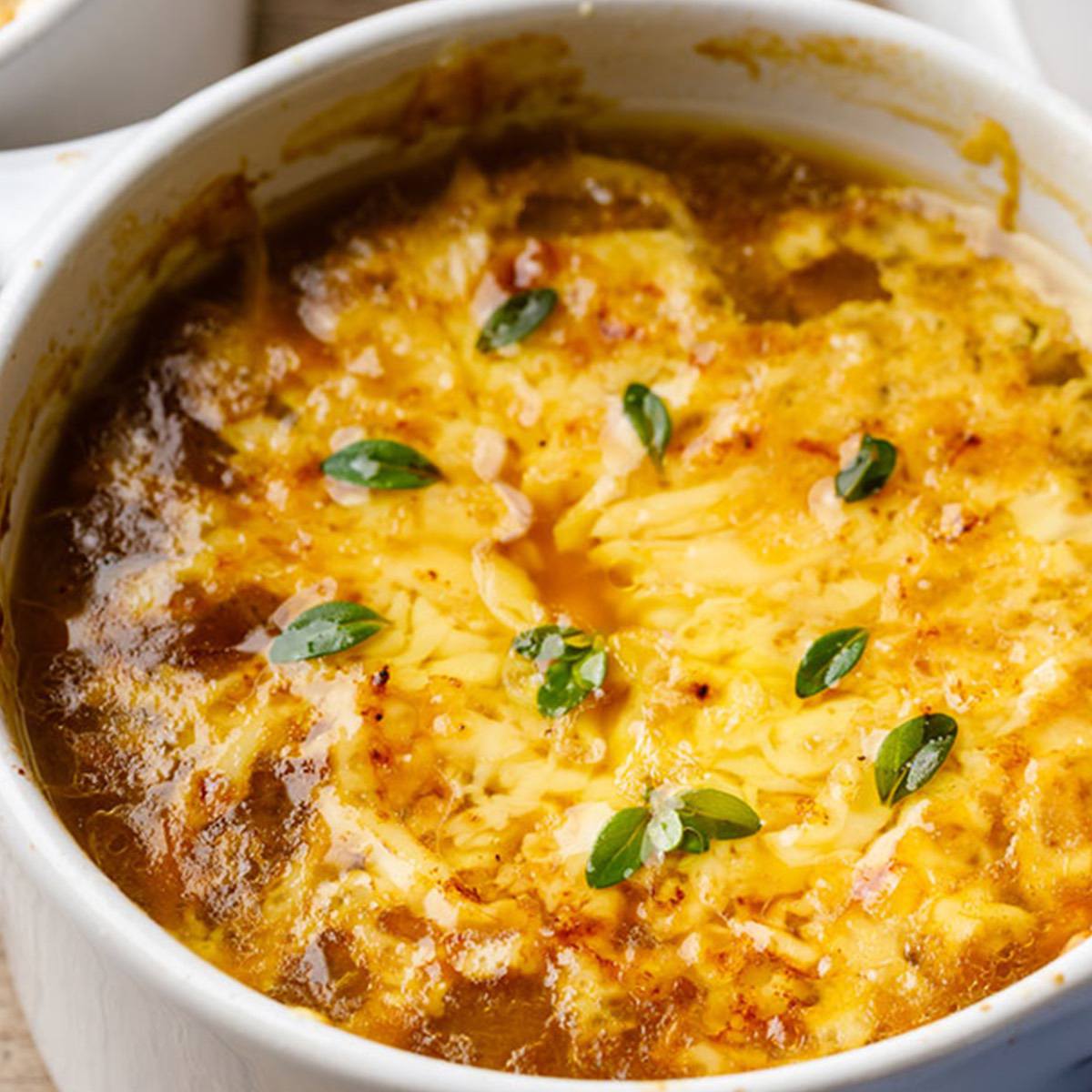 There are two types of soup that I absolutely adore — soups made with bone broth and French onion soup. The recipe that I'm sharing takes both of those things and combines them into one delicious beef bone broth keto French onion soup that's nourishing, tasty and satisfying.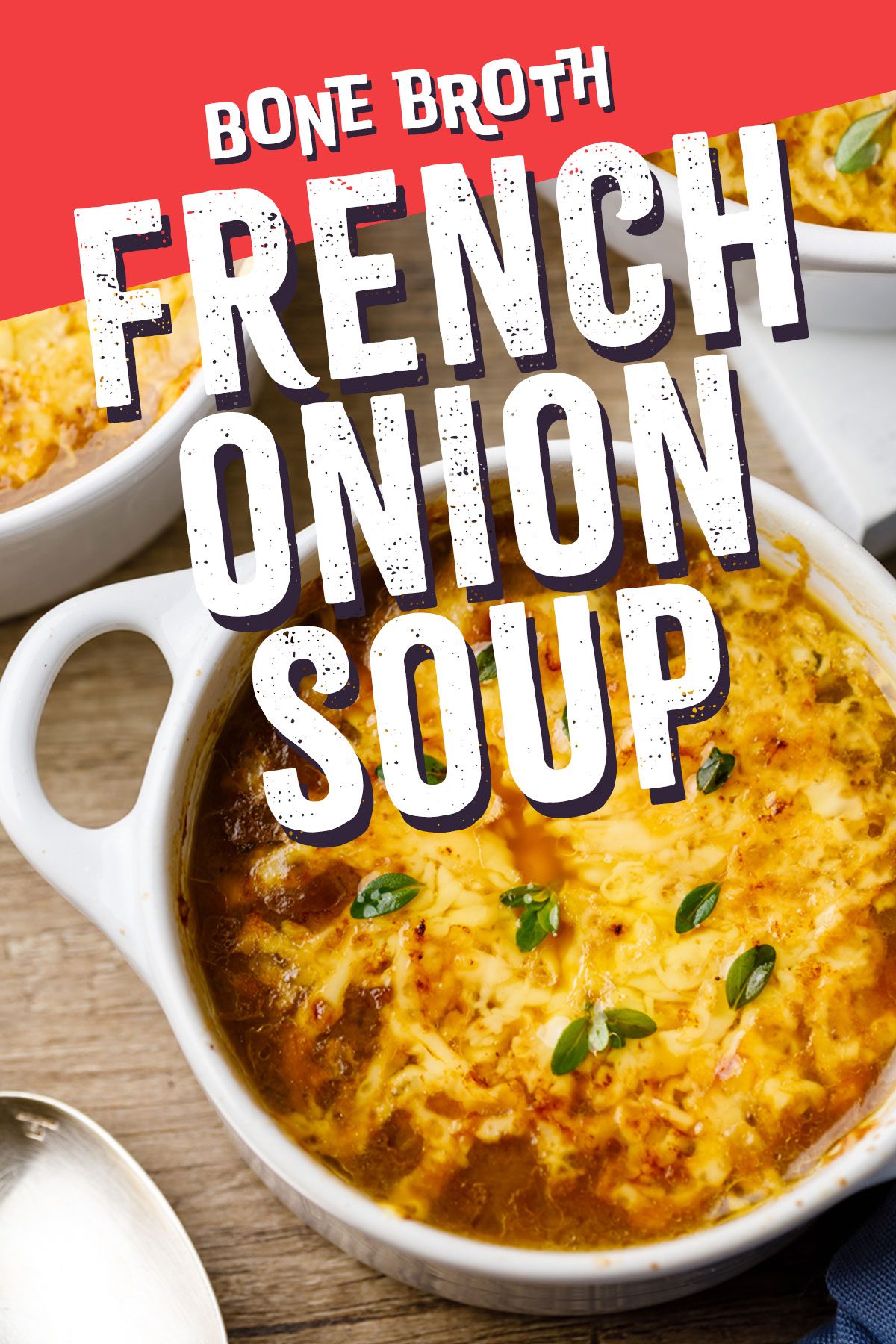 If you're looking for more nourishing and absolutely delicious soups, try these easy keto chicken soup recipes or this chicken bone broth soup (for another good bone broth-based soup).
---
How to Make Bone Broth French Onion Soup
In order to properly make this soup recipe, you're going to need to use a Dutch oven. While it's possible to use a stock pot, I strongly recommend using the Dutch oven for best results — if you don't already own one, you can purchase the exact kind that I use and would recommend online by clicking here.
Either way, go head and melt your unsalted butter (aim to use grass fed butter whenever possible!) over a medium heat to get started making this recipe.
You may also like: Beer Cheese Soup
---
You'll be using quite a bit of butter, four tablespoons to be exact, which may initially seem like a lot. Remember though, that this is a keto recipe, and the more calories from quality fat sources that we can squeeze in, the better.
(Learn more: Are Onions Keto?)
Add in your garlic and onions, both of which will be providing most of the flavor found in this soup recipe.
They both also provide most of the health benefits, with one particular study into their beneficial properties finding them to be so essential for human health that it described eating the pair as a "matter of life or death". (1) I already loved cooking with both garlic and onions because of how much flavor they add to meals, but that study just further cements what a great choice they are to include in your diet regardless.
There has also been a huge craze as of late when it comes to consuming bone broth. While some of the reported health claims may be a bit out there, there are indeed some truly exceptional benefits that can be gained from including it as part of your diet, especially if you're following a keto diet.
---
For one, it's a great source of essential minerals that help to keep your body hydrated. Secondly, bone broth contains collagen, a structural protein that helps to improve bone and joint health.
It's also one of the main ingredient used in many types of anti-aging products, as it has been found to significantly reduce visible signs of aging in many individuals. (2)
As a final note, you'll see in the recipe directions below that you should add shredded Gruyere cheese to the soup and then broil it until it's melted in. While I personally prefer to make my soup using Gruyere cheese, that's only a recommendation. You can also feel free to swap in Parmesan or even extra sharp cheddar cheese if you'd prefer — both options work perfectly fine.
What I do know is that once you try this soup recipe for the first time, you're definitely going to see exactly why so many people are going crazy for bone broth recipes lately, as it's a fantastic complement to an already exceptional French onion soup.
P.S. If you're looking for another really healthy (but just as comforting) soup, make sure to also try this super easy 5-ingredient egg drop soup recipe: https://ketopots.com/keto-egg-drop-soup
---
Print
Print Recipe
Bone Broth French Onion Soup
Author: Bree
Prep Time:

15 minutes

Cook Time:

90 minutes

Total Time:

1 hour, 45 minutes

Yield:

6

1

x
Category:

Soup, Dinner

Cuisine:

American
Scale
4 tbsp unsalted butter
1 pound peeled and sliced onions
2 garlic cloves, minced
½ tsp baking soda
4 cups homemade beef broth
2 sprigs thyme
1 bay leaf
2 tbsp apple cider vinegar
1 ½ cup shredded Gruyère cheese
fresh thyme leaves, for garnish
In a large Dutch oven melt the butter over medium heat.
Add the onions and garlic and cook, string occasionally, until softened, about 8 minutes.
Lower the heat to medium low, add the bay leaf and thyme sprigs and stir in the baking soda.
Cover with a lid and cook, stirring frequently, until the onions are sweet and golden brown, 1 to 2 hours.
Discard the thyme sprigs and bay leaf.
Add the beef broth.
Raise the heat to medium high and bring to a boil.
Lover the heat and simmer for 20 minutes.
Add the apple cider vinegar and season with salt and black pepper to taste.
Preheat the broiler and adjust oven rack to top position.
Divide the soup between 6 ovenproof serving bowls, then top each one with ¼ cup shredded Gruyere cheese.
Place the bowls on a baking sheet.
Broil until the cheese is melted.
Garnish with fresh thyme leaves and serve.
Keywords: soup, french onion, bone broth
FREE KETO RECIPES + 5-INGREDIENT KETO COOKBOOK

Make sure to sign up for free to get instant access to the 5-Ingredient Keto Cookbook, which includes my favorite 20+ keto recipes of all-time, all under 5 ingredients.