Keto Recipes
Flourless Keto Chocolate Lava Cake (This Cake Recipe is the Best!)
Chocolate molten lava cakes have always been my go-to dessert whenever I'm craving a decadent treat to satisfy my chocolate sweet tooth. The recipe that I'm going to be sharing today is easily my new favorite way to make them — it makes a flourless keto chocolate lava cake that is simply to die for. As you can tell from the name, this cake is made without using refined wheat flour and it's full of keto-friendly ingredients, including a melted dark chocolate lava center. Even more impressive is the fact that this cake can be ready to go in just under 15 minutes, meaning that the next time you get a craving for a sweet and healthy chocolate treat, it won't take you any time at all before you can indulge in a guilt-free way.

Molten Dark Chocolate Lava
The secret of any good chocolate lava cake is making sure that the molten lava center is on point. This recipe definitely nails that aspect thanks to using some sugar-free dark chocolate (I like to use 90% cocoa, but anything that's both sugar-free and over 70% will do). Not only does using dark chocolate like this help to make sure our recipe stays sugar-free, but it also provides you with quite a few cardiovascular benefits as well, such as helping to lower blood pressure. (1)
When you melt your dark chocolate for use in this recipe, you'll want to microwave your butter at the same time as well. When making this recipe, or any of our recipes that call for butter for that matter, I'd strongly recommend that you use grass-fed butter whenever possible. It's been proven to provide you with more antioxidants and it also has an increased concentration of omega-3 fatty acids when compared to butter from cows fed a grain-based diet. (2)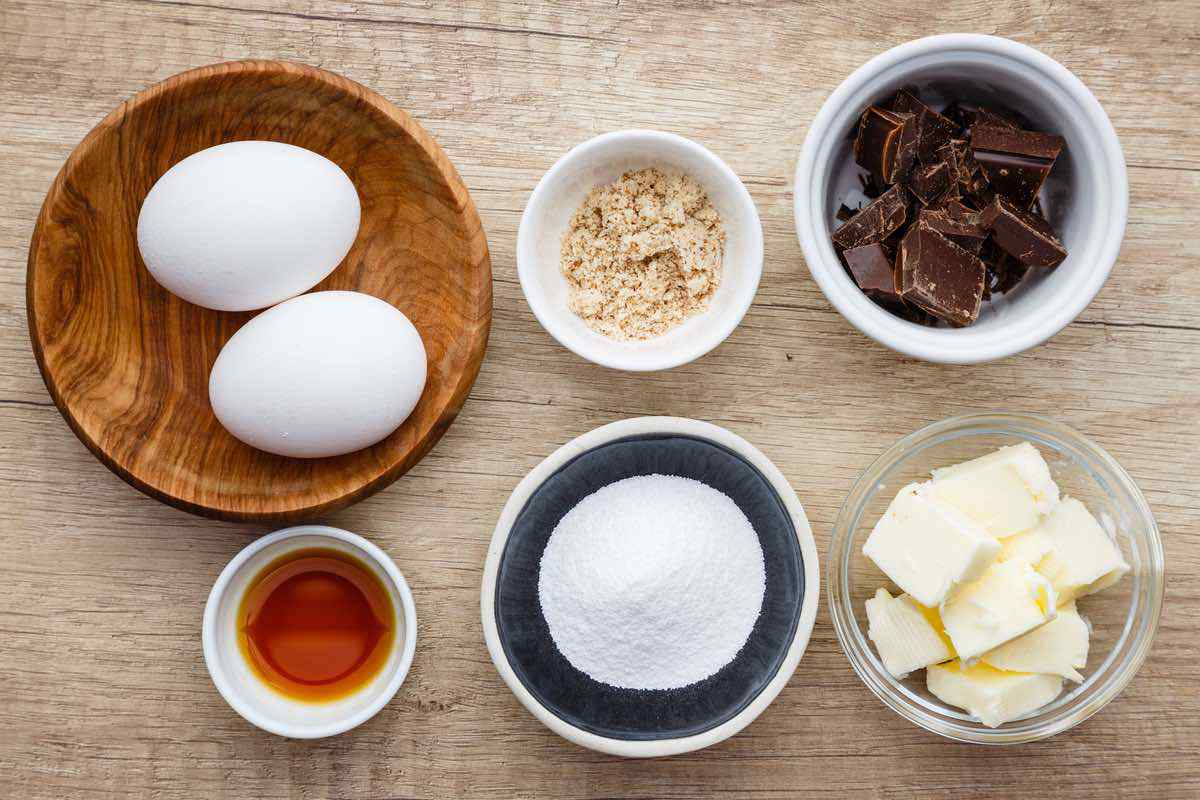 After melting your chocolate and butter, set them aside. Next, beat together two eggs with a zero calorie sweetening option like Stevia. This obviously also helps to keep the cake sugar-free, which then keeps the carb content to the bare minimum. Once your egg mixture becomes smooth and pale, you can then add in the melted chocolate mixture along with some vanilla extract.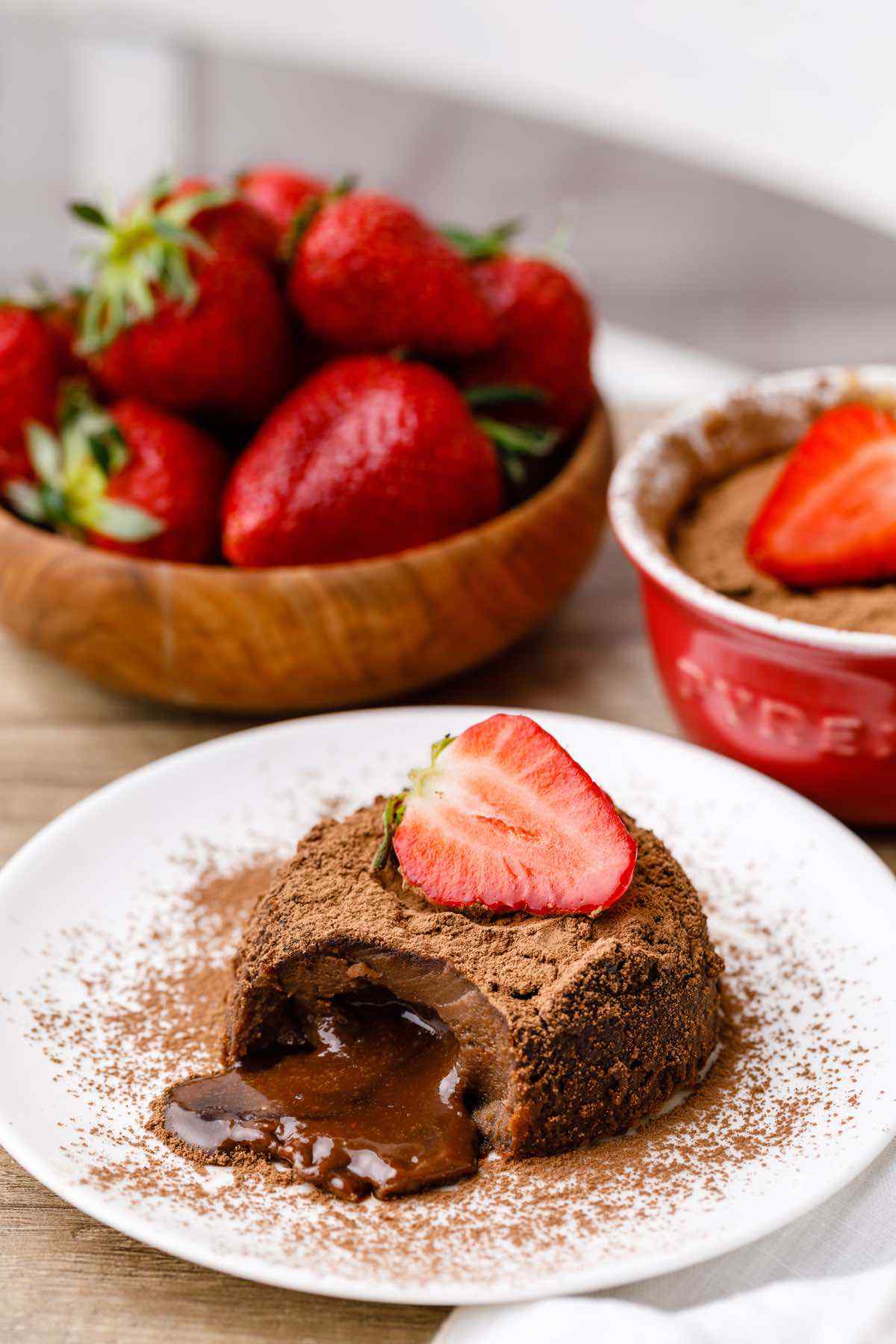 Alright, now it's confession time — this cake isn't technically "flourless". What it is indeed free of is refined wheat flours, which have been proven to be a cause of inflammation. (3) Considering we now know that chronic inflammation is at the root of most types of modern disease (4), it's vital to avoid any foods that can trigger it. With that in mind, this chocolate cake recipe calls for mixing in almond flour instead. It's a terrific grain-free substitute that provides a solid amount of dietary fiber, vitamins, minerals, and heart healthy fats.
Once you've mixed in the almond flour, you can go ahead and pour the cake mixture out into two lightly greased ramekins. Toss them in the oven for between 9-11 minutes and then gently turn them out onto cake plates. If you'd like to add an extra chocolatey finishing touch at this point, you can feel free to dust the tops of them with a bit of raw cacao powder as well before you serve them.
More Good Keto Cake Recipes
Print Recipe
Flourless Keto Chocolate Lava Cake
Author: Bree - KetoPots.com
Prep Time:

5 minutes

Cook Time:

9 minutes

Total Time:

14 minutes

Yield:

2

1

x
FREE KETO RECIPES + 5-INGREDIENT KETO COOKBOOK

Make sure to sign up for free to get instant access to the 5-Ingredient Keto Cookbook, which includes my favorite 20+ keto recipes of all-time, all under 5 ingredients.
Scale
2 oz sugar free dark chocolate
1 tbsp almond flour
2 oz butter, plus more for greasing ramekins
2 eggs
½ tsp vanilla extract
2 tbsp granulated Stevia or other low carb granulated sweetener
cacao powder, for dusting (optional)
Preheat oven to 350°F.
Place the chocolate and butter into a microwave-safe bowl and microwave on high in 30-second intervals, stirring in between, until melted. Set aside.
Beat the eggs and sweetener together in a mixing bowl until smooth and pale.
Add the melted chocolate and butter mixture and vanilla extract and beat until smooth.
Add the almond flour and mix until smooth.
Pour into 2 lightly greased ramekins.
Bake in preheated oven for 9 – 11 minutes or until just firm to touch.
Gently turn the cakes out onto a cake plates.
Dust with cacao and serve.