Keto Recipes
Low Carb Garlic Keto Flatbread (Good with Everything!)
I've always believed in the importance of a good side dish to go with your meal. When paired with just the right side dish, a good meal can easily become a great meal. Well, with that in mind, today you're going to see just how well this flatbread pairs with your other recipes. This low carb garlic keto flatbread is just plain addictive, with just the right amount of cheese and garlic.

Keto Flatbread That Offers Up a Ton Of Garlicky Goodness
In order to make flatbread dough that's 100% keto friendly, we're going to have to get a little bit cheesy. You'll start by melting together shredded low moisture mozzarella cheese with cream cheese by microwaving them in a bowl for approximately one minute.
In a separate bowl, beat together two eggs and then add in the almond flour, baking powder, grated Parmesan cheese, and a bit of salt to taste. Almond flour is a fantastic keto friendly baking alternative to regular refined wheat flours because it provides the same great benefits as raw almonds, such as helping to reduce cholesterol levels and prevent heart disease. (1)
Mix everything thoroughly until it's well combined. Next, add in your melted mozzarella mix until that's also well combined. Cover your dough with plastic wrap and toss it in the fridge for a minimum of four hours. I usually just prepare my dough in the evening and refrigerate it overnight.
When you're ready to bake your flatbread, preheat your oven to 350°F and line a baking sheet with parchment paper. Take your dough out of the fridge and divide it into eight pieces, rolling each piece into a ball. Next, take each of your balls and flatten them into flatbread by placing them between two pieces of parchment paper.
Place your pieces of flatbread on your prepared baking sheet and bake them for between 15-17 minutes, just long enough for them to turn a nice golden color.
While the flatbread is baking, you can go ahead and start making the topping for it. Using a small saucepan, add in olive oil, butter, and two minced garlic cloves and cook them over medium low heat until the garlic has browned and the butter has melted.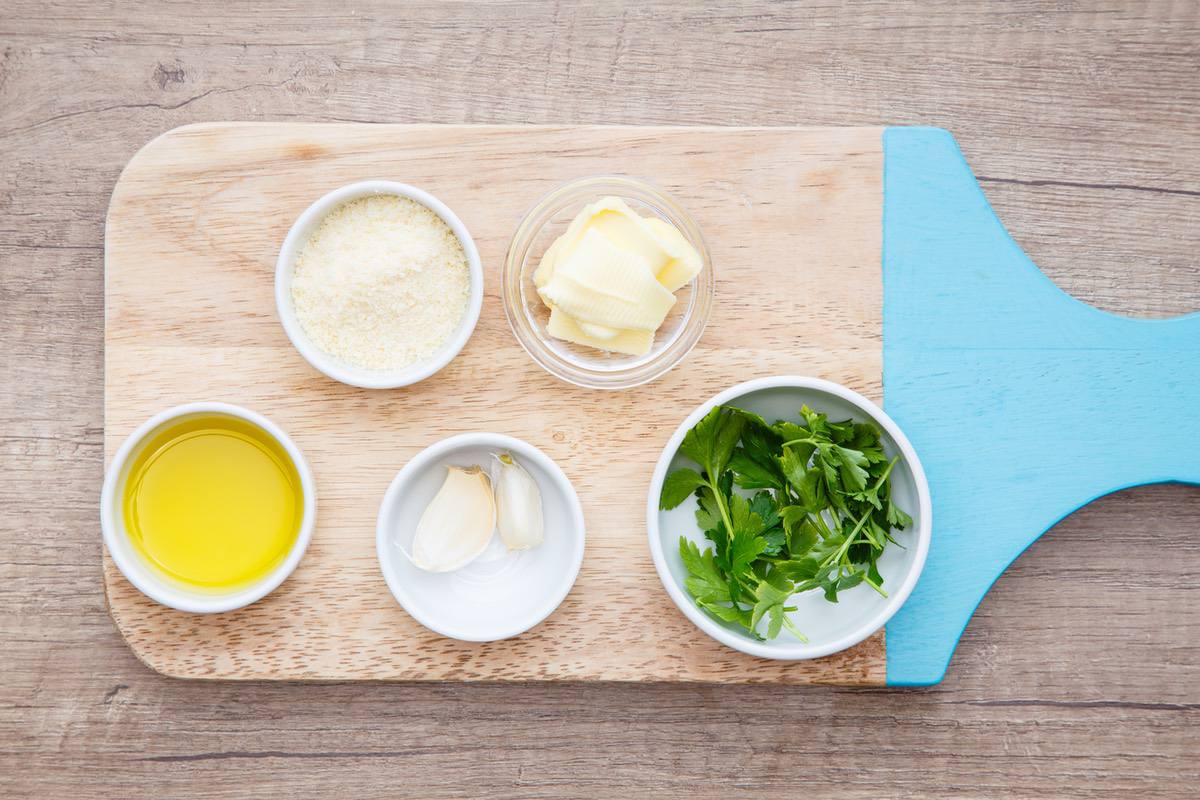 Take the topping mix out of the heat and then brush each piece of flatbread with it before sprinkling grated Parmesan cheese over top of the flatbread as well. It should smell amazing in your kitchen at this point! Return the flatbread to the oven, baking them for one final minute.
You'll want to serve this keto flatbread warm along with… well, just about anything you want to serve it with. It literally does go with just about anything so go ahead and serve it along with any of your other favorite keto foods!
Why Isn't My Flatbread Rising?
Some of you are chuckling a bit at this question because it sounds a little self-explanatory, but I've had a few friends ask me how to get their flatbread to rise just a tiny bit because it doesn't look the way it's supposed to. I find that some people tend to confuse flatbread with other types of bread that look similar but are slightly thicker and fluffier. Flatbread is truly, well, flat. So folks, if you're worried about why your flatbread isn't rising, relax and breathe a sigh of relief – it isn't supposed to!
Do I Need Yeast to Make Flatbread?
Another incredibly common misconception is that you need to use yeast in order to make any kind of homemade bread. This is totally false and this very recipe is 100% proof of that. Not only can you make a bread dough without yeast, but thanks to the ingredients used, it's a deliciously cheesy bread dough at that.
So no, you do not need to use yeast to make flatbread.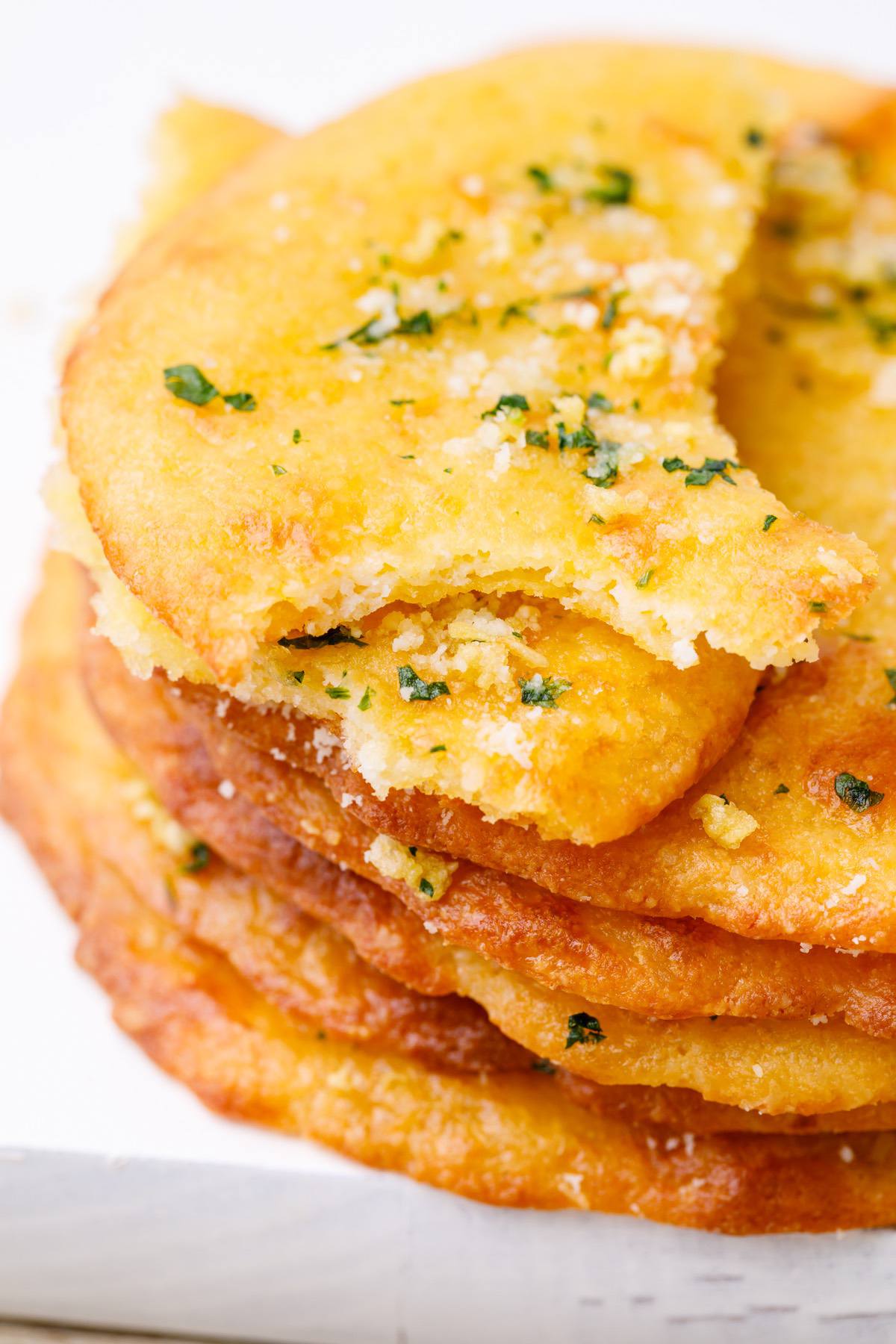 Can I Use Flatbread for Pizza?
Yes, you can definitely use flatbread for the dough for all of your favorite keto pizza recipes. As a matter of fact, nine out of ten times that I make pizza these days, I make it with flatbread dough as a quick light snack.
What's the Best Way to Freeze Flatbread Dough?
I mentioned how I typically make my flatbread dough in advance by preparing it the evening before and then refrigerating it overnight. If you would rather freeze your dough for future use, you can definitely do that as well.
The best method for freezing flatbread dough is to loosely wrap it with plastic wrap before placing it inside of a freezer friendly bag. You can freeze the dough like this for up to one month.
(You may also like: Chewy Keto Garlic Breadsticks)
Print Recipe
Low Carb Garlic Keto Flatbread (Good with Everything!)
Author: Bree - KetoPots.com
Prep Time:

15 minutes

Cook Time:

20 minutes

Total Time:

35 minutes

Yield:

8

1

x
FREE KETO RECIPES + 5-INGREDIENT KETO COOKBOOK

Make sure to sign up for free to get instant access to the 5-Ingredient Keto Cookbook, which includes my favorite 20+ keto recipes of all-time, all under 5 ingredients.
Scale
For the flatbread: 
2 cups

shredded low moisture mozzarella

2 tbsp

cream cheese 

2

eggs 

½ cup

almond flour

1 tsp

baking powder

1 tbsp

grated parmesan 

salt to taste 
For the topping:
2

garlic cloves, minced

1 tbsp

butter

1 tbsp

olive oil

1 tbsp

chopped fresh parsley 

1 tbsp

grated parmesan cheese
To make the flatbreads, add the mozzarella cheese and cream cheese to a microwave safe bowl and microwave for 1 minute or until melted.

Beat the eggs in another bowl. 

Add the almond flour, baking powder, grated parmesan and salt to taste and mix to combine. 

Add the melted mozzarella mixture and mix until well combined. 

Cover with plastic wrap and refrigerate for minimum 4 hours or overnight. 

Preheat oven to 350ºF.

Line a baking sheet with parchment paper. 

Divide the dough into 8 pieces. 

Roll each piece into a ball. 

Place each ball between 2 pieces of parchment paper and flatten into flatbread. 

Place them on the prepared baking sheet. 

Bake in preheated oven for 15-17 minutes or until golden. 

To make the topping, add the olive oil, butter and garlic to a small saucepan and cook over medium low heat until butter is melted and garlic is lightly browned.

Remove from the heat. 

Brush the flatbreads with the topping, sprinkle with parmesan cheese and return to the oven. 

Bake for one more minute. 

Serve warm.
More Easy Low Carb Keto Bread Recipes: