Keto Bread
Homemade Almond Flour Keto English Muffins (Easy Recipe)
One of the things I remember most about my late grandfather was how much he loved to have english muffins for breakfast. He would always have them toasted and buttered with a hot cup of black coffee. Because of him, I'm especially fond of this recipe for making a quick and easy homemade almond flour keto english muffin. It's a microwavable recipe (you'll be making your muffin in a single ramekin) that can be ready to go, start to finish, in under five minutes. It's the perfect grab and go breakfast option and is the easiest way to whip up some keto muffins in a pinch.

The Easiest Keto English Muffin Recipe Ever
There are actually quite a few different ways that you can make keto friendly english muffins. To name a few, here are a few different ways to make your own english muffins. All five of these recipes come highly recommended: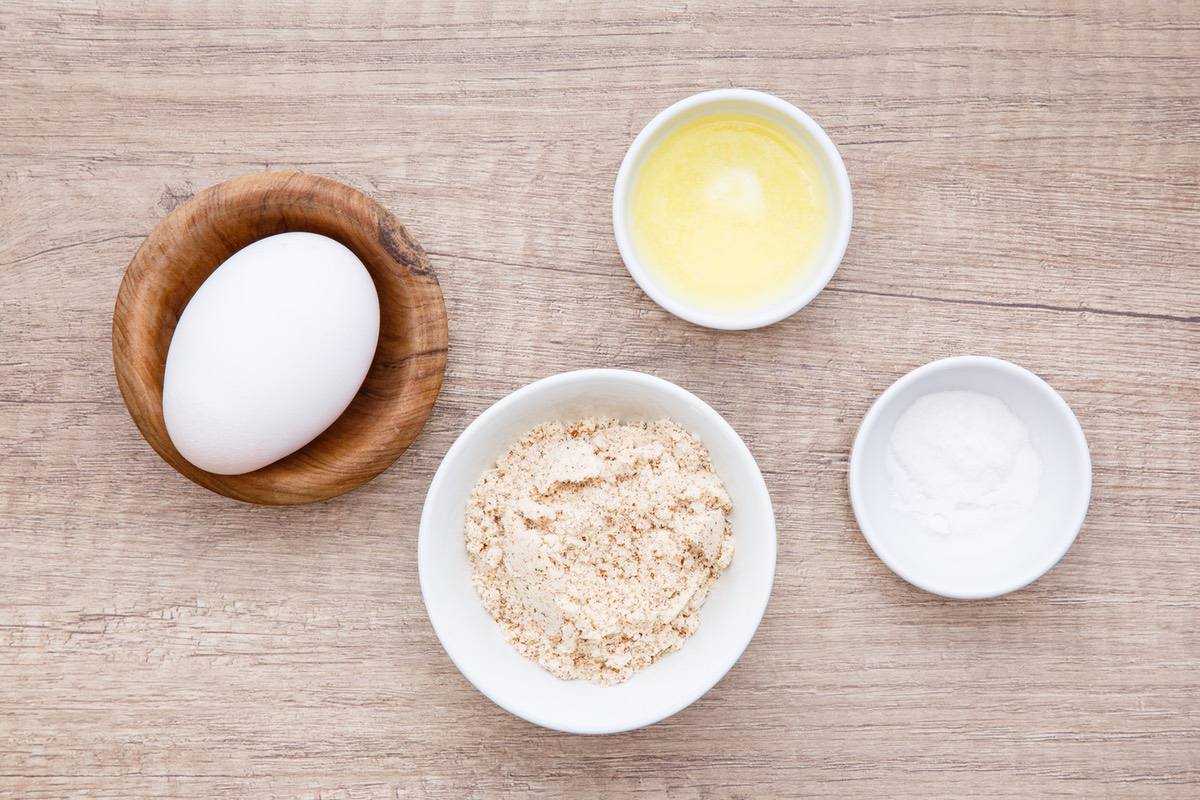 The recipe I'm going to be sharing with you all today is arguably the easiest and quickest way to make a keto english muffin. Microwavable keto recipes like this one are an excellent way to beat hunger cravings because it's almost like fast food. You literally only need a handful of ingredients and a few minutes of your time to whip up an incredibly tasty english muffin from scratch.
To start, you'll need to grab a ramekin and combine one tablespoon of butter and egg. You can then add in the almond flour, baking powder, and a bit of salt.
Whisk everything together until smooth and then go ahead and microwave the ramekin on high for approximately 90 seconds. That should be long enough for your muffin to be firm to the touch and for a toothpick inserted into the center to come out clean.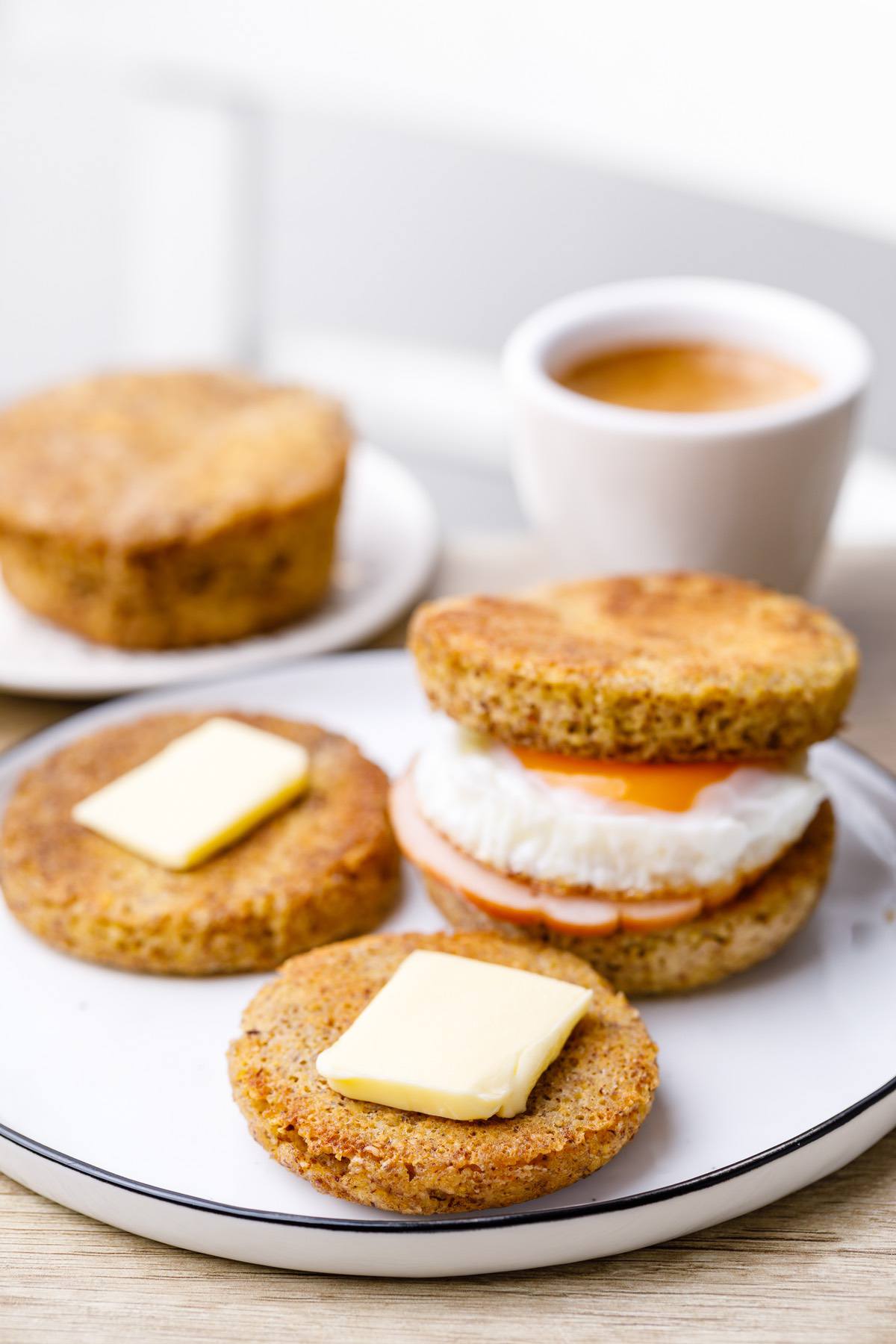 Can I Toast Keto English Muffins?
Yes, you can absolutely toast this keto english muffin!
If you would like to do so, simply grab a bit of extra unsalted butter and heat it over medium heat in a cast iron skillet. Add your two muffin slices and toast them until they're golden brown. It typically takes about 30 seconds per side.
After toasting the slices, you can serve them with butter or your favorite keto friendly topping.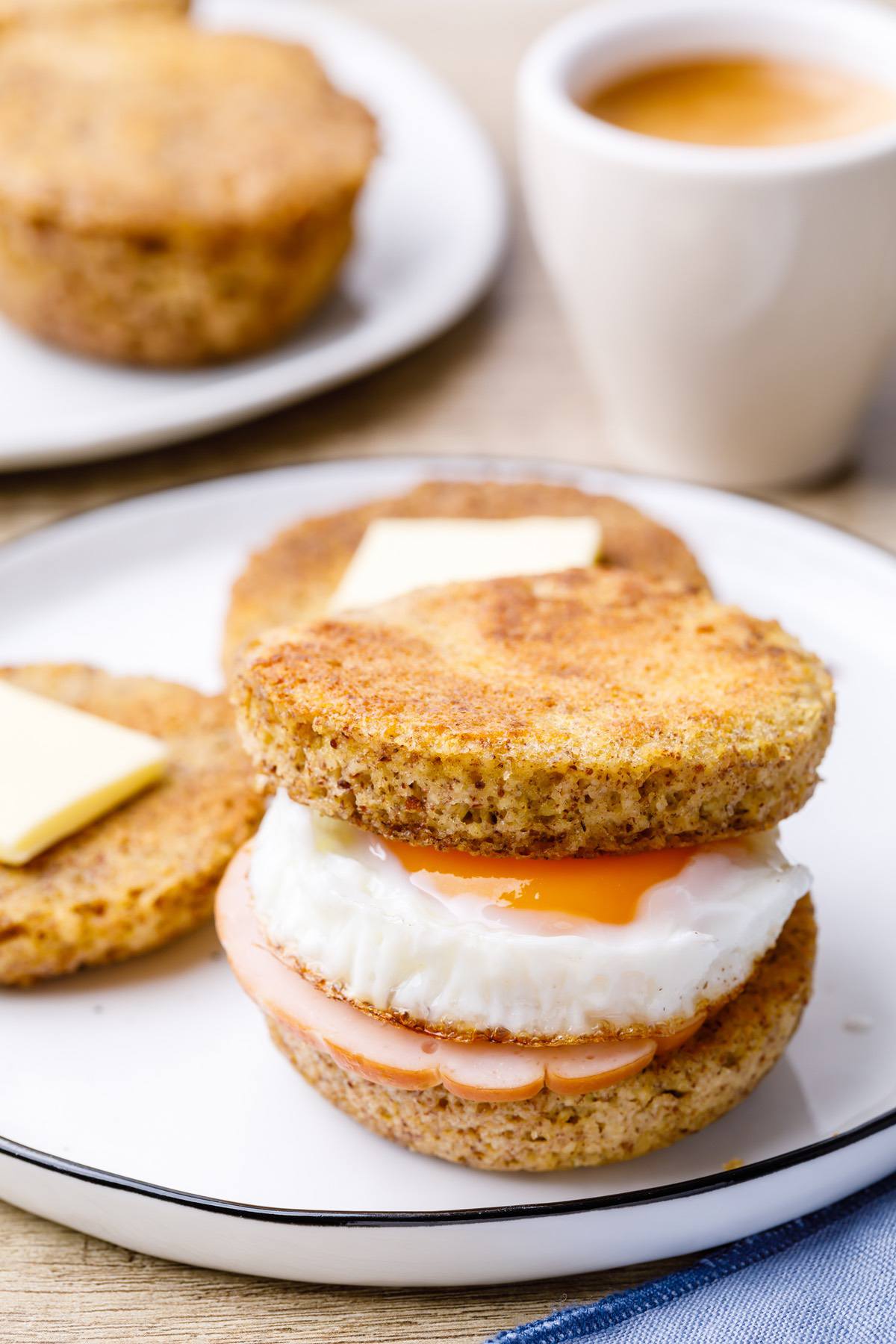 How to Store English Muffins in the Refrigerator and/or Freezer
You'll be happy to know that keto english muffins can be stored in either the fridge or the freezer.
If you want to store your muffins in the fridge, simply place them in an airtight container. You can expect them to stay fresh for five days when stored like this. You can also keep them at room temperature (in an airtight container) for the same amount of time.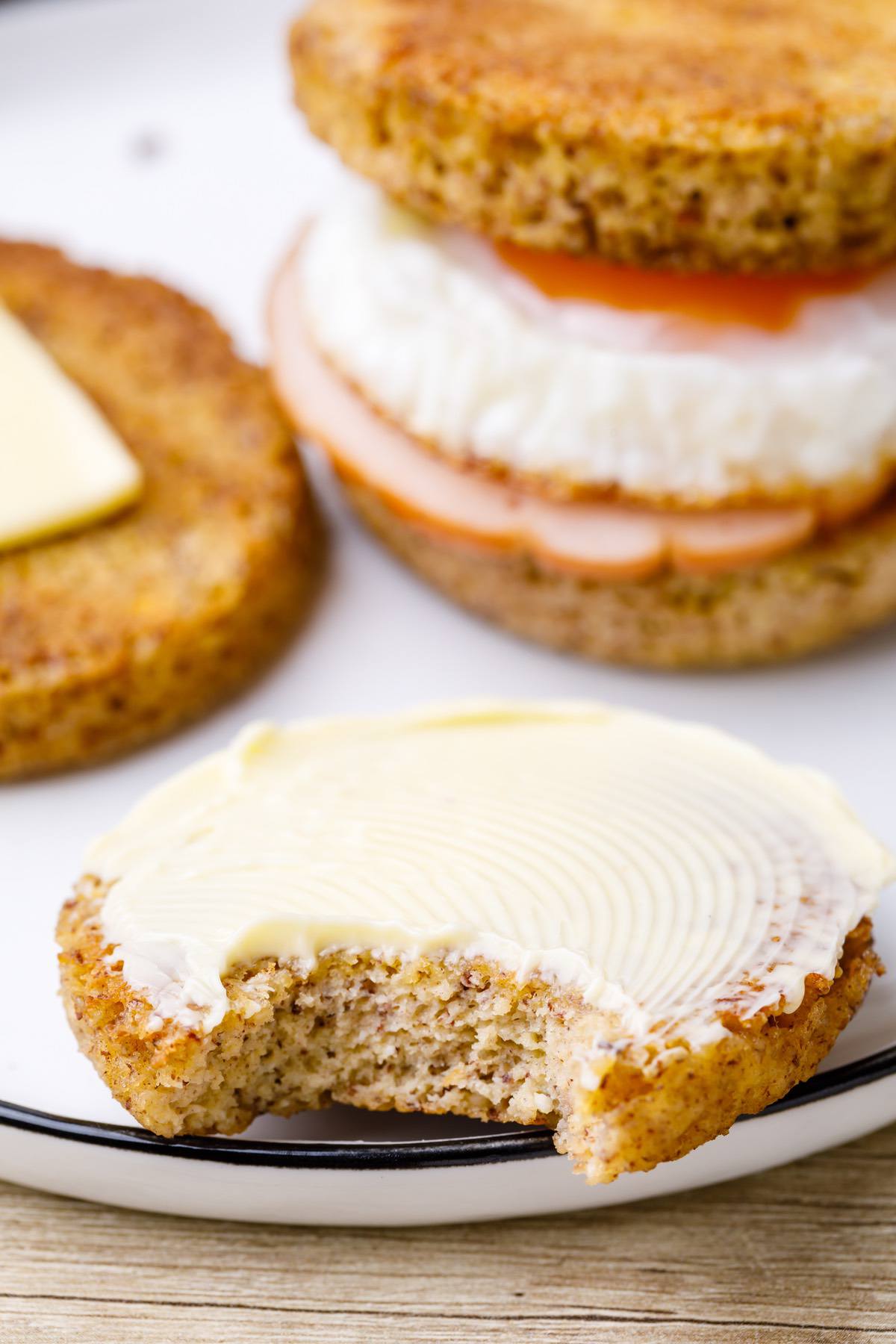 On the other hand, if you would rather freeze the muffins, you'll first want to individually wrap each muffin in plastic wrap before placing them all in a freezer-safe bag. When frozen like this, english muffins can last for up to three months.
When you're ready to take them out, I would also recommend leaving them to thaw out on their own overnight before you toast them.
Can English Muffins Be Microwaved?
While it's definitely possible to heat up your english muffins in the microwave, I really can't recommend going with that approach. Especially if you're reheating english muffins made with recipes like this one!
With that being said, if you're dead set on reheating your muffin in the microwave, you'll first want to put the muffin in a shallow dish. Microwave for between 60-90 seconds – be careful not to overcook it or else your muffin will end up dry.
What Do English Muffins Go With?
Whenever I make english muffins, I usually keep things pretty just basic and eat them toasted with butter. You can of course feel free to use your favorite keto friendly toppings like nut butters, or deli meats to change things up!
(You may also like: 90 Second Keto Bread)
Print Recipe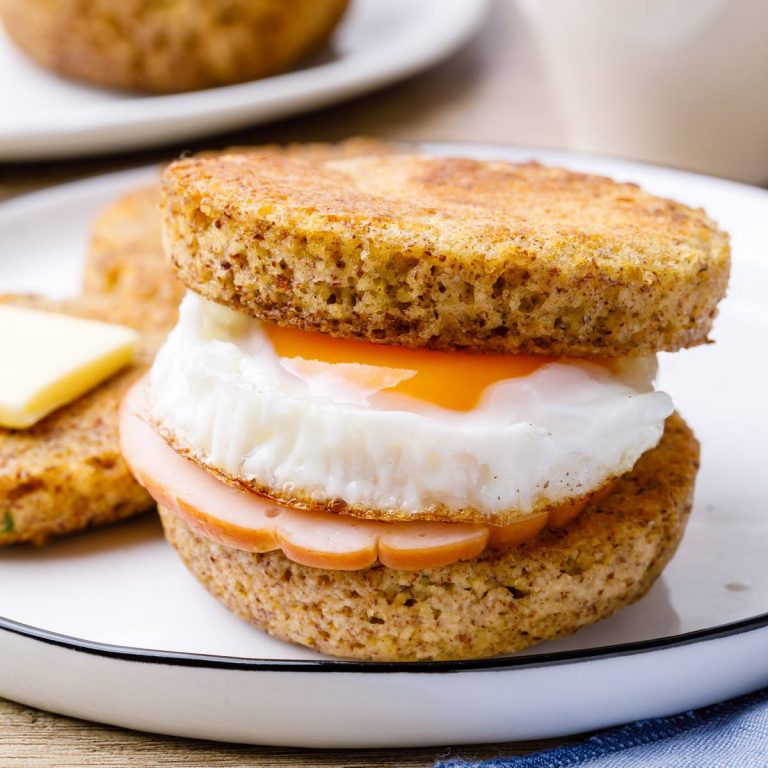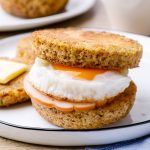 Homemade Almond Flour Keto English Muffins (Easy Recipe)
Author: Bree - KetoPots.com
Prep Time:

1 minute

Cook Time:

3 minutes

Total Time:

4 minutes

Yield:

1

1

x
Scale
1 tbsp

melted unsalted butter plus extra for toasting muffins

1

large egg

pinch of salt

4 ½ tbsp

almond flour

½ tsp

baking powder
In a ramekin combine the butter and egg. 

Add the almond flour, baking powder and pinch of salt. 

Whisk until smooth. 

Microwave on high for 90 seconds or until just firm to touch and toothpick inserted into the center comes out clean.  

Remove from the ramekin. 

Cut the muffin crosswise into two slices. 

To toast, heat the butter in a cast iron skillet over medium heat.

Add the slices and toast until golden-brown, about 30 seconds per side.

Serve with butter or your favorite toppings.
More Easy Keto Bread Recipes:
FREE KETO RECIPES + 5-INGREDIENT KETO COOKBOOK

Make sure to sign up for free to get instant access to the 5-Ingredient Keto Cookbook, which includes my favorite 20+ keto recipes of all-time, all under 5 ingredients.