Keto Dinner
OMG-worthy Keto Egg Roll in a Bowl
Growing up, my idea of comfort food included pizza, ice cream, fries and milkshakes. Now that I'm older (and hopefully wiser), I'm come to realize that soul food can be full of nutrients, too. It all boils down to using ingredients that you actually enjoy eating, within reason. That's exactly what you'll be getting with this keto egg roll in a bowl. It's reminiscent of Asian take-out, but made in a more mindful way.
Egg Roll in a Bowl – Skip the Wrap!
Same as how burritos now come in burrito bowls, you can now make egg rolls without the wrapper. Some of my favorite keto blogs have even taken it steps further and made egg roll recipes into soup, noodle bowls and other flavored bowls:
My version doesn't have noodles, just plenty of shredded vegetables to help add bulk to this meal. I find that the shredded vegetables really soak up the seasonings and flavors, which is why I prefer vegetables to noodles. You can of course, add noodles, too.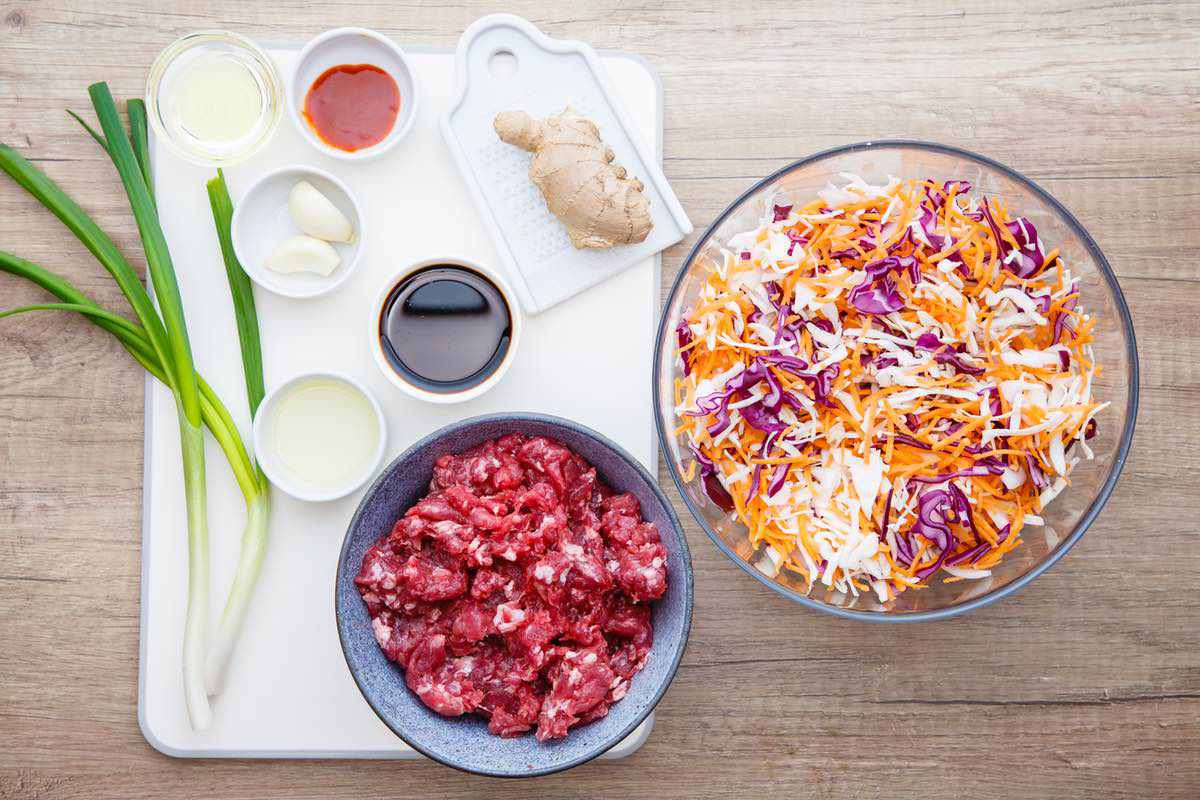 In a small bowl, you'll combine the soy sauce and sriracha. For this recipe, 2 teaspoons is fine if you just want a bit of spice. However if you really want some heat, add half a chopped chili with the seeds removed, or add another teaspoon of sriracha.
Next, in a large skillet, cook the beef in the avocado oil. Be sure not to overcook it because you'll continue cooking it with the garlic, ginger, and the coleslaw mix. Once the vegetables are tender, take it off the heat and stir in the sesame oil and green onions.
The key to this is to only cook the beef until it's no longer pink before adding the shredded vegetables. This way, the meat stays tender and the whole dish is ready in just a few minutes. This is an excellent option for quick and easy lunches or dinners with the family if you don't have a lot of time to prepare.
Egg Rolls vs. Spring Rolls – What's the Difference?
Fresh spring rolls are wrapped in thin, translucent flour wrappers, while egg rolls have thicker wrappers and are deep fried. Neither type of wrapper is considered keto, which is why I opted to make a bowl version of the egg roll instead.
Can Egg Rolls Be Frozen?
Egg rolls, whether encased in wrapper or made into a deconstructed bowl such as in this recipe, cannot be frozen because it contains a good amount of vegetables. Certain vegetables such as cabbage or a coleslaw mix have a high water content, so freezing and then defrosting afterwards will completely change the texture of the vegetables.
Even refrigerating will affect the texture of the vegetables because it will soak up the moisture and turn mushy, which is not how this recipe was intended. If you must make this keto egg roll way before serving, I recommend cooking the beef until it's no longer pink and storing it in one container, with the shredded vegetables in another. This way, the ingredients are already prepared and ready for quick cooking.
Can Egg Rolls Be Baked?
I know some people have attempted to bake their egg rolls rather than deep-fry them, but personally, I much prefer the deep-fried version. However, since I can't have the deep-fried egg roll with the wrapper on keto, I really recommend stir-frying because you still get a similar flavor and effect but with significantly less fat content and no added carbs compared to the wrapped, deep-fried version.
Also, for this recipe, I make use of just 1 tablespoon of avocado oil, which further boosts the nutritional content of this recipe through its heart-healthy monounsaturated fat content.
Sweet and Sour Sauce for Keto Egg Roll in a Bowl
I love serving this keto egg roll in a bowl with a side sauce just in case anyone looks for those Asian flavors together. I love this keto sweet and sour sauce by My Keto Kitchen and it's absolutely fantastic with this recipe. You can add the sweet and sour sauce while cooking or use it as a dipping sauce.
Print Recipe
OMG-worthy Keto Egg Roll in a Bowl
Author: Bree - KetoPots.com
Prep Time:

10 minutes

Cook Time:

15 minutes

Total Time:

25 minutes

Yield:

4

1

x
Scale
1 lb ground beef
1 tbsp avocado oil 
2 garlic cloves, minced 
2 tbsp grated ginger or ½ tsp ground ginger
16 oz coleslaw mix or shredded cabbage
¼ cup low-sodium soy sauce 
2 tsp sriracha
1 tbsp sesame oil
2 tbsp sliced green onions
In a small bowl, combine the soy sauce and sriracha. 

In a large skillet heat the avocado oil over high heat. 

Add the beef and cook until no longer pink. 

Add the garlic and ginger and cook for 30 seconds. 

Add the coleslaw mix and soy sauce mixture and toss to combine. 

Cook until the veggies are tender. 

Remove from the heat. 

Stir in the sesame oil. 

Sprinkle with green onions and serve.
More Easy Keto Dinner Ideas:
FREE KETO RECIPES + 5-INGREDIENT KETO COOKBOOK

Make sure to sign up for free to get instant access to the 5-Ingredient Keto Cookbook, which includes my favorite 20+ keto recipes of all-time, all under 5 ingredients.