Keto Recipes
Sausage and Cheese Keto Egg Muffins (These Reheat Really Well)
You'll never want to stop by the McDonalds drive-thru for an Egg McMuffin again after you get a taste of these sausage and cheese keto egg muffins. Not only are they a much healthier option to enjoy for breakfast, but they only taste about 100 times better as well. They're made with ground turkey sausage along with some tasty low carb veggies, and they're oh so cheesy, providing you with a keto-friendly breakfast option that really is the total package. You'll be getting plenty of protein and high quality, healthy fats with each one of these keto egg muffins. So go ahead, feel free to grab more than one.

McWho? Egg Muffins That Are a Real Winning Breakfast Option
After lightly greasing a dozen muffin cups, you can get ready to make your egg muffins by heating up a bit of olive oil over a medium heat. This already gets these breakfast muffins off to a head start over over the Egg McMuffins you'd get from McDonalds,which are cooked in cheaply acquired vegetable and seed oils. While saturated fat was demonized for the longest time, it's only now that researchers are beginning to put together the pieces and see the role that polyunsaturated fats and excess amounts of omega-6 play in causing diseases like cancer and heart disease.
Once your olive oil has been heated up, go ahead and add the turkey sausage and cook it until it's nice and brown. Once there's no longer any visible pink, turn your attention to dividing your cooked sausage amongst the 12 muffin cups, along with half of the shredded cheddar cheese and your diced bell pepper. I love the addition of the red bell pepper in this recipe, as it helps to add a few extra vitamins, minerals, and antioxidants into the mix. In fact, red peppers have been found to possess higher antioxidant activity levels than other types, such as green or yellow bell peppers. (1)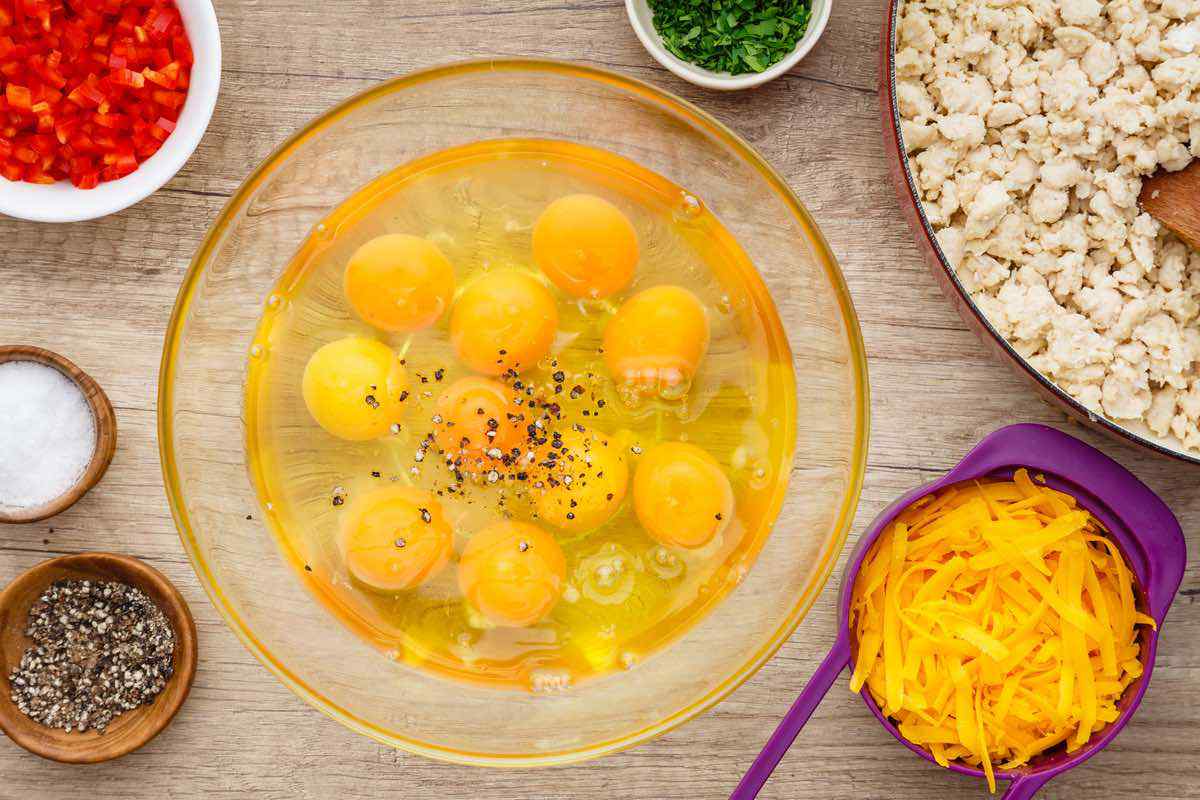 To top your muffins off, you'll need to prepare an egg mixture consisting of 10 eggs and your chopped cilantro. Along with the red bell pepper, adding cilantro into the mix is a great way to squeeze more antioxidants into your morning meal. It may even help you to look younger for longer as one study found that extract from cilantro leaves helps to protect against the aging of skin caused by UVB exposure. (2)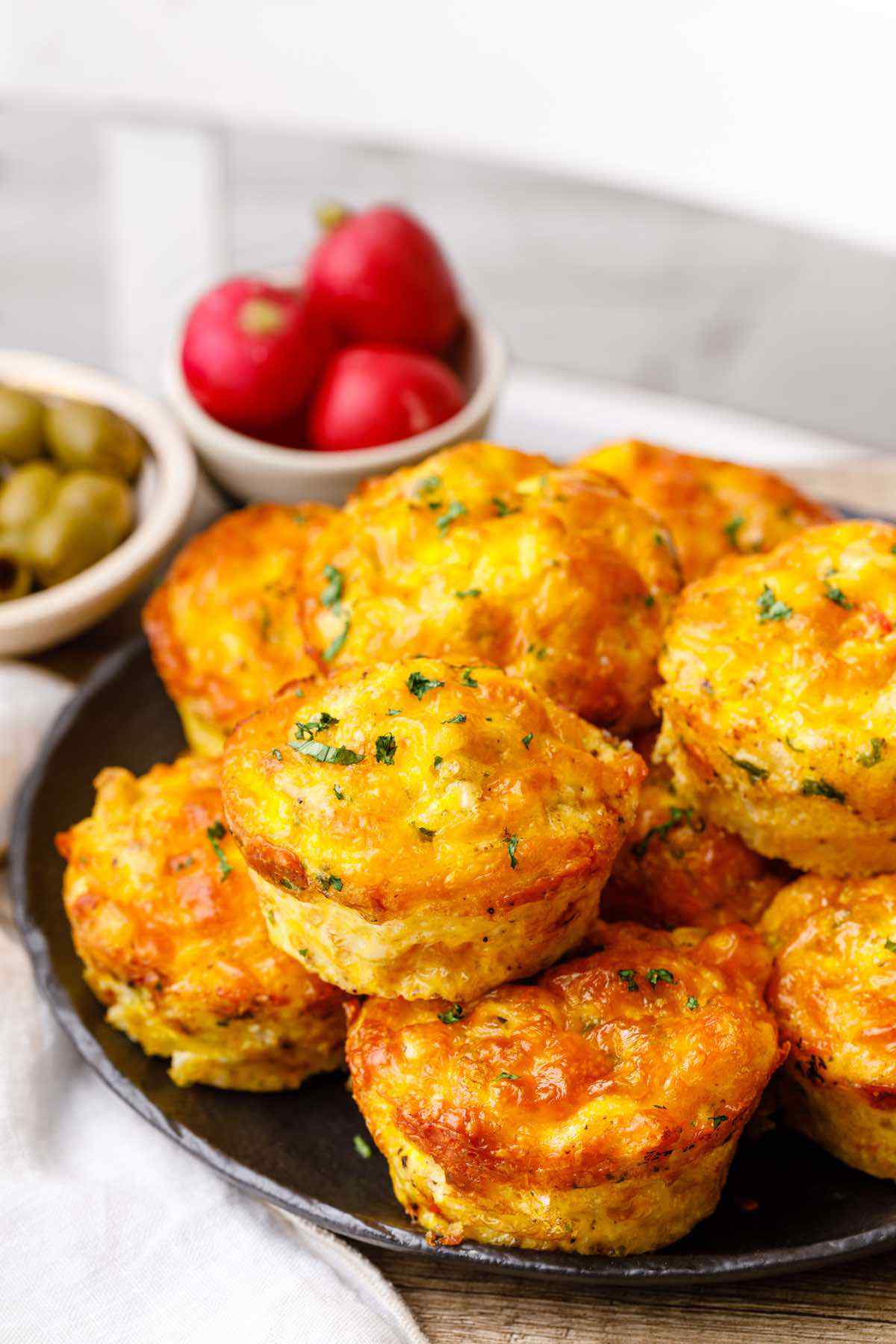 After combining your eggs and cilantro, season the mixture with a bit of salt and pepper to taste and then pour it over top of your sausage mixture. Finally, sprinkle the remaining half of your shredded cheddar cheese over top of them and then bake the muffins for about 25 minutes. As a final quick tip for you guys. Not only are these egg muffins incredibly good when enjoyed warm out of the oven, but they're also absolutely fantastic when frozen and then reheated for later.
More Keto Muffin Recipes:
Moist Cream Cheese Keto Blueberry Muffins (Mom Recipe Favorite)
Print Recipe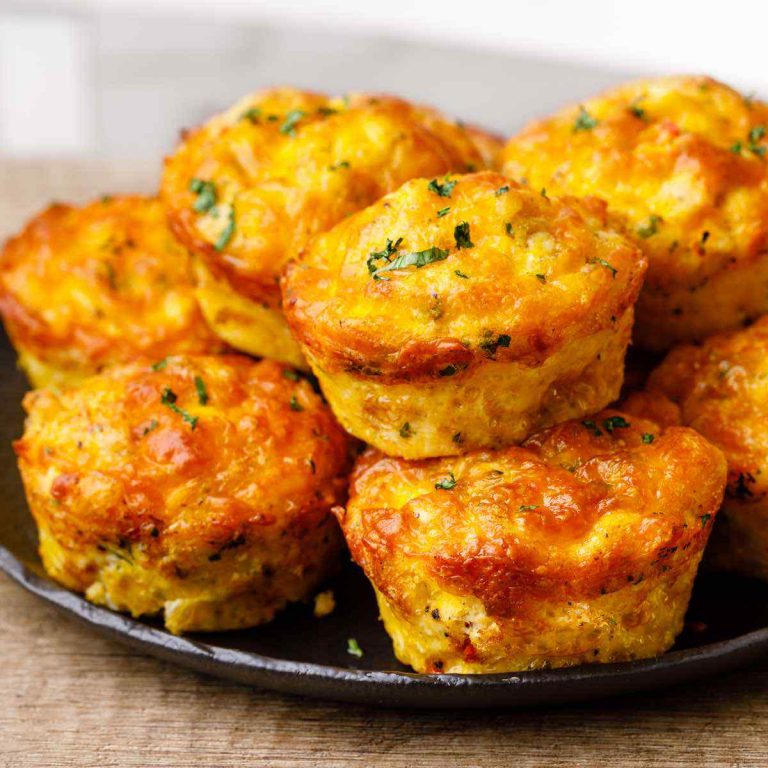 Sausage and Cheese Keto Egg Muffins
Author: Bree - KetoPots.com
Prep Time:

15 minutes

Cook Time:

25 minutes

Total Time:

40 minutes

Yield:

1

2

1

x
FREE KETO RECIPES + 5-INGREDIENT KETO COOKBOOK

Make sure to sign up for free to get instant access to the 5-Ingredient Keto Cookbook, which includes my favorite 20+ keto recipes of all-time, all under 5 ingredients.
Scale
10 eggs
1 cup shredded cheddar cheese
2 tbsp chopped fresh cilantro
½ red bell pepper, diced
1 pound ground turkey sausage
1 tbsp olive oil
salt, black pepper to taste
Preheat oven to 350°F.
Lightly grease 12 muffin cups. Set aside.
Heat the olive oil over medium heat.
Add the turkey sausage and cook until no pink remains.
Divide the red pepper, half of shredded cheese and cooked sausage over 12 wells.
In a large bowl combine the eggs and cilantro.
Season with salt and black pepper to taste.
Pour the egg mixture over the sausage in each well.
Sprinkle with remaining shredded cheese.
Bake 22-25 minutes or until set.
Remove from cups and serve warm or let cool completely and freeze.