Keto Recipes
New York Style No Bake Keto Cheesecake (Easy and Low Carb)
The great city of New York is famous for many different things. It's known for the Statue of Liberty, Central Park, Times Square, its famous pizza, and for making one mean cheesecake, to name just a few things. This New York style no bake keto cheesecake manages to take the great taste of a NY cheesecake and turn it into a keto-friendly dessert. It offers a crust made with almonds that provides a solid amount of healthy fats, and a tasty cream cheese and gelatin filling. To top it all off, this recipe will also show you how to make an unreal strawberry sauce with only three simple ingredients as well. If you've been daydreaming about a far off trip to New York, this cheesecake is the next best thing!
That Great New York Flavor
We'll be kicking things off by preparing the almond crust used for this cheesecake. Just add your almonds, pure vanilla extract, a low carb sweetener like Stevia, and some melted butter into a food processor and process them with the S blade until it forms a sticky mixture. Using almonds is one of my favorite ways to make a keto cheesecake crust — they taste great and they're an excellent source of monounsaturated fatty acids.
Don't underestimate how useful the melted butter is as well though, especially if you're using grass-fed butter. Butter made from cows on a grass-fed diet has been found to have higher concentrations of both omega-3 fatty acids and vitamins (1), although regular butter will still add a solid amount of saturated fat to this recipe. Still, whenever possible, I would strongly recommend that you opt for the grass-fed option.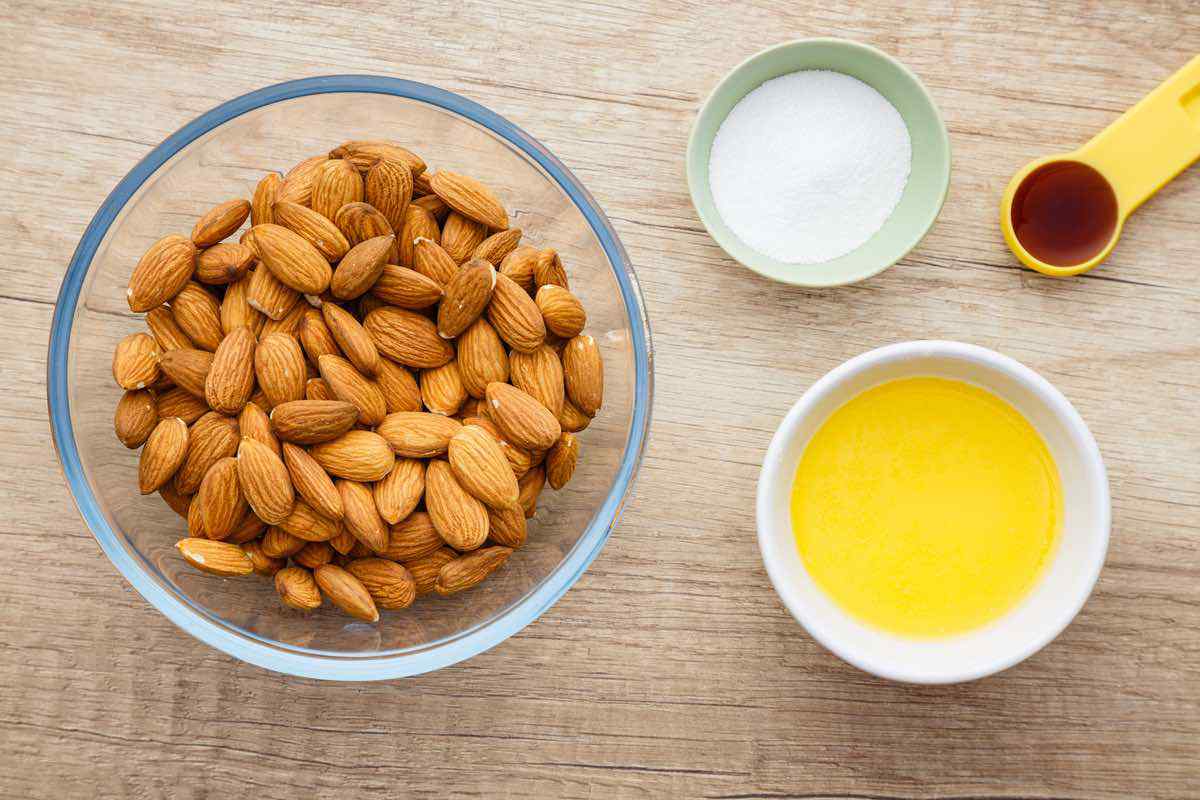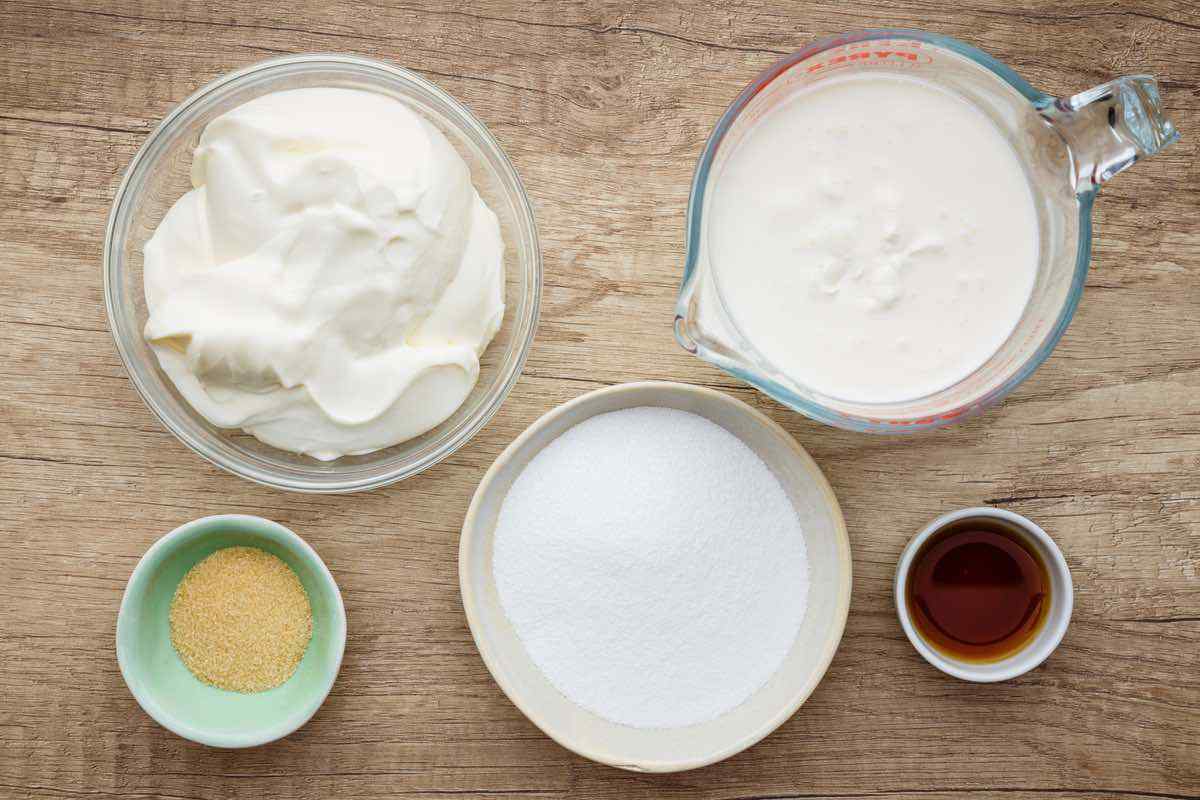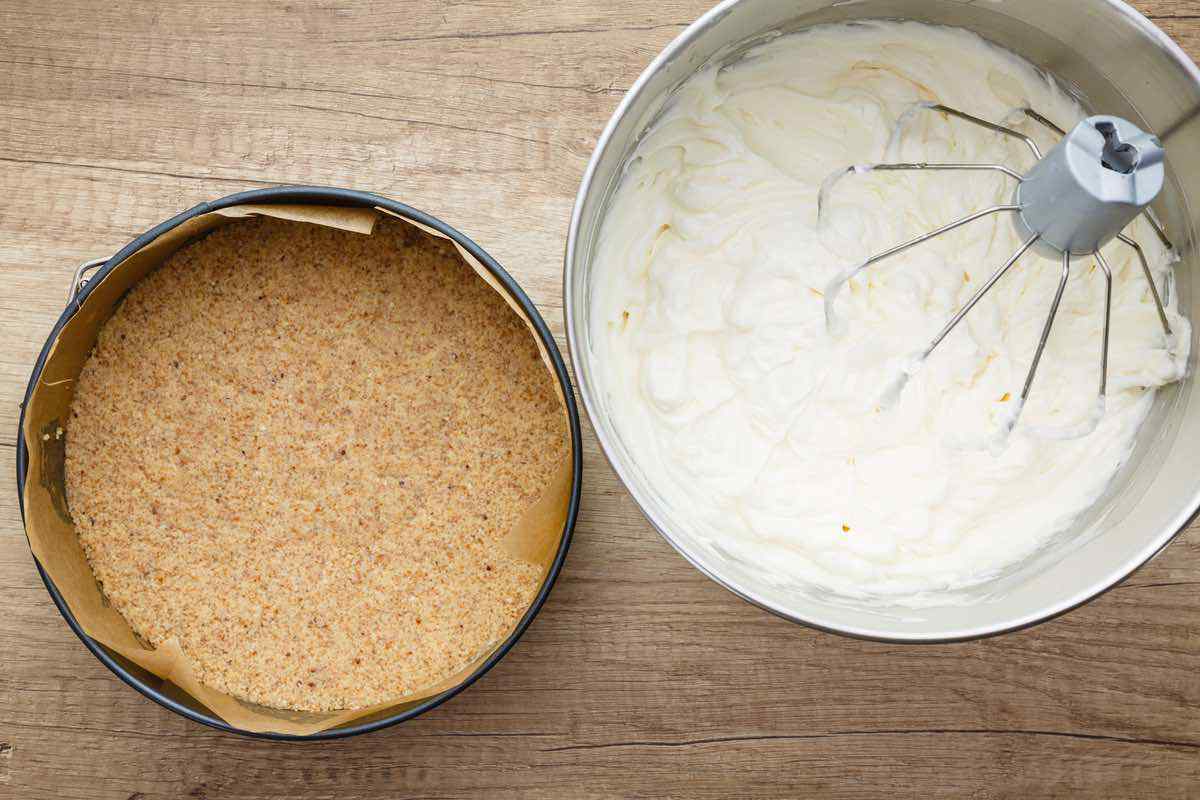 For the cream cheese filling, you'll first be sprinkling your gelatin over cold water in a microwave-safe bowl. The reason we're using gelatin is that since we won't be baking this cheesecake, we needed a creative way to give the cheesecake its famous texture. Gelatin works perfectly for that. After stirring the gelatin in properly, let it sit for five minutes before microwaving the mixture for about 20 seconds.
Meanwhile, you can prepare the rest of the cheesecake filling by combining your cream cheese with some vanilla extract and Stevia. Mix these ingredients until they form a rich and creamy mixture, and then beat in the heavy cream. Once soft peaks begin to form, you can gradually pour in your gelatin and water mix. Continue to beat everything together until the peaks firm up, and then pour the filling over your almond crust.
If you'd like to make the optional strawberry sauce, you'll just need three simple ingredients — strawberries, water, and some more Stevia. Mix them all together in a saucepan and then bring them to a boil, stirring the mix frequently and mashing the strawberries. Finally, let the sauce simmer for about 20 minutes until it thickens. I like to make this sauce recipe using strawberries because they're one of my favorite low carb fruits, offering an abundance of nutrients and antioxidants that have been proven to block the production of harmful free radicals. (2) Of course, you could just as easily make a sauce with raspberries or blueberries to pair with this cheesecake recipe if you'd like.
More Keto Cheesecake Recipes:
Creamy Keto Cheesecake Fluff (Quick and Easy Keto Dessert)
No Bake Keto Pumpkin Cheesecake in a Jar
Print Recipe
Low Carb No Bake Keto Cheesecake
Author:
Prep Time:

30 minutes

Cook Time:

15 minutes

Total Time:

45 minutes

Yield:

16

1

x
FREE KETO RECIPES + 5-INGREDIENT KETO COOKBOOK

Make sure to sign up for free to get instant access to the 5-Ingredient Keto Cookbook, which includes my favorite 20+ keto recipes of all-time, all under 5 ingredients.
Scale
For the crust:
1 ½ cup almonds
2 oz butter, melted
4 tbsp granulated Stevia or other low carb granulated sweetener
1 tsp vanilla extract
For the filling:
1 tbsp powdered gelatin
¼ cup cold water
16 oz cream cheese, at room temperature
1 cup granulated Stevia or other low carb granulated sweetener
2 tsp vanilla extract
2 cup cold heavy cream
For the strawberry sauce (optional):
1 cup frozen strawberries
3 tbsp granulated Stevia or other low carb granulated sweetener
2 tbsp water
For decoration (optional):
sliced strawberries
Lightly grease a 9″ springform pan and line with parchment paper. Set aside.
To make the crust, add the almonds, sweetener, melted butter and vanilla extract in a food processor and process on the S blade until a crumbly, slightly sticky mixture has formed.
Press the mixture firmly and evenly against the bottom of the cake pan.
Refrigerate for 30 minutes.
To make the filling, sprinkle the gelatin over the cold water in a microwave-safe bowl.
Stir until the gelatin is fully incorporated and let sit for about 5 minutes.
Microwave on high for 20 seconds or until the gelatin is dissolved and liquid. Set aside.
Place the cream cheese, vanilla and sweetener in the bowl of a stand mixer fitted with a paddle attachment.
Mix on medium-low speed until the mixture is creamy.
Scrape down the beater and the sides of the bowl with a spatula then switch to the whisk attachment.
Pour in the heavy cream.
Mix at low speed to combine, then increase to high and whip until soft peaks form.
Reduce the speed to medium and slowly drizzle the warm gelatin into the bowl.
Increase the mixer speed to high and beat until the mixture forms firm peaks.
Pour the filing over the cake base and smooth with spatula.
Refrigerate for minimum 6 hours or overnight.
To make the sauce, place the strawberries, sweetener and water in a saucepan and mix to combine.
Bring the strawberry mixture to a rolling boil, stirring frequently with a wooden spoon and mashing the strawberries slightly.
Turn down the heat to medium-low and simmer for 15-20 minutes or until thick.
Remove from the heat and set aside.
Allow to cool completely.
Refrigerate until ready to use.
To serve, take the cheesecake out of the refrigerator.
Unmold the cake, drizzle with strawberry sauce and top with sliced strawberries (if using).
Slice and serve.