Keto Recipes
Loaded Keto Deviled Eggs You'll Want to Eat By the Dozen
I don't know what it is, but I've been snacking on eggs like crazy as of late. Everytime that I start to feel a bit hungry, I swear I'm in the kitchen whipping up a tasty egg recipe. Hard boiled eggs, omelettes, scrambled eggs… I've been loving them all. But perhaps my favorite way to enjoy eggs is by making the recipe that I'll be sharing with you guys today. It's a quick and easy recipe that will show you how to make loaded keto deviled eggs that you'll want to eat by the dozen.

Eggs, Bacon, and Cheddar Cheese… Oh My!
Making these deviled eggs couldn't be easier. As a matter of fact, you can have them ready to go in only five minutes flat, from start to finish.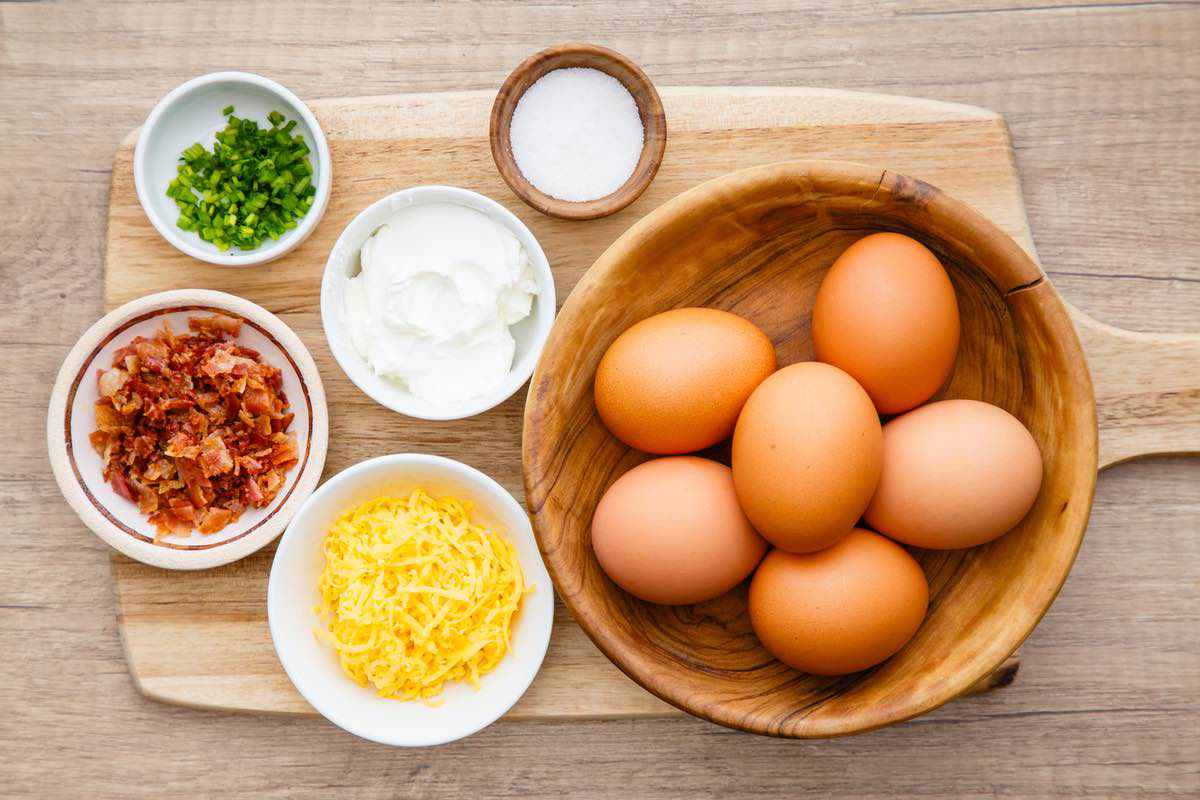 You'll first need to remove the yolks from your pre-prepared boiled eggs, and then using a fork, mash them in a bowl. With that out of the way, you can add in ¼ cup of sour cream and mix until well combined.
Next, add in your crumbled bacon, ¼ cup of shredded cheddar cheese, and one tablespoon of chopped chives. Mix everything together and then go ahead and season it with a bit of salt and pepper.
You'll then want to use either a spoon or a piping bag to add the yolk mixture back into your hard boiled egg whites. Sprinkle your extra chopped chives over top of the eggs and bon appetit!
Other Tasty Deviled Egg Recipes You'll Love
I honestly can't get enough of this recipe. The blend of bacon, cheddar cheese, and chives gets me every single time. That doesn't mean that I don't still love to branch out and experiment a bit when it comes to making keto deviled egg snacks though. With that being said, you guys are definitely going to want to try out these other yummy deviled egg recipes as well:
How Long Do Deviled Eggs Keep in the Fridge?
Whenever I make these keto deviled eggs, they don't last for very long before I devour them all. However, if you'd rather make them ahead of time to enjoy later, you definitely can as well.
You'll want to keep them chilled in the fridge, and sealed in an airtight container of some sort. Also keep in mind that from the time you put the deviled eggs in the fridge, you're going to want to eat them within two days.
Any longer than that and you risk your eggs spoiling, and believe me, the last thing that you want to eat are spoiled deviled eggs!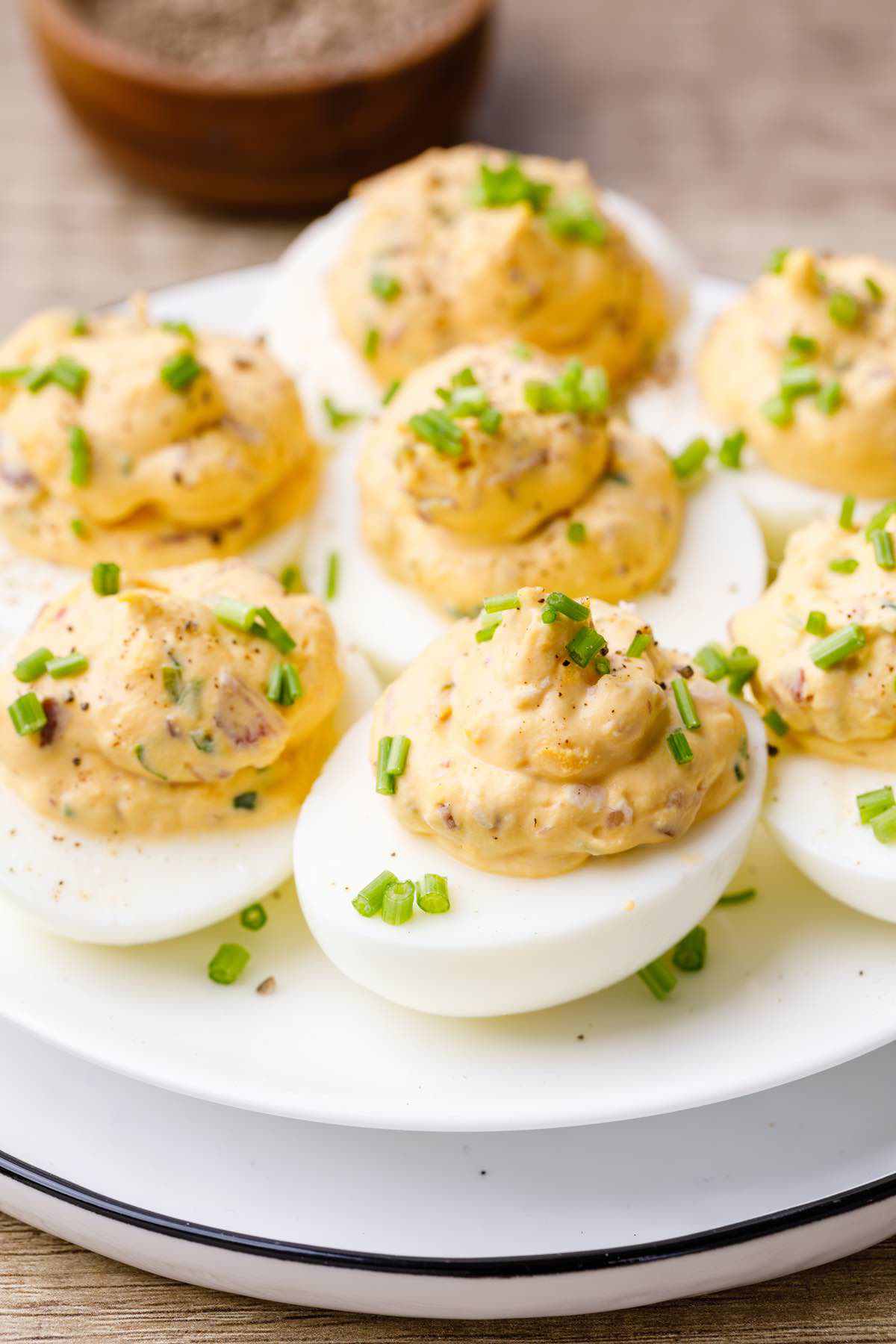 How Do You Keep Deviled Eggs from Sweating?
If your deviled eggs are sweating, the majority of the time condensation and/or humidity is the culprit. It's fairly rare for this to occur but it can definitely happen on occasion. If the sweating is indeed caused by one of these two factors, you can prevent it from happening by not placing your warm eggs in a cold container with a lid after first cooking them. This creates condensation under the lid, which in turn causes your eggs to sweat.
Another possible reason why your eggs are sweating is because the heat from cooking them causes a breakdown of the protein structures found inside the eggs. The way to prevent this from happening is to slow down the cooking process when you're first boiling the eggs. This helps to build stronger protein bonds that won't break as easily.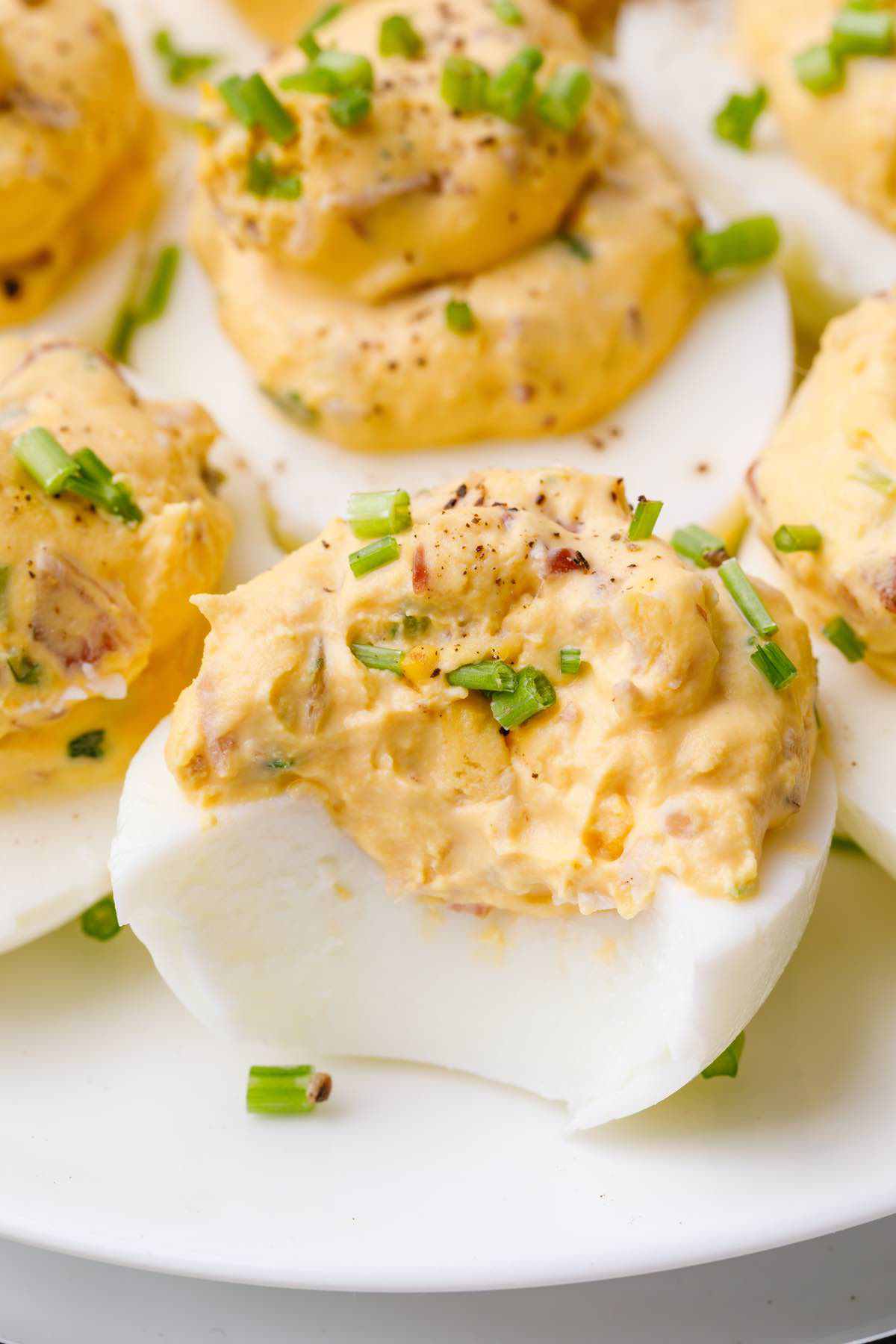 How Do You Fix Runny Deviled Eggs?
Sometimes even when you follow the directions in a recipe right down to the letter, things still don't turn out quite as well as you were hoping. It happens to the best of us. Deviled eggs in particular can end up turning out rather runny from time to time. Thankfully it's quite an easy fix.
The easiest way to remedy this issue is to simply boil a couple of extra eggs and then use the yolk to thicken your runny mixture.
If you don't have any extra eggs on hand, or if you would rather not go through the trouble of boiling more eggs just because your eggs are a bit runny, you can also mix in something like mashed cauliflower florets to thicken the yolks up. Normally I would recommend using mashed potatoes, but since we're trying to keep things 100% keto friendly, using a low carb alternative like mashed cauliflower is the way to go.
Is It Normal for Deviled Eggs to Have a Strong Odor?
That distinctive smell that you notice when making deviled eggs is a byproduct of boiling the eggs first. The smell comes from sulfur in the whites of the eggs. When it reacts with the iron in the yolk, it forms hydrogen sulfide gas, which is the source of the odor that you're noticing.
The good news is that this is mainly only a problem when your eggs are overcooked. The best way to prevent your eggs from smelling bad is to just be mindful of your cooking times when boiling the eggs.
Print Recipe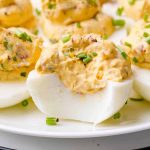 Loaded Keto Deviled Eggs You'll Want to Eat By the Dozen
FREE KETO RECIPES + 5-INGREDIENT KETO COOKBOOK

Make sure to sign up for free to get instant access to the 5-Ingredient Keto Cookbook, which includes my favorite 20+ keto recipes of all-time, all under 5 ingredients.
Scale
6 hard boiled eggs, peeled and halved 
¼ cup sour cream
3 bacon strips,  cooked and crumbled
1 tbsp chopped chives, plus extra for decoration 
¼ cup shredded cheddar cheese 
salt and black pepper to taste
In a bowl mash the yolks with a fork. 

Add the sour cream and mix to combine. 

Add the bacon, cheddar and chives and mix to combine. 

Season to taste with salt and black pepper.  

Using a spoon or piping bag, fill the inside of the egg whites with the yolk mixture. 

Sprinkle with extra chopped chives. 

Serve immediately. 
More Keto Egg Recipes You'll Love: