Keto Recipes
Soul-Satisfying Keto White Chicken Crockpot Chili
As much as I love a good spicy chili made with ground beef from time to time, I also have quite a soft spot for a yummy white chicken chili as well. In fact, I find that white chili's can often be a lot more versatile than other varieties, as you can play with the ingredients a little bit to make them either mild or spicy. And while I quite like white chicken chili, I really LOVE it when it's made in a crockpot. So with that being said, I'm super happy to share this soul-satisfying keto white chicken crockpot chili recipe today. It's made with tasty dark meat chicken thighs, a careful selection of low carb veggies, and an incredibly savory combo of culinary herbs and spices.

A Little Bit of Everything Good
Like most of my keto chicken recipes, this white chicken chili recipe uses dark meat chicken thighs in order to provide a higher fat content to go along with the protein. If you haven't seen some of our previous keto dark meat chicken recipes, then you simply must check out this crispy fried chicken recipe as well at some point in the near future. For now though, to get started on this chili, place your chicken thighs into the crockpot along with the onion, garlic, celery, bell pepper, green chiles, jalapeno, cumin, coriander, oregano, and last but not least, the cayenne pepper. Pour in the chicken broth and then cover the crockpot with a lid while it cooks for five or six hours.
You can probably already take a guess from looking at all of those ingredients that we're adding to this chili that it turns out to be rather spicy. Most of that spiciness comes from the capsaicin (the main active chemical found in bell peppers, jalapenos, chiles, and cayenne pepper) content. Capsaicin is well known to be a potent anti-inflammatory pain reliever that can also help lower blood pressure and cholesterol. And quite surprisingly, considering it's spiciness, it's also been shown to be beneficial when it comes to healing gastric ulcers. (1) So if you're ever dealing with an irritating stomach ulcer, don't be shy about making a recipe that's a on the spicy side of things!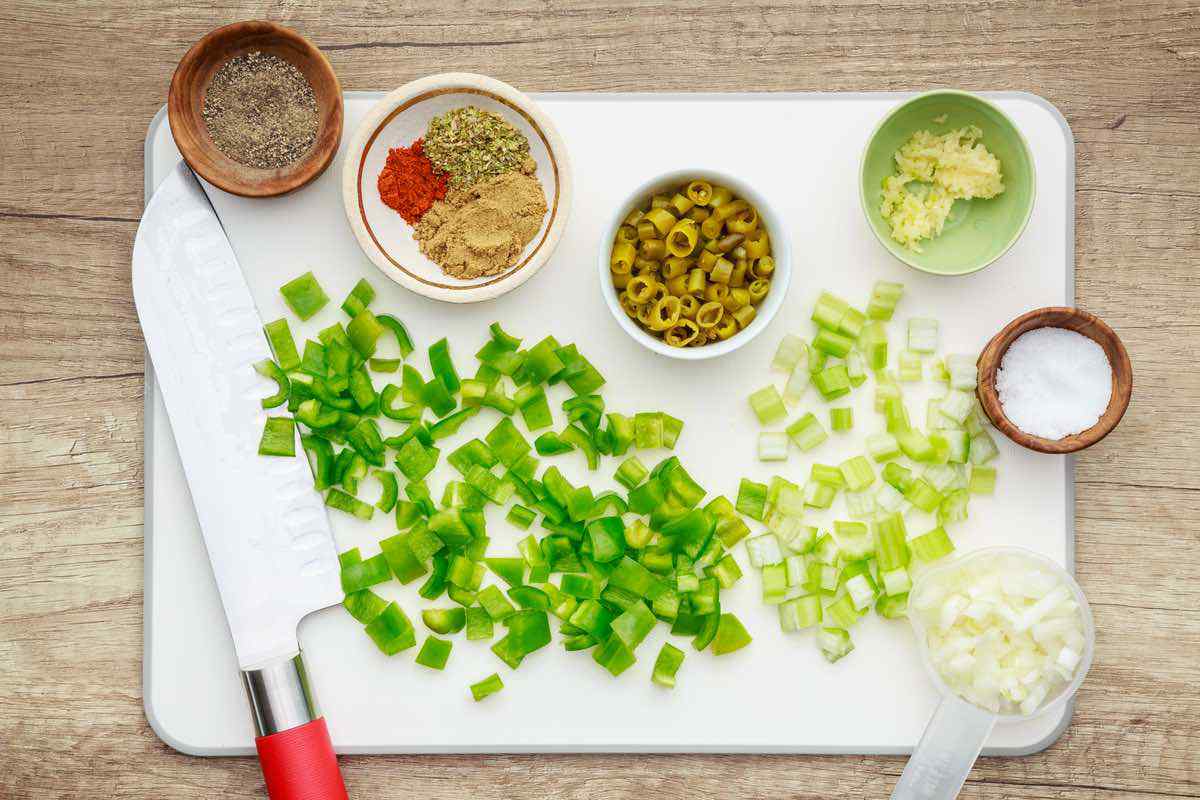 In addition to capsaicin, the green pepper included in this chili is also an excellent source of vitamin C and other antioxidants. Considering that oxidative damage caused by harmful free radicals is a major contributing factor in the development of diseases, you should definitely aim to eat a diet containing an abundance of antioxidant-rich foods. (2) The good news is that nearly all of the keto recipes that we share are made with healthy ingredients that are not only good for staying in ketosis, but also providing you with essential vitamins, minerals, and antioxidants.
After the five or six hours have elapsed, you can mix together the heavy cream and cream cheese and then add it into the crockpot. Let the chili cook for another 30 minutes or until it has thickened, and then add the lime juice in. All that's left to do is season the mix with some salt and pepper and then you're all set to enjoy a warm and hearty keto meal.
As I mentioned earlier, this white chicken chili is surprisingly spicy. If you're looking for some ideas on how to offset the heat a little bit, I'd recommend eating the chili with some optional toppings such as grated cheese, chopped cilantro, sour cream, or avocado slices. Alternatively, if you like things hotter, you can add some more sliced jalapenos to the chili as well.
More Keto Crockpot Recipes:
No-Hassle Crockpot Keto Meatloaf (Ridiculously Good and Easy)
Authentic Crockpot Chicken Tacos (Spicy, Flavorful and Satisfying)
Comforting Crockpot Keto Chicken and Dumplings (Easy Recipe)
The Most Tender Crockpot Roast Beef Ever (Makes the Best Leftovers)
Print Recipe
Soul-Satisfying Keto White Chicken Crockpot Chili
Author:
Prep Time:

15 minutes

Cook Time:

6 hours

Total Time:

6 hours, 15 minutes

Yield:

4

1

x
FREE KETO RECIPES + 5-INGREDIENT KETO COOKBOOK

Make sure to sign up for free to get instant access to the 5-Ingredient Keto Cookbook, which includes my favorite 20+ keto recipes of all-time, all under 5 ingredients.
Scale
1 ½ pound skinless boneless chicken thighs
2 tsp ground cumin
½ tsp ground coriander
1 tsp dried oregano
¼ tsp cayenne pepper
1 green pepper, diced
1 celery stalk, diced
1/4 cup diced onion
2 garlic cloves, finely minced
1 4.5oz can chopped green chiles
1 jalapeno, seeded and diced
2 cups homemade chicken broth
¼ cup heavy whipping cream
4 oz cream cheese
½ lime, juiced salt, black pepper to taste
For serving (optional):
grated cheddar cheese
chopped fresh cilantro
sliced jalapeno
sliced avocado
sour cream
Place the chicken thighs, onion, garlic, celery, bell pepper, green chilis, jalapeno, cumin, coriander, oregano and cayenne pepper in a slow cooker.
Pour in the chicken broth and season to taste with salt and black pepper.
Cover with a lid and cook on low for 5 to 6 hours.
In a small bowl combine the heavy cream and cream cheese and add to the slow cooker.
Continue to cook until the chili has thickened, another 30 minutes.
Add the lime juice and mix to combine.
Taste and season with salt and pepper as needed.
Ladle the chili into bowls, top with desired garnishes and serve.