Keto Recipes
The Most Tender Keto Crockpot Roast Beef Ever
This easy slow cooker recipe makes the most tender keto crockpot roast beef ever, and it's totally appropriate for anyone eating low carb. Not only is this crockpot dish great for making a tasty dinner, it's absolutely amazing as leftovers as well. It only takes about 15 minutes to prepare in the morning, and you can leave it to cook while you're gone to work. By the time you come home, you'll have one delicious slow cooked dinner waiting for you!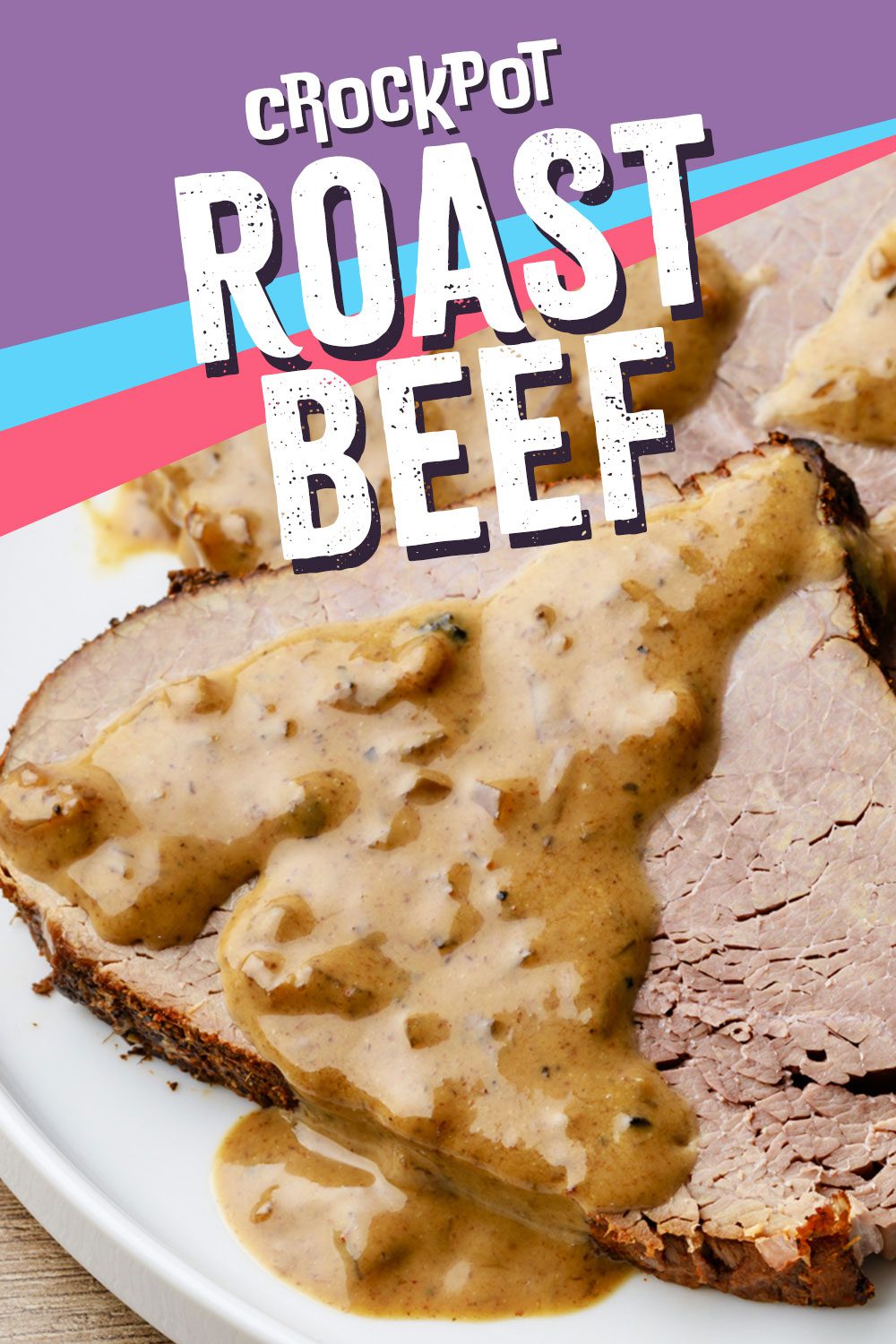 If you're looking for something a bit different and just as comforting, try this keto crockpot cube steak. Or if you want something lower in fat, try this keto crockpot white chicken chili.
---
How to Make the Most Tender Slow Cooker Roast Beef
While the roast beef has to be slow cooked for a little over eight hours, it's incredibly quick to get everything ready to go in the morning. Start by placing your chopped onion, minced garlic, peppercorns, bay leaf and one cup of water in the slow cooker. I've been using this same crockpot for years without fail.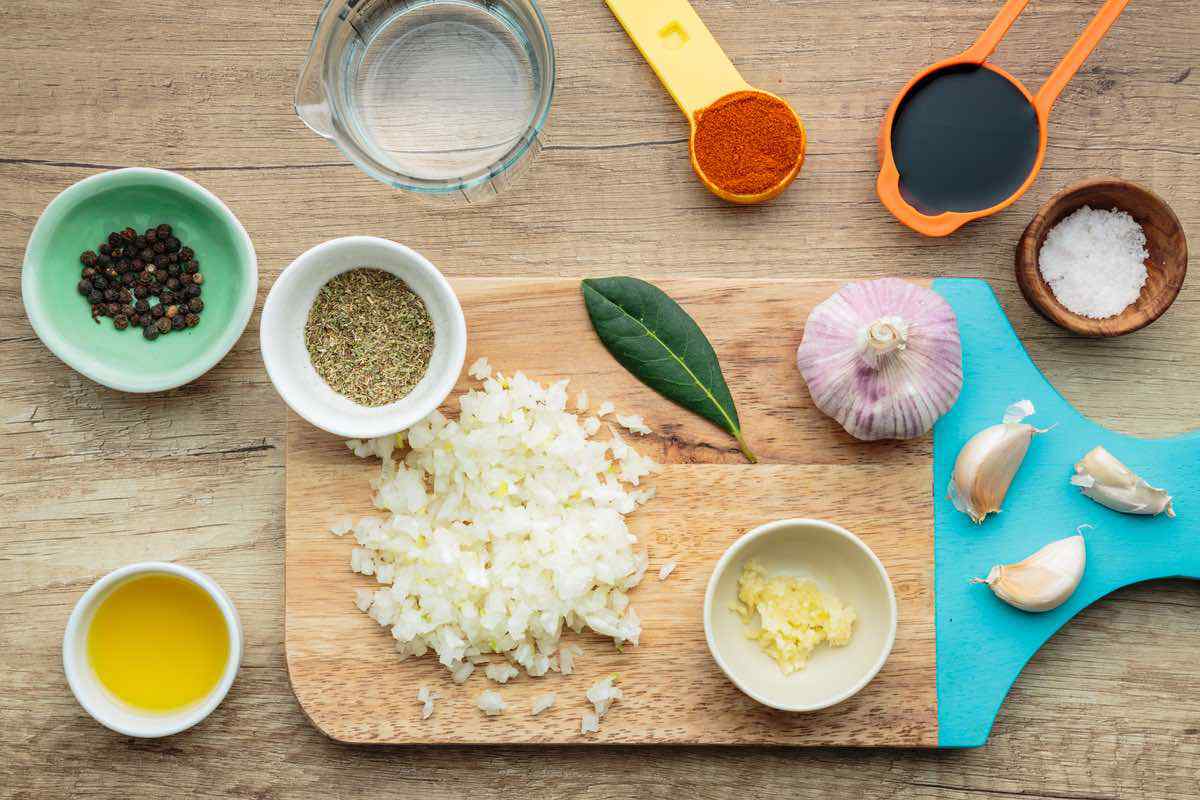 Using onion and garlic is a great way to add an immense amount of flavor into this recipe right from the get-go, and they're both excellent sources of allicin as well. Allicin is the compound responsible for giving them their distinctive taste along with many of their associated health benefits like boosting your immune system, lowering blood pressure, and helping to prevent atherosclerosis. (1)
You may also like: Crockpot Chicken and Dumplings
---
Next, use a small bowl and combine your salt, dried thyme, paprika, black pepper, and garlic powder. You'll be using this mixture as a rub for your crockpot roast beef, and believe me when I tell you, it really helps to take this recipe and make it into an almost gourmet style meal!
I love adding paprika into the mix as well because it's one of my favorite herbs to cook with. In fact, it's an incredible match for the keto diet as well as studies have indicated that paprika helps to both prevent and improve obesity-related insulin resistance, making it a great herb to use for anyone trying to manage their weight. (2)
Add some olive oil into a large skillet and then take your mixture of herbs and spices and pat it evenly on all sides of the roast beef. Sear your beef on all sides for a few minutes before transferring it into the slow cooker.
---
Use the balsamic vinegar to deglaze the pan and then pour it all over top of the roast. That's all there is to the keto roast beef prep, now simply leave it to cook for eight hours.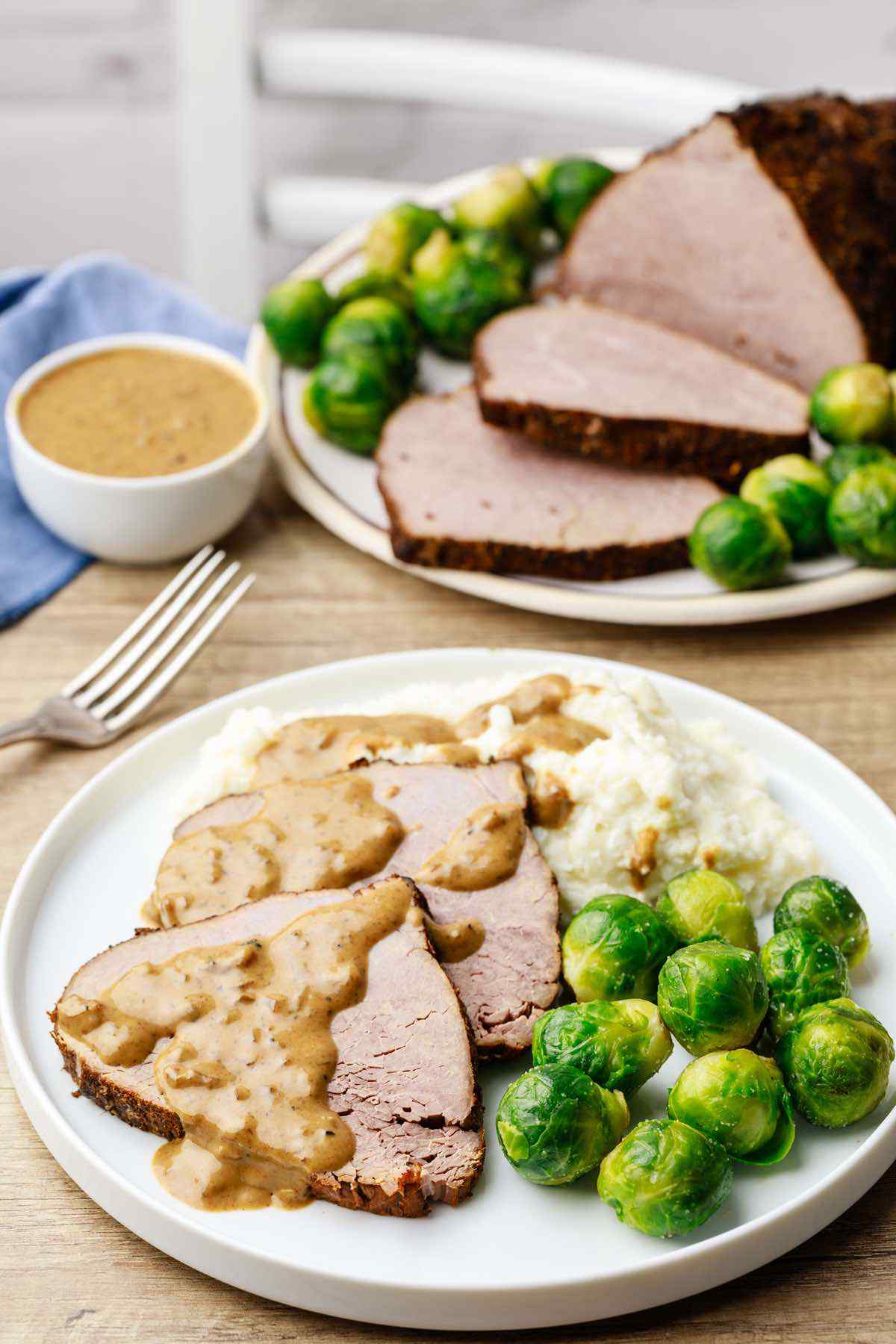 Before you serve it, you'll want to make the homemade gravy by straining the cooking juices out of the crockpot and into a saucepan after removing the roast beef.
Next, in order to make the gravy even more appealing for keto fans, add in some cream cheese and heavy cream to add plenty of flavorful fats into the mix. Simmer the gravy until it's warmed up and then go ahead and serve it alongside your roast beef meal.
Slicing the roast beef before you serve it is so easy due to how incredibly tender it turns out. The beef is already incredibly flavorful thanks to the savory mix of herbs and spices and then slow cooking it in the garlic, onion, and peppercorn mix — it's so yummy you could just eat it as is!
However, I like to smother mine in the gravy mixture because it adds even more healthy fats to my meal and it tastes amazing.
P.S. If you're looking for something just as soul-satisfying and have a little extra time to make them, you'll love this keto crockpot Swedish meatballs recipe: https://ketopots.com/keto-crockpot-swedish-meatballs
---
Print
Print Recipe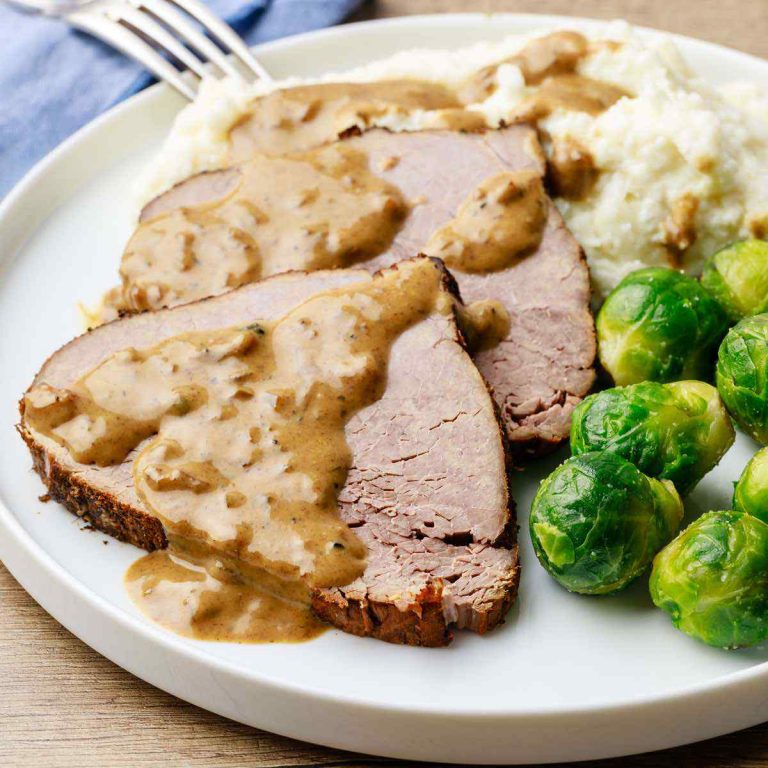 The Most Tender Keto Crockpot Roast Beef Ever
Author: Bree
Prep Time:

15

Cook Time:

8 hours, 30 minutes

Total Time:

8 hours, 45 minutes

Yield:

9

1

x
Category:

Dinner

Cuisine:

American
Scale
3 pounds boneless chuck roast, pat dried
1 tbsp salt
2 tsp dried thyme
1 tsp garlic powder
½ tsp paprika powder
½ tsp ground black pepper
1 tbsp olive oil
2 tbsp balsamic vinegar
1 cup water2 tbsp chopped onion
2 garlic cloves, minced
1 bay leaf
4–5 black peppercorns
For the gravy:
1/3 cup heavy cream
2 oz cream cheese
In a slow cooker place the chopped onion, minced garlic, peppercorns, bay leaf and water. Set aside.
In a small bowl combine salt, dried thyme, paprika, black pepper and garlic powder.
Evenly pat the rub on all sides of the roast.
In a large skillet heat the olive oil over high heat.
Add the roast and sear on each side for 2 to 3 minutes.
Transfer the roast to the slow cooker.
Deglaze the pan with the balsamic vinegar and pour over the roast.
Cover with a lid and cook on low for 8 hours.
Remove the roast from the slow cooker.
To make the gravy, strain the cooking juices and place in a saucepan.
Bring to a boil over medium high heat and cook until reduced to 1/2 cup.
Add the cream cheese and heavy cream and mix to combine.
Simmer until the gravy is warmed.
Slice the roast and serve with gravy.
Keywords: crockpot roast beef, slow cooker
FREE KETO RECIPES + 5-INGREDIENT KETO COOKBOOK

Make sure to sign up for free to get instant access to the 5-Ingredient Keto Cookbook, which includes my favorite 20+ keto recipes of all-time, all under 5 ingredients.