Keto Recipes
Crockpot Keto Cube Steak and Gravy
The recipe that I'm going to share today is for making an easy crockpot keto cube steak that's incredibly satisfying, hearty and no-hassle. The perfect set it and forget it weeknight meal!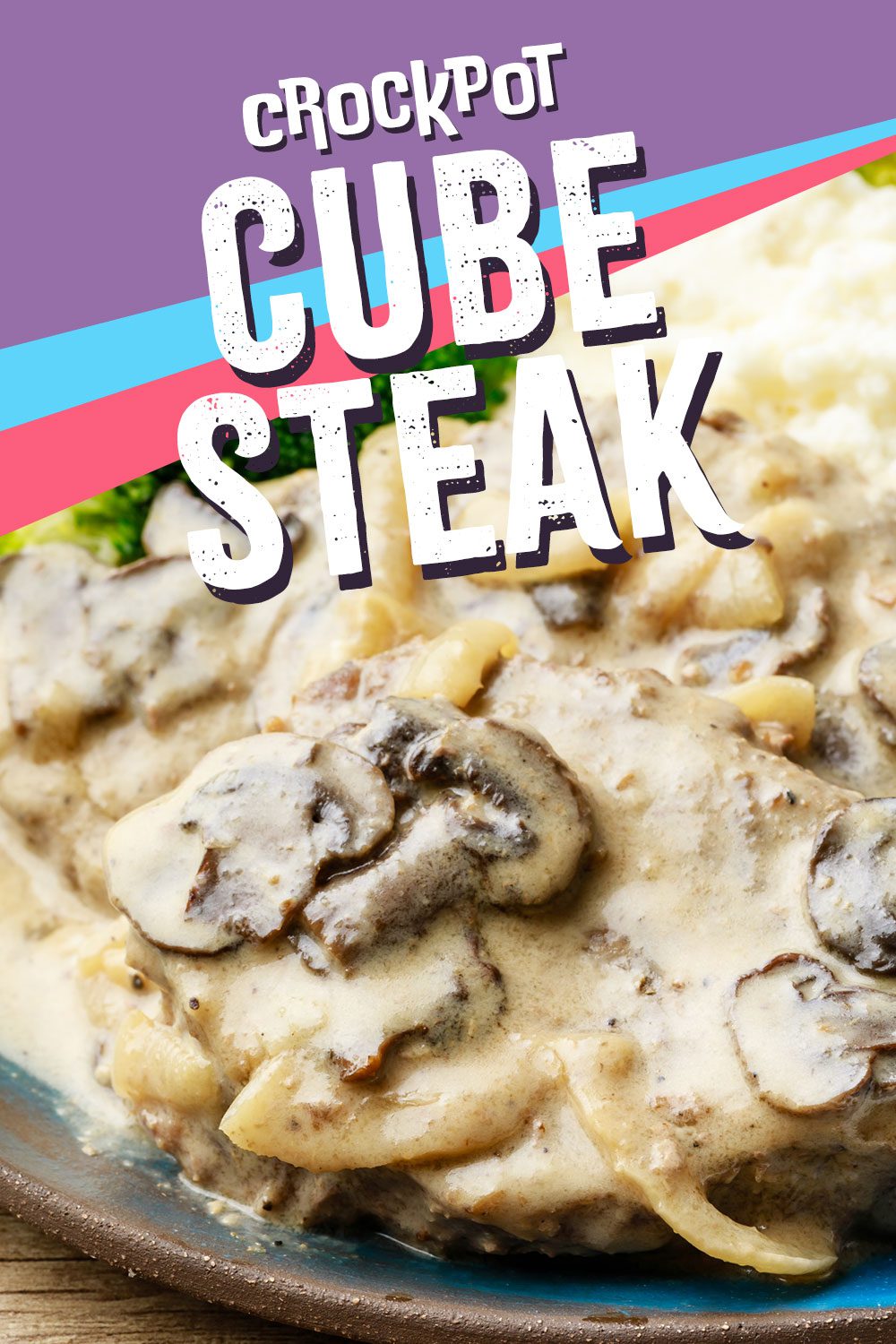 If you're looking for something to make on a stovetop instead, try this keto salisbury steak or this cilantro garlic butter steak (it's to-die-for!).
---
How to Make Cube Steak Gravy
The first order of business when following this recipe is preparing the yummy homemade crockpot cube steak gravy. In a bowl, place your cream cheese, heavy cream, beef broth, garlic powder, salt, and black pepper. The addition of cream cheese and heavy cream should come as no surprise if you've been checking out some of our other keto recipes, as they're both a great way to add a lot of flavor, healthy fats, and satiety to your meals when used in tandem.
I like adding garlic powder into this gravy mixture as well because it gives it a flavor that can only be summarized with one word — addictive! It also helps to make this down home style meal quite healthy, as the garlic helps to give your immune system a boost while also lowering inflammation within the body. (1)
How to Make Crockpot Keto Cube Steak
Set this bowl aside and then season your cube steaks with a little bit of salt and pepper. Next, add some olive oil to a large skillet and heat it up over a high heat. If you've been using vegetable oil for all of your cooking needs, then you should seriously consider dropping it and switching over to using olive oil.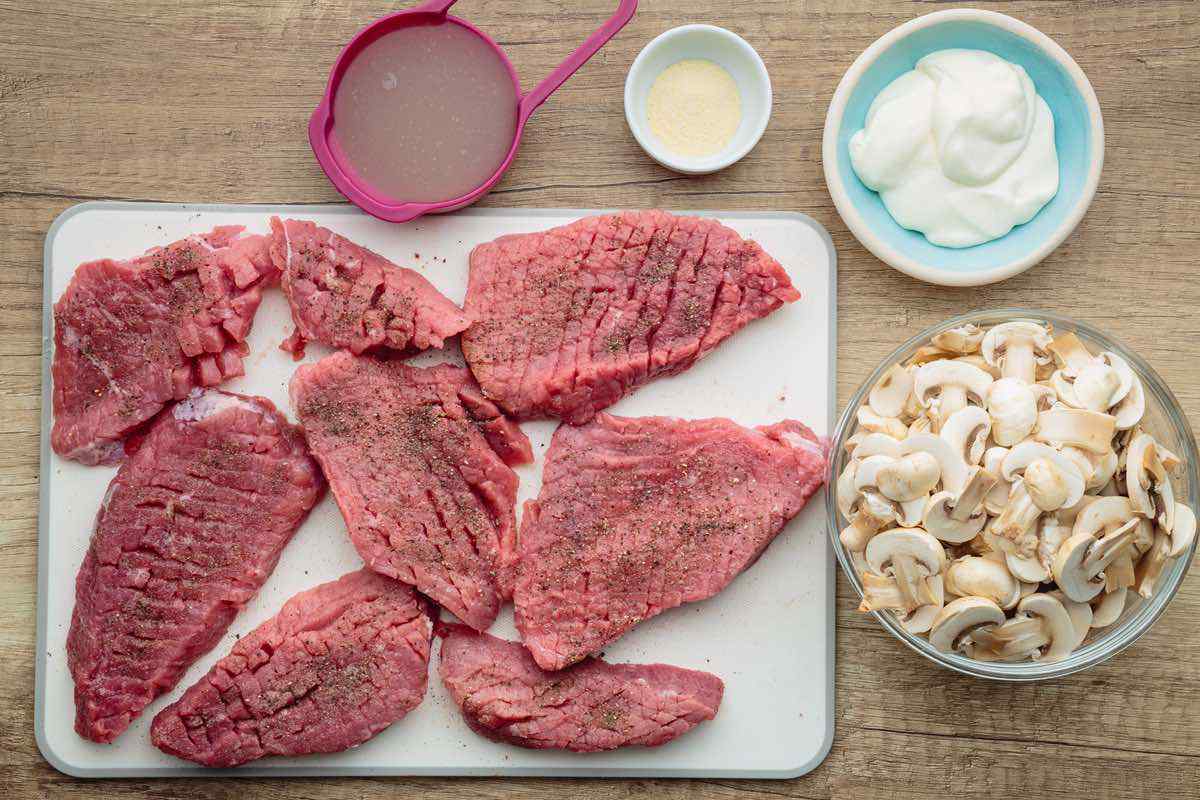 Vegetable oil is high in omega-6 fatty acids, which are known to cause inflammation. Olive oil, on the other hand, is an excellent source of heart-healthy monounsaturated fatty acids that help to reduce your risk of cardiovascular diseases. (2)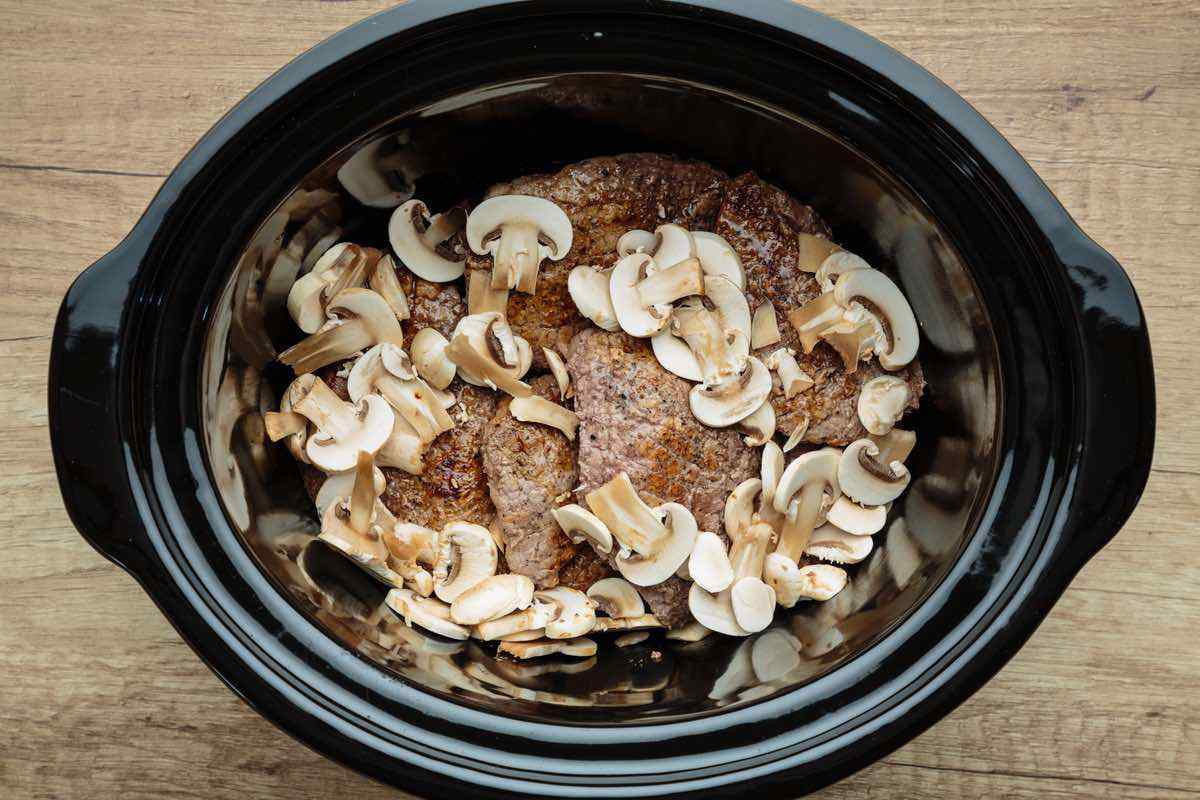 After searing your cube steaks in the skillet, you can add them into the crockpot along with the mushrooms and onions. Along with the garlic and cream-infused gravy, the mushrooms and onions are the other main source of intense flavor that this recipe provides.
You may also like: Philly Cheesesteak Casserole
---
They're both also terrific low carb veggie options that each provide their own numerous health benefits. After you've added everything into the crockpot, you can pour the cream cheese mixture over top of it and mix everything until it's combined. All that's left to do now is cover the crockpot with a lid and let it cook for about six hours on low.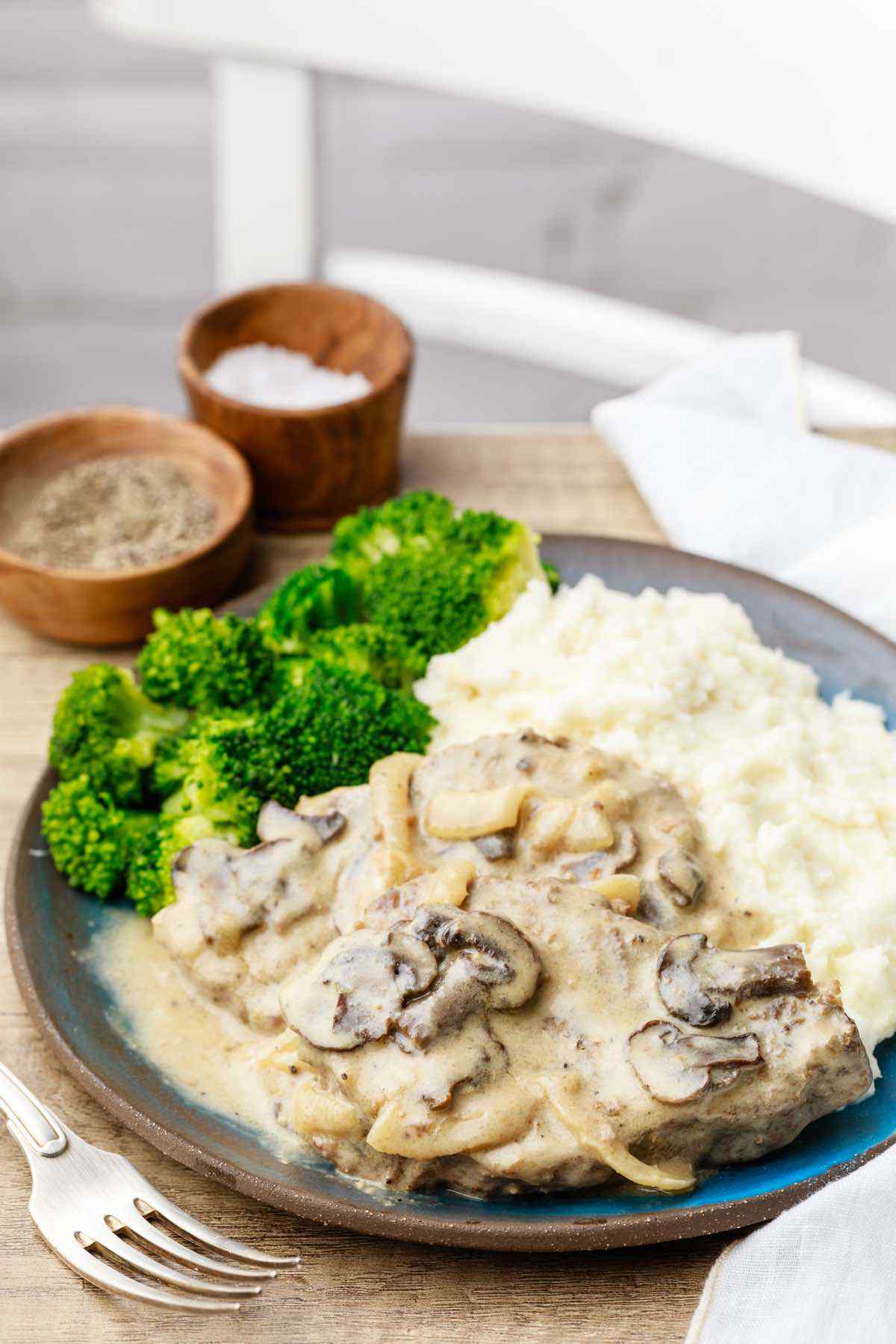 I've been making this recipe a couple of times per week lately — I love it that much! It really is an extremely comforting down home style meal. The fact that it's also 100% keto-friendly is definitely an added benefit as well. Oh, and as one other bonus, this recipe is also incredible when served as leftovers.
---
You can easily make a big batch all at once and have some healthy meals ready to go for a few days.
P.S. I love my proteins and for me, all proteins go with mashed potatoes. I had to find a keto alternative so the next best thing was cauliflower mashed potatoes with parmesan and chives. It's so quick to make too–just steam your cauliflower, put it in your food processor until creamy and top it with grass-fed butter, fresh parmesan and chives. Hands down, I prefer this over my regular mashed potatoes now!
P.P.S. Beef and gravy is the perfect type of meal to make in a crockpot. If you want to make something just as comforting with even less prep, try our super tender slow cooker roast beef with gravy: https://ketopots.com/keto-crockpot-roast-beef
---
Print
Print Recipe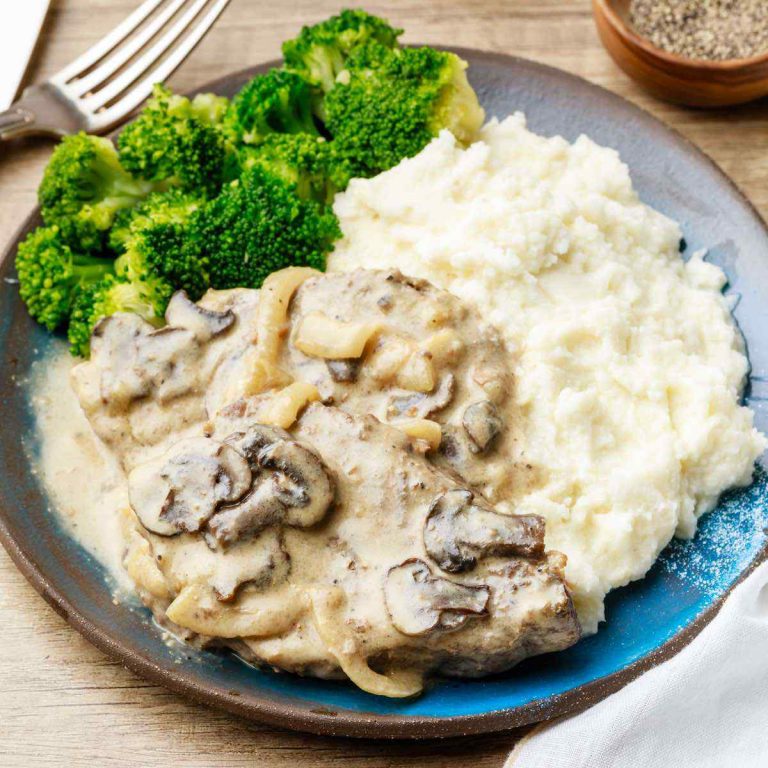 Crockpot Keto Cube Steak and Gravy
Author: Bree
Prep Time:

15 minutes

Cook Time:

6 hours

Total Time:

6 hours, 15 minutes

Yield:

6

1

x
Category:

Dinner

Cuisine:

American
Scale
2 pounds cube steaks
1 ½ tbsp olive oil
4 oz cream cheese softened
¼ cup heavy cream
1/3 cup homemade beef broth
1 ½ cup sliced white mushrooms
1 small onion, sliced
1 tsp garlic powder
½ tsp salt
½ tsp ground black pepper
In a bowl place the cream cheese, heavy cream, beef broth, garlic powder, salt and black pepper. Set aside.
Season the steaks with salt and black pepper.
In a large skillet heat the olive oil over high heat.
Add the steaks and sear on each side for 1 to 2 minutes.
Place the steaks, onion and mushrooms in the slow cooker and pour over the cream cheese mixture.
Mix to combine.
Cover with lid and cook on low for 6-8 hours.
Keywords: cube steak, gravy, crockpot
FREE KETO RECIPES + 5-INGREDIENT KETO COOKBOOK

Make sure to sign up for free to get instant access to the 5-Ingredient Keto Cookbook, which includes my favorite 20+ keto recipes of all-time, all under 5 ingredients.