Keto Recipes
Easy Crockpot Keto Chili Mac (Comfort in a Bowl)
Long before I ever switched over to a keto lifestyle or any form of mindful eating, chili mac was one of my favorite comfort foods to enjoy. The mouthwatering mixture of beef, chili, and macaroni noodles was just one of those meals that I couldn't get enough of. Once I started to place more of an emphasis on healthy eating, pasta and other types of grain products were one of the first things to go. However, that doesn't mean I don't still indulge in the occasional bowl of chili mac. These days, I simply swap in some low carb keto-friendly pasta alternatives like cauliflower to make fantastic recipes like this crockpot keto chili mac.

Heaven In a Crockpot
One of the best things about this chili mac recipe besides how unbelievably good it tastes is the fact that it's super easy to prepare, requiring only about 15 minutes of prep time. Start out by adding a bit of olive oil to a skillet and cooking your lean ground beef in it, until it's nice and brown. Be sure that you use olive oil and not vegetable oil. This staple cooking oil of the Mediterranean diet is also essential for keto cooking as it adds an abundance of heart healthy monounsaturated fats to your dish that help to reduce your risk of cardiovascular disease. (1)
Once your beef has been browned, transfer it into the slow cooker and then start adding the majority of the other ingredients into the mix as well. This chili mac gets a ton of great flavor thanks to this great mixture of ingredients, which includes garlic, onion, tomatoes and tomato paste, beef broth, chili powder, ground cumin, dried oregano, and even some Worcestershire sauce for good measure. Each of these ingredients have been carefully selected to include in this recipe so as to provide the maximum amount of flavor, making this chili mac into an incredibly familiar and comforting dish for you to enjoy.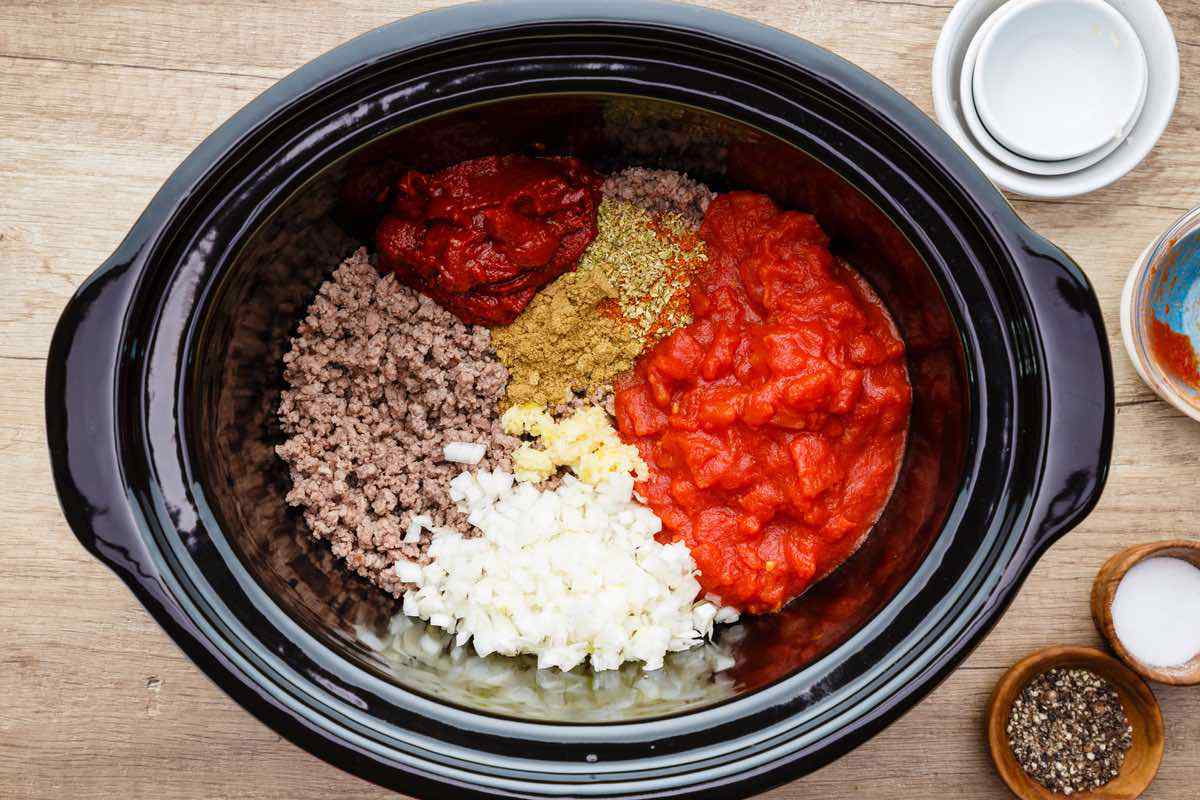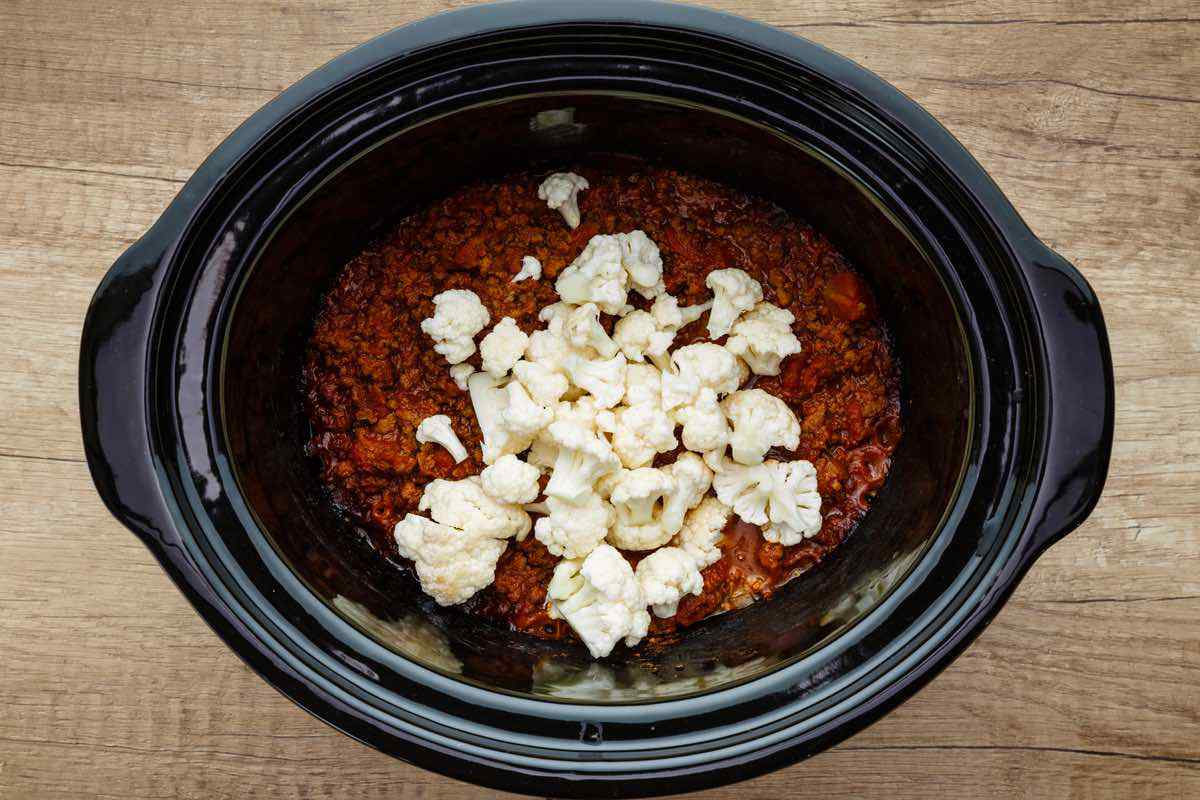 Cook this chili mix for a little over four hours, and then you can add in your cauliflower florets. Some of you may be wondering just how the heck cauliflower could ever replace good 'ol macaroni noodles, but trust me, they do so perfectly. They help to keep this chili mac low in carbs while also packing in a ton of disease-fighting antioxidant goodness (2), making this dish a perfect example of a delicious and nutritious meal.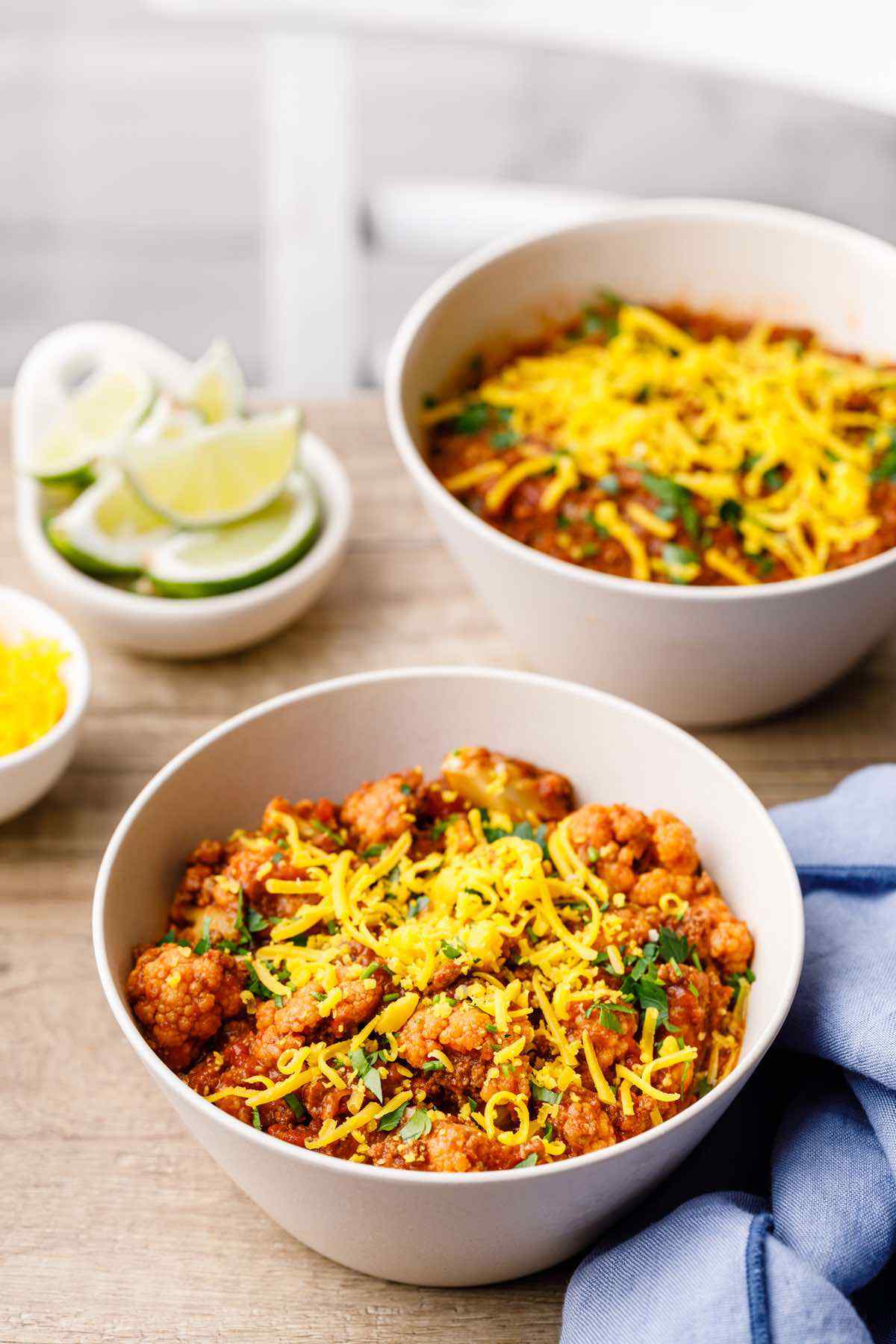 In fact, cauliflower is one of the most versatile low carb veggie options out there that you can use for keto meals. I'll be sharing quite a few fantastic cauliflower keto recipes in the near future, so stay tuned for those! After adding the cauliflower florets into the slow cooker, cover with a lid and leave it cook for an additional 30-45 minutes. Be sure to add a bit of shredded cheddar cheese and chopped cilantro when you serve the chili mac to add a bit of extra flavor and cheesy goodness to really complete the meal!
More Keto Chili Recipes:
Authentic Homestyle Texas Chili (Low Carb and Keto-Friendly)
Life-changing Keto Chili Verde (Green, Spicy and Yummy)
No Fail Southwest Keto Turkey Chili (One of My Go-To's)
Extra Beefy Caveman Crockpot Keto Chili (Mom-Approved)
Print Recipe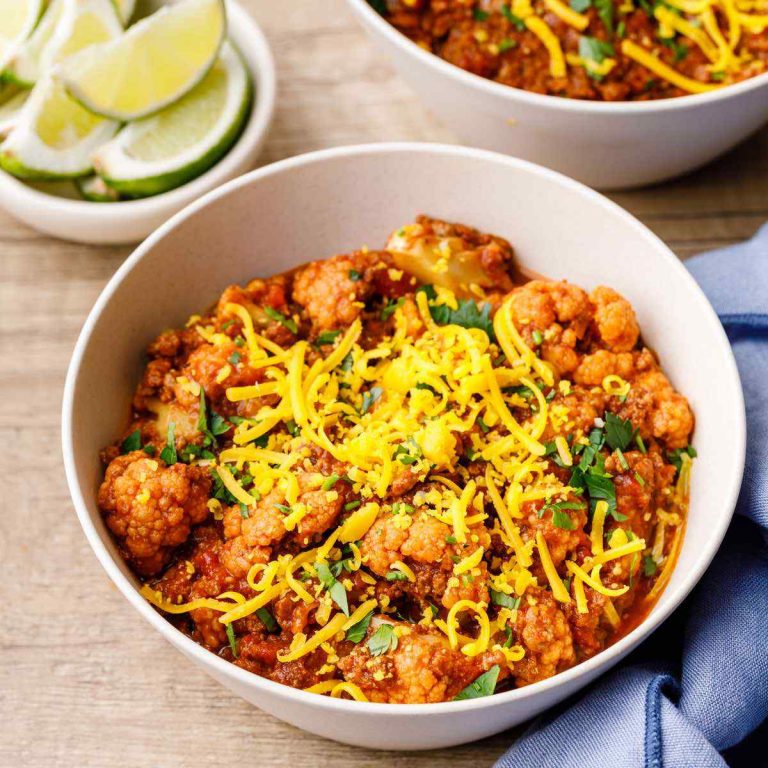 Easy Crockpot Keto Chili Mac
Author: ketopots.com
Prep Time:

15 minutes

Cook Time:

5 hours

Total Time:

5 hours, 15 minutes

Yield:

6

1

x
Scale
1 lb ground lean beef
1 tbsp olive oil
½ large onion, finely chopped
3 garlic cloves, minced
1 (15 oz) diced tomatoes
3 oz tomato paste
1 cup beef broth
2 tbsp chili powder
2 tsp ground cumin
½ tbsp dried oregano
1 tbsp Worcestershire sauce
12 oz cauliflower florets
salt, black pepper to taste
chopped cilantro, for serving (optional)
shredded cheddar cheese, for serving (optional)
In a skillet heat the olive oil over medium heat.
Add the beef and cook, breaking apart with a spatula, until browned.
Transfer the beef into a slow cooker.
Add the onion, garlic, diced tomatoes, tomato paste, beef broth, chili powder, ground cumin, dried oregano and Worcestershire sauce.
Cover with a lid and cook on low for 4 ½ hours.
Add the cauliflower florets and stir to combine.
Cook for additional 30-45 minutes or until the cauliflower is cooked.
Season to taste with salt and black pepper.
Top with shredded cheddar cheese and chopped cilantro and serve.
FREE KETO RECIPES + 5-INGREDIENT KETO COOKBOOK

Make sure to sign up for free to get instant access to the 5-Ingredient Keto Cookbook, which includes my favorite 20+ keto recipes of all-time, all under 5 ingredients.