Keto Recipes
Authentic Crockpot Chicken Tacos (Spicy, Flavorful and Satisfying)
If you're a fan of authentic and spicy tacos, then you're in for a real treat with today's recipe! All you'll need is a slow cooker and a few hours of your time in order to enjoy some incredibly tasty authentic crockpot chicken tacos. The recipe uses two pounds of boneless, skinless chicken breasts along with a fantastic variety of herbs and spices to make a slow cooked dinner that provides just the right amount of heat. It's spicy, but not TOO spicy. However, when I make these chicken tacos, I usually add in just a bit more of the spicier ingredients (cumin and chili powder) because I'm a huge fan of really spicy food in general. Feel free to experiment with using less or more of these ingredients to find the right balance for you.
Homemade Healthy Taco Mix
The first thing you'll need to do is grab a small bowl and combine your chili powder, cumin, dried oregano, and salt. As I mentioned a minute ago, I like to add in a little extra chili powder and cumin to make my taco mixture spicier, but the benefits of those two ingredients also go way beyond that. Cumin is one of my favorite culinary spices, as it contains antioxidant and anti-inflammatory properties that make it beneficial in the prevention of diseases like cancer and diabetes. (1)
Chili powder is another great spice when it comes to the health benefits it provides, as it's main active ingredient is capsaicin, which has shown potential in promoting both vascular and metabolic health. (2) The combination of these two spices in this recipe truly provides a one-two punch of spicy flavor along with fantastic health promoting properties.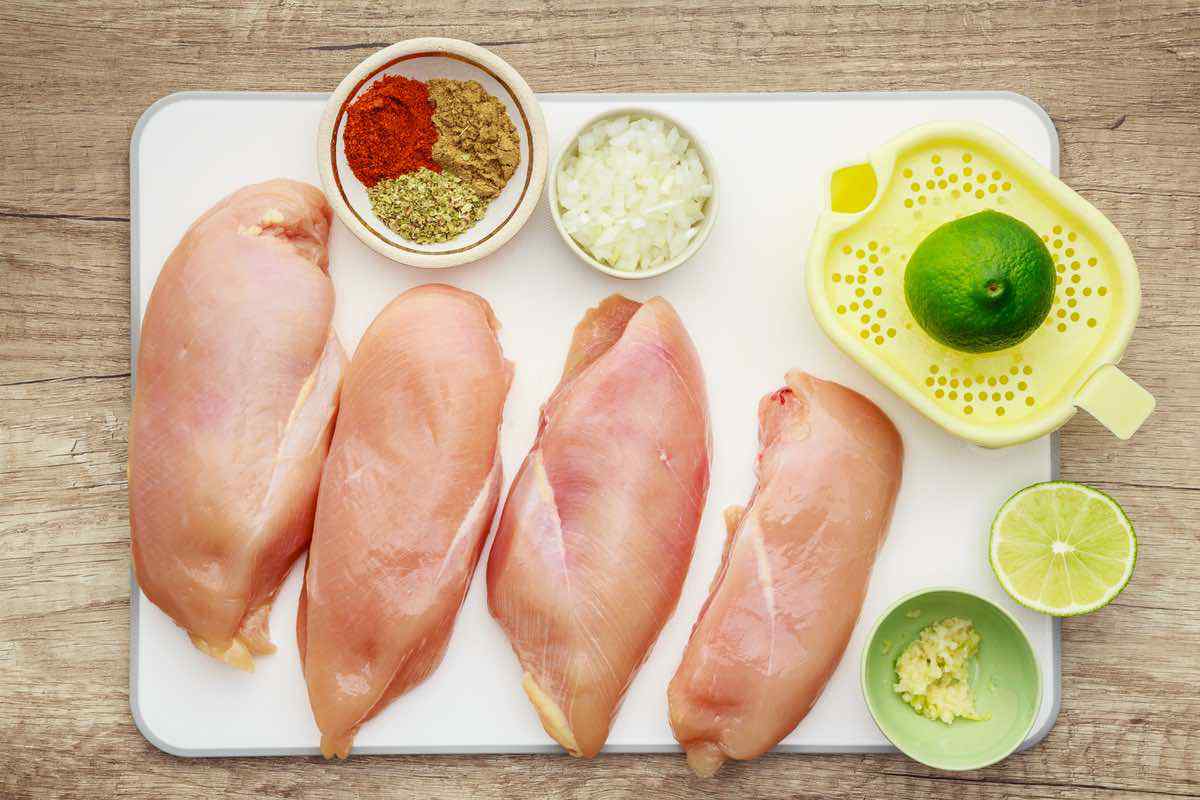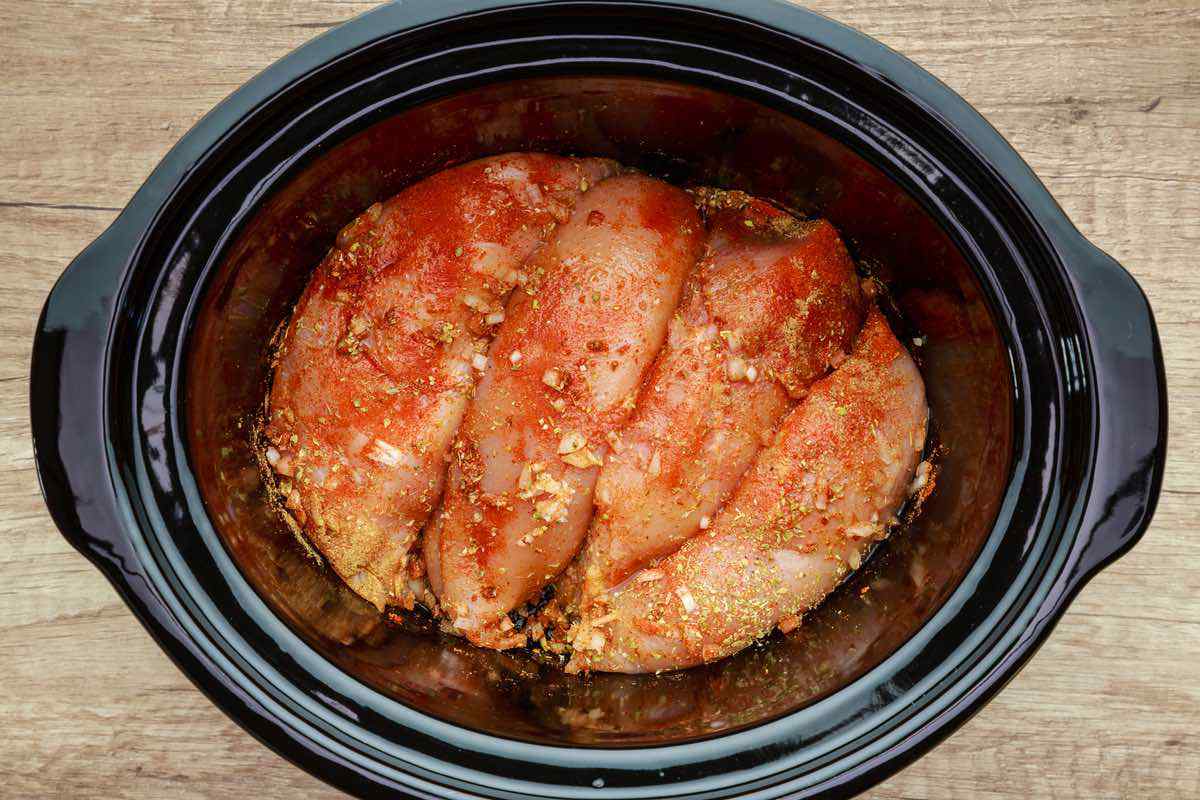 Place your chicken breasts in the slow cooker, and then sprinkle your prepared dry rub over both sides of the chicken. Next, add in the minced garlic, chopped onion, lime juice, and ¼ cup of water and mix everything until combined. Just as the chili powder and cumin make a potent duo, the combination of garlic and onion also adds a ton of benefits to this recipe. Not only do they add a rather distinctive flavor to your taco mix, but along with other members of the Allium family like chives, leeks, and shallots, they each have demonstrated some great cancer prevention properties. (3)
After adding in the above ingredients, cover your crockpot with a lid and leave it to cook for between 4-5 hours, or until the chicken is cooked all the way through. You can then remove the chicken and shred it with a pair of forks before returning it into the slow cooker along with some chopped cilantro. The cilantro adds a delightful finishing touch to the whole recipe, adding in some great nutritional and medicinal properties (cilantro is known to possess potent anticancer, anti-inflammatory, antimicrobial, and antioxidant properties) that make your taco mixture both tastier and even healthier. (4)
Serve Your Chicken Tacos with These Keto Approved Toppings and Sides:
Coleslaw – Coleslaw can be a low-carb side if you use cabbage as your base and leave the carrots out. For dressing, you can use mayonnaise or even creamed avocado and some apple cider vinegar.
Lettuce Cups – Romaine lettuce is low in carbs and high in fiber, so they are keto approved even in moderate to large amounts. Choose larger lettuce leaves so you have enough room to scoop your chicken tacos.
Avocado – Feel free to use chopped or thinly sliced avocado for this. It adds a layer of creaminess to your taco without the excess carbs.
Guacamole – You could go a step further with the avocado and make it into guacamole instead. Simply mash the avocado and add chopped tomatoes, onion, lime juice, salt, pepper and a bit of garlic powder.
Low Carb Tortillas – Fortunately for us keto dieters, there are low carb tortillas readily available. Simply toast it up on a pan and you're good to go.
Cheese – Who can forget the cheese? You can't go wrong with manchego, queso blanco and cotija.
Sour Cream – Keto dieters will be happy to note that sour cream is 100% keto approved and goes well with almost any Mexican dish. This chicken taco recipe is no exception.
Chopped Vegetables – Your go-to for tacos would be tomatoes and onion. Maybe add a bit of chili if you like some heat.
Chopped Herbs – When it comes to mexican food, you can't beat the flavor of cilantro. You could also add a bit of parsley.
When you're all set to serve your taco mix, simply compose the tacos and serve. When serving for large groups or at parties, you may want to just lay out all the toppings and taco mix and let your guests help themselves. It's always fun that way!
More Keto Crockpot Recipes:
Comforting Crockpot Keto Chicken and Dumplings (Easy Recipe)
The Most Tender Crockpot Roast Beef Ever (Makes the Best Leftovers)
Print Recipe
Authentic Crockpot Chicken Tacos
Author:
Prep Time:

10 minutes

Cook Time:

4 hours

Total Time:

4 hoirs, 10 minutes

Yield:

6

1

x
FREE KETO RECIPES + 5-INGREDIENT KETO COOKBOOK

Make sure to sign up for free to get instant access to the 5-Ingredient Keto Cookbook, which includes my favorite 20+ keto recipes of all-time, all under 5 ingredients.
Scale
2 pounds boneless, skinless chicken breasts
2 tsp cumin powder
1 ½ tsp chili powder
1 ½ tsp dried oregano
3 garlic cloves, minced
2 tbsp chopped onion
½ tsp salt
1 lime, juiced
¼ cup chopped cilantro
In a small bowl combine the chili powder, cumin, oregano, and salt.
Place the chicken in a slow cooker.
Sprinkle the dry rub evenly over both sides of the chicken.
Add the minced garlic, chopped onion, lime juice and ¼ cup of water and mix to combine.
Cover with a lid and cook on low for 4-5 hours or until the chicken is cooked through.
Remove the chicken and shred it into bite-size pieces with two forks.
Return the chicken to the slow cooker, add the chopped cilantro and stir.
Serve with low carb tortillas or lettuce cups and your favorite toppings (sour cream, chopped avocado, tomato, jalapeno…)