Keto Recipes
Comforting Crockpot Keto Chicken and Dumplings (Easy Recipe)
The recipe that I'm about to share with you guys has very quickly become one of my favorite ways to cook a great tasting keto-friendly dinner. It makes a comforting crockpot keto chicken and dumplings meal that is perfect for serving for dinner. The dumplings are kept appropriate for keto dieters thanks to the use of coconut flour instead of refined wheat flour, while the crockpot chicken is incredibly flavorful thanks to a fantastic mix of veggies, savory herbs, and other great ingredients. There's also plenty of healthy fats to be found in this meal. Both the crockpot chicken and the dumplings include some great tasting fat heavy ingredients like cream cheese, heavy cream, and whole milk ricotta cheese.
Delicious Dark Meat Chicken Thighs
When making this crockpot meal, you should opt to use dark meat chicken thighs over cuts of white meat like the breast. The dark meat parts of the chicken provide just as much protein, but they're also fattier cuts as well, adding a solid amount of saturated animal fats to this recipe. Plus I find that they're just plain tastier! You can begin by placing the chicken thighs into the slow cooker and then adding in the chopped onion, celery, carrots, minced garlic, dried thyme, basil, and oregano, the bay leaf, and finally, the chicken stock. I have the 6-quart crockpot, but feel free to adjust the serving sizes based on the capacity of yours.
It may seem like an awful lot of ingredients but they definitely all pay off. The celery and carrots are both perfect low carb veggie options to add to the recipe, the dried herbs provide a solid amount of antioxidant polyphenols that help to fight diseases like cancer (1), and the garlic and onion both add an insane amount of flavor. This is an ideal dinner for anyone who is trying to manage hypertension symptoms as well, as the garlic is especially beneficial when it comes to helping to lower blood pressure. (2)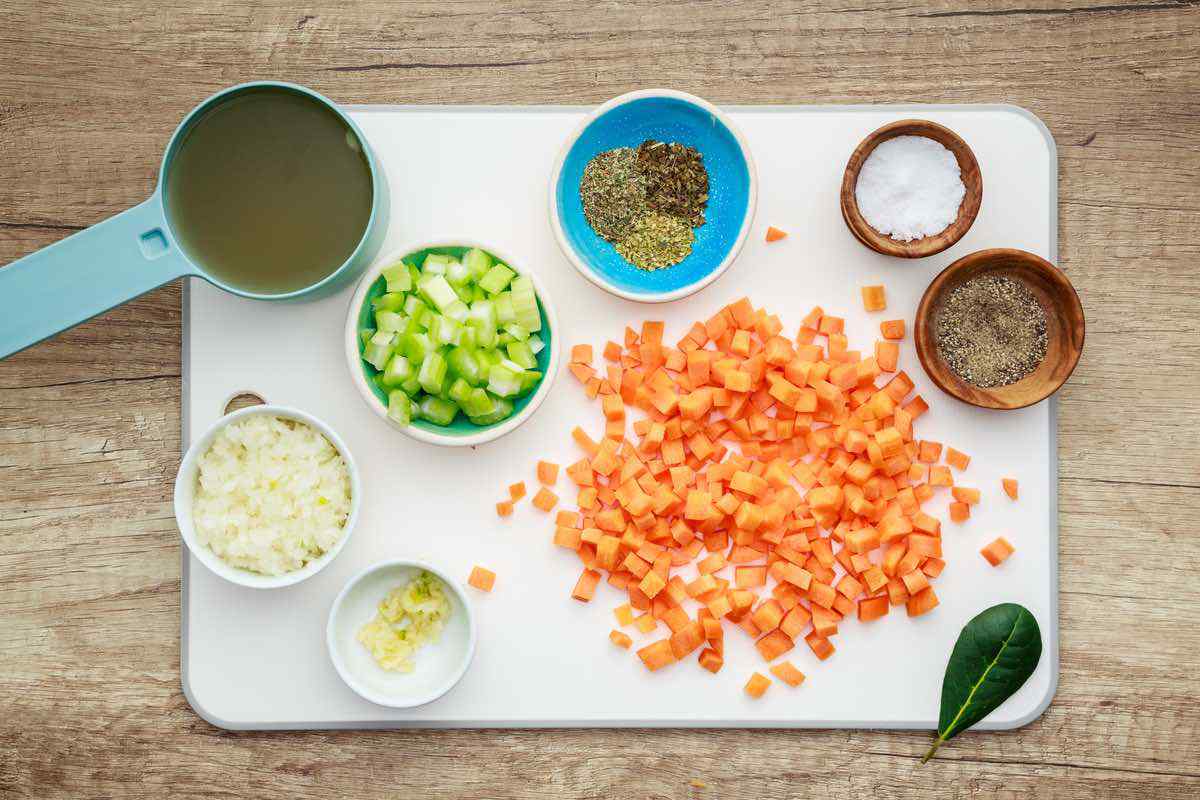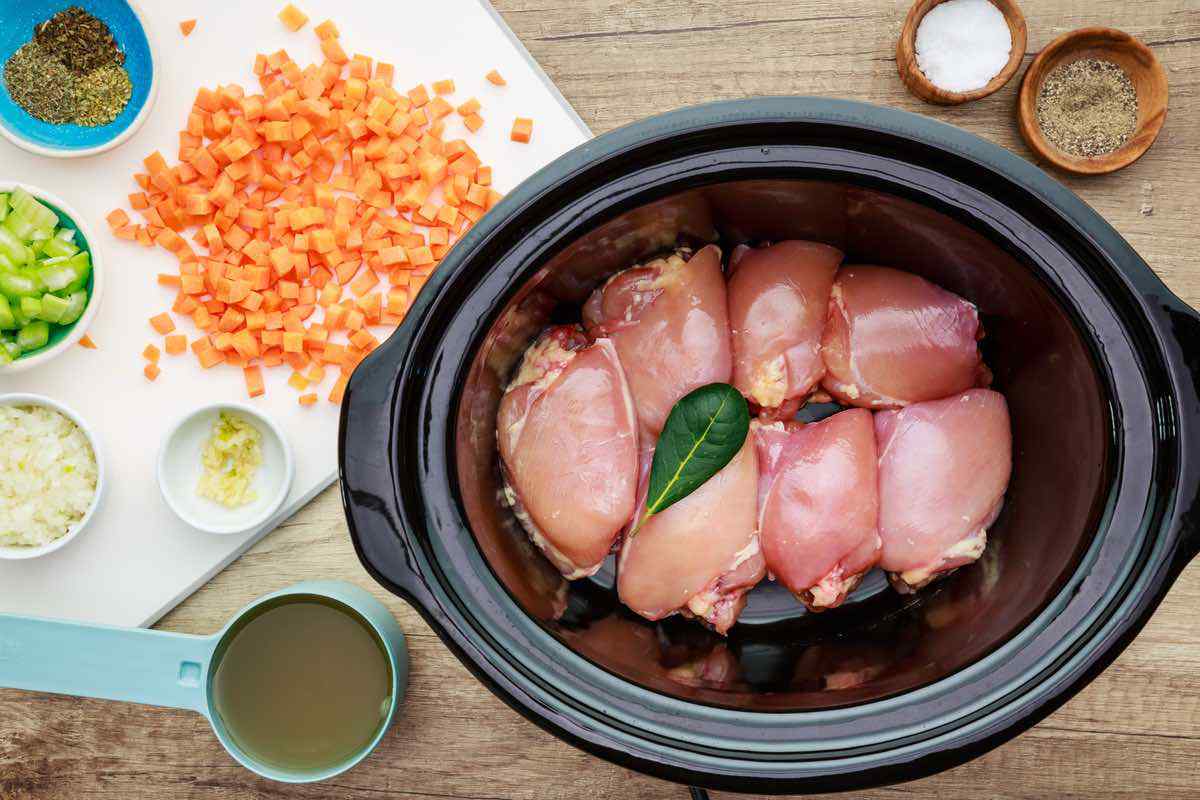 Slow cook all of these ingredients for about four-and-a-half hours, and then remove the chicken. Using two forks, shred the chicken and then add it back into the crockpot before stirring everything. Next, get a small bowl and combine the cream cheese and heavy cream. This mixture of common keto ingredients serves two purposes — it adds even more great taste to the chicken meal, and it really helps to increase the fat content. Add this combined mixture into the crockpot along with some chopped parsley.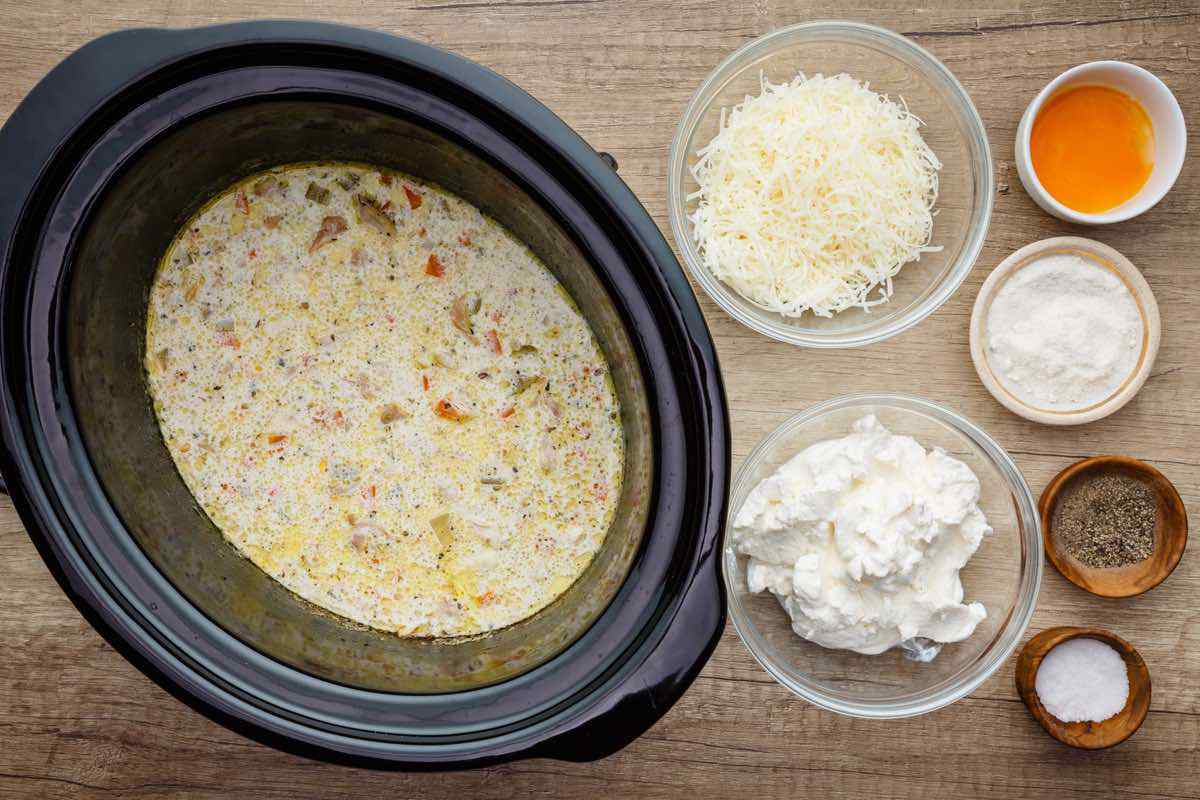 Continue to cook everything in the crockpot while you make the dumplings next. They're super easy to make; just mix together your ricotta cheese, a single egg yolk, and Parmesan cheese in a small bowl. Next, mix in the coconut flour until a soft dough forms. The use of coconut flour instead of wheat flour helps to keep the carb content down while also adding even more healthy fats and dietary fiber. Not only that, but studies have also demonstrated that dietary coconut might be beneficial when it comes to preventing Alzheimer's disease as well — yet another great reason to use coconut flour as a keto-friendly alternative. (3)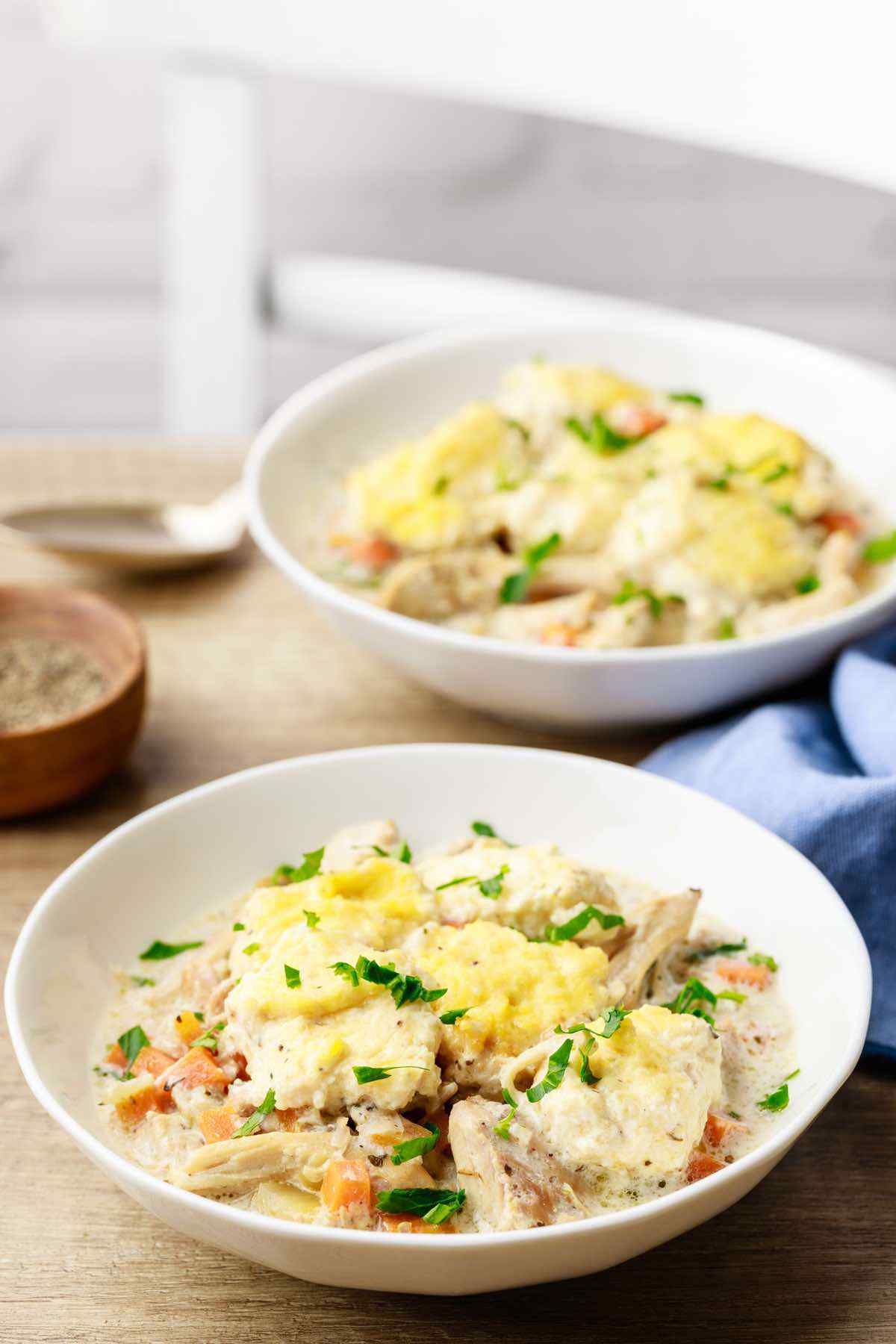 After adding your dumpling dough mixture into the crockpot, allow it cook for another 60-90 minutes before serving. This crockpot chicken dinner is definitely up near the top of my list of favorites these days, as it makes one unbelievably delicious and nutritious meal that your whole family will love.
If you'd prefer to use your crockpot to make a tasty roast beef dinner instead, we've got a keto-friendly recipe for an incredibly tender slow cooked roast beef that you should definitely take a look at.
More Keto Crockpot Recipes:
Comforting Crockpot Keto Chicken and Dumplings (Easy Recipe)
The Most Tender Crockpot Roast Beef Ever (Makes the Best Leftovers)
Print Recipe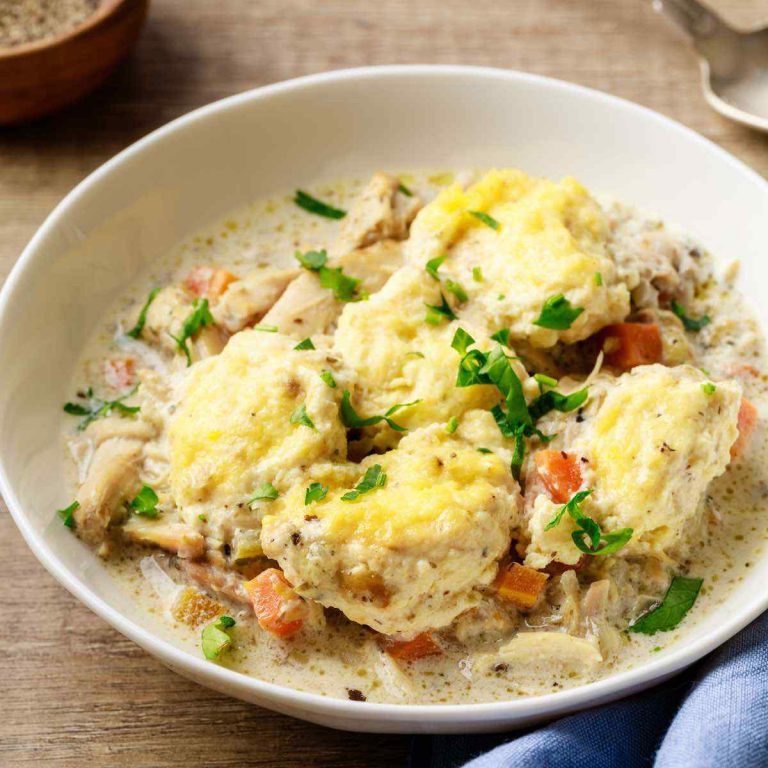 Comforting Crockpot Keto Chicken and Dumplings
Author:
Prep Time:

20 minutes

Cook Time:

6 hours

Total Time:

6 hours, 20 minutes

Yield:

8

1

x
FREE KETO RECIPES + 5-INGREDIENT KETO COOKBOOK

Make sure to sign up for free to get instant access to the 5-Ingredient Keto Cookbook, which includes my favorite 20+ keto recipes of all-time, all under 5 ingredients.
Scale
1 ½ pound skinless, boneless chicken thighs
1 cup chicken stock
½ small onion, finely chopped
2 garlic cloves, minced
1 celery stalks, diced
2 small carrots, peeled and diced
½ tsp dried thyme
½ tsp dried oregano
½ tsp dried basil
1 bay leave
¼ cup heavy cream
4 oz cream cheese
¼ cup chopped fresh parsley leaves
salt, black pepper to taste
For the dumplings:
7 oz whole milk ricotta cheese, well drained
3 tbsp coconut flour
1 egg yolk
2/3 cups grated Parmesan cheese
salt to taste
Place the chicken in a slow cooker.
Add in the onion, celery, carrots, garlic, thyme, dried basil, dried oregano, bay leaves, chicken stock, salt and black pepper.
Stir to combine.
Cover with a lid and cook on low for 4 ½ hours.
Remove the chicken and shred it with two forks.
Return the chicken to the slow cooker and stir.
In a small bowl combine the heavy cream and cream cheese.
Add the cream cheese mixture and chopped parsley to the slow cooker and stir to combine.
Taste and season with salt and pepper as needed.
Cover and continue cooking while you make the dumplings.
To make the dumplings, in a bowl place the ricotta, egg yolk, Parmesan and mix to combine.
Add the coconut flour and stir until a soft dough forms.
Drop the dough in heaping tablespoons onto the chicken mixture.
Cover and cook for 1 -1 ½ hours or until dumpling are cooked through.
Serve warm.