Keto Recipes
Extra Beefy Caveman Crockpot Keto Chili (Mom-Approved)
While lately I've been on quite a spree of making keto-friendly baked goods and healthy treats, you can rest assured that I'm still all about my hearty keto dinners that are full of meat, fat, and low carb veggies. And in my opinion, there's no better dinner option that provides all three of those things than a good chili. So with that in mind, feast your eyes upon this Mom-approved extra beefy caveman crockpot keto chili recipe. Featuring an incredibly satiating amount of lean ground beef combined with a savory combination of ingredients that spice things up, you're going to want to enjoy this chili for dinner again and again.

More Beef, More Satisfying
While this chili is indeed cooked in a crockpot, before you use it you will need to brown your lean ground beef first. You'll want to start out by heating up some olive oil over a medium heat to cook the beef in. Olive oil is easily my cooking oil of choice, as not only is it an excellent source of heart healthy monounsaturated fatty acids that help to reduce your risk of heart disease, but it's also been found to have beneficial properties that help to prevent cancer as well. (1) One of the best ways that you can keep many modern chronic diseases at bay is by eating a healthy diet, and olive oil should be a staple part of said diet for everybody.
After adding your ground beef into the crockpot, it's time to start piling in all the rest of the delicious ingredients that go into making this chili so unbelievably tasty. You can start by adding in two of my favorite cooking ingredients, garlic and onion. They both add an immense amount of flavor to pretty much every dish that they're used in, but more importantly, they're both extremely healthy foods that offer a ton of fantastic health benefits. As I mentioned above, a healthy diet is the key to a healthy life, and just like olive oil, both garlic and onions have demonstrated some great cancer prevention benefits. (2)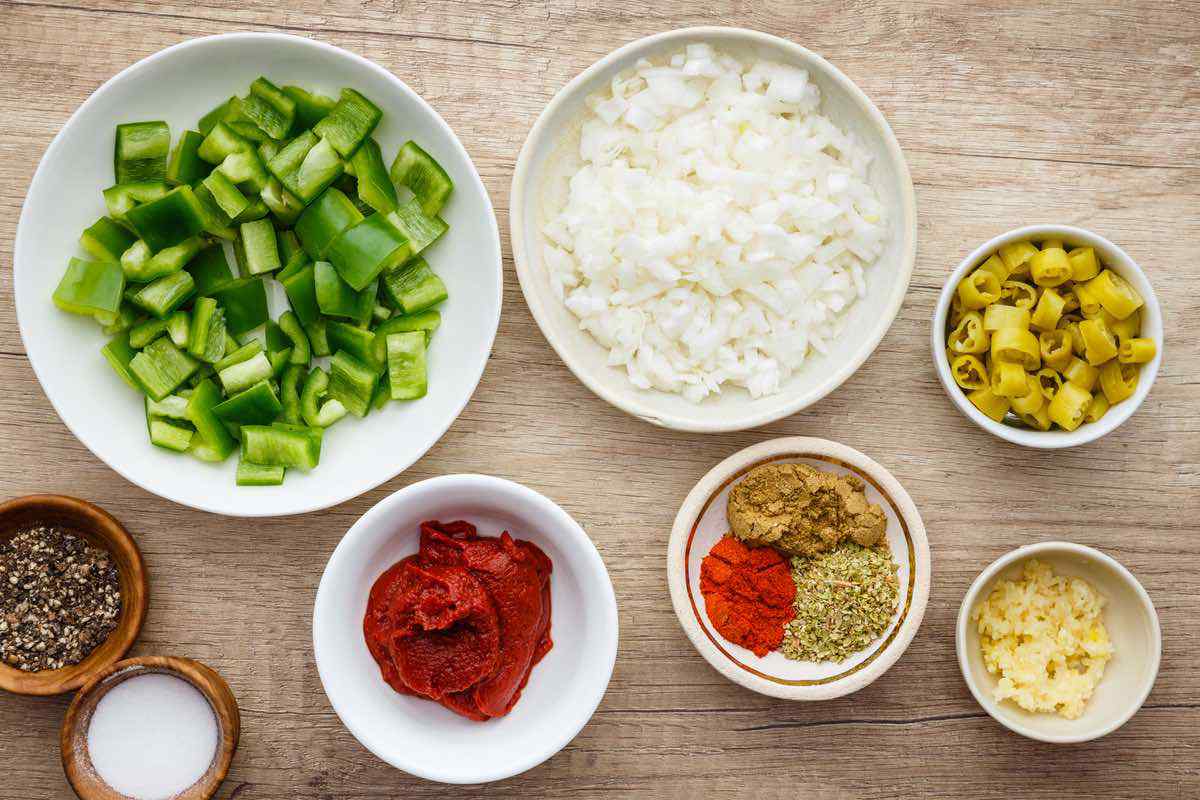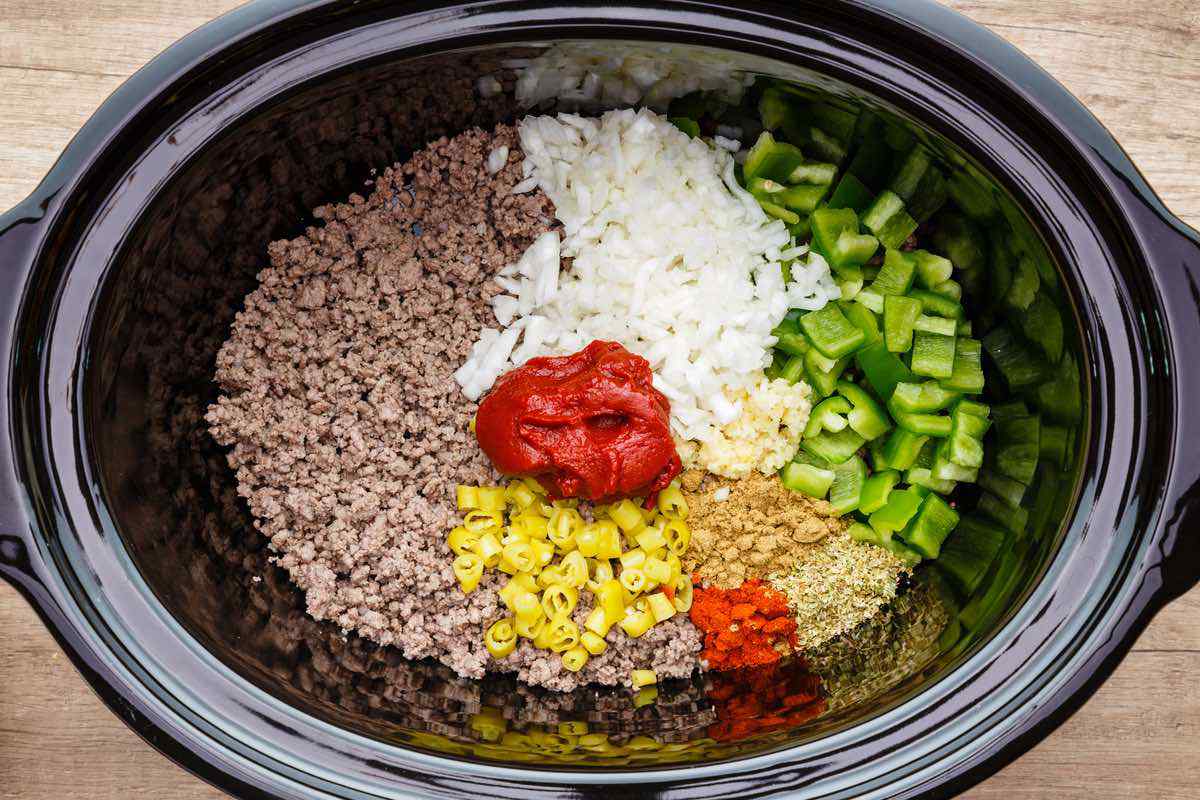 To help add to the classic chili flavor, you'll also be using a combination of tomato paste and actual diced tomatoes. Go ahead and add those in, and then it's time to turn up the heat in this recipe by mixing in the green bell pepper, chopped green chiles, and a little bit of cayenne pepper. The main thing that these three ingredients all share in common is they all contain a substance known as capsaicin, the primary biological component that gives them their spicy kick. Capsaicin does more than just that however. It has also been found to have potent anti-inflammatory properties that help to prevent many types of chronic inflammatory diseases. (3)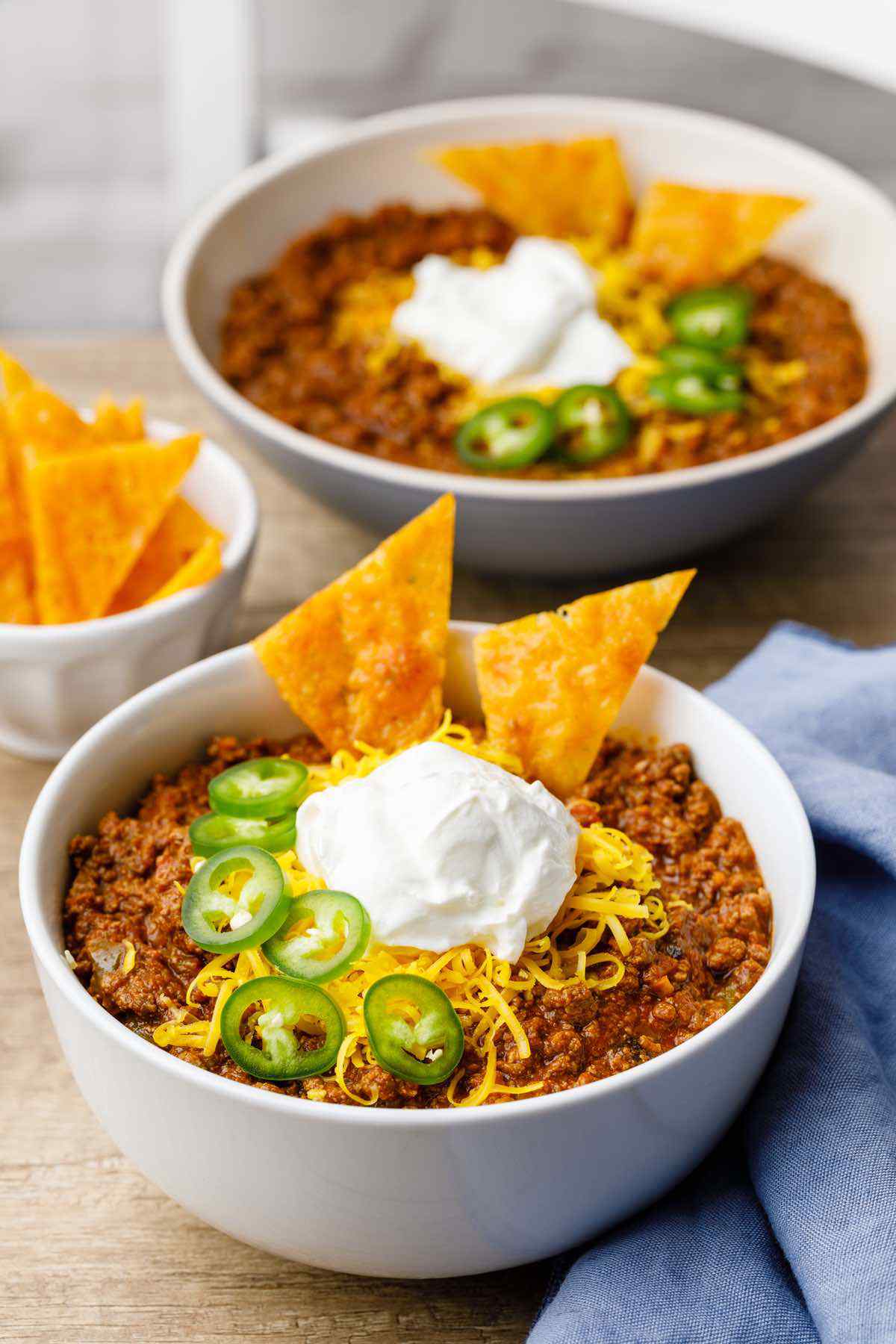 To round the chili off with a bit of extra flavor and spiciness, you'll also be mixing in a bit of ground cumin, and topping things off with some dried oregano. Last but not least, a bit of beef broth is added into the crockpot before you can cover the chili with a lid and leave it to cook for 4-6 hours. When you're ready to serve it, I'd recommend garnishing the chili with a mix of shredded cheddar cheese, a single sliced jalapeno, and some sour cream. They all complement the hot chili perfectly, and serve to make this caveman chili into one mouth watering meal that is sure to satisfy your entire family.
Print Recipe
The Best Crockpot Keto Chili
Author: ketopots.com
Prep Time:

10 minutes

Cook Time:

6 hours

Total Time:

6 hours, 10 minutes

Yield:

8

1

x
Scale
2 pounds ground lean beef
1 ½ tbsp olive oil
1 medium onion, chopped
3 garlic cloves, minced
1 green bell pepper, chopped
4 oz tomato paste
1 (15 oz) can diced tomatoes
1 (4.5 oz) can chopped green chiles
2 tsp ground cumin
1 tbsp dried oregano
1 tsp cayenne pepper
½ cup beef broth
salt, black pepper to taste
For garnish (optional):
sour cream
shredded cheddar cheese
sliced jalapeno
Heat the olive oil in a large skillet over medium heat.
Add the ground beef and cook, breaking apart with a spatula, until browned.
Transfer the beef into a slow cooker.
Add the remaining ingredients and mix to combine.
Cover with a lid and cook on low for 4-6 hours.
Ladle into serving bowls, garnish with cheddar cheese, sour cream and sliced jalapeno (if desired) and serve.
FREE KETO RECIPES + 5-INGREDIENT KETO COOKBOOK

Make sure to sign up for free to get instant access to the 5-Ingredient Keto Cookbook, which includes my favorite 20+ keto recipes of all-time, all under 5 ingredients.