Keto Breakfast Ideas
Dream-worthy Keto Crepes (Only 5-Ingredients!)
Making your own keto crepes is ridiculously easy. Follow this easy recipe to see how you can make your own from scratch using only 5 ingredients.
How to Make Keto Crepes
Combine the ingredients. You want to add the ingredients in stages. First, mix the cream cheese and sweetener. Next, add the eggs and almond milk. Last to be added is the almond flour. Combining ingredients this way will help avoid clumps.
Prepare the pan. If you don't have a crepe pan, any non-stick pan will do. Simply grease it with some coconut oil and pour about ⅓ of your batter.
Cook. Swirl the pan so the bottom is evenly coated with the batter and then cook for 1-2 minutes. It's done when the edges have started to brown slightly.
Flip. Using a spatula, gently flip the crepe once the top starts to look dry and the edges begin to brown. Carefully flip the crepes with a spatula and cook for an additional minute.
Serve. Fill each of the keto crepes with your favorite filling and serve warm.
Tips for Making the Best Keto Crepes
Here are a few of my top tips for making sure that your keto crepes turn out the best that they possibly can:
Use the proper pan size. You don't want to use a pan that's too large when making this recipe. I find that I get best results when making crepes if I use an 8 inch pan.
Heat the pan up. Slowly heat the pan up, making sure that it falls somewhere in that sweet spot of hot but not too hot. You want to let the heat warm up the entire pan so that the ingredients don't stick to a cold, sticky surface. But if you warm the pan up too much, you run the risk of ending up with crispy crepes instead of velvety soft ones that are easy to wrap.
Swirling technique matters. Don't be afraid to go a little crazy and tilt your pan in all directions as you slowly pour the crepe batter in. Do this a few times and gradually let the circle of batter expand.
Work fast. Remember, you're going for a very thin crepe, so you don't have a lot of time to swirl your pan before it cooks.
Flip at the right time. Flip your crepes just as the batter begins to dry around the edges for the best results. Just slip the spatula underneath your crepe after about 1 minute of cooking time and gently test them; if the crepe feels like it won't break, then go ahead and flip it over.
How to Store Keto Crepes
This low carb crepe recipe works great as a make ahead breakfast option.
Simply stack them on top of each other and toss them in the fridge inside of a single airtight container once you're done cooking them if you want to store them to enjoy later.
Alternatively, if you would like to freeze the crepes instead, that's also an option. I would still recommend stacking them, but I would put some parchment paper between each of the crepes to keep them from sticking to each other.
When you're ready to reheat the crepes, simply fire them in the microwave or bake them in the oven in a single layer.
Keto Crepe Toppings
You can use your favorite low carb crepe toppings when you make this recipe; here are some of my favorite toppings that you can use for inspiration:
Strawberries and whipped cream
Sliced bananas and whipped cream
Blueberries and whipped cream
Sliced bananas and low carb homemade Nutella
Can I Use Coconut Flour Instead of Almond Flour?
I recommend sticking to almond flour as much as possible because coconut flour will require a different volume of liquid. However, if it's all you have, I recommend keeping the weight of the coconut flour the same as with the almond flour but add a little less than ⅛ cup of almond milk.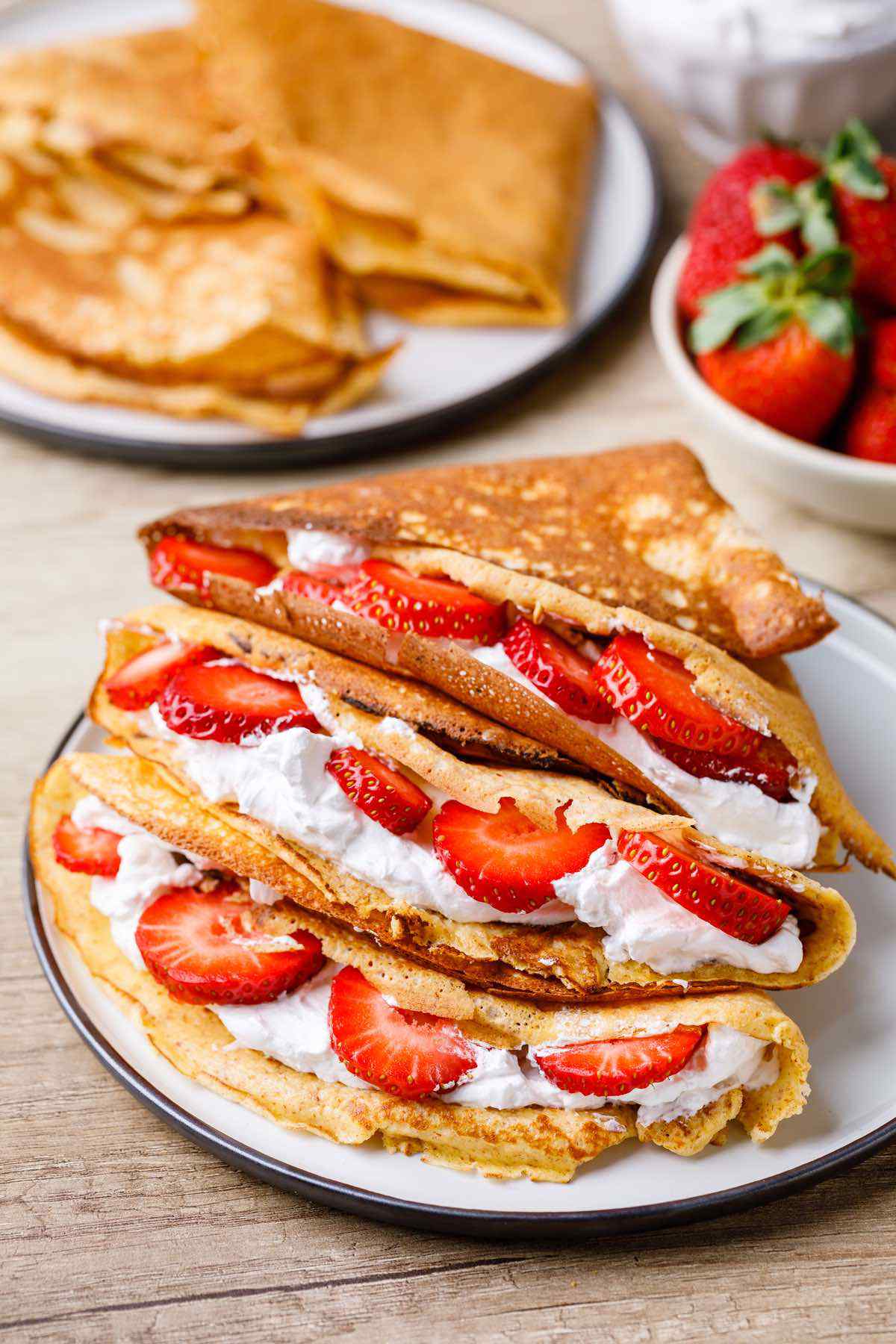 Why Do My Crepes Tear So Easily?
Crepes have to be extremely thin, so it's perfectly normal for them to tear every once in a while during cooking. However, if you find it virtually impossible to cook crepes without them disintegrating, you might benefit from a little tweaking in your recipe.
First thing you should check for is excess moisture. This could come from the eggs (if you use cartoned eggs), any liquid that has settled on top of your cream cheese, and the almond milk.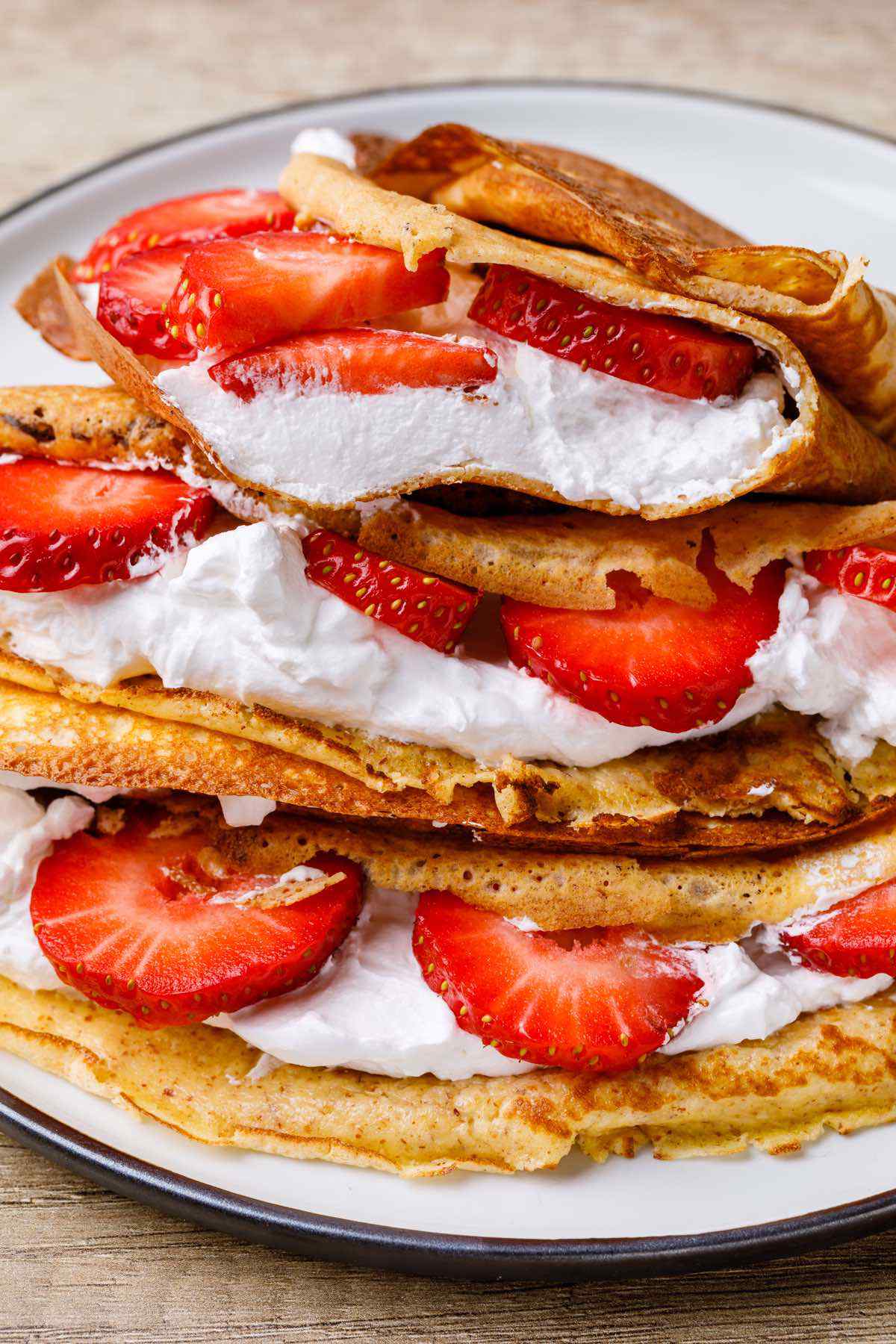 On its own, the ¼ cup of almond milk should be just right, but any added moisture could result in batter that is too runny. If your crepes tear too easily, you might want to cut back on the liquid a bit and see if that improves the texture of your crepe.
(You may also like: OMG-Delicious Keto Waffles (Light and Fluffy))
Print Recipe
Dream-worthy Keto Crepes (Only 5-Ingredients!)
Author: Bree - KetoPots.com
Prep Time:

10 minutes

Cook Time:

20 minutes

Total Time:

30 minutes

Yield:

8

1

x
Scale
4 ounces

cream cheese, softened

2 tbsp

granulated Swerve Sweetener

4

large eggs

¼ cup

unsweetened almond milk

1 cup

almond flour
In a large bowl, mix the sweetener and cream cheese until well combined. 

Add the eggs and almond milk and beat to combine. 

Add the almond flour and beat until fully combined. 

Preheat non stick pan over medium heat. 

Grease with small amount of coconut oil. 

Pour about 1/3 cup of the batter into the pan. 

Swirl the pan so the bottom is evenly coated. 

Cook for 1-2 minutes or until the top begins to appear dry and the edges start to brown, then flip carefully using a spatula. 

Cook for another minute and then transfer to a serving plate. 

Repeat the process to use the rest of the batter. 

Fill the crepes with your favorite filling and serve warm.
More Incredible Keto Pancake Recipes:
FREE KETO RECIPES + 5-INGREDIENT KETO COOKBOOK

Make sure to sign up for free to get instant access to the 5-Ingredient Keto Cookbook, which includes my favorite 20+ keto recipes of all-time, all under 5 ingredients.