Keto Desserts
No-Fuss Keto Creme Brulee (Creamy and Decadent)
I'm going to be sharing a keto dessert recipe with you guys today that needs to immediately go to the very top of your 'must try' list. I know, I probably say that a lot but what can I say? I wouldn't share it if it's not absolutely fantastic, and this keto creme brulee is no exception.

This no-fuss keto creme brulee is the very definition of creamy and decadent. You're honestly not going to be able to believe that it's 100% keto friendly and sugar free. It's oh so easy to make as well since it only requires four simple ingredients.
This Keto Creme Brulee Makes the Best Easy Keto Dessert
The very first time that I made this creme brulee, I had no idea how quickly it would basically become my one and only go to keto dessert. I'm not joking, this was the only dessert I made for like three weeks straight.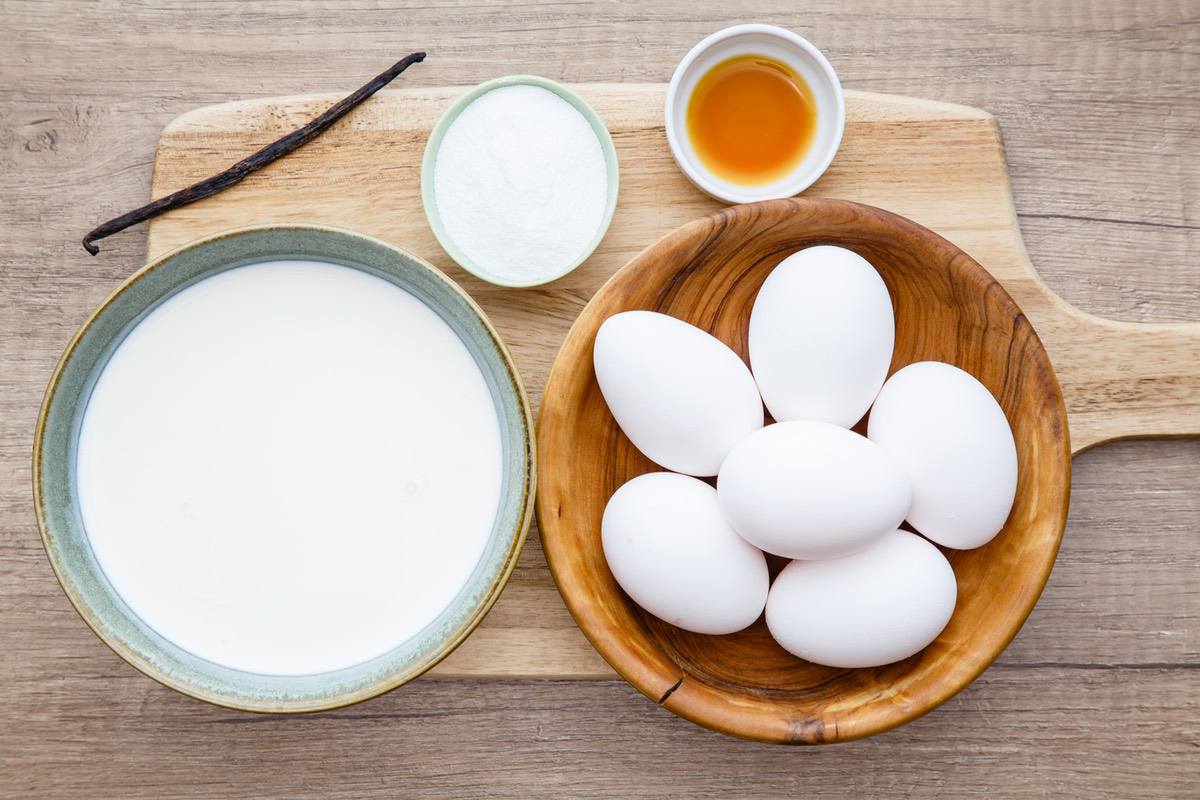 First you'll need to preheat your oven to 325°F and then get out a small saucepan. Add in the heavy cream, vanilla seeds, and vanilla pod and bring to a boil over medium heat. You can then remove the saucepan from the heat, remove the vanilla pod, and set the sauce pan to the side.
Use Real Vanilla – It Makes A Difference!
As a side note, I love using a vanilla pod when making this creme brulee because not only does it add a delicious hint of vanilla flavoring, but it's also actually surprisingly rich in disease fighting antioxidants as well. (1)
Next, grab a bowl and add in six large egg yolks, vanilla extract, and your preferred low carb granulated sweetener (I like to use Stevia). Beat these ingredients together until they form a light and fluffy mixture. Add the heavy cream into your egg mix, making sure to blend well.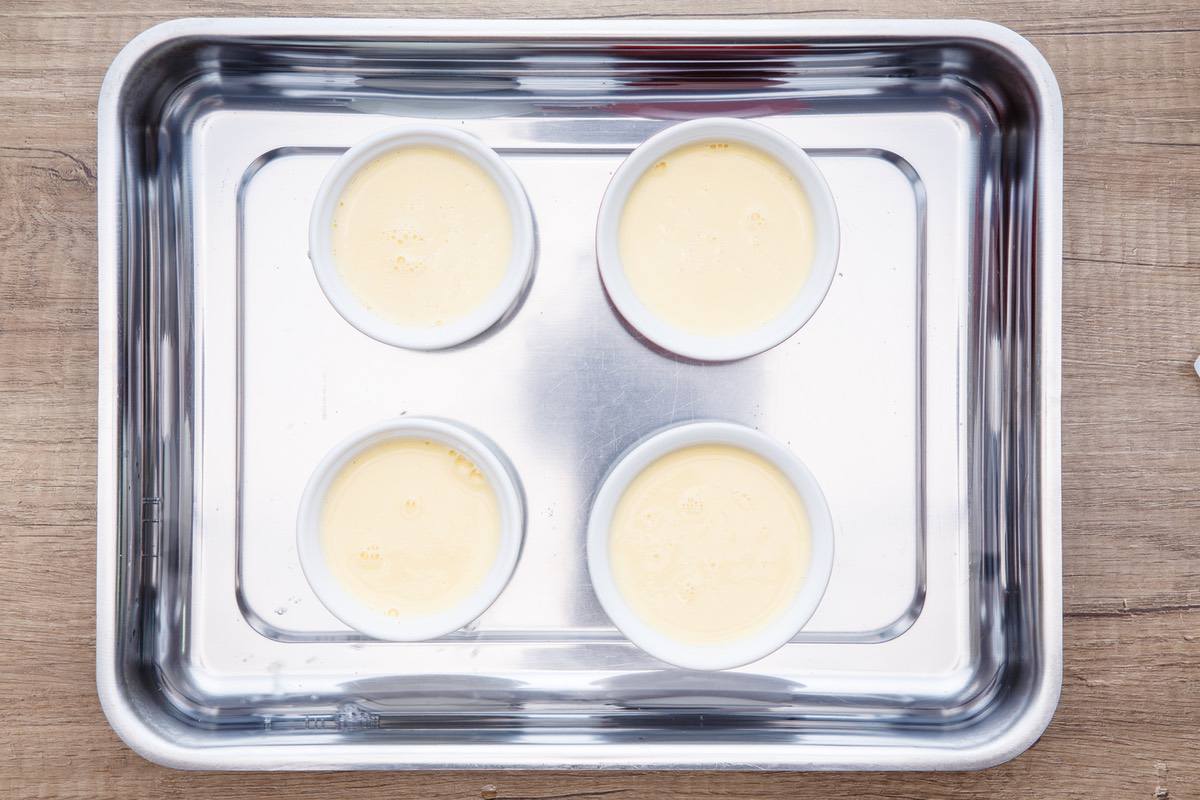 You'll then need to butter up four ramekins and set them into a high sided roasting tray. Divide your mixture between the ramekins and then fill the tray up with hot water halfway up to the ramekins.
Bake for about 40-45 minutes in the oven. You know they're done when the mixture has set but the centers are still slightly jiggly. Remove from the oven and let them cool off completely before covering each of them with plastic wrap and refrigerating for a minimum of two hours or up to three days.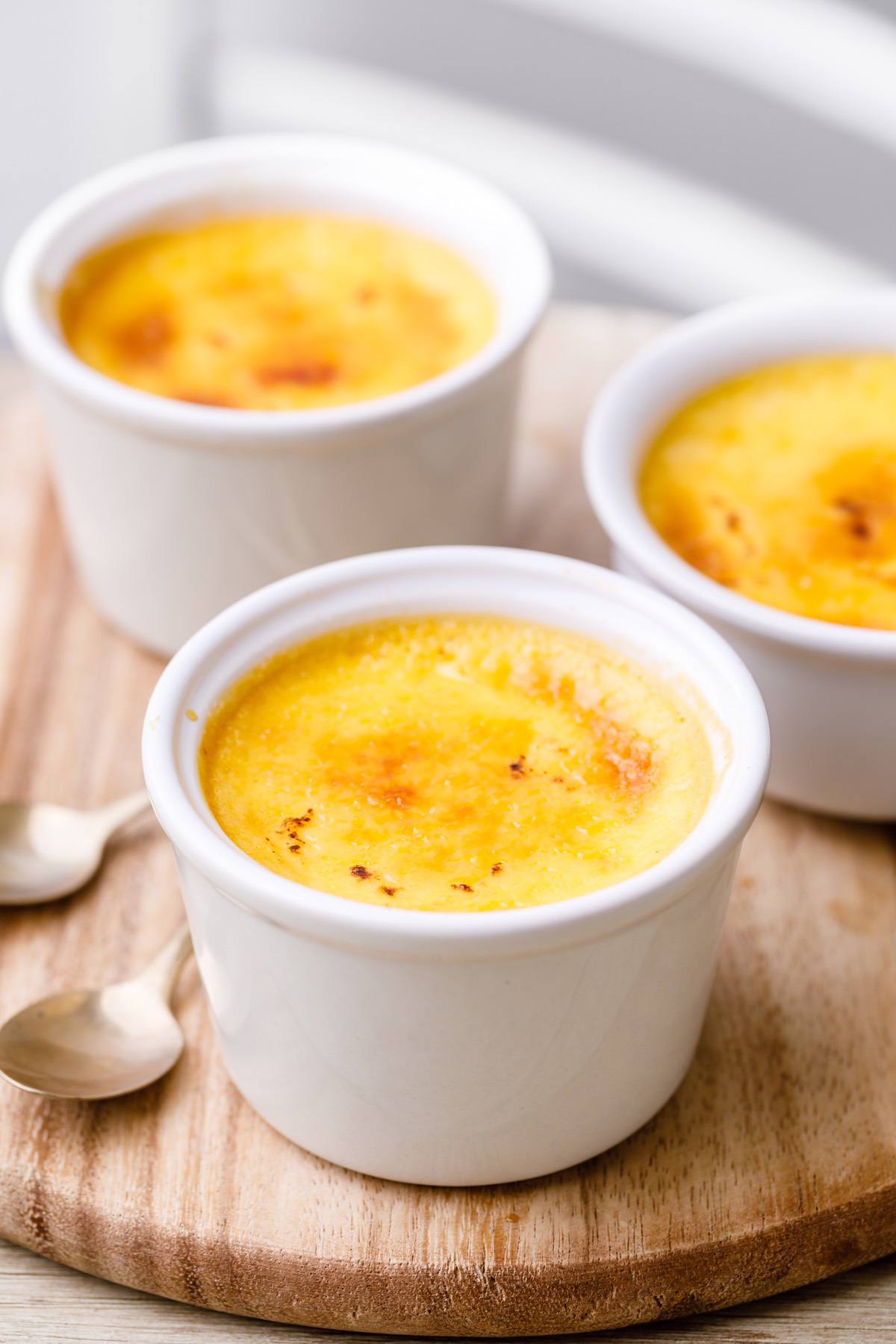 When you're ready to serve, sprinkle each creme brulee with a single teaspoon of sweetener and then caramelize them using either a chef's torch or a very hot grill!
Why Is My Creme Brulee Watery?
Watery creme brulee is most often caused by it being undercooked. The perfect baking time is once again when the mixture has set but is still moving in the center. It's important to keep in mind that the creme brulee will still set a little bit more as it begins to cool off, but trust me, if it's coming out of the oven already watery, then hoping for it to set when it cools off probably isn't going to fix it.
Just be sure to keep an eye on your creme brulee as it bakes and you should be able to avoid this problem.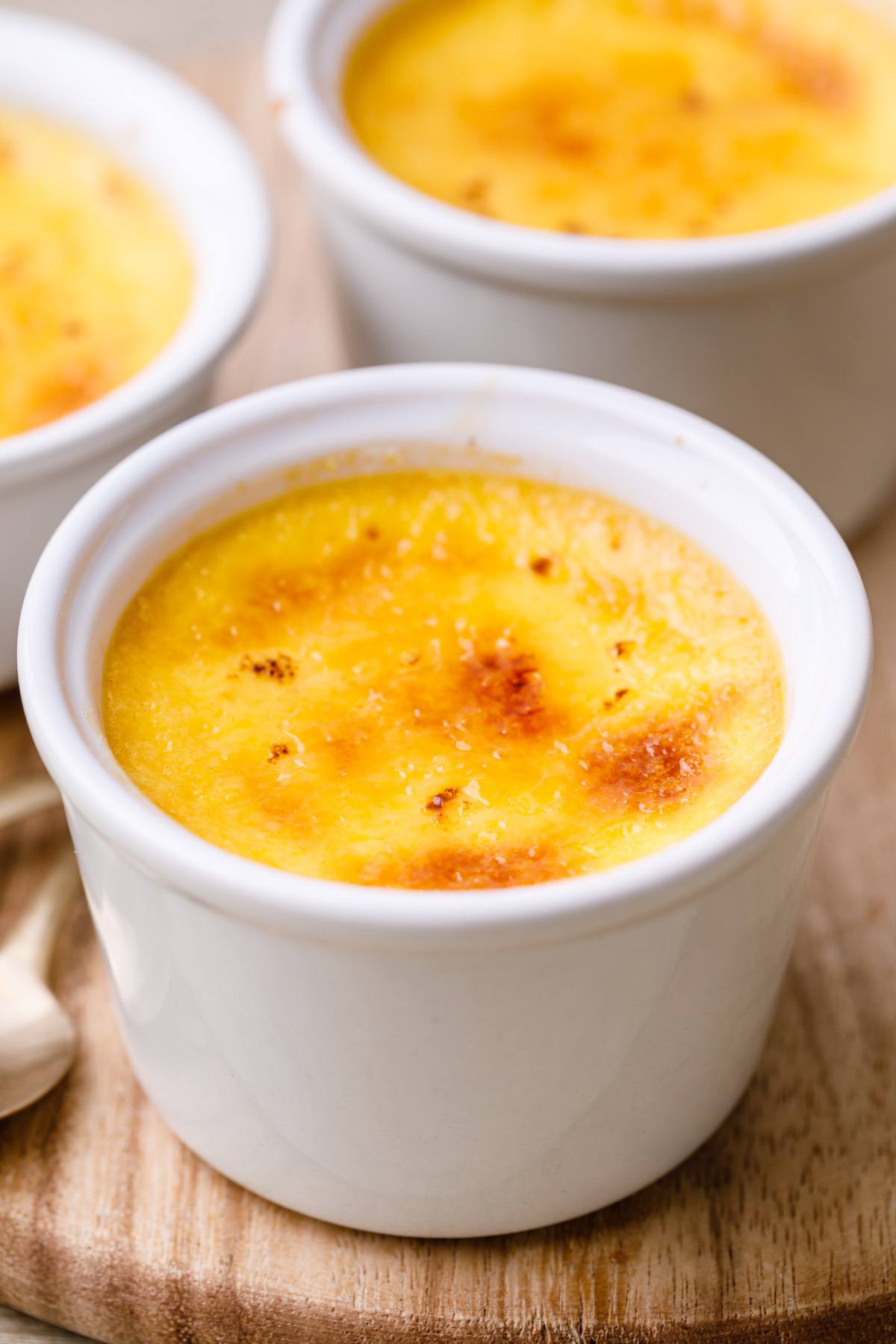 Should Creme Brulee Be Served Cold?
Yes, creme brulee should be served cold when you add the sweetener to the top that you will be torching. It will caramelize better with a nicer presentation if the creme brulee is cold.
How Do I Know If My Creme Brulee Is Set?
Since it really is so important to nail the baking time when you're making creme brulee, it bears repeating once more here: you'll be able to tell that your creme brulee has properly set once the edges are set but the center still remains slightly wobbly.
Another way to check if your creme brulee has set is to insert a thin knife about one inch from the center and see if it comes out clean. If there's still some of the mixture stuck to the blade, you'll want to give your ramekins a minute or two more in the oven.
(You may also like: Quick (And Fluffy) Keto Dark Chocolate Mousse (with Whipped Cream))
Print Recipe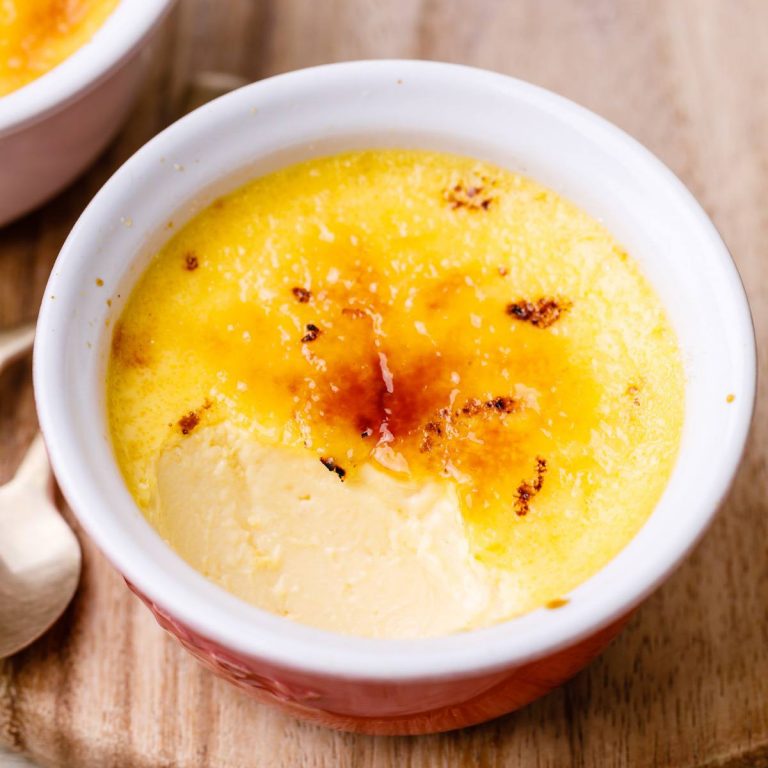 No-Fuss Keto Creme Brulee (Creamy and Decadent)
Author: Bree - KetoPots.com
Prep Time:

10 minutes

Cook Time:

55 minutes

Total Time:

1 hour, 5 minutes

Yield:

4

1

x
FREE KETO RECIPES + 5-INGREDIENT KETO COOKBOOK

Make sure to sign up for free to get instant access to the 5-Ingredient Keto Cookbook, which includes my favorite 20+ keto recipes of all-time, all under 5 ingredients.
Scale
2 cups

heavy cream

6

large egg yolk

1/4 cup

granulated stevia or other low carb granulated sweetener 

1

vanilla bean, split and scraped
For topping: 
4 tsp

granulated Stevia or other low carb granulated sweetener
Preheat oven to 325°F. 

Place the heavy cream and vanilla seeds and vanilla pod in a saucepan and bring to a boil over medium heat. 

Remove from the heat. 

Discard the vanilla pod and set the saucepan aside.

Add the egg yolks, vanilla extract and sweetener to a bowl and beat until light and fluffy. 

Slowly add the heavy cream to the egg mixture, blending well.

Butter four ramekins and set them into a high sided roasting tray.

Divide the mixture between the ramekins. 

Fill the tray with hot water halfway up the ramekins. 

Bake in preheated oven for 40 -45 minutes or until the mixture has set but is still wobbly in the center. 

Remove from the oven and allow to cool completely. 

Cover with plastic wrap and refrigerate for at least 2 hours and up to 3 days. 

To serve, sprinkle each cream brulee with a teaspoon of sweetener and caramelize using the chef's torch or under a very hot grill.
More Easy Keto Dessert Recipes: