Keto Side Dishes
Down-Home Keto Creamed Spinach (So good!)
Creamed spinach was such a huge staple of my childhood, and I finally found a recipe that makes the best low carb down-home style keto creamed spinach.

How to Make Keto Creamed Spinach
Prep the ingredients. Prepping beforehand saves you a lot of time! Wash your spinach and chop it up. Chop the onions and mince the garlic cloves.
Cook. Melt some butter then add the onion and cook for between 2-3 minutes. Add the garlic, cooking for 30 seconds. Add spinach and cook until wilted, about 3-4 minutes.
Stir in the rest of the ingredients. Add the heavy cream, cream cheese, Parmesan cheese, and nutmeg. Cook until the mixture has thickened to your liking.
Season. Season to taste with salt and black pepper before serving.
Can I Use Frozen Spinach Instead?
The great thing about this keto creamed spinach recipe is the fact that you can make it with both fresh or frozen spinach.
While I personally prefer to use fresh spinach whenever I make this recipe, a lot of my friends usually buy a bunch of frozen spinach in bulk and use it for making creamed spinach as well.
Fresh or frozen, feel free to go with whatever type of spinach you prefer.
Is Creamed Spinach Good For You?
Making low carb creamed spinach by following this particular recipe is incredibly good for you. Here are just a few of the reasons why:
Spinach is incredibly nutrient-dense. Fresh spinach is packed full of essential vitamins, minerals, and antioxidants.
Combination of garlic and onion. Both of these ingredients are legitimate superfoods that provide you with numerous great health benefits. They're each known for their anti-inflammatory benefits, as well as their potential to prevent diseases like cancer. (1)
Good source of quality fats. Using a combination of heavy cream, cream cheese, Parmesan cheese, and butter provides this creamed spinach dish with an abundance of high quality fat sources.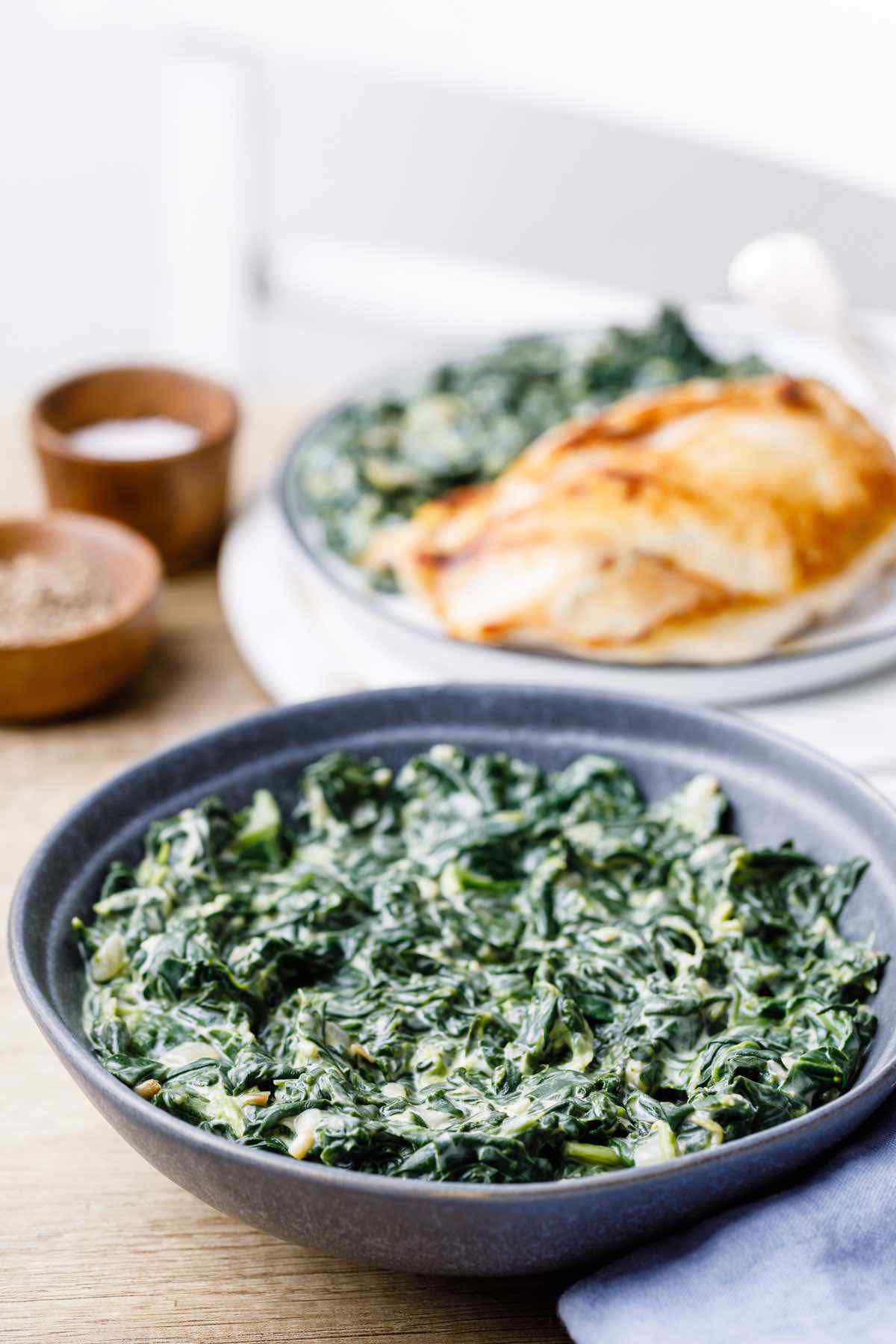 Does Keto Creamed Spinach Freeze Well?
You can absolutely freeze this keto creamed spinach! As a matter of fact, most of the time when I make this recipe, I always double the ingredients and freeze half of the batch that I end up with to enjoy later. It's a super convenient and healthy meal to warm up for those busy days where you barely have a free minute, which leads me to the next question…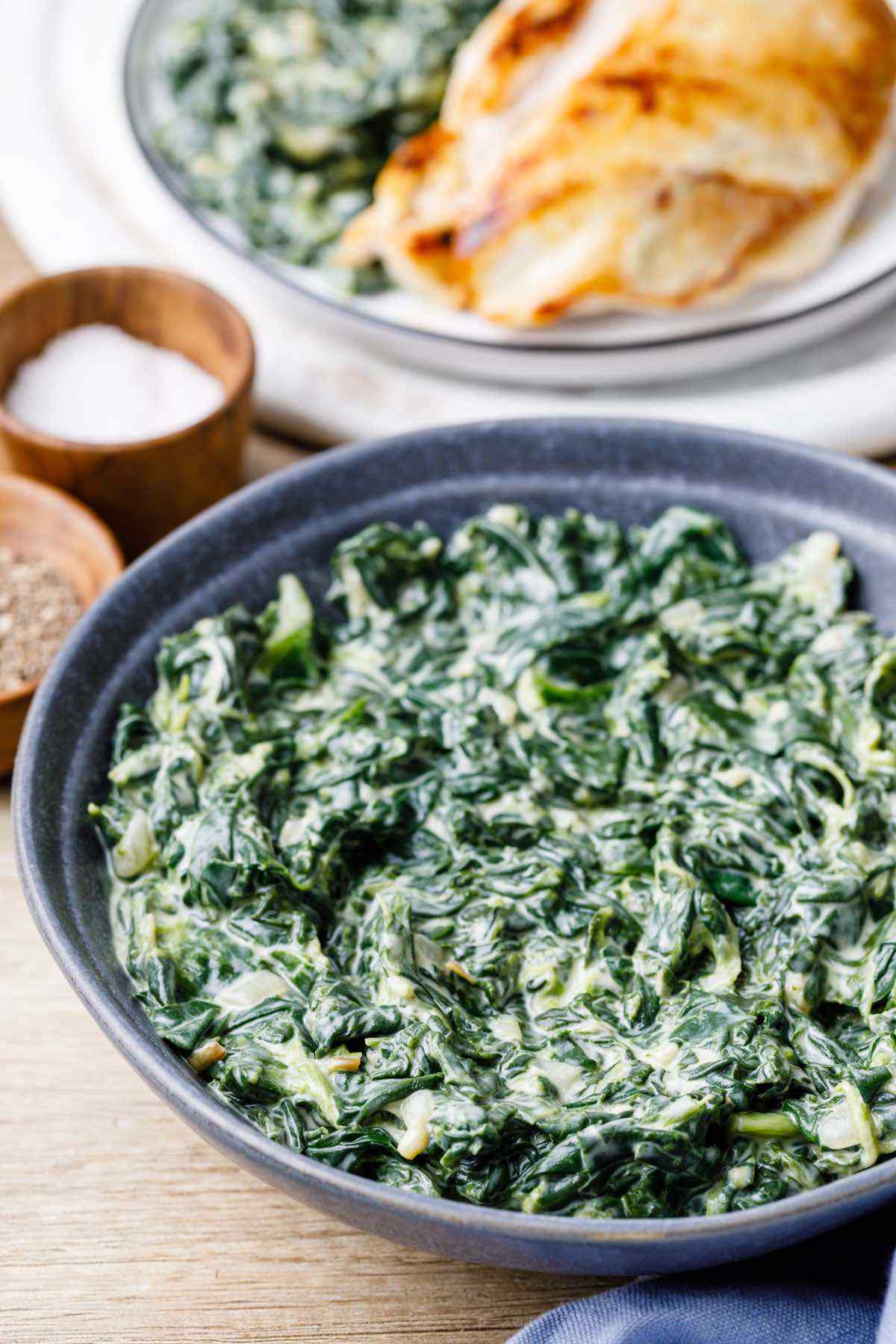 How Long Does Creamed Spinach Last?
Properly stored (use an airtight container or jar), you can expect this creamed spinach to stay good in the fridge for three days. Just make sure that when you reheat it, use a low heat and warm it up slowly.
How to Make Keto Creamed Spinach Without Heavy Cream
I've had a few questions from readers trying to remain dairy-free before who were wondering about swapping out heavy cream in certain keto recipes for other viable alternatives.
Well I'm happy to report that not only can you quite easily substitute the heavy cream in this recipe, you could also make the argument that doing so makes this recipe even better.
I've made creamed spinach a few times before with a mix of unsweetened almond milk and grated Parmesan cheese (along with a bit of almond flour to help thicken the mixture). I actually found that using these ingredients can make your spinach even creamier. I recommend trying out both options and seeing which one you find yummier!
Can I Eat This Creamed Spinach Everyday?
As long as you're eating the recommended serving size of creamed spinach, then no, it isn't a fattening meal per say. However, with that being said, just as with any food, creamed spinach, even when made to be 100% keto friendly, can really add to your daily calories if you eat a huge amount of it.
Since I love you guys so much though, I thought I would include a couple of extra tips on how to drop the calories a little bit with this recipe just in case you're already pushing your daily macros enough as it is:
Use the heavy cream substitute mentioned above: swap it out for a mix of unsweetened almond milk, almond flour, and grated Parmesan
If there are still too many calories for your liking, the two ounces of cream cheese can safely be removed from this recipe if you're using the combination of ingredients mentioned in the point above
Now you have room for a few more servings!
(You may also like: Crustless Keto Spinach Pie)
Print Recipe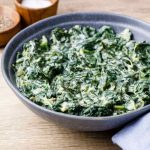 Down-Home Keto Creamed Spinach (So good!)
Author: Bree - KetoPots.com
Prep Time:

10 minutes

Cook Time:

10 minutes

Total Time:

20 minutes

Yield:

4

1

x
Scale
1

pound spinach, washed and chopped 

¼

medium onion, chopped 

2

garlic cloves, minced 

1 tbsp

butter

¼ cup

heavy cream

¼ cup

grated parmesan cheese

2 oz

cream cheese

pinch of nutmeg

salt and black pepper to taste
Heat the butter in a large skillet over medium heat. 

Add the onion and cook for 2-3 minutes. 

Add the garlic and cook for 30 seconds. 

Add the spinach and cook for 3-4 minutes or until wilted. 

Stir in the heavy cream, cream cheese, Parmesan cheese, nutmeg and cook until thickened to your liking. 

Season to taste with salt and black pepper.
FREE KETO RECIPES + 5-INGREDIENT KETO COOKBOOK

Make sure to sign up for free to get instant access to the 5-Ingredient Keto Cookbook, which includes my favorite 20+ keto recipes of all-time, all under 5 ingredients.