Keto Recipes
Low Carb Keto Cream Cheese Cookies with Cherry Glaze
Everybody and their mother knows that cream cheese icing is delicious. It doesn't matter whether you use cream cheese to make cinnamon roll keto fat bombs, super simple breakfast pancakes, or even add it to a tasty pumpkin bread — you know it's going to turn out tasting incredible. This recipe takes things a step further. It doesn't just make a yummy cream cheese filling for keto cookies — it makes the cookies themselves with cream cheese as well! These keto cream cheese cookies even have a cherry glaze added as well, for the literal cherry on top!

Cream Cheese Cookies Are the Best Cookies
The first order of business when making these cookies is to cream together some softened butter and your choice of a low carb granulated sweetener — I recommend using both grass-fed butter and Stevia for this step. Next, beat in the egg white and some pure vanilla extract before adding in the almond flour. I love making cookies with almond flour because it's my favorite way to replace refined wheat flours in my recipes. It's a good source of vitamins, minerals, fiber, healthy fat, it adds a slightly nutty taste to your cookies, and it even helps to lower your cardiovascular disease risk. (1)
After mixing the almond flour in, cover the mixture with a plastic wrap and refrigerate it for one hour. In the meantime, you can make the homemade cherry glaze. In order to make it, simply take your frozen cherries and simmer them over a medium low heat with your Stevia (or whatever zero calorie sweetener you're using) until the mixture is nice and thick.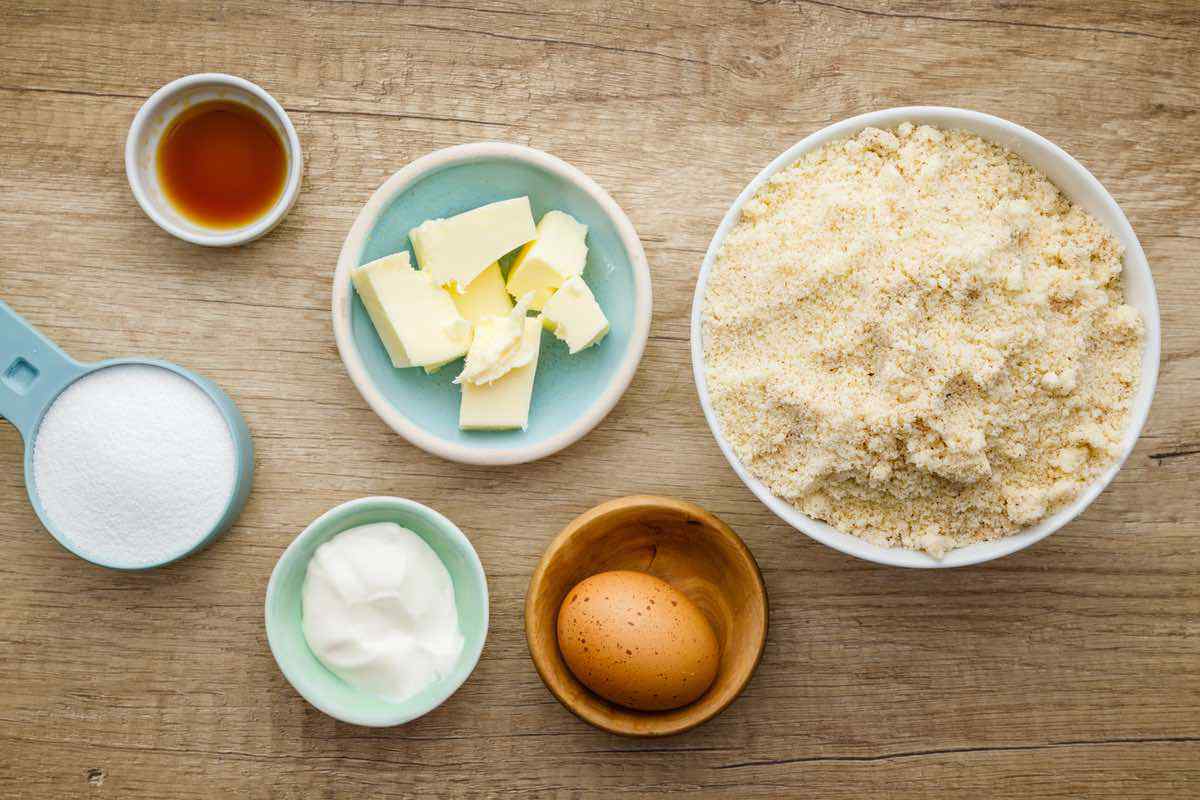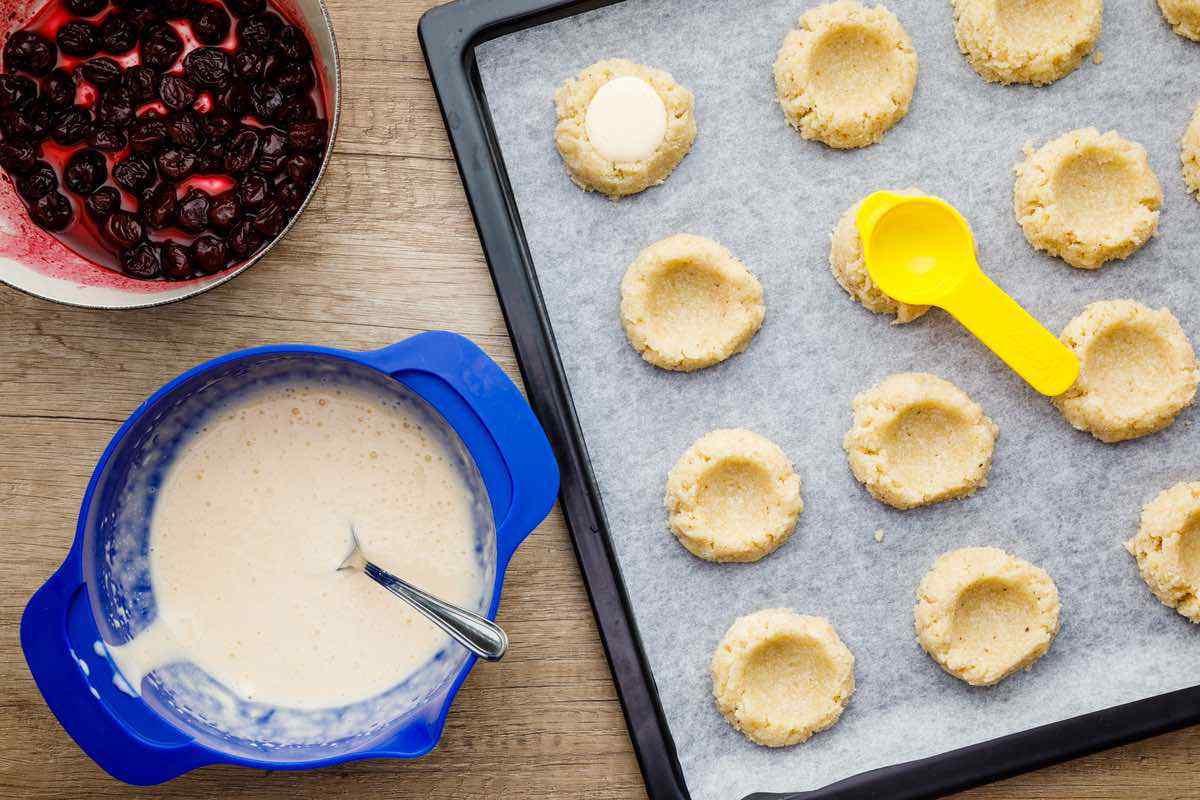 I'm a fan of this cherry glaze for two big reasons. The first is that it complements the cream cheese cookies fabulously. Second, cherries are one of my favorite fruits to eat anyway because they pack a ton of great health benefits into a tiny package. They have a high antioxidant and anti-inflammatory capacity, and they've even been found to provide a natural type of pain relief similar to NSAIDs. (2)
The final step before baking your cookies is to prepare the cream cheese filling. Much like the cherry glaze, it's super easy to make — simply beat together your cream cheese, sweetener, egg yolk, and vanilla extract. As you can see, it's a good thing that we pass on using sugar in this recipe in favor of a low carb option like Stevia — every single step of this recipe calls for it. Considering that excessive sugar consumption is a major cause of the current obesity epidemic (3), it's beneficial to use a zero calorie substitute so you can keep the recipe 100% keto-friendly.
After making the filling, you'll want to use a tablespoon to make a small bowl shape in the center of your cookies. Spoon the cream cheese filling into these indents, and then bake the cookies for between 10-12 minutes. You're honestly not going to believe how incredible these cookies will make your kitchen smell as they're baking. Once the cookies come out of the oven, let them cool off, and then spoon the cherry glaze onto them.
More Keto Cookie Recipes:
The Best Keto Sugar Cookies Ever (These are Butter Bombs)
Easy 3-Ingredient Keto Peanut Butter Cookies (These are My Favorite)
Keto Double Chocolate Chip Cookies (Better Than the Bakery!)
Print Recipe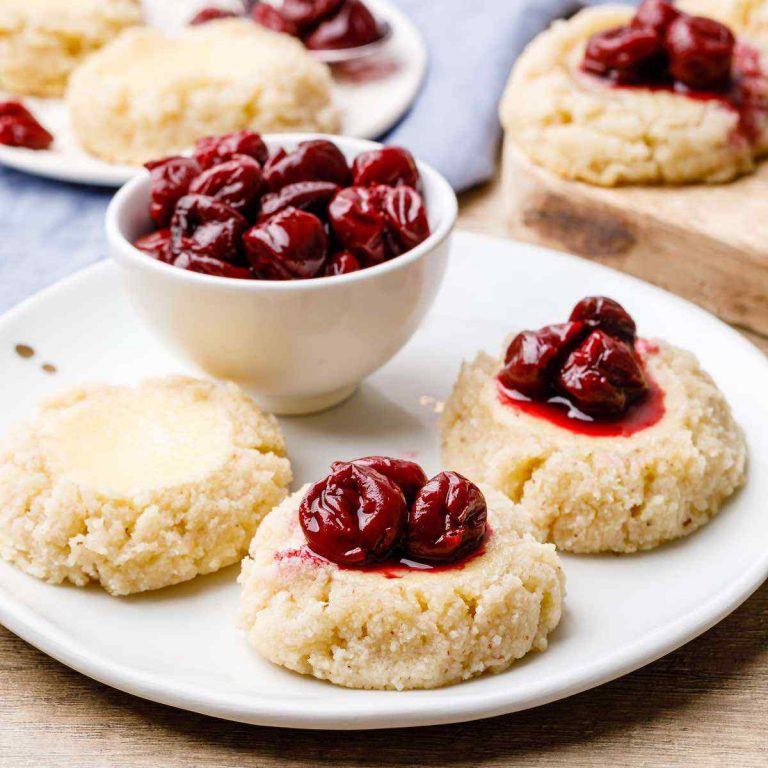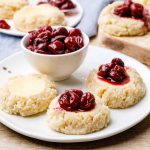 Low Carb Keto Cream Cheese Cookies with Cherry Glaze
Author: ketopots.com
Prep Time:

20 minutes

Cook Time:

25 minutes

Total Time:

45 minutes

Yield:

1

8

1

x
FREE KETO RECIPES + 5-INGREDIENT KETO COOKBOOK

Make sure to sign up for free to get instant access to the 5-Ingredient Keto Cookbook, which includes my favorite 20+ keto recipes of all-time, all under 5 ingredients.
Scale
For the cookies:
2 ½ cups almond flour
¼ cup butter, softened
1 oz cream cheese, softened
½ cup granulated Stevia or other low carb granulated sweetener
1 egg white
1 tsp vanilla extract
For the cream cheese filling:
4 oz cream cheese
2 tbsp granulated Stevia or other low carb granulated sweetener
½ tsp vanilla extract
1 egg yolk
For the cherry glaze:
1 ½ cup frozen cherries
3 tbsp granulated Stevia or other low carb granulated sweetene
To make the cookies, cream the butter and sweetener.
Add the egg white and vanilla extract and beat to combine.
Add the almond flour and mix to combine.
Cover with plastic wrap and refrigerate for minimum one hour.
Meanwhile, make the cherry glaze.
Place the cherries and sweetener in a saucepan and simmer over medium low heat, stirring frequently, until thicken.
Remove from the heat and set aside.
Preheat oven to 350°F.
To make the cream cheese filling, beat all the ingredients until combined.
Remove the dough from the refrigerator.
Use 1 inch cookie scoop to scoop balls of dough onto a cookie sheet lined with parchment paper.
Flatten each ball slightly.
Using a tablespoon measure, create a small bowl shape in the center of each ball.
Spoon the cream cheese filling into the indents of the cookies.
Bake for 10-12 minutes or until the filling is barely set and the cookies are lightly golden.
Remove from the oven and allow to cool completely before serving.
Spoon the cherry glaze onto cooled cookies just before serving.