Keto Bread
Easy 5-Ingredient Southern Keto Cornbread
I'm no stranger to making bread even while following keto guidelines. I've even tried making bread using just a microwave, with great success. However, the foodie in me couldn't resist trying to create one of my favorite side dishes, which is how this keto cornbread recipe came to be. It was a bit of an accident, but I'm not complaining!

Keto Cornbread with Just 5 Ingredients
Just five ingredients? Count me in. As you know, I'm a fan of creating recipes using ingredients that I probably already have in my pantry. This means that I reduce wastage from not using what I buy and almost all my recipes turn out fairly simple.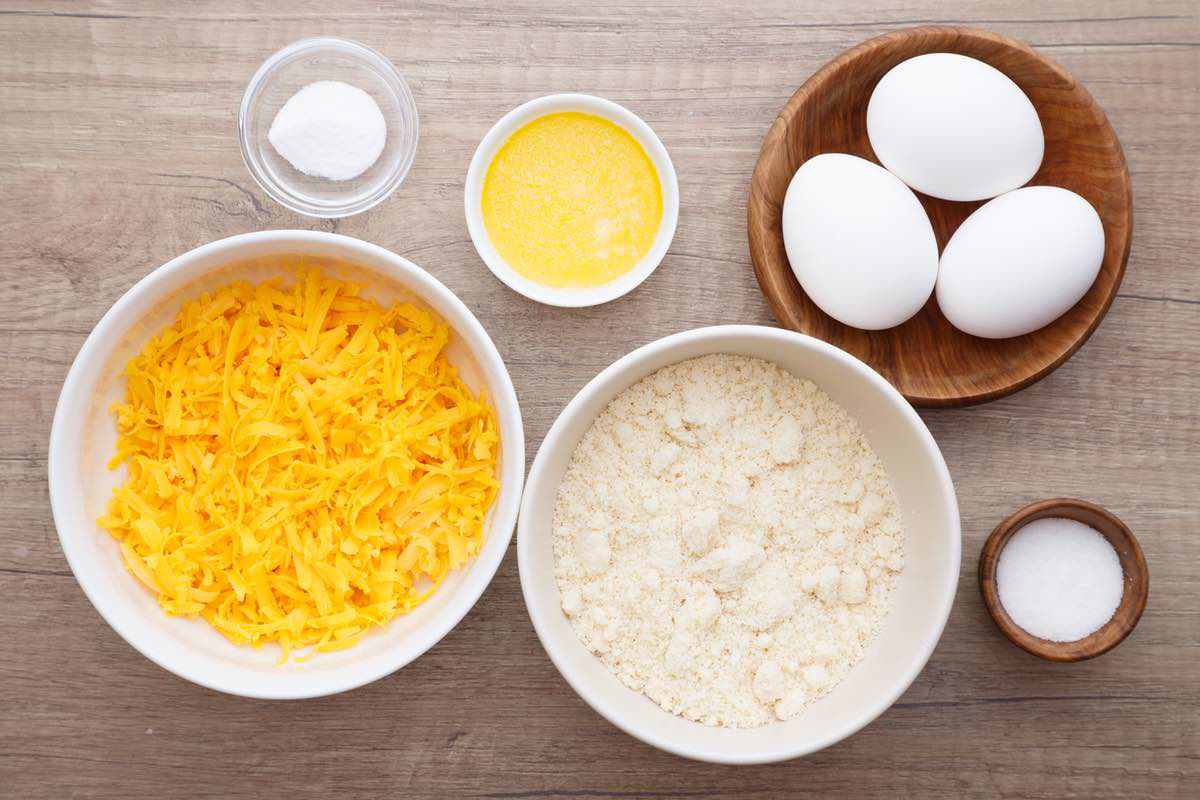 Do You Know Any Good Mug Cornbread Recipes?
My recipe is inspired by the classic cornbread recipe but without the corn. The cheddar cheese adds that savory feel to it, so I don't really miss the corn too much if I'm going to be honest. However, if you're interested in trying out other cornbread recipes, these are from some of my favorite keto and low-carb blogs:
Making Your Keto Cornbread
Without further ado, let's move on to the recipe. You'll need a cast iron pan to create that nice and toasted texture on the bottom of the cornbread. Preheat the oven to 400 degrees fahrenheit and place your pan inside the oven.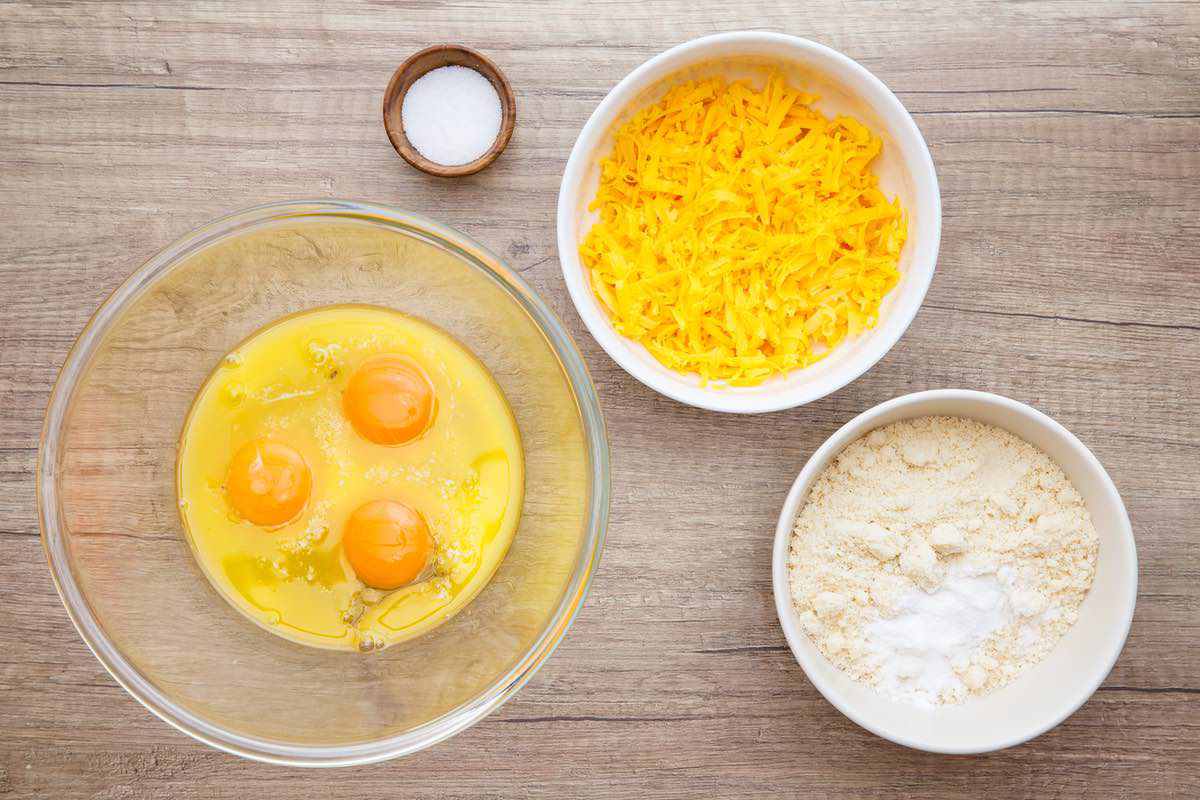 While that's heating up, mix together the eggs and melted butter. Make sure the butter is melted before mixing. Next, add the almond flour and baking powder. Finally, add the shredded cheddar and mix everything together. Once that's done, carefully remove the heated cast iron pan from the oven and grease it with some of the melted butter that was left over. Pour the batter in and bake for 18 to 20 minutes or until the top is golden brown.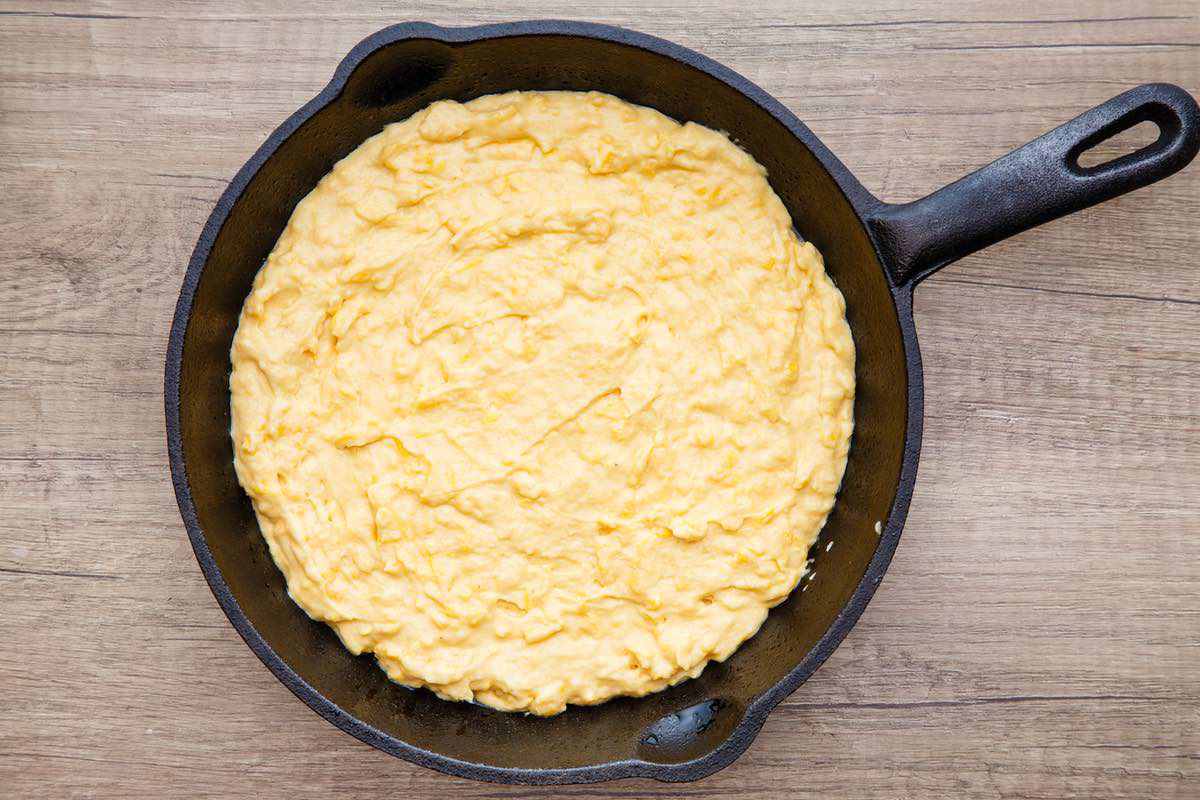 You'll know it's done when you insert a toothpick in the center and it comes out clean! I never skip this part because I want to make sure the middle of the pan isn't underdone, which can happen if you have a very deep cast iron pan.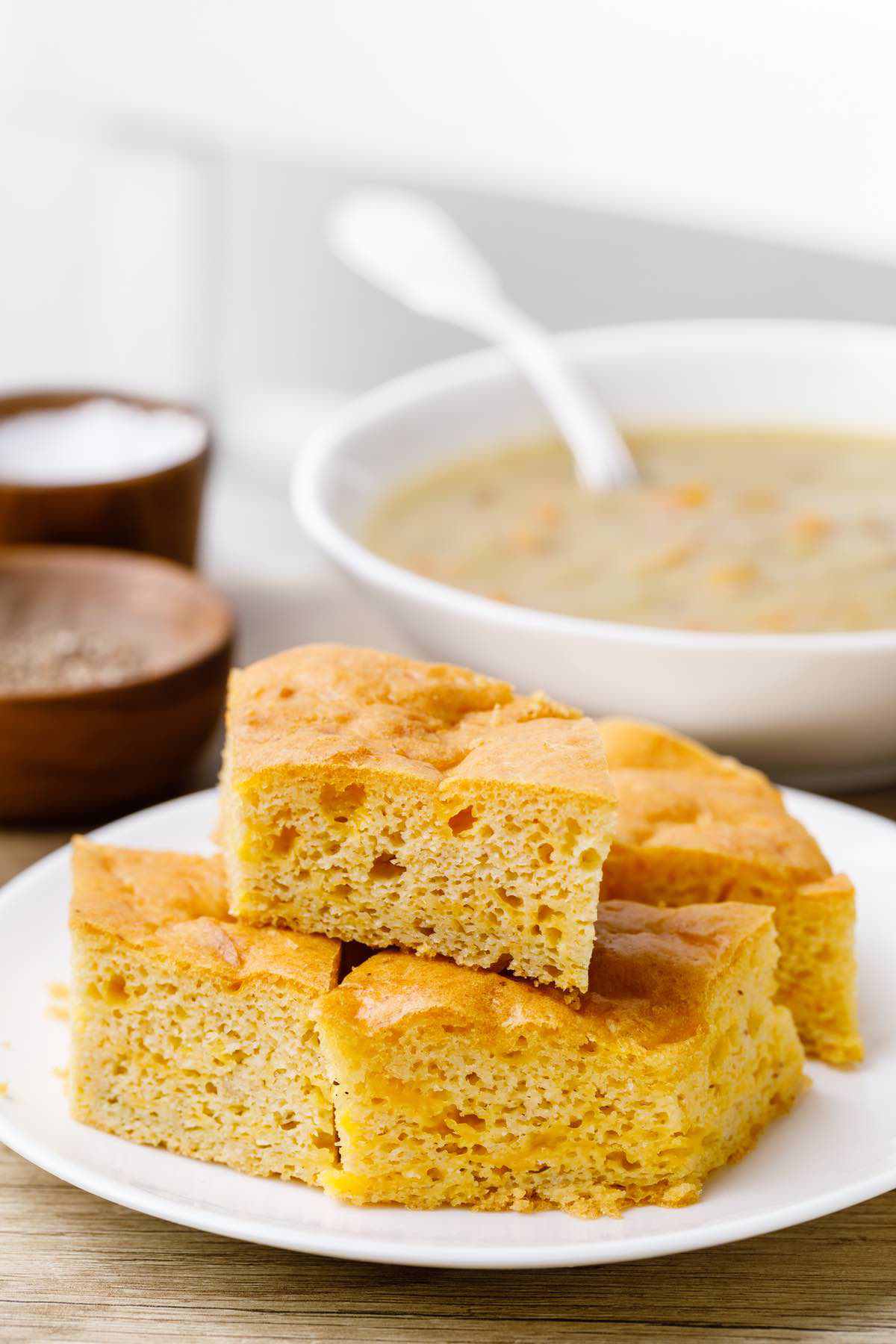 How Long is Cornbread Good For?
If you happen to have any cornbread left over, simply wrap it in plastic wrap or aluminum foil and leave it out at room temperature. The wrapping will help keep it moist without affecting the texture.
If you want your cornbread to last longer, wrap it in plastic wrap or aluminum foil and store it in the refrigerator for up to 5-7 days, or in the freezer for 1-2 weeks.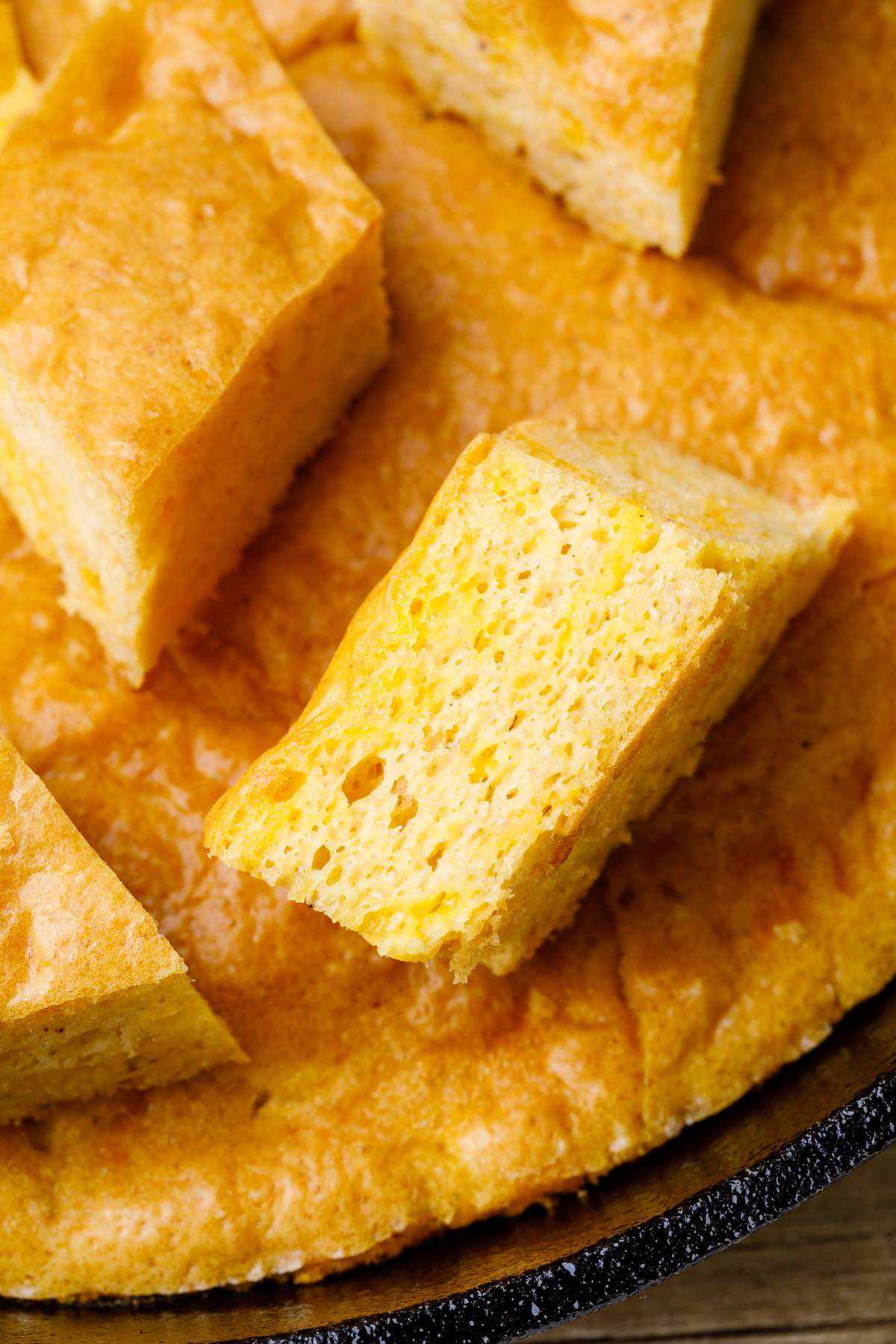 Why Is My Cornbread Dry?
If your cornbread ends up being dry, it was probably left in the heat for too long. There is some trial and error involved with the cooking time, as your oven size, height of your oven racks, size of your pan, and other factors are considered. I would recommend keeping a close eye on your cornbread at the 12 minute mark and adjusting by the minute from there.
What Can I Add In Place of Corn?
Corn is high in carbs, which is why I opted to skip it for this recipe. There are however, ways to incorporate the flavor without the carbs and that is through adding extracts. You could add a sweet corn extract to this recipe such as this one by Amoretti. A few drops is all you need for that hint of flavor.
Can I Use a Muffin Tin Instead of a Cast Iron Pan?
Cast iron pans help create that crispy golden crust on the bottom. For me, that's the best part of any cornbread. If you don't have a cast iron pan, you can use a muffin tin or baking pan instead. A muffin tin will help create more crisp, golden brown sides, so if you're after that, don't use a flat or shallow baking pan.
Print Recipe
Easy 5-Ingredient Southern Keto Cornbread
Author: Bree - KetoPots.com
Prep Time:

10 minutes

Cook Time:

18 minutes

Total Time:

28 minutes

Yield:

1

2

1

x
Scale
3 eggs
4 tbsp melted butter plus extra for greasing 
1 ¼ cups almond flour
¾ cup shredded cheddar cheese
1 tsp baking powder
salt to taste
Preheat oven to 400ºF. 

Place a cast iron pan inside the oven while you prep the other ingredients.

In a bowl mix together the eggs and melted butter. 

Add the almond flour and baking powder and mix to combine. 

Add the shredded cheddar and mix to combine. 

Carefully remove the heated cast iron pan from the oven. Grease with extra butter and pour the batter in.

Bake for 18 -20 minutes or until the top is golden brown and a toothpick inserted in center comes out clean. 

Remove from the oven and let cool slightly before slicing.
More Low Carb Bread Recipes:
FREE KETO RECIPES + 5-INGREDIENT KETO COOKBOOK

Make sure to sign up for free to get instant access to the 5-Ingredient Keto Cookbook, which includes my favorite 20+ keto recipes of all-time, all under 5 ingredients.